I may earn money or products from the companies mentioned in this post. Please click my Disclosure Policy to learn more
Edgecomb Gray HC-173 is one of the most popular neutral paint colors by Benjamin Moore. This soft and timeless neutral balances between gray and beige which makes it an optimal greige paint color.
I like going through the most popular paint colors and picking them apart. Not in a bad way though. More so, I like to see what makes them so popular. I can't help it, It's the curiosity in me.
I went back and forth trying to decide on what paint color I was going to investigate for this post. I was contemplating a bold and bright color. Yet, when there was a customer request for a very popular neutral paint color, I simply and utterly could not resist going for it.
Today's target is the one, the only
BENJAMIN MOORE EDGECOMB GRAY HC-173

Oh yes, Edgecomb Gray is a crowd-pleaser. I mean, it's one of Benjamin Moore's most popular and best-selling paint colors. But why is it so popular and loved?
At first glance, Edgecomb looks like the perfect neutral paint color. But don't be fooled, like every neutral paint color, there are undertones that may sneak up and give you a scare. You know how those undertones are, sneaky little buggers.
So, that's what we are going to explore today. We will deep dive into anything and everything regarding Ben Moore's Edgecomb Gray.
Let's start with the stats.
According to Encycolorpedia, Edgecomb Gray is made up of:
red: 80.549%, yellow: 85.4902%, blue: 77.2549%
hue: 43 (42.8571), saturation: 10 (9.633), lightness: 85 (85.4902)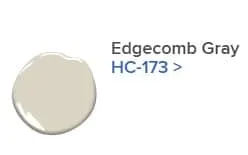 Edgecomb Gray has an LRV of 63.88. What is LRV or Light Reflectance Value? It's the percentage of light that is reflected from a surface. LRVs range from 0-100, 0 being the darkest at black, and 100 being the lightest at white.
An LRV of 63.88 is great and means Edgecomb will be reflecting a good amount of light.
WHAT COLOR IS EDGECOMB GRAY?
Edgecomb Gray is a soft and airy gray paint color that has a bit of beige in it. It teeters between gray and beige, which makes it an excellent greige paint color. Depending on the lighting situation, EG can lean either more gray or beige. You can even consider it to be almost a putty color with a touch of creaminess to it.
This is a great paint color to use if you want to update your space and have a lot of beige-colored furniture. It works well because of the balance of gray and beige it has in it.
Edgecomb Gray does look tend to look grayer in natural light and more beige in rooms without a ton of natural sunlight.
Benjamin Moore describes it as
"A go-to gray that's timeless with a modern edge, this earthy, organic neutral is soft and stylish, creating a setting that feels distinctly personal"

Benjamin Moore
And I think that description is spot on.
To sum it up, Edgecomb Gray is in fact a GRAY paint color. But, with some added bells and whistles to it.
EDGECOMB GRAY UNDERTONES
BM Edgecomb Gray has green-gray undertones. I know what you are thinking, green? Yup, EG has green-gray undertones in it. Now, that doesn't mean if you choose Edgecomb as your wall color it's going to look green.
All gray paint colors have blue, green, or violet undertones in them and Edgecomb happens to have green undertones. A good way to think of green-grays is to picture cultured stone or the color of concrete.
So depending on the lighting in the space, the colors of your furniture, and the colors of the fixed elements in the room, the undertones of EG can make themselves present.
If you are having a hard time with the undertone the best way to see it is by using a product like Samplize- Peel & Stick Paint Samples or, painting it on a white poster board and bringing it in your home. The color you see on the computer screen is usually not true to color. This is why sampling is so important.
If you want, compare Edgecomb Gray's green-gray undertones to Balboa Mist's violet-gray undertones. This makes it easier to see the different undertones of the 2 colors.
Overall, Edgecomb stays fairly neutral.
IS EDGECOMB GRAY A WARM OR COOL COLOR?
Edgecomb Gray is considered a warm gray.
If you place it side by side with another paint color, depending on the color you are comparing it to, it can either look more or less warm than the opposing color.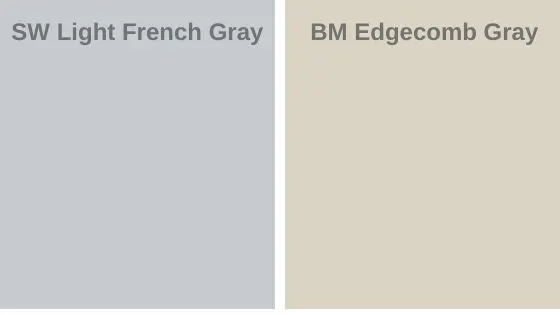 Here's a good example of how Edgecomb looks like a warm gray paint color when compared to a cool gray paint color like SW Light French Gray.
And here is a great example of how EG can look like a cool paint color when compared to a warmer color such as Benjamin Moore Shaker Beige.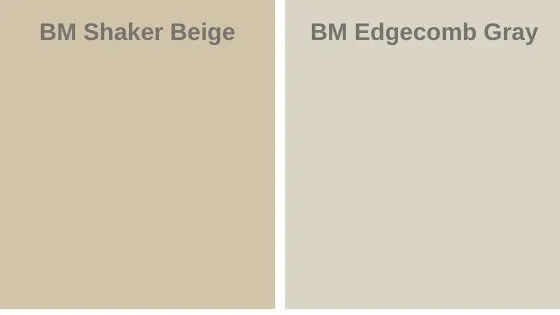 In most cases, Edgecomb Gray HC-173 is referred to as a warm-toned gray paint color.
LIKE WARM PAINT COLORS? TRY THESE:
IS EDGECOMB TOO LIGHT?
This question all depends on what you are asking it is too light for and what your opinion of too light is. For example, Edgecomb Gray is lighter than Revere Pewter, but it is also darker than Glacier White.
In darker rooms or hallways that get little to no light, EG tends to look quite dark and dull.
I think EG is the perfect warm shade of gray, not too light and not too dark.
---
Looking for an easier way to swatch paint colors?
Instead of physically going to your nearest paint store to grab your samples, you need to try Samplize Peel & Stick paint samples. These peel & stick paint samples are super affordable and allow you to test a paint color in all different areas of a room without the mess of a traditional paint sample!
You know how I feel about testing paint colors, it's a must!
Don't create more work for yourself. Order Samplize now and have them shipped directly to you. No-fuss, no mess! Check them out for yourself, you won't be disappointed.
READ MORE: HOW TO TEST PAINT SAMPLES
---
WHERE CAN YOU USE EDGECOMB GRAY HC-173
Anywhere! The beauty of this warm gray paint color is that it's so versatile that it can be used just about anywhere. Some places you can use Edgecomb Gray are:
There are so many opportunities throughout the home to use this functional gray paint color.
USE EDGECOMB GRAY IN THE KITCHEN AND ON KITCHEN CABINETS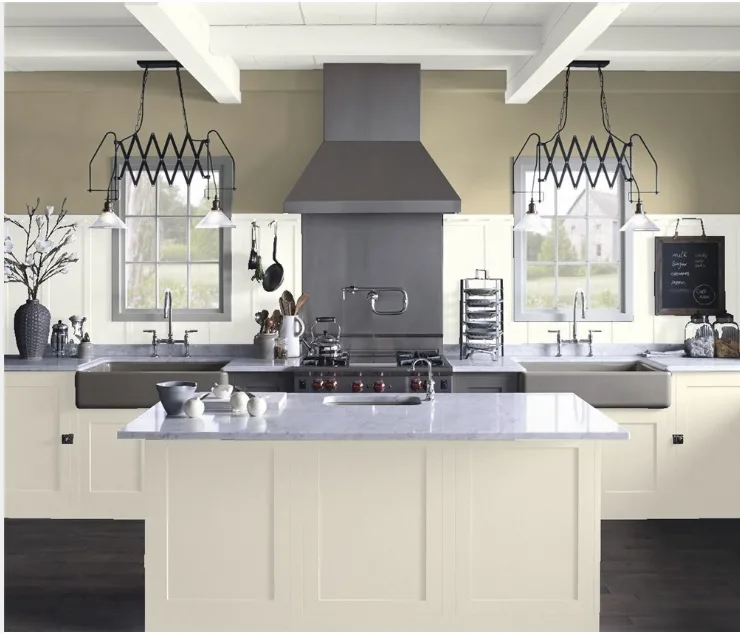 The kitchen is the perfect place to use Edgecomb Gray. This warm gray will provide a neutral backdrop allowing you to bring in color elsewhere.
This goes for using Edgecomb Gray on either the kitchen cabinets or walls.
Using Benjamin Moore Edgecomb on kitchen cabinets is a fantastic option when you want a paint color to help update some of the "Tuscan Finishes" in the space. EG is a great greige to bridge the gap between old and updated.
If you are considering painting your kitchen cabinets yourself, read this first!
USE BENJAMIN MOORE EDGECOMB IN THE BEDROOM
A bedroom painted in Edgecomb Gray HC-173 will provide a neutral backdrop for the room. Neutrals paint colors like Edgecomb, allowing you to add color in other places. For instance, textiles and artwork.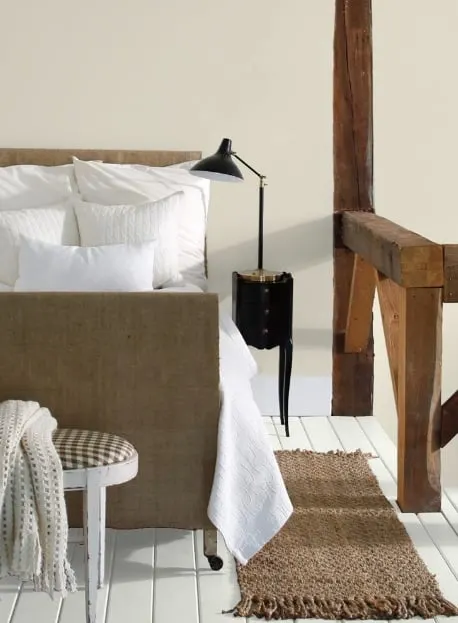 Don't forget to pick up these amazing painting tools! They will only make your life easier!
USE BM EDGECOMB GRAY ON THE EXTERIOR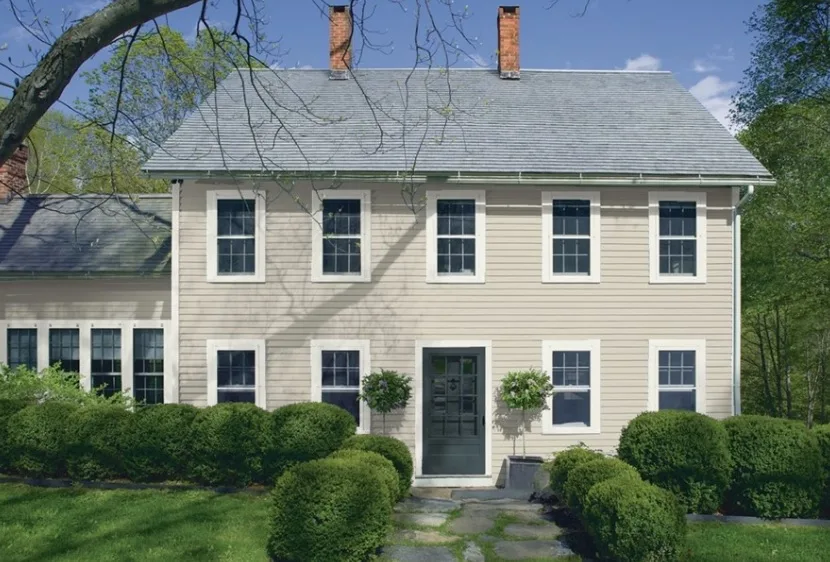 You can certainly paint the exterior of your home in Edgecomb Gray. EG is an incredible paint color choice for the exterior of your home. It will, however, come off much lighter than it does indoors. Unmistakably, because of the direct sunlight, it is getting. BM Edgecomb Gray is still a fantastic option for the exterior, especially if you are looking for a neutral paint color other than white.
COLORS SIMILAR TO EDGECOMB GRAY
When deep-diving into a paint color, I always like to find similar colors to the one I'm exploring. In the particular case of Edgecomb Gray, I have come across a few comparable paint colors. Keep in mind these colors are not exact matches, they are simply paint colors with similar tones to EG.
Modern Gray – Sherwin Williams
Elmira White – Benjamin Moore
Alaskan Skies – Benjamin Moore
Nature's Essentials – Benjamin Moore
COORDINATING COLORS
Choosing the right paint color is a challenge in itself. Then having to find a paint color to coordinate it with is where many people get stumped.
Being that Edgecomb Gray is so delightfully neutral, it coordinates well with many different colors. Below are some fantastic paint colors to pair this versatile neutral gray with.
White Chocolate
Nickel
Revere Pewter
Chelsea Gray
River Reflections
Simply White
Kendall Charcoal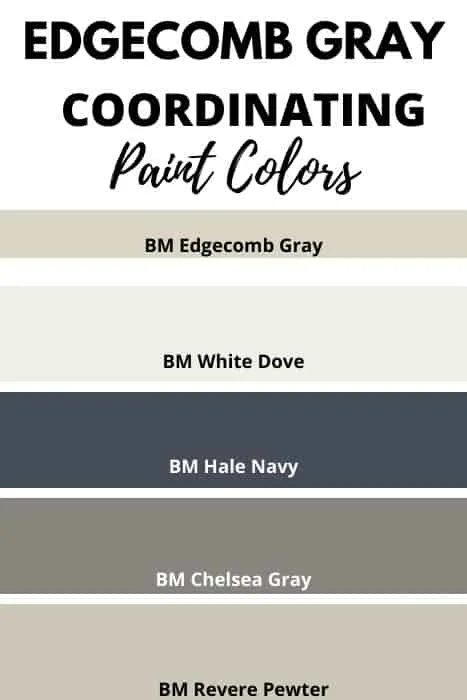 READ MOORE: USE ONE OF THESE WHITE PAINT COLORS ON YOUR TRIM TO COORDINATE WITH EG
Save time! Get the best painting supplies available!
The best way to see a color and its undertones is by comparing it to another color. Below are a few color comparisons to give you a better idea of what color Edgecomb Gray is and how it compares to other colors.
EDGECOMB GRAY VS REVERE PEWTER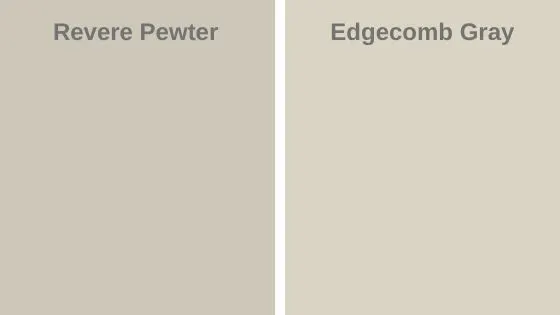 To start off the comparison let's take another extremely popular Benjamin Moore paint color, Revere Pewter. Many times Revere Pewter is thought to be very similar to EG but just a shade darker. Let's see if that s true.
Revere Pewter has an LRV of 55.51, which is slightly lower than Edgecomb's 66.88.
Revere Pewter is darker than EG
Both paint colors have a green-gray undertone.
Both paint colors have an earthy and natural feel to them.
Edgecomb Gray and Revere Pewter complement one another beautifully.
EDGECOMB GRAY VS ACCESSIBLE BEIGE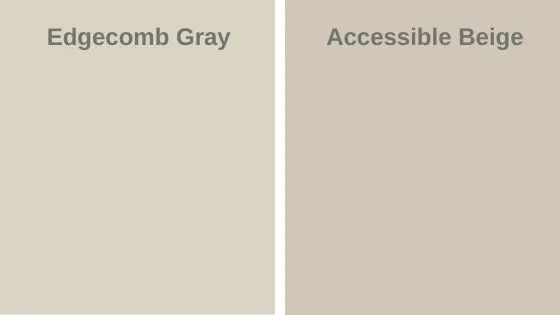 This is another pairing that often comes up with clients. Everyone always wants to see how Edgecomb Gray vs. Accessible Beige SW 7036 compares.
Accessible Beige is more warm-toned than EG.
The LRV of Accessible Beige is 58 which is slightly lower than Edgecomb Gray's 63.88.
Accessible Beige is more of a beige color with gray undertones.
EG has green-gray undertones in it.
Comparing these 2 colors side by side you can see that Accessible Beige's name is pretty accurate. The beige is really showing through.
CLAY BEIGE VS EDGECOMB GRAY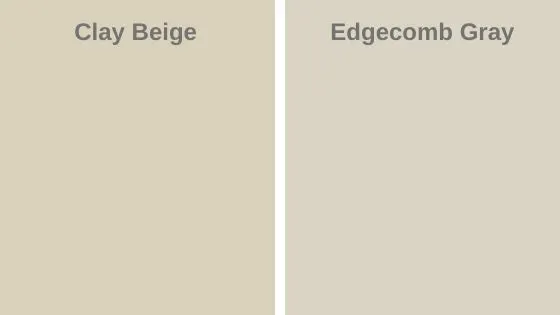 Now let's compare Clay vs Edgecomb gray
Clay Beige has an LRV: of 62.87, very close to EG's LRV of 63.88
Edgecomb has green-gray undertones
Clay Beige has undertones that are more greige. (gray and beige)
Clay Beige is warmer than EG
Both have a neutral creaminess to them
MANCHESTER TAN VS EDGECOMB GRAY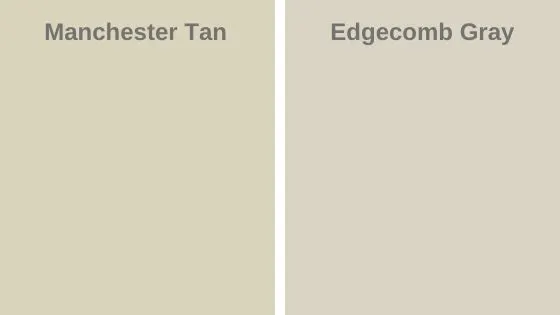 Finally, I want to compare Manchester Tan and EG
Manchester Tan has an LRV of 64.41, very close to EG's LRV of 63.88
EG is not as warm as Manchester Tan
Manchester Tan has green-beige undertones.
Edgecomb has green-gray undertones.
Manchester Tan has more beige in it.
READ MORE: BM MANCHESTER TAN FULL PAINT COLOR REVIEW
WAIT! Before you start painting make sure you have the best painting tools to make your job easier. It will take hours off your painting time!
BEST TRIM COLOR FOR EDGECOMB GRAY
Most of the time, the trim is painted white. However, not all white paint colors are created equal. Some white colors are warmer, some cooler. Choosing the right white trim color depends on the wall color.
With respect to Edgecomb Gray, Benjamin Moore White Dove is the perfect trim color to use with it. White Dove is the perfect trim color for EG because it is an off-white rather than a stark white.
COLOR RECAP
Let's go through a quick run-down of what we learned.
Edgecomb Gray is a soft neutral gray paint color
EG has an LRV of 66.88
It can also be considered a greige.
The undertones of EG are green-gray.
This neutral gray looks lovely with many different colors, including Revere Pewter and Chelsea Gray.
You can use this versatile greige color anywhere, kitchen cabinets, living rooms, bedrooms, exterior, etc.
It's one of Benjamin Moore's most popular and best-selling paint colors
---
---
FINAL THOUGHTS
Overall, I think Edgecomb Gray is an amazing color. It works well with many different design styles making it so versatile and appealing to many different people.
Does it deserve to be one of the most popular Benjamin Moore Paint colors?
Absolutely!
EG is a near-perfect shade of gray with a pleasant undertone. This paint color works just about everywhere. If you are looking for a beautifully soft greige paint color, it's worth taking a look at Benjamin Moore Edgecomb Gray.
Finally, remember to avoid a major painting mistake and swatch your paint colors!
---
Want a free copy of my interior painting checklist?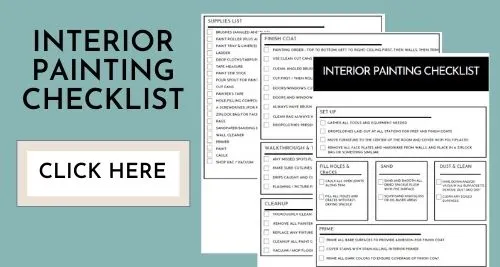 ---
YOU MAY ALSO BE INTERESTED IN THE FOLLOWING: