I may earn money or products from the companies mentioned in this post. Please click my Disclosure Policy to learn more
Sherwin Williams City Loft SW 7631 is a unique neutral paint color. It's a light, soft gray/beige. Some may even consider it to be a light-greige paint color. This is one of Sherwin William's best-selling paint colors and for a good reason. City Loft is a great option if you want a modern yet delicate neutral paint color.
Hello all, and welcome to another one of my very fun paint color reviews. Yes, I said fun and I 100% mean it.
Today I will be talking about a color that isn't very colorful, in other words, a neutral. But I promise you, it is a good one that I feel isn't spoken about often enough.
There is no particular reason for choosing this paint color this week. Honestly, I was flipping through my Sherwin Williams paint deck and it's the first one that caught my eye.
Today's paint color is:
SHERWIN WILLIAMS CITY LOFT SW 7631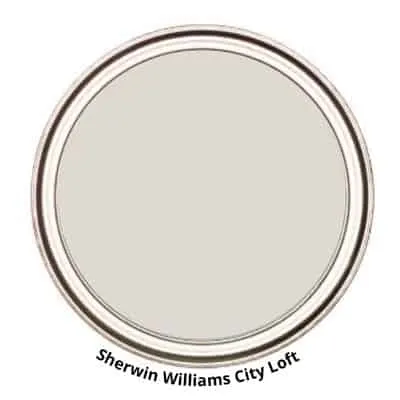 STATS
Before I go into what color City Loft is, its undertones it has, and so on, let me spout off a few interesting stats.
LRV: 70
HUE FAMILY: Yellow – leaning close to Yellow-Red
Color Collections: Trendsetter, Living Well – Reflect, Top 50 Colors, Cool White, Finest Whites
LRV is probably the most common term you hear when it comes to paint colors. And it can be very helpful in choosing a paint color. But many people don't know what it is or why it's helpful.
Don't worry, if you are unfamiliar with LRV, I'm going to give you a very quick overview of what it is.
LRV stands for Light Reflectance Value. It is a measurement commonly used by design professionals that measures the amount of light reflected from and absorbed by a surface. LRVs range from 0-100, with 100 being pure white and 0 being absolute black.
A great article to read to learn more about LRV is Light Reflectance Value: What Do Those Numbers Mean?
Basically, The higher the LRV the more light the paint color will reflect.
City Loft has an LRV of 70, which is in my opinion a great LRV number. It will reflect a good amount of light, however, it won't be as reflective as white paint colors like BM Chantilly Lace (LRV 90.04).
One of the lesser known or talked about stats is the hue family of a paint color. The hue family is based on the origins of the colors we can see. For example, red, blue, green, yellow, etc.
SW City Loft is from the yellow hue family, though it leans very close to the yellow-red family.
Overall, the hue family allows you to understand the paint color's origin.
To close out this stats section, let's talk color collections.
All a color collection really is is it's a curated group of paint colors. Some are created by paint color experts, others are grouped by color.
City Loft is a part of a few different color collections, most notably Sherwin Williams Top 50 Colors.
---
KEEP TRACK OF YOUR PAINT COLORS
Are you looking for a way to keep track of all the paint colors in your home?
Have you ever had to touch up some paint in your home and forgot what the paint color was?
It's like you are playing the guessing game, what color, paint, finish, and brand. It's completely frustrating!
I have the perfect solution to keep your paint colors all in one place. My simple paint color tracker can keep you and your paint colors organized!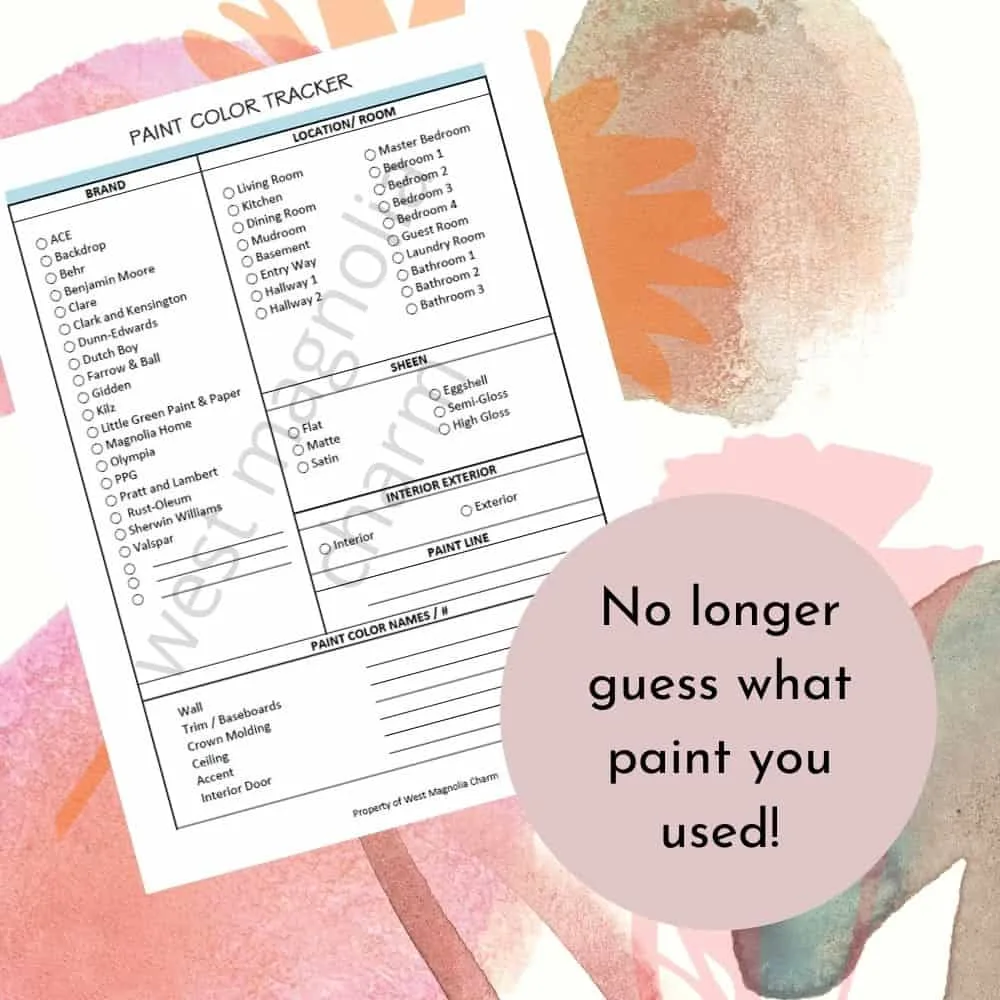 ---
SW CITY LOFT COLOR STRIP
Heron Plume SW 6070
Zurich White SW 7626
Origami White SW 7636
Aesthetic White SW 7035
White Heron SW 7627
City Loft SW 7631
Windfresh White SW 7628
Follow these helpful painting tips and avoid these mistakes to get the job done right!
WHAT COLOR IS CITY LOFT?
On the Sherwin Williams website, City Loft is categorized in the Whites & Pastels Paint Colors and that makes sense.
City Loft is a near-neutral pastel paint color. It's not quite white, Some people like to call it a light greige. It's not really a gray paint color nor is it beige, it sits happily somewhere in the middle.
It's very soft and has a light and air feel to it.
Now, to be honest this is a color that is highly influenced by lighting as well as what's around it. It is one of those colors that is lovingly called a chameleon.
Don't let that scare you away from this fantastic light-neutral color. All you need to do is test a sample of City Loft in your home to see exactly how it will perform.
CREATE YOUR OWN PAINT SAMPLE BOARDS
IS CITY LOFT A WARM OR COOL PAINT COLOR?
SW City Loft is a warm paint color. It's not an overly warm paint color. It's warm yet it has a sense of crispness to it.
A great way to help you figure out if a paint color is either warm or cool-toned is by comparing it to another paint color that is clearly warm or cool.
Let's take City Loft and compare it to Sherwin Williams Passive. When placed side by side you can see that Passive is cool-toned and City is warm-toned.
Explore More Warm-Toned Paint Colors:
WHAT UNDERTONES DOES CITY LOFT HAVE?
Sherwin's City Loft undertones are interesting. I've heard some people say it has a very slight green undertone, while some others say it has pink undertones.
In my experience with this color, I have seen it show slight peachy tones and even taupish ones. This is because of its hue family. City Loft leans very close to the yellow-red side, which is ultimately orange. So the peach tones are understandable.
I have also seen it flash a purplish tone. This tends to happen when near neutrals like City Loft are in unbalanced lighting.
Undertones are very subjective. What undertone you see a paint color show may not be the same as another person sees. Why?
It all comes down to lighting, decor, and the fixed elements in your home. These are all factors in how a paint color will look.
LIGHTING AND CARDINAL DIRECTIONS
Let's talk about lighting, cardinal directions, and how they are major players in how a City Loft will look in a home.
The lighting in your space will affect how your paint color looks. There's no denying it. Is it the only factor? No, but it's kind of a big deal.
That being said, being aware of how the lighting in your home is and in which direction your rooms sit, will ultimately assist with your paint color selection.
The Cardinal directions are North, South, East, and West.
For reference, here is a cheat sheet of how light appears in different directions.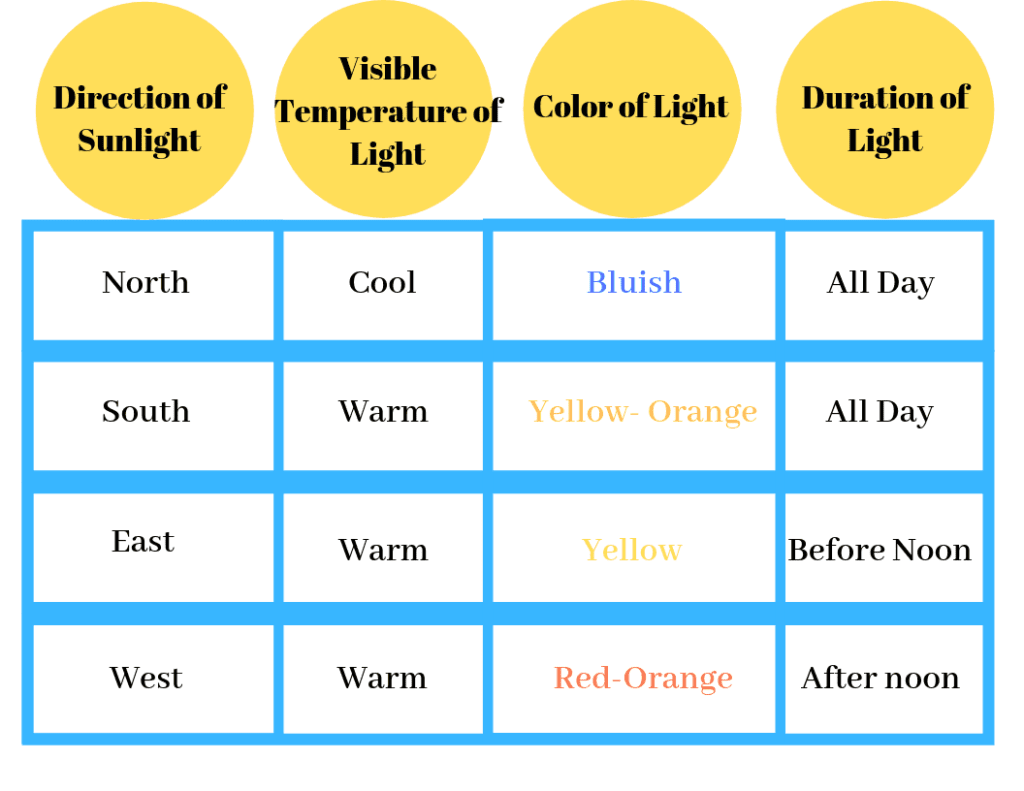 NORTH-FACING ROOMS – Light in North-facing rooms comes off cooler and somewhat bluish. Lighter colors will appear more muted or grayed down, while bolder colors will show up, or appear sounder.
SOUTH-FACING ROOMS – In South-facing rooms, there tends to be a consistently bright light throughout the day. Warm and cool tones work with south-facing light, This light intensifies colors, so darker colors will seem a bit brighter while softer colors will appear to look like they are gleaming.
EAST-FACING ROOMS – East-facing rooms have the brightest light in the mornings, with a yellow-orange tone. If an east-facing room will be used mostly in the evenings, going with a warm palette will help balance the lack of natural light.
WEST-FACING ROOMS – Early evening is when West-facing rooms have the most favorable light. Warmer tones might seem overwhelming because of the red-orange the light gives off. However, if the main use for the room is in the mornings, the colors won't appear as strong as they would in the evening.
Warm light will enhance City Loft's lovely warmth. While cooler light will make it feel a bit grayer.
WHAT ARE THE BEST LIGHT BULBS TO USE?
Just as natural light affects paint colors so does artificial lighting.
The color of the light bulbs you use will influence how a paint color will look in a room. And unfortunately, it's an important detail that is often overlooked.
With the variety of light bulbs available and it can become overwhelmingly confusing. I mean what really soft white and bright white?
Thankfully, it becomes easier once you know a little bit about light bulbs.
For reference, light color or light appearance is measured on the Kelvin (K)temperature scale. Lower Kelvin numbers mean more yellow light; the higher the Kelvin number the whiter or bluer light.
Remember, lower Kelvin (K) numbers = yellow light, Higher Kelvin (K) numbers = white/blueish light
I always recommend using this type of light bulb.
Be cautious of the light bulb names such as "daylight" or warm light". I'd advise against picking a light bulb by its name.
Instead, always check the package for actual facts. This allows you to choose the best bulb for you.
Don't forget, as much as lighting plays a major part in how a paint color will look at times, there are other determinants to be aware of. For instance, decor, furniture, fixtures, cabinetry, and floors. These are all elements that can affect and/or influence the way a paint color will look in your room.
WHAT IS THE BEST WAY TO SAMPLE SHERWIN WILLIAMS CITY LOFT?
Not sampling paint colors is one of the biggest painting mistakes you can make! If you skip it, you run the risk of a paint color failing to look the way you hoped it would. This is not only disappointing but costly!
This is why I always say sample those paint colors!
Want to know the best and easiest way you can sample Sherwin City?
SAMPLIZE PEEL & STICK PAINT SAMPLES!
Instead of physically going to your nearest paint store to grab your samples, you need to try Samplize Peel & Stick paint samples.
Why should you try Samplize?
Super affordable
Mess-free
Non-damaging
Made with real manufacturer paint
Displays color just like a wall
Environmental friendly
Reusable
These peel & stick paint samples are super affordable and allow you to test a paint color in all different areas of a room without the mess of a traditional paint sample!
You know how I feel about testing paint colors. It's a must!
Don't create more work for yourself. Order Samplize now and have them shipped directly to you. No fuss, no mess! Check them out for yourself. You won't be disappointed.
Get $5 off your first Samplize order using the code "FIRSTFIVE"
WHERE CAN YOU USE SHERWIN WILLIAMS CITY LOFT?
A gorgeous neutral like City Loft can essentially be used in any application.
When I'm asked questions about if it's okay to use a color in a certain space, I'll ask two questions.
Did you sample the paint color in that particular space?
Do you love how the color looked?
Simple as that. It is best not to overthink it. Coming from a notorious over-thinker, this is saying a lot.
If you liked how the sample of City Loft looked in your living room, I say go for it. Don't worry about popular colors or what your favorite influencer is using. It's your home, and you need to live in it.
That said, I want to share a few examples of how SW City Loft looks in some real-life spaces.
LIVING ROOM
Kendra @brickhousedesigns on Instagram painted the beautifully detailed walls of this living room with Sherwin Williams City Loft. You can see the subtle warmth in the color but yet it still gives the room a clean and modern feel.
Kendra is an extremely talented interior designer. If you are in search of someone to help design your space, I suggest checking out her website Brick House Designs, and getting in touch with her.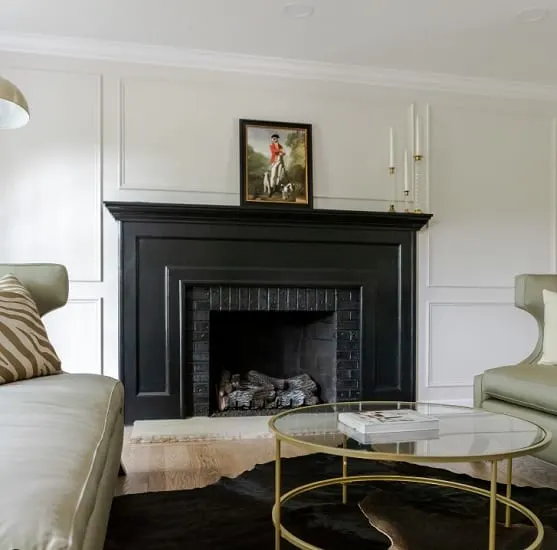 KITCHEN WALLS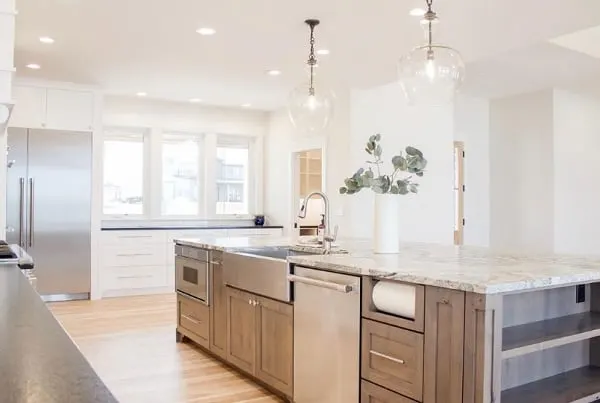 Crown General Construction, customer home builders out of Lewiston, Idaho, paint the walls of this drop-dead gorgeous kitchen in SW City Loft.
The warmth in the color gives the kitchen a welcoming feel and also pairs so beautifully with the wood island.
If you are in the Lewiston, Idaho, area and looking to build your dream home, check out Crown General Construction.
OPEN CONCEPT HOME
annlace.home on Instagram, decided to go with City Loft for the living room, kitchen, and dining room of her new open-concept home. She describes the color as a warm grayish beige, and she is not wrong.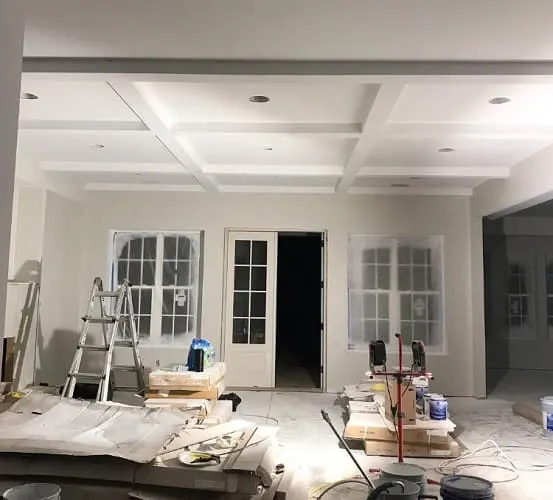 IS SW CITY LOFT A GOOD EXTERIOR PAINT COLOR?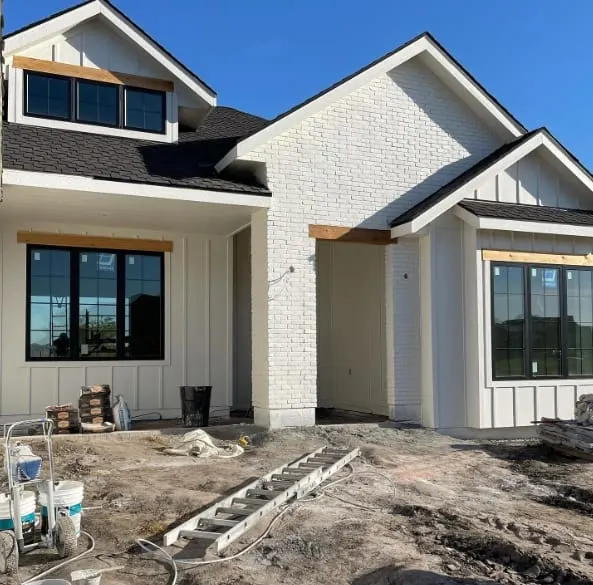 Absolutely! City Loft is a good paint color to use on the exterior. However, you need to know a few things about how the color will perform in direct sunlight.
Paint colors used on the exterior will always appear lighter in direct sunlight. Some may also look a bit washed out.
A light color like City Loft will appear to look like a soft white on the exterior.
In my opinion, I think it's the perfect color to capture the classic farmhouse look.
Jay @jameshnance on Instagram chose City Loft to use on his new build. The color looks like a gorgeous soft white. It looks stunning with the black window and the wood details.
EXPLORE MORE EXTERIOR PAINT COLORS:
Don't start painting until you have the right tools!

SHOP MUST HAVE PAINTING TOOLS
WHAT'S THE BEST TRIM COLOR FOR CITY LOFT?
Finding a trim paint color to coordinate with a wall paint color can through people for a loop. I totally understand why. It's an important decision.
I think simpler is better. I'm pretty classic and love the look of a white trim paired with almost any way color. I find that the trim always pops when painted white.
When it comes to SW City Loft, I think it looks stunning with a white paint color that is on the cleaner side, like SW Pure White or SW Extra White.
READ MORE: THE BEST WHITE PAINT COLORS FOR TRIM.
If you looking to add a bit more drama, consider painting the trim a darker shade of gray, like SW Dovetail or SW Pavestone.
You can also go the monochromatic route. Use City Loft on the walls and trim but in different finishes to add a bit of dimension. For example, Use a flat or matte finish on the walls and a semi-gloss on the trim.
WHAT'S THE BENJAMIN MOORE EQUIVALENT TO SHERWIN WILLIAMS CITY LOFT?
This is one of the most asked questions about paint colors and whether there is an equivalent in another paint brand. The answer is no, there is not. There are colors that are very similar to one another, but I have yet to find an exact dupe.
Honestly, I think this is a good thing. It gives us more choices in the world of paint colors. But I do understand why people ask about equivalents. Sometimes we don't have access to certain brands, and if you fall in love with a paint color from that brand, you want to find it elsewhere.
So for the inquisitive, I have located a Benjamin Moore paint color that is comparable to SW City Loft. Not a dupe, but similar.
Benjamin Moore Athena 858 / OC-20
LRV: 69.89
As you can see, they look pretty similar in color. They both have the same LRV so they'll reflect the same amount of light. They also are both the same lightness. BM Athena is a hair darker.
The biggest difference is that BM Athena leans a bit more gray.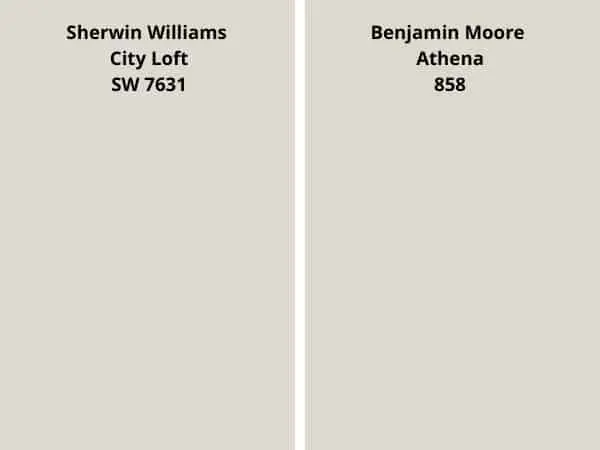 SHOULD YOU COLOR MATCH?
I wouldn't say you should, but you certainly can if you want.
If you are considering color matching between brands, do it with a bit of caution.
Brands formulate paint colors differently. This means that if they mix a paint color that isn't theirs, it has the potential of being slightly off.
If you still want to take a chance, I highly recommend starting with a sample of the color to start. This way, you can see if the color is the same and if you like it.
CITY LOFT COORDINATING COLORS
You don't have to worry about finding colors to coordinate with Sherwin Williams City Loft. Why? Because it's neutral and will work with a ton of colors.
Here is a sample color palette for City Loft. Use it as inspiration for creating your own color palette or use some of the colors suggested. Remember, you have to like the colors, you will be the one living with them.
SNOWBOUND SW7004
TAUPE TONE SW 7633
HUNT CLUB SW 6468
RAINDROP SE 6485
THUNDER GRAY SW7645
MODERN GRAY SW 7632
URBANE BRONZE SW 7048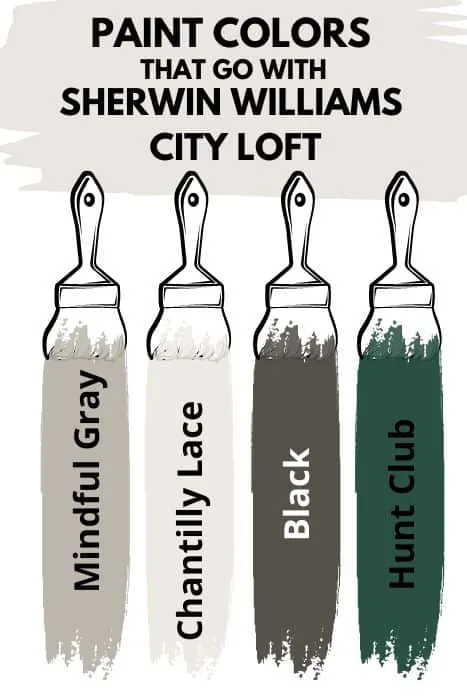 COLOR COMPARISONS
Let's talk color comparisons!
I love comparing colors because it allows you to see obviously the similarities and differences, but also it can help you weed out paint colors you don't like. It's a huge help in choosing a paint color.
I have a few popular colors to compare against City Loft. Some are different. Some are similar all are gorgeous in their own way.
CITY LOFT VS DRIFT OF MIST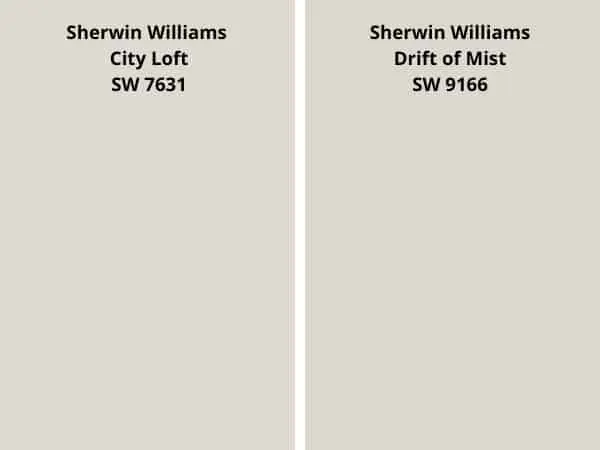 Drift of Mist has an LRV of 69 which is very close to City's LRV of 70.
Drift of Mist is slightly lighter, only by a smidge.
They are both near-neutrals and are very comparable in saturation.
Drift of Mist is also from the yellow hue family but is right in the middle, whereas City Loft leans very close to yellow-red.
In different lighting situations, Drift of Mist can sometimes show a bit of a green tone.
I like both of these paint colors. If you are considering a lighter soft greige color, they are both worthy contenders.
READ MORE: SHERWIN WILLIAMS DRIFT OF MIST PAINT COLOR REVIEW
SW CITY LOFT VS AGREEABLE GRAY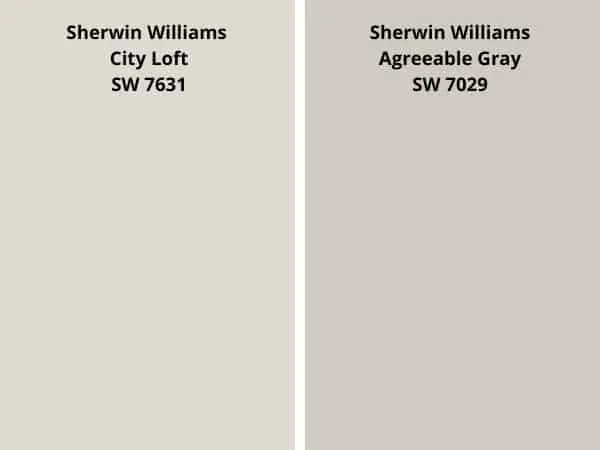 Agreeable Gray has a lower LRV of 60. City's is 70
Agreeable Gray is the darker paint color.
Both can be described as greige paint colors.
Sometimes Agreeable Gray can show a bit of a green tone in certain lighting.
Agreeable Gray leans more on the gray side.
It's clear that these two are not very similar. For this, it comes down to if you want a darker gray greige or a lighter, more beige greige.
READ MOORE: AGREEABLE GRAY FULL COLOR REVIEW
CITY LOFT VS REPOSE GRAY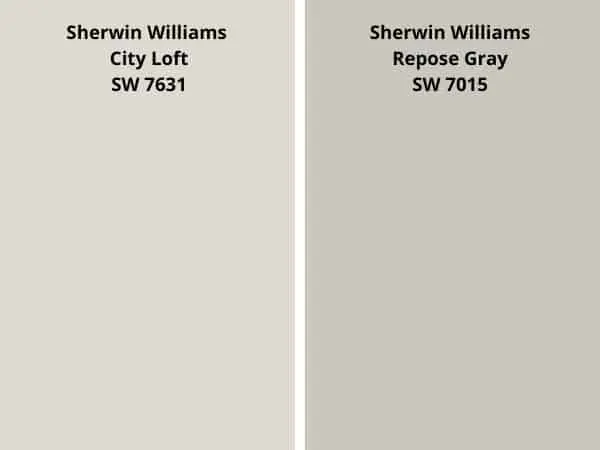 Repose Gray has an LRV of 58, that's lower than CL's LRV of 70.
Repose Gray is darker.
City Loft can sometimes show slight peach-ish tones. Repose Gray can flash purple.
Repose Gray is cooler in tone and is a gray color.
If you know me, you know my heart belongs to Repose Gray. It's my favorite gray paint color. But it's a gray paint color, and City Loft isn't truly gray. So it's like we are comparing apples and bananas here. Both are delicious in their own way but not the same.
READ MORE: SHERWIN WILLIAMS REPOSE GRAY PAINT COLOR REVIEW
CITY LOFT VS CLASSIC GRAY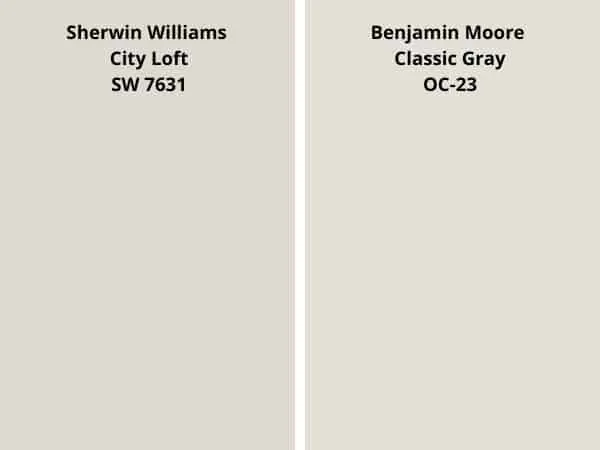 Classic Gray is a Benjamin Moore paint color with an LRV of 74.78. Slightly higher than CL.
Classic Gray is a bit lighter, but not by much.
Both are near-neutrals that are on the warmer side.
Classic Gray is closer to a white paint color.
Classic Gray has the potential to flash purple in specific lighting.
Now, these two are more similar than some of the other comparisons I mentioned. Both are light colors that are quite soft. City Loft is more of a greige than white.
READ MORE: BM CLASSIC GRAY REVIEW
SHERWIN WILLIAMS CITY LOFT VS EGRET WHITE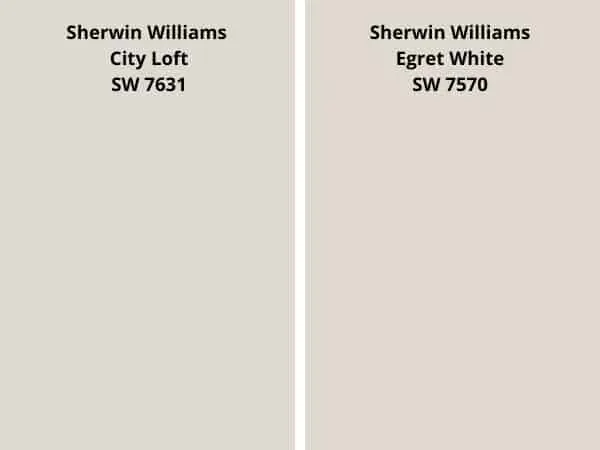 Egret White has an LRV of 70, the same as CL
Egret White has a bit more saturation or color to it.
City Loft is a bit more neutral
Egret White can show a bit of a pinkish /mauve tone in certain lighting.
Both are from the white& pastel color collection.
For this comparison, they aren't very similar. They are both light colors but I don't find them too comparable.
RECAP- SHERWIN WILLIAMS CITY LOFT REVIEW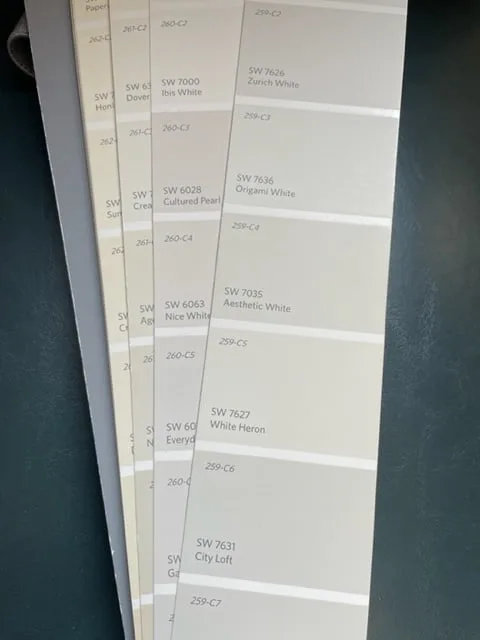 LRV: 70
HUE FAMILY: Yellow – leaning close to Yellow-Red
Color Collections: Trendsetter, Living Well – Reflect, Top 50 Colors, Cool White, Finest Whites
can look like a beautiful light-toned greige in balanced lighting
in certain lighting, it has the potential to show peach or purple undertones
it's the perfect modern farmhouse paint color
it looks great with white trim like SW Pure White, Extra White, or Snowbound
Benjamin Moore Athena 858 / OC-20 is the BM equivalent, and they are similar colors
coordinates well with many different colors, especially green paint colors
looks great on the exterior and interior of the home
WAIT! Before you start painting make sure you have the best painting tools to make your job easier. It will take hours off your painting time!
FINAL THOUGHTS
After going through all the ins and outs of Sherwin Williams City Loft, I have decided this may be a new favorite color. I mean, it has it all.
City is a soft, slightly warm, and light neutral. It works well in all different areas of the home, including the exterior. And it easily coordinates with other colors.
Another fantastic thing about this color is that it can be used in just about any decor style. Everything from traditional to modern to farmhouse, it works with it all.
It's safe to say I am a fan of SW City Loft, and I think it's an amazing paint color. I highly suggest checking it out and grabbing a sample of it.
---
BEFORE YOU GO
Are you planning on tackling a painting project on your own? Use these tips to help you paint your room like a pro.
Do you want to paint like a pro?
Get the painting tools the pros use.
Drop cloths are a must for any painting project. Paint is messy! Save yourself the hassle of unnecessary cleanup by using drop cloths. You'll be happy you did.
A high-quality paint brush will go a long way. The same goes for paint rollers. You want to use tools that will work with you, making your painting job more manageable.
RECENT ARTICLES: