I may earn money or products from the companies mentioned in this post. Please click my Disclosure Policy to learn more
Reflection SW 7661 by Sherwin Williams is a tremendous light blue-gray paint color. This color works well with all decor styles providing a calming atmosphere.
Hey all! I'm so happy to return here with another awesome paint color review.
I have lost count of all the times I say this, but I am genuinely excited to tell you everything about the paint color I chose to review today.
There are just so many amazing paint colors, and I really am just so jazzed to talk about all of them.
But the color I have for you all day is one that I have been thinking about reviewing for a while now, but for some reason, it kept getting pushed to the back burner. But today is the day we are getting into it.
The color of the day is
SHERWIN WILLIAMS REFLECTION SW 7661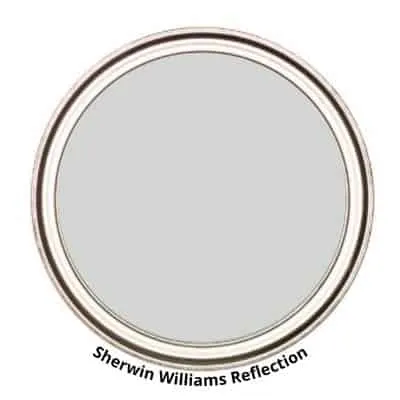 STATS
Let's start strong with a few stats on SW Reflection.
LRV– 66
HUE FAMILY – GREEN
CIE-L*Ch(ab) = 85.548 1.376 154.981°
COLOR COLLECTIONS – Color ID (Minimalist), Top 50 Colors
LRV, What is it, and why is it beneficial to understand?
LRV, or Light Reflectance Value, is a measurement commonly used by design professionals that measures the amount of light reflected from and absorbed by a surface. LRVs range from 0 -100, with 100 being pure white and 0 being absolute black. A great article to read to learn more about LRV is Light Reflectance Value: What Do Those Numbers Mean?
Basically, Reflection has an LRV of 66, so it will reflect a good amount of light.
The color Reflection belongs to the green hue family, which is a valuable piece of information. Understanding the hue family of a paint color can provide insight into its characteristics and potential color shifts in different lighting conditions.
As for the color collections, these aren't crucial details. However, it's interesting, and you can see what other colors are alongside it.
KEEP TRACK OF YOUR PAINT COLORS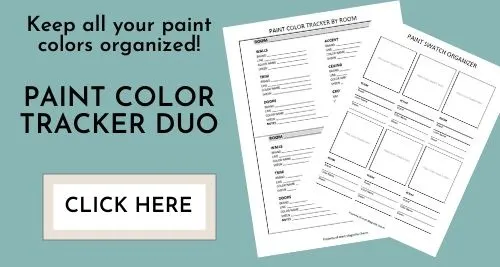 WHAT COLOR IS REFLECTION?
Sherwin Williams Reflection is a neutral blue-gray paint color. It's on the lighter side, and it has a calming softness to it.
It's the perfect light color option to be used to create an illusion of a larger and airier space. It also has enough depth to it to retain its hue, even when direct sunlight hits the walls.
I'd say, Reflection is a versatile grayish-blue color that can be used in any room in the house. It is a great choice for bedrooms, living rooms, and offices. It can also be used to create a calming and serene atmosphere in a bathroom or spa.
CONSTANTLY FORGETTING WHAT PAINT COLORS YOU USED IN YOUR HOME? KEEP TRACK OF THEM ALL WITH THIS HANDY PAINT COLOR KEEPER
IS SW REFLECTION A WARM OR COOL PAINT COLOR?
Reflection is a cool-toned paint color that is light, bright, and airy. The name says it all because this cool-toned beauty reflects light like it is its job. SW Reflection is on the lighter side of cool grays with an LRV of 66.
I find comparing paint colors to one another can sometimes help you see the tone of a color. For example, let's take Reflection and compare it to BM Soft Chamois.
You can see that Soft Chamois is warmer than Reflection.
I want to remind you that lighting plays a major role in how a paint color presents itself. So if you really want to know the tone of a paint color, you need to swatch it in the room you plan on using it. This will allow you to see how the color will look in that particular space.
INTERESTED IN WARM-TONED PAINT COLORS?
WHAT ARE THE UNDERTONES OF REFLECTION?
Sherwin Williams Reflection has blue undertones or colors, that are visible in certain lighting and exposure.
Like all gray paint colors, Reflection is influenced by all the elements going on around it. For example, lighting, decor, and even what is outside of your window.
Some grays can have "unassuming undertones" that show up and cause a bit of a tizzy. Unbalanced lighting sources cause this. For Reflection, that color can be a lavender-ish hue.
However, the element of surprise with a color is pretty avoidable if you swatch your paint colors in your home. Once you see how it looks in your home, you can determine whether or not you are ok with how it looks.
REFLECTION, CARDINAL DIRECTIONS, AND LIGHTING
Lighting is one, if not the most, important factor when it comes to what a paint color will look like
It largely impacts how you will perceive a paint color. For this reason, it's a great idea to know the lighting condition and the cardinal direction of the room you are choosing the right paint color for.
The table shows the four cardinal directions: north, south, east, and west, with a brief description of how the light looks from each direction.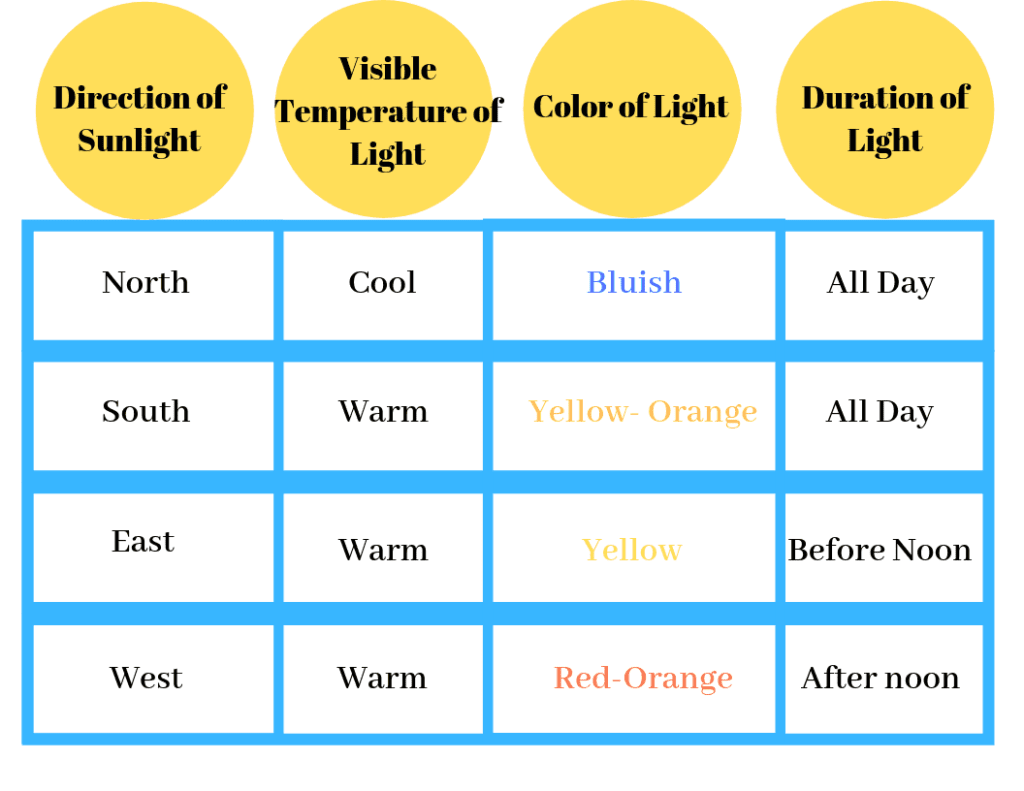 NORTH-FACING ROOMS – Light in North-facing rooms comes off cooler and somewhat bluish. Lighter colors will appear more muted, while bolder colors will show up or appear sounder.
SOUTH-FACING ROOMS – In South-facing rooms, there tends to be a consistently bright light throughout the day. Warm and cool tones work with south-facing light. This light intensifies colors, so darker colors will seem a bit brighter while softer colors will appear to look like they are gleaming.
EAST-FACING ROOMS – East-facing rooms have the brightest light in the mornings, with a yellow-orange tone. If an east-facing room is used mainly in the evenings, going with a warm palette will help balance the lack of natural light.
WEST-FACING ROOMS – Early evening is when West-facing rooms have the most favorable light. Warmer tones might seem overwhelming because of the red-orange the light gives off. However, if the main use for the room is in the mornings, the colors won't appear as strong as they would in the evening.
It's noteworthy always to consider lighting while choosing a paint color. However, you cannot forget about the other elements that influence how a paint color may look.
This includes fixed features like cabinetry, flooring, tiles, etc., and the decor colors you choose for your home.
Follow these helpful painting tips and avoid these mistakes to get the job done right!
WHAT ARE THE BEST LIGHT BULBS TO USE?
Just as natural light affects paint colors, so does artificial lighting.
The color of the light bulbs you use will influence how a paint color will look in a room. And unfortunately, it's an important detail that is often overlooked.
With the variety of light bulbs available and it can become overwhelmingly confusing. I mean, what is the difference between soft white and bright white?
Thankfully, it becomes easier once you know a little bit about light bulbs.
For reference, light color or light appearance is measured on the Kelvin (K)temperature scale. Lower Kelvin numWhen planning your home, it's important to consider both the permanent fixtures like cabinets, flooring, and tiles, as well as the decorative colors that will give your space a personal touch.bers mean more yellow light; the higher the Kelvin number, the whiter or bluer light.
Remember, lower Kelvin (K) numbers = yellow light, Higher Kelvin (K) numbers = white/blueish light
I always recommend using this type of light bulb.
Be cautious of the light bulb names such as "daylight" or warm light." I'd advise against picking a light bulb by its name.
Instead, always check the package for actual facts. This allows you to choose the best bulb for you.
Don't forget, as much as lighting plays a major part in how a paint color will look at times, and there are other determinants to be aware of. For instance, decor, furniture, fixtures, cabinetry, and floors. These are all elements that can affect and/or influence the way a paint color will look in your room.
WHAT IS THE BEST WAY TO SAMPLE?
As someone who values the importance of choosing the right paint color for a room, I highly recommend testing and sampling various options. This step in the painting process is often overlooked, but it can provide a concrete idea of how the color will appear in the space. Neglecting this step seems impractical to me.
LEARN HOW TO TEST YOUR PAINT SAMPLE THE RIGHT WAY.
GRAB A SAMPLING PAINT COLORS WORKSHEET TO LEARN HOW TO GET THE MOST OUT OF YOUR SAMPLES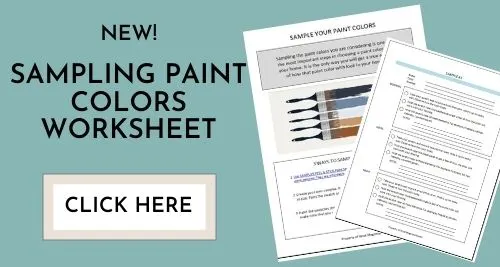 Instead of physically going to your nearest paint store to grab your samples, you need to try Samplize Peel & Stick paint samples.
Why should you try Samplize?
Super affordable
Mess-free
Non-damaging
Made with real manufacturer paint
Displays color just like a wall
Environmental friendly
Reusable
These peel & stick paint samples are super affordable and allow you to test a paint color in all different areas of a room without the mess of a traditional paint sample!
You know how I feel about testing paint colors. It's a must!
Don't create more work for yourself. Order Samplize now and have them shipped directly to you. No fuss, no mess! Check them out for yourself. You won't be disappointed.
Get $5 off your first Samplize order using the code "FIRSTFIVE"
WHAT IS THE BEST TRIM COLOR TO USE?
White paint colors tend to be favored when it comes to trim. That makes sense because white works with all colors. The key is using the correct shade of white, and that is where the struggle lies.
Sherwin Williams Reflection is a cool-toned gray paint color. For the most part, cool-toned colors look good with crisper or cleaner white paint colors.
For that matter, I have a few cleaner white paint colors I like to use with cooler colors like Sherwin Williams Reflection.
Extra White
Ceiling Bright White
High Reflective White
There are other options available besides a white trim. For example, you may consider using a color such as SW Ice Cube, which has a slightly blue tone. The blue tone pairs well with the blue in Reflection.
If you prefer, you could also opt for a darker trim. A color like Wall Street would create a striking contrast and add depth to the overall look.
READ MORE: THE BEST WHITE PAINT COLORS FOR TRIM
WHERE TO USE SW REFLECTION?
Reflection by Sherwin Williams is a stunning and flexible paint hue that can enhance any area of your home. It's an excellent option for those seeking a bright, breezy atmosphere with a hint of elegance.
I find that a light, cool-toned color like this is best suited for bedrooms and bathrooms because of the calming vibes it has.
Certainly, feel free to use Reflection in any part of your home. As I always mention, there are no strict rules when it comes to paint colors. If you follow the process of experimenting with paint colors and are content with how it appears in your space, that is what counts.
FAMILY/LIVING ROOM WALLS
A family or living room is a fantastic place to use Sherwin Williams Reflection.
Amy M on Houzz painted her family room walls using Reflection, which looks lovely. The blue hue is certainly noticeable in the color.
BEDROOM WALLS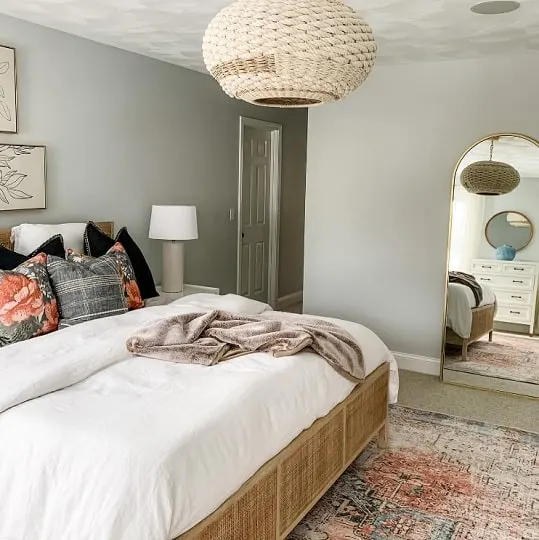 Consider using Reflection on your bedroom walls. This soft gray-blue will create a serene and calming space.
Cedarhouseri on Instagram used it in this beautiful bedroom. The color provides the room with a tranquil feel.
If you happen to be in Rhode Island and require assistance with interior design, don't hesitate to contact Cedar House Design Collective.
IS SHERWIN WILLIAMS REFLECTION GOOD EXTERIOR PAINT COLOR?
OK, let's talk exteriors! This is important, so keep those ears open.
As I've said, paint colors are influenced by light. Lighting has so much to do with the way a paint color will look indoors and outdoors.
In direct sunlight, paint colors appear lighter and can even wash out. This is especially apparent with lighter near-neutral paint colors. This leads me to the question at hand, is SW Reflection a good exterior paint color?
I am not one to say whether or not a paint color is good or not, BUT I will say this is a color that tends to wash out in the sun. It can appear almost white.
Now if you test the color on the exterior and like how it looks in the sun and throughout the day. Then sure, Reflection is a good exterior paint color. However, if you expect it to look a bit more saturated, it may be the color for you.
For colors that withstand sun exposure, opt for hues with greater depth. Consider SW Dorian Gray as a prime example.
LOOKING FOR EXTERIOR PAINT COLORS? CHECK THESE OUT:
WHAT IS THE BENJAMIN MOORE EQUIVALENT TO SW REFLECTION?
Is there a Benjamin Moore equivalent to Reflection? I receive this question frequently regarding paint colors.
The answer is no, not really. Some colors are very similar to one another, but I have come across any exact dupes.
I understand why people ask about equivalents. Sometimes we don't have access to certain brands, and if you fall in love with a paint color from that brand, you want to find
To be honest, there aren't any exact duplicates, but there are colors that are quite similar to each other.
I can relate to why people inquire about equivalent products. There are times when we may not have access to certain brands, and if you happen to come across a paint color you adore, you'd want to find a substitute elsewhere.
BENJAMIN MOORE 1611 GRAYTINT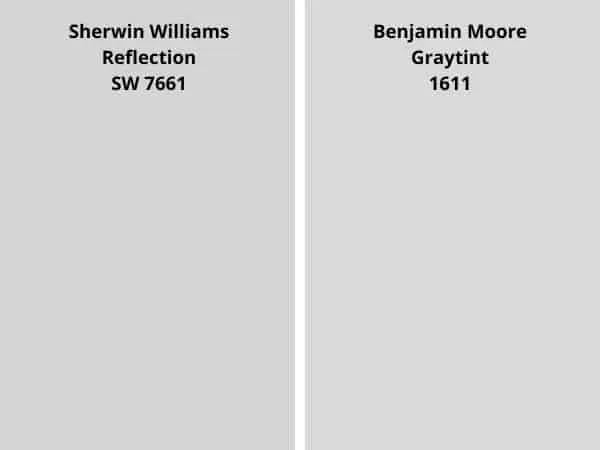 SHOULD YOU COLOR MATCH?
It's not necessarily recommended, but it's definitely an option if you choose to do so.
If you are considering color matching between brands, do it with a bit of caution.
Paint colors vary depending on the brand that formulates them, which means that blending colors from different brands may result in a slight variation.
If you still want to take a chance, I highly recommend starting with a sample of the color to start. This way, you can see if the color is the same and if you like it.
WAIT! Before you start painting make sure you have the best painting tools to make your job easier. It will take hours off your painting time!
SHERWIN WILLIAMS REFLECTION COMPLEMENTARY COLORS
This is a common question regarding any paint color. Sometimes it can be a challenge to find colors that work well together.
One of the easiest ways to find coordinate colors is by looking at the color wheel. Colors that are directly opposite from one another are complementary.
In this case, the opposite of green is red.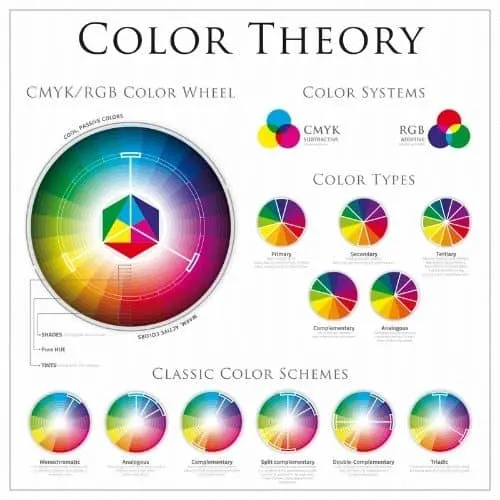 A color wheel is a convenient tool for creating color palettes.
That being said, I have a few colors I think Reflection looks lovely with.
Ice Cube
Dustblue
In the Navy
Naval
Extra White
Cyberspace
Steely Gray
It's also a fantastic paint color to complement light wood.
LOOKING FOR A WAY TO CREATE AN ACCENT WALL TO COMPLIMENT YOUR PAINT COLORS?
PAINT COLOR COMPARISONS
Let's have some fun, shall we?
Comparing colors can be both practical and enjoyable. It's not only useful for selecting paint colors but also for observing the resemblances and distinctions among various popular hues.
REFLECTION VS PASSIVE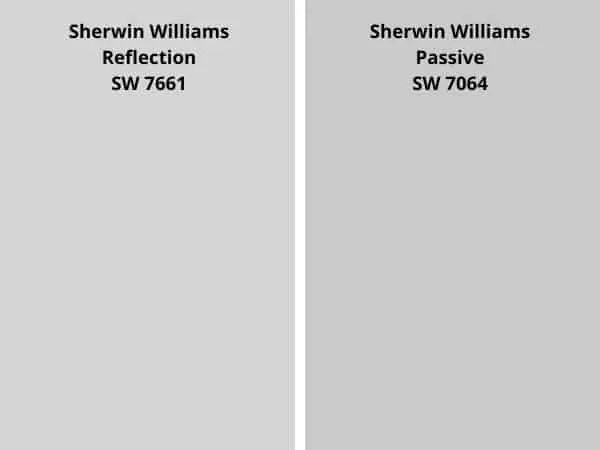 Passive has an LRV of 60. Reflection has a higher LRV at 66.
Side by side, Passive looks darker, and you can see it is a bit more saturated.
Like Passive, Reflection is also light, bright, and airy.
Reflection has more of a blue undertone to it
READ MORE: SHERWIN WILLIAMS PASSIVE FULL REVIEW
REPOSE GRAY VS REFLECTION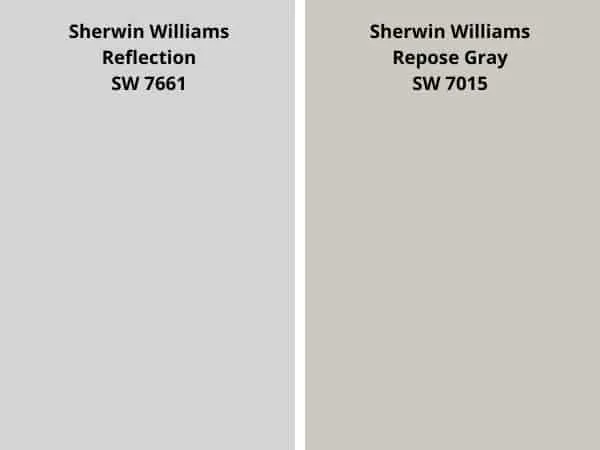 Repose Gray has an LRV of 58, a hair lower than Passive, which sits at 60.
When compared side by side, you can see how Passive is more cool-toned, and Repose Gray has more warmth.
Repose Gray is more on the greige side
REFLECTION VS EVENING SHADOW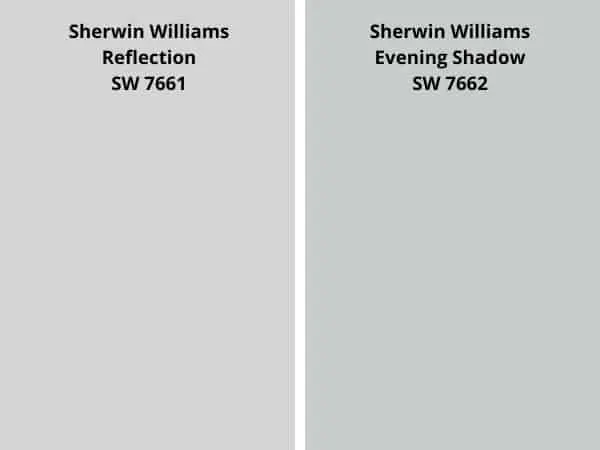 SW Evening Shadow has an LRV of 60, lower than Reflection's 66
Evening Shadow is a darker paint color
SW Evening Shadow is a cold neutral with subtle blue tones.
Both colors are similarly saturated.
REFLECTION VS OLYMPUS WHITE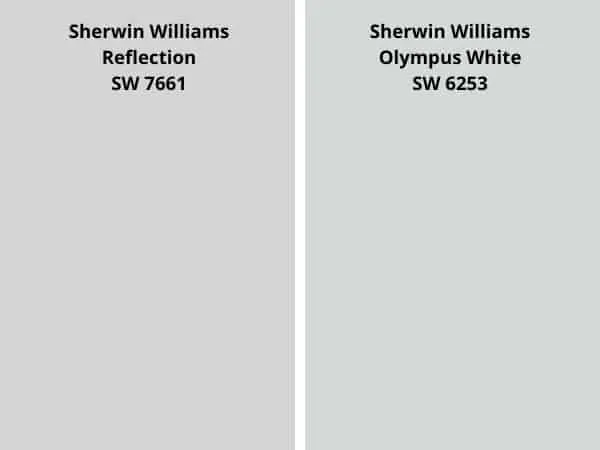 Olympus White has an LRV of 68, which is a tad higher than Reflection's 66
Olympus White is a hair lighter, considered a white, with some blue-gray tones.
Both colors have a similar saturation level.
Olympus White is from the blue-green hue family.
Doing some painting yourself? Make sure you pick up this essential painting tool!
RECAP
I anticipated that my review of Sherwin Williams Reflection would be quite detailed, so I wanted to give a brief summary of all the points I covered.
LRV- 66
HUE FAMILY – GREEN
COLOR COLLECTIONS – Color ID (Minimalist), Top 50 Colors
is a neutral blue-gray paint color
It's cool-toned
It has undertones or colors it can show of blue-gray
In unbalanced lighting, it can sometimes show a lavender hue
The Best way to sample is with SAMPLIZE Peel & Stick Paint Samples
Graytint by Benjamin Moore is a similar paint color
It looks good with other blue paint colors
It also looks beautiful with a crisp white trim color.
FINAL THOUGHTS
I am a fan of Sherwin WIlliams Reflection. It's a great cool-toned neutral grayish-blue paint color.
Personally, I tend to prefer cool tones as I find them appealing. However, if you're someone who doesn't particularly appreciate cooler tones, this may not be your cup of tea.
And another reminder is, Reflection can sometimes, in certain lighting, flash a purple or lavender color. This is very important if you want no sign of purple in your paint color.
All paint colors have their quirks, and lighting, as well as other elements, contribute to them. The thing to remember is to get paint samples and test them in the room you are painting.
If you are looking for a way to be sure you love a color, testing them is the way to do so.
Overall, Reflection SW7661 can look like a light, cool gray-blue paint color. I think if you are a fan of cooler tones. You may fall in love with Reflection. I know I did.
Are you planning on tackling a painting project on your own? Use these tips to help you paint your room like a pro.
Do you want to paint like a pro?
Get the painting tools the pros use.
Drop cloths are a must for any painting project. Paint is messy! Save yourself the hassle of unnecessary cleanup by using drop cloths. You'll be happy you did.
A high-quality paint brush will go a long way. The same goes for paint rollers. You want to use tools that will work with you, making your painting job more manageable.
RECENT ARTICLES: