I may earn money or products from the companies mentioned in this post. Please click my Disclosure Policy to learn more
Elevate your home with the power of yellow! These 10 Best Sherwin Williams yellow paint colors create a lively and welcoming atmosphere that will give your home a bright and cheery vibe.
Hello again! I'm so glad you stopped by.
You are in for a delightfully cheerful paint color post today.
As you know, summer is practically here. And if you know me, you know I am a summer girlie through and through.
I want to celebrate all things summer!
What better way to kick off the summer than with a vibrant and lively blog post featuring ten unique paint colors?
Those are not just any old paint colors. They are the ……
10 BEST SHERWIN WILLIAMS YELLOW PAINT COLORS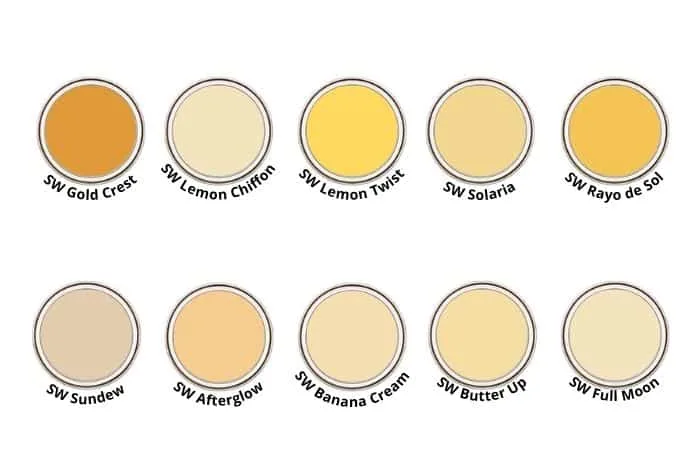 Before discussing the various shades of Sherwin WIlliams yellow paint, let me provide some useful tips for efficiently working with this color.
HOW TO CHOOSE SHERWIN WILLIAMS YELLOW PAINT COLORS
When choosing a paint color for a room, it's essential to consider its purpose and the mood you want to create. Do you want a relaxing, peaceful, lively, energetic atmosphere? Keep in mind that different shades of yellow can have other effects on the room's mood, so choose a hue that matches the desired atmosphere.
Evaluate lighting conditions: Lighting plays a significant role in how colors appear in a space. Consider the amount and type of natural and artificial light in the room. Yellow can be sensitive to lighting, so test paint samples under different lighting conditions to see how the color looks throughout the day.
Determine the tone: Yellow paint colors can have various tones, such as warm (orange or red undertones), cool (green undertones), or neutral (more balanced). Consider the tones and how they will blend with other elements in the room, such as furniture, flooring, and decor.
Test paint swatches: It's crucial to test paint colors in your own space before committing to a particular shade. Paint small sections of the wall with different Sherwin WIlliams yellow paint color options and observe how they look in various lighting conditions. Look at the swatches at different times throughout the day to see how they change with the changing light.
READ MORE: HOW TO TEST PAINT COLORS THE RIGHT WAY
Coordinate with existing elements: When choosing a yellow paint color for a room, it's important to consider the existing elements like flooring, furniture, and artwork. You should consider how the yellow shade will complement or contrast these elements. To ensure a cohesive look, it's a good idea to bring fabric samples, flooring samples, or pictures of existing furniture when selecting a yellow shade.
Consider the size of the room: Keep in mind that lighter shades of yellow can make a room feel more spacious and airy, while darker or more intense yellows can create a cozy and intimate atmosphere. Consider the size and proportions of the room when selecting a yellow paint color.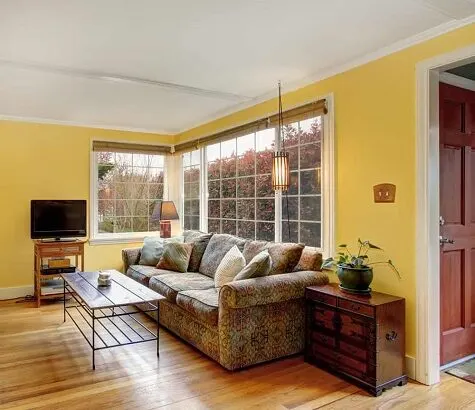 Get inspiration: Look for inspiration in magazines, websites, or interior design platforms to see how yellow has been used in different spaces. Collect images or create a mood board to help visualize how the color might look in your own room.
Seek professional advice: If you're uncertain or would like expert guidance, consider consulting with a professional interior designer or paint specialist. They can provide valuable insights and recommendations based on your specific needs and preference.
Selecting the perfect yellow paint color is a highly individualized decision. Choosing a shade that aligns with your style and preferences is essential. To do so, take your time, try different samples, and rely on your instincts to find the ideal yellow tone for your particular space.
Follow these helpful painting tips and avoid these mistakes to get the job done right!
WHAT ARE THE BEST WAYS TO USE SHERWIN WILLIAMS YELLOW PAINT COLORS?
Accent walls: Painting an accent wall in a Sherwin WIlliams yellow paint color can add a vibrant and energetic focal point to a room. Choose a wall that naturally draws attention, such as the one behind a bed, a fireplace, or a dining table. This technique works particularly well in spaces where you want to inject a pop of color without overwhelming the entire room.
Entryways and hallways: Yellow paint in entryways and hallways can create a welcoming and uplifting atmosphere. It sets a positive tone for your home and creates a cheerful first impression. Consider using lighter shades of yellow in narrow hallways to make the space appear larger and more open.
Kitchen and dining areas: Yellow is known to stimulate appetite and create a warm ambiance, making it an excellent choice for kitchens and dining areas. Paint the walls, cabinets, or even the ceiling in yellow to infuse the space with energy and vibrancy. You can also consider using yellow accents, such as backsplash tiles, curtains, or kitchen accessories.
Home offices and study areas: Yellow is associated with creativity and mental stimulation, making it an excellent color choice for home offices or study areas. A soft or mid-tone yellow can foster focus and productivity. Consider painting the walls in yellow or incorporating yellow accents through furniture, rugs, or wall art.
Children's rooms and play areas: Yellow is often associated with happiness and playfulness, making it a popular choice for children's rooms and play areas. Use yellow on the walls or furniture or as an accent color to create a joyful and energetic space for kids to enjoy.
Sunrooms or spaces with lots of natural light: Yellow hues can amplify the natural sunlight in a room, making it feel bright and sun-filled. Consider using yellow in sunrooms or spaces with ample natural light to enhance the warm and inviting atmosphere.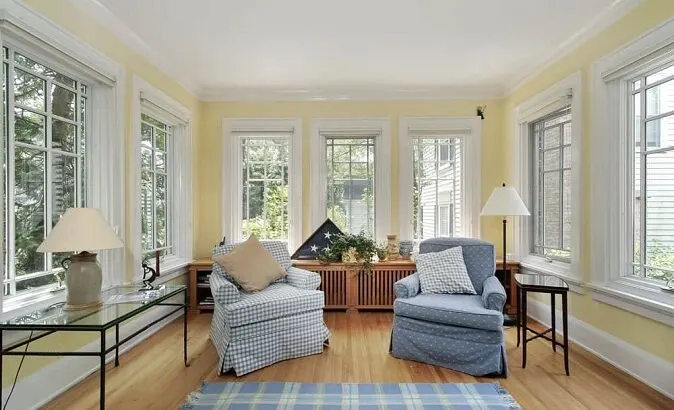 Complementary color combinations: Pair yellow with complementary colors to create a visually striking and balanced look. For example, combine yellow with shades of purple or blue for a vibrant contrast. You can incorporate complementary colors through furniture, accessories, or artwork.
Use as a neutral: Soft and muted yellow shades can function as neutral colors in specific contexts. They can serve as a warm and inviting backdrop for other bolder colors or patterns in a room. Consider using these neutral yellows on walls, ceilings or as a base color for a room.
When it comes to using yellow in your home decor, it's essential to strike a balance and create harmony. Yellow can be a vibrant and energizing color, but it's crucial not to overwhelm the room.
POPULAR SHERWIN WILLIAMS YELLOW PAINT COLORS
BUTTER UP SW 6681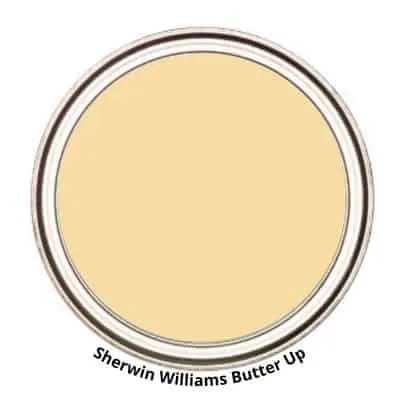 LRV: 74
Butter Up is a soft and warm yellow with a touch of creaminess. It creates a soothing and cozy atmosphere, making it ideal for bedrooms, living rooms, or any space where you want a subtle, inviting feel.
SUNDEW SW 7689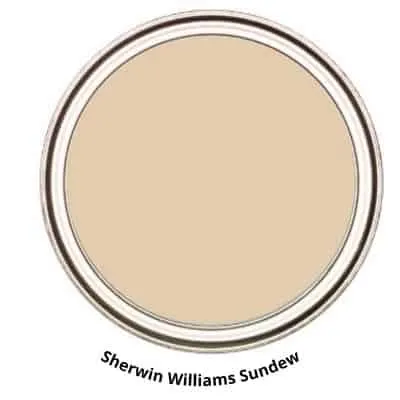 LRV: 63
Sherwin Williams' Sundew is a delightful yellow paint color with subtle tones.
The Sundew shade emanates a feeling of warmth and cheer, infusing any space with a sunny and inviting atmosphere. It adds a touch of vibrancy and energy to your walls, making it an ideal option for kitchens, dining areas, or any room that could use a splash of color.
Try pairing Sundew with natural elements and neutrals to achieve a balanced and refreshing look.
LEMON TWIST SW 6909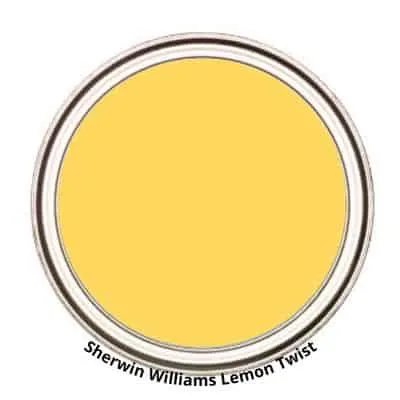 LRV: 72
Lemon Twist is a vibrant and energetic yellow that adds a pop of color to any room.
If you are looking for color, Lemon Twist is the Sherwin Williams yellow paint color for you.
It is bright and saturated, and it truly packs a punch.
It's perfect for accent walls, kids' rooms, or areas where you want to create a playful and lively atmosphere.
FULL MOON SW 6679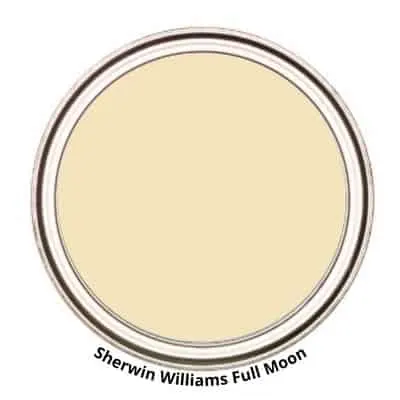 LRV: 78
Sherwin Williams' Full Moon is a captivating and versatile paint color.
This soft and delicate shade of yellow embodies the gentle glow of a quiet moonlit night.
The Full Moon emits a peaceful and serene ambiance, making it a perfect option for bedrooms, living areas, or any place where unwinding is crucial.
Its subtle warmth creates an inviting and cozy ambiance while still maintaining a light and airy feel.
Create a serene and cohesive color scheme by pairing Full Moon with neutral shades like gentle grays and creamy whites.
GOLD CREST SW 6670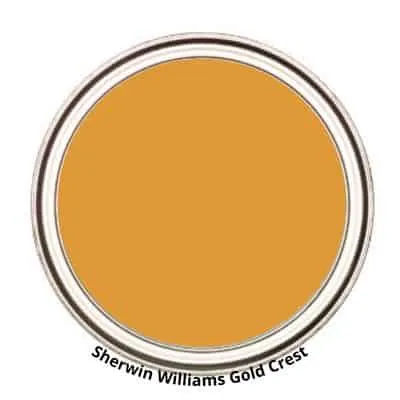 LRV: 39
Sherwin Williams' Gold Crest (SW 6670) is a radiant and luxurious yellow paint color that adds a touch of elegance and sophistication to any room.
This warm and lustrous hue embodies the richness of gold, evoking a sense of opulence and grandeur.
Gold Crest creates a welcoming and inviting atmosphere, making it an excellent choice for gathering spaces such as dining rooms or entryways.
Its golden glow reflects light beautifully, casting a warm and enchanting ambiance.
Pair Gold Crest with deep jewel tones or earthy neutrals to create a striking and stylish color scheme.
Let Gold Crest elevate your space with its timeless allure and bring a touch of luxury into your home.
SOLARIA SW 6688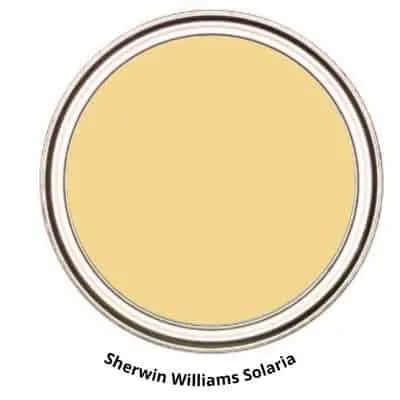 LRV: 70
Solaria is a fierce and intense yellow that commands attention.
It's a confident and eye-catching color that works well as an accent wall or in spaces where you want to create a vibrant and energetic atmosphere.
AFTERGLOW SW 6667
LRV: 65
Sherwin Williams' Afterglow is a captivating, luminous yellow paint color that exudes energy and vibrancy.
This bold and cheerful hue radiates warmth and positivity, instantly uplifting any space it graces.
Afterglow brings a sense of playfulness and excitement, making it a perfect choice for children's rooms, play areas, or areas where you want to infuse a burst of energy.
Pair Afterglow with complementary colors like turquoise or coral for a lively and dynamic color palette.
Create a vibrant and spirited ambiance in your space with the radiant charm of Afterglow.
BANANA CREAM SW 6673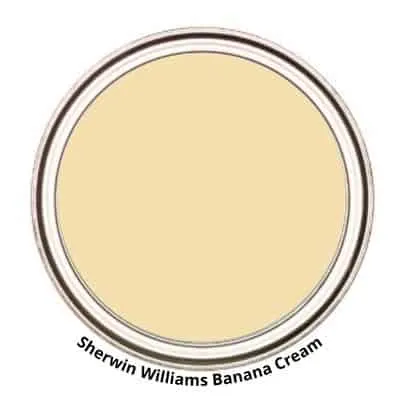 LRV: 75
Sherwin Williams' Banana Cream (SW 6673) is a delightful and whimsical yellow paint color that brings a sense of warmth and cheerfulness to any room.
Reminiscent of a ripe and creamy banana, this shade exudes a gentle and inviting charm.
Banana Cream creates a cozy and welcoming atmosphere, making it a fantastic choice for kitchens, breakfast nooks, or living areas where you want to create a cozy and inviting ambiance.
Its soft and mellow tone pairs beautifully with neutral colors like beige or ivory, creating a harmonious and soothing color palette.
Welcome the delightful sweetness of Banana Cream and infuse your space with its comforting and sunny allure.
RAYO DE SOL SW 9020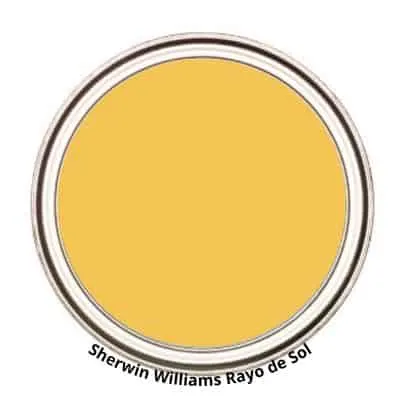 LRV: 60
Rayo de Sol is a warm and radiant yellow that brings a sunny glow to a room.
It creates a welcoming and inviting atmosphere and works well in spaces like foyers, sunrooms, or areas where you want to evoke a cheerful and optimistic vibe.
LEMON CHIFFON SW 6686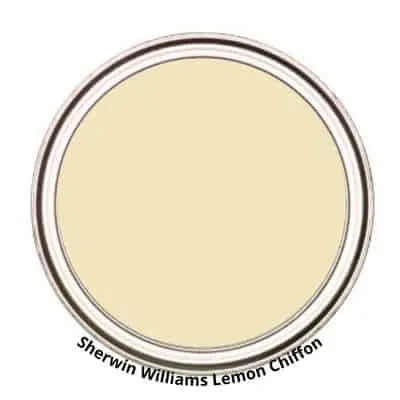 LRV: 79
Sherwin Williams' Lemon Chiffon (SW 6686) is a light and airy yellow paint color that brings a refreshing and uplifting vibe to any space.
Like a fluffy and delicate chiffon dessert, this shade is soft and creamy, exuding a subtle brightness.
Lemon Chiffon creates a soothing and serene atmosphere, making it an excellent choice for bedrooms, bathrooms, or any area where you desire a touch of tranquility.
Its delicate hue pairs beautifully with pastel tones and neutrals, creating a serene and dreamy color palette.
Infuse your space with the soft and subtle radiance of Lemon Chiffon and enjoy a tranquil and inviting ambiance.
WHAT IS THE BEST WAY TO SAMPLE?
Instead of physically going to your nearest paint store to grab your samples, you need to try Samplize Peel & Stick paint samples.
Why should you try Samplize?
Super affordable
Mess-free
Non-damaging
Made with real manufacturer paint
Displays color just like a wall
Environmental friendly
Reusable
These peel & stick paint samples are super affordable and allow you to test a paint color in all different areas of a room without the mess of a traditional paint sample!
You know how I feel about testing paint colors. It's a must!
Don't create more work for yourself. Order Samplize now and have them shipped directly to you. No fuss, no mess! Check them out for yourself. You won't be disappointed.
Get $5 off your first Samplize order using the code "FIRSTFIVE"
WHAT COLORS ARE COMPLEMENTARY TO YELLOW PAINT COLORS?
I get it; It can be a bit intimidating trying to pair and coordinate paint colors. But I'm happy to tell you that using color theory is n easy way to help you along the way.
Did you know that complementary colors are two hues that are situated opposite each other on the color wheel? These colors, when combined, create an eye-catching contrast and can enhance each other's vibrancy.
The complementary color to yellow on the color wheel is purple.
Here are some complementary paint colors to consider when pairing with yellow: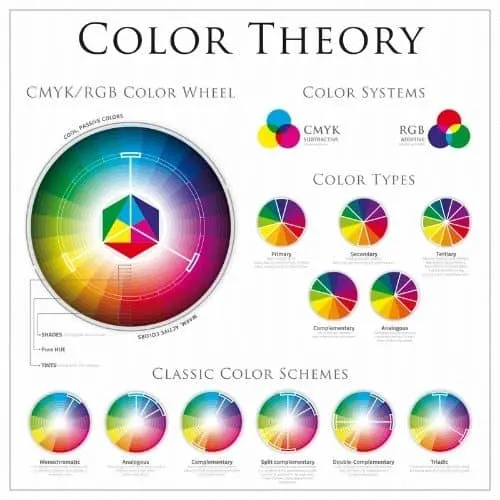 Purple: If you're looking to create a bold contrast, shades such as lavender, plum, or deep eggplant can work wonders when paired with yellow. Consider incorporating purple as an accent color or using it for furniture and decor items.
Blue: Yellow and blue are complementary colors, and shades of navy, royal blue, or sky blue can be effective. When combined, yellow and blue produce a refreshing and well-balanced color scheme.
Green: While green is not directly opposite yellow on the color wheel, it can still complement it nicely. Choose olive, sage, or mint green shades to create a harmonious, nature-inspired palette.
Gray: Neutrals like gray can provide a sophisticated backdrop for yellow. Light gray or charcoal gray can help yellow hues stand out while maintaining an overall balanced look.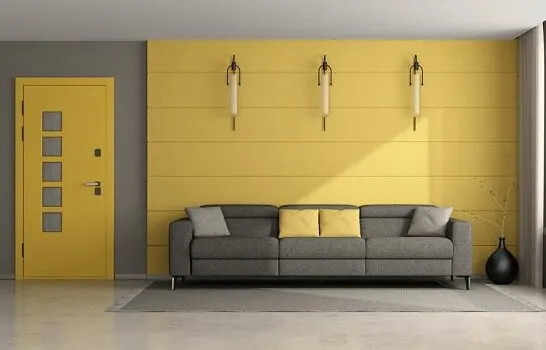 White: Crisp white walls can serve as a clean and fresh backdrop for yellow accents. White allows the vibrant yellow to take center stage and can create a bright and modern aesthetic.
Teal: Teal is a mix of blue and green, and it can bring a unique and vibrant touch to yellow. The combination of teal and yellow can create a lively and energetic atmosphere.
WAIT! Before you start painting make sure you have the best painting tools to make your job easier. It will take hours off your painting time!
COORDINATING PAINT COLORS
It's vital to keep in mind that the following examples of complementary colors provided are not exhaustive. It's advisable to try out paint samples in your own space to evaluate how they interact with the lighting and other room elements.
Lemon Twist (SW 6909):
Complementary: Dynamic Blue (SW 6958), Wisteria (SW 6822)
Neutrals: Snowbound (SW 7004), Repose Gray (SW 7015)
Solaria (SW 6688):
Complementary: Ardent Coral (SW 6874), Downpour (SW 6516)
Neutrals: Pure White (SW 7005), Gray Screen (SW 7071)
Rayo de Sol (SW 9008):
Complementary: Ravishing Coral (SW 6612), St. Bart's (SW 7614)
Neutrals: Pure White (SW 7005), Mindful Gray (SW 7016)
Full Moon (SW 6679):
Complementary: Amalfi (SW 6694), Coral Reef (SW 6606),
Neutrals: Agreeable Gray (SW 7029), Alabaster (SW 7008)
Gold Crest (SW 6670):
Complementary: Rave Red (SW 6608), Eros Pink (SW 6860)
Neutrals: Nomadic Desert (SW 6107) Urbane Bronze (SW 7048)
Afterglow (SW 6667):
Complementary: Aqua-Sphere (SW 7613), Bee (SW 6683)
Neutrals: Accessible Beige (SW 7036), Tricorn Black (SW 6258)
Banana Cream (SW 6673):
Complementary: Coral Bells (SW 6594), Rain (SW 6219)
Neutrals: Alabaster (SW 7008), Kilim Beige (SW 6106)
Lemon Chiffon (SW 6686):
Complementary: Glimmer (SW 6476), Peach Blossom (SW 6624)
Neutrals: Pearly White (SW 7009), Repose Gray (SW 7015)
RECAP
As always, I tend to ramble on throughout these types of articles. That being said, here's a quick recap of 10 Cheerful Yellow Sherwin Williams paint colors.
Butter Up SW 6681
Sundew SW 7689
Lemon Twist SW 6909
Full Moon SW 6679
Gold Crest SW 6670
Solaria SW 6688
Afterglow SW 6667
Banana Cream SW 6673
Rayo de Sol SW 9020)
Lemon Chiffon SW 6686
FINAL THOUGHTS – SHERWIN WILLIAMS YELLOW PAINT COLORS
Transform your space with these vibrant Sherwin-Williams yellow paint colors.
To achieve the perfect look, try out various shades of yellow and keep in mind the overall theme and style of your home. This will help you find the best way to incorporate yellow paint colors that reflect your personal taste and create the desired atmosphere.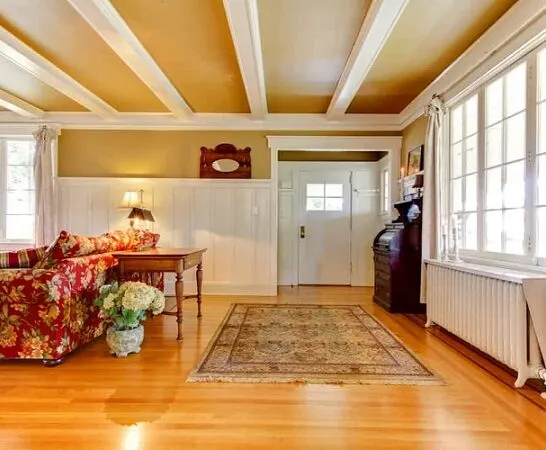 Find the ideal shade to enhance any room, from the warm and welcoming Butter Up (SW 6681) to the vibrant Lemon Twist (SW 6909). To create a stunning and harmonious color scheme, pair these yellows with complementary hues such as Concord Grape, Salty Dog, or Pure White.
Elevate your home with the power of yellow paint and create a vibrant and welcoming atmosphere.
RECENT ARTICLES: