I may earn money or products from the companies mentioned in this post. Please click my Disclosure Policy to learn more
When it comes to paint colors, neutrals are king, they are top of the class, they run the game. Can you see where I'm going with this?
For the purpose of today's post, I want to zero in on one particular neutral paint color, the Kelly Clarkson of paint colors…
Sherwin Williams
Alabaster SW 7008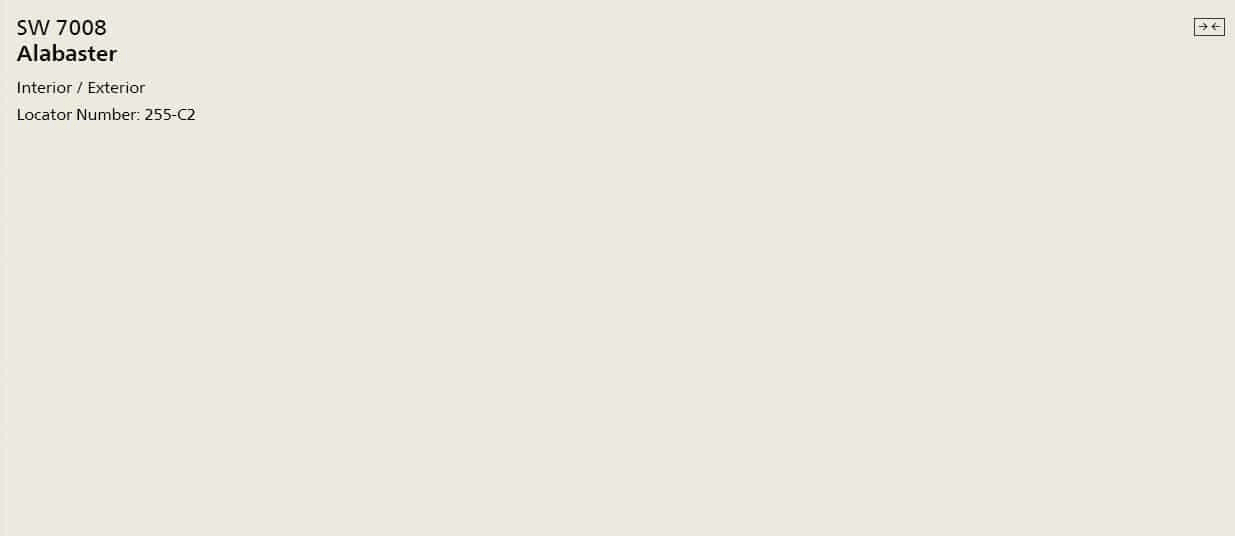 Why is Sherwin Williams Alabaster the Kelly Clarkson of paint colors?
Well first off, it was chosen as Sherwin Williams Color of the Year in 2016, which is saying a lot in my opinion. And it's still going strong to this day!
Here's how Jackie Jordan, Sherwin-Williams director of color marketing describes it:
A hue symbolic of new beginnings, Alabaster (SW 7008), is Sherwin-Williams 2016 Color of the Year. At a time of interconnected commotion and overstimulation, Alabaster offers a sense of personal solace and revival to weary minds. It is the true neutral to set the tone for 2016.

Alabaster represents a straightforward and necessary shift to mindfulness, well-being and an atmosphere that is pure and simple.
Also, because this neutral off-white paint color is the perfect backdrop to highlight any decor style. It lets the decor stand out as the star of the show, as well as allowing you to easily switch up said decor if you are looking for a change.
Let me fill you in on the stats of SW Alabaster.
Alabaster SW 7003 has an LRV of 82. That's pretty high up there on the scale so this paint color is reflecting a ton of light.
R: 237 G: 234 B: 224
Hex Value: #edeae0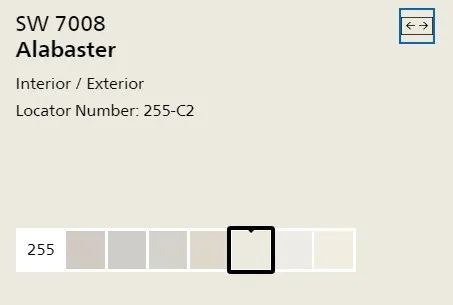 SW Alabaster is featured in the following Color Collections:
Senior Living Cool Foundations,
Pottery Barn – Spring/Summer 2019,
Pottery Barn Kids – Spring/Summer 2019,
PBteen – Spring/Summer 2019,
Nurterer, Timeless White
2016 Pura Vida
Is Sherwin Williams Alabaster yellow?
SW Alabaster is not yellow. It has a neutral base to it, which gives it its creamy almost off-white color. The neutral base grounds the color preventing it from going too warm or looking yellow.
Don't forget to pick up these amazing painting tools! They will only make your life easier!
Is Sherwin Williams Alabaster white?
Alabaster isn't quite white. It is categorized by Sherwin Williams in its white color section, however, Alabaster is not a true white. As I mentioned before, the neutral base this color has gives it a bit of warmth lending it more towards an almost off-white color.
So what color is Sherwin Williams Alabaster?
Alabaster is a soft, almost off-white paint color. It's definitely not white because of the neutral beige undertones it has, though it is close. The neutral beige undertones give this paint color a creaminess, but not too creamy. It's just the right amount of creamy to make it not white but also not yellow.
Let's say Sherwin Williams Alabaster is a soft, warm almost off-white.
What are SW Alabaster's undertones?
Undertones are what make a color. Alabaster has subtle beige undertones. They are not too cool, yet not too warm. Basically, it's the perfect balance of both warm and cool, which explains why Alabaster is such a popular color choice among many designers and homeowners alike.
Want to paint like a true professional?
Check out this must-have painting tool used by our painting crew
BUY THIS PAINTING TOOL
Alabaster and lighting
Light plays an important role in the way a color looks and can change the appearance of virtually any color. For this reason, it's a good idea to be familiar with the lighting situation of the room you are choosing the right paint color for.
North-facing rooms – Light in North-facing rooms comes off cooler and somewhat bluish. Lighter colors appear more muted, while bolder colors will show up, or appear better.
Since Alabaster is a lighter color, it may have the tendency to appear a smidge on the muted/drab side in a north facing room. It's very slight though.
South-facing rooms– In South facing rooms, there tends to be a consistently bright light throughout the day. Warm and cool tones work with south facing light, This light intensifies colors, so darker colors will seem brighter while, softer colors will almost look like they are glowing.
We can say Alabaster is "living its best life" in a South facing room. The warmth Sherwin Williams Alabaster has come out, without looking too yellow.
East-facing rooms– East facing rooms have the brightest light in the mornings, with a yellow-orange tone. If a east facing room will be used mostly in the evenings, going with a warm palette will help balance the lack of natural light.
Since Alabaster does in fact have a slight warmth to it, it will work well in East facing rooms.
West-facing rooms- Early evening is when West-facing rooms have the best light. Warmer tones might seem overwhelming because of the red-orange the light gives off. However, if the main use for the room is in the mornings, the colors won't appear as intense.
In a West facing room, Alabaster may tend to show off the most warmth.
WAIT! Before you start painting make sure you have the best painting tools to make your job easier. It will take hours off your painting times!
Where can you use Alabaster SW 7008?
Because Alabaster has the perfect combination of warm and cool neutral undertones, you can use this perfect paint color virtually anywhere.
Use Alabaster on shiplap.
There is no denying the farmhouse style is in and shiplap practically defines that style. But sometimes stark white shiplap can be a bit too much for some people.
Enter Alabaster Sherwin Williams.
Why is this the perfect color solution? The warmth it has to it. It's still close to white, just without the starkness or being glaringly white.
Alabaster is actually what Joanna Gaines has in her kitchen. So that pretty much explains it all right there. She can do no wrong in my eyes.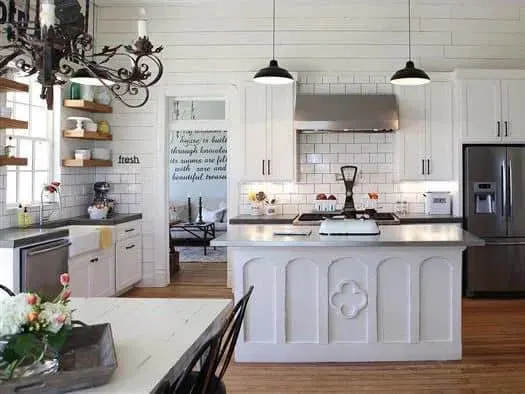 Thinking about adding shiplap to your home? DIY shiplap is an inexpensive alternative to the real thing. Also, check out these helpful shiplap painting tips.
Use Sherwin Williams Alabaster on walls
Alabaster is the perfect neutral almost off-white paint color for walls. It's an excellent choice for those looking for a white, just not too white.
As we now know Sherwin Williams Alabaster has a neutral base with a hint of warmth to it. This bit of warmth makes it perfect for walls without being too warm or yellow looking, while still providing you with an off-white appearance.
The subtlety of Alabaster makes it an excellent wall color option especially in nurseries and bedrooms because it is said to promote rest and relaxation. And that's certainly what bedrooms are for.
I personally used SW Alabaster in my guestroom. I had wallpaper I had been wanting to use as an accent wall and I knew Alabaster would be the perfect choice to allow the wallpaper to stand out.
Alabaster also provides the perfect backdrop for bringing color to other places, such as furniture, artwork, and decor. It gives you the opportunity to play around and experiment with color elsewhere.
Use Alabaster SW 7008 on trim, molding, ceilings, and cabinets
Trim, molding, and ceilings do not always have to be pure white.
Using a color that is a warmer white, like Alabaster Sherwin Williams, is ideal for those with decor and main wall colors that are on the warmer side. The creaminess of this color is what makes it work flawlessly with the warm tones.
Additionally, it's an amazing color to go with lighter wood.
Use Alabaster on Cabinets too
Alabaster SW 7008 is ideal for kitchen cabinets. It provides a beautiful contrast against the wall color of your choice without being overly stark and white. Alabaster is one of the best white paint colors for cabinets, kitchens as well as bathrooms.
Speaking of cabinets, Alabaster is a wonderful paint color for honey oak cabinets, as well as a fantastic paint color for dark wood cabinets.
Use Alabaster on your exterior
Remember from earlier when I mentioned that Alabaster has an LRV of 82? Well, using Alabaster on the exterior perfectly demonstrates how light-reflective this color really is.
Even though Alabaster does have a slight warmth, it's not as apparent on the exterior of a home because of how light it is.
An exterior in Sherwin Williams Alabaster will look light, bright, and beautiful!
Need a color to pair it with on the exterior? Try Sherwin Williams Iron Ore. It's an amazing dark charcoal gray that will give your exterior drama and contrast. Alabaster and Iron Ore on the exterior are a match made in heaven.
LOOKING FOR MORE EXTERIOR PAINT COLORS? CHECK THESE OUT:
If you are looking for an exterior paint color with more warmth look into Shoji White SW 7042, it has an LRV of 74 which is less light-reflective than Alabaster, and it has more of a beige undertone.
Alabaster SW 7008 compared to Evening Shadow 7662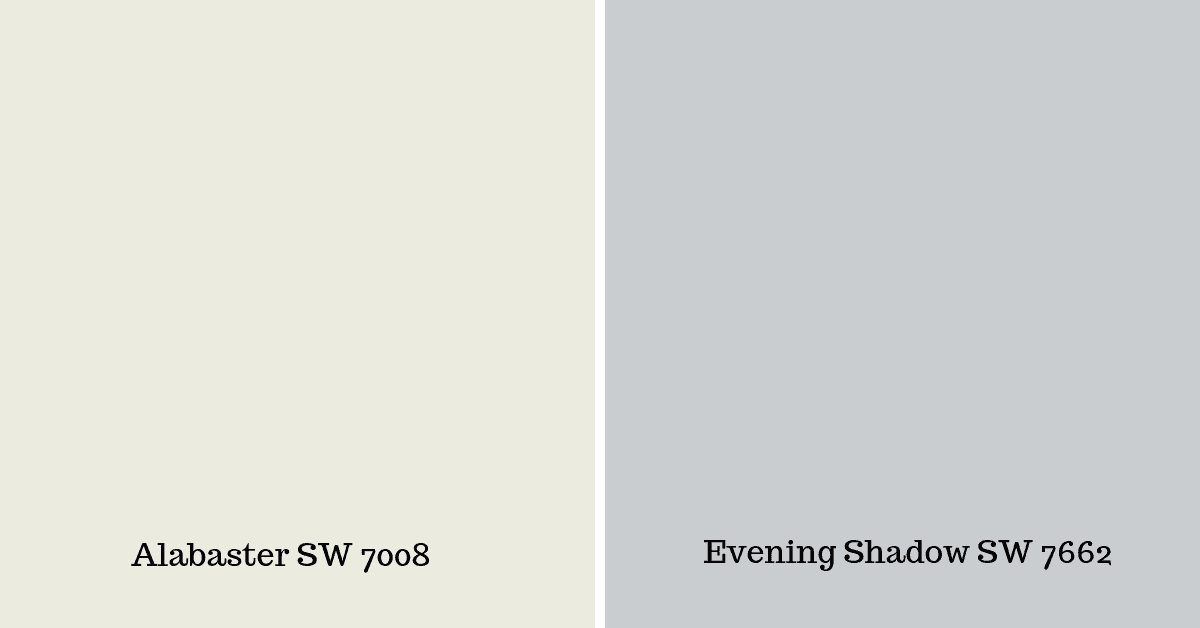 By pairing Alabaster with a neutral color that is in the opposite hue color family, like a cool tone color like Evening Shadow SW 7662, SW Lazy Gray, or SW Passive, it will make SW Alabaster appear crisper and brighter.
Alabaster SW 7008 compared to Ethereal Mood SW 7639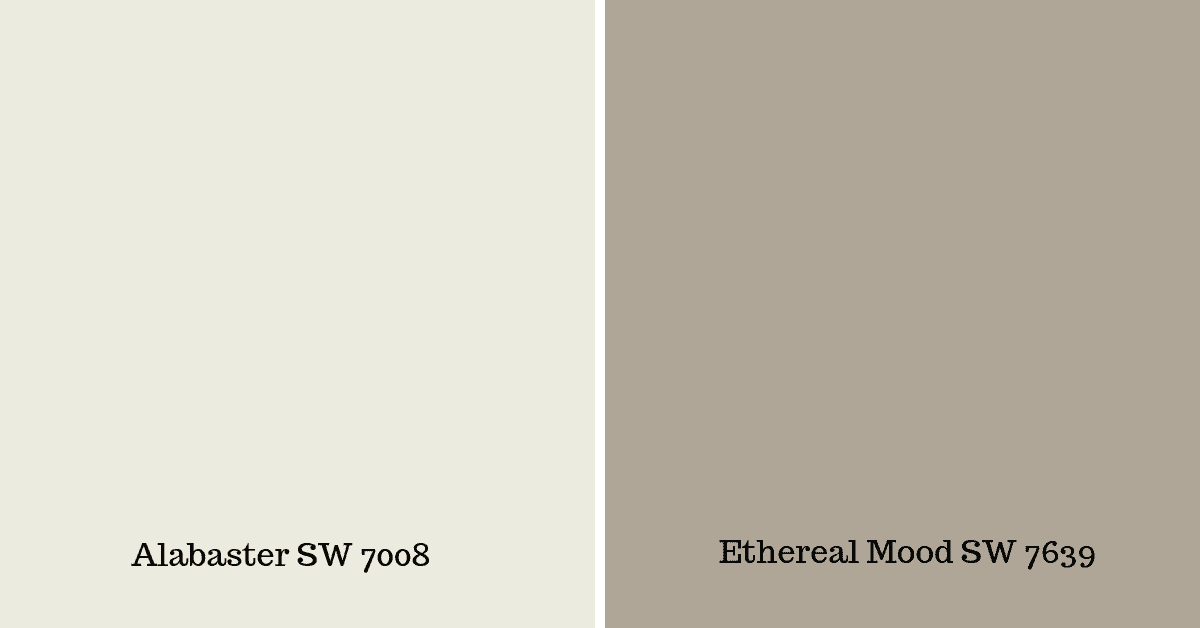 When compared to a darker color, such as Ethereal Mood with a lower LRV, Alabaster tends to look brighter, and not dingy at all.
Sherwin Williams Alabaster vs. Benjamin Moore White Dove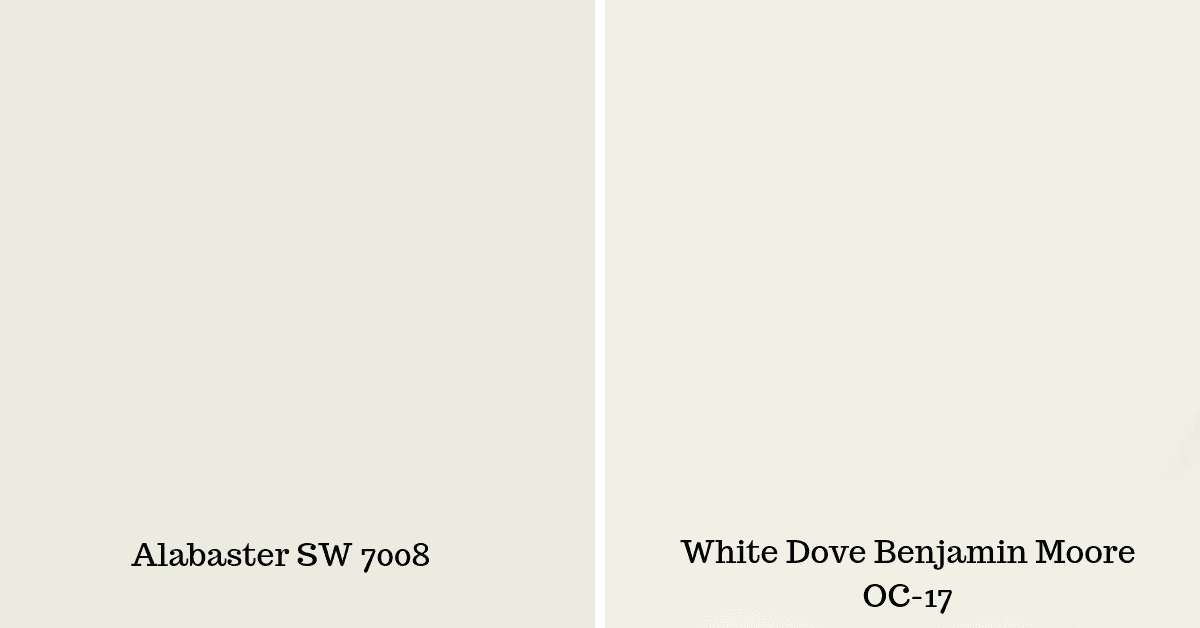 When comparing Sherwin Williams Alabaster to Benjamin Moore White Dove, there are a few differences very slight between the two colors.
White Dove is a bit more white than Alabaster.
Both paint colors are very light and have a high LRV, White Dove being a tiny bit higher at 85.38.
BM White Dove has a hint of gray in its undertone, which grounds the color from going too warm. Though both colors have the perfect balance of warm and cool undertones,
SW Alabaster and BM White Dove are two colors that we recommend to clients all the time. They are no fail paint colors that are truly timeless just with a few slight differences.
SW Alabaster 7008 vs Greek Villa SW 7551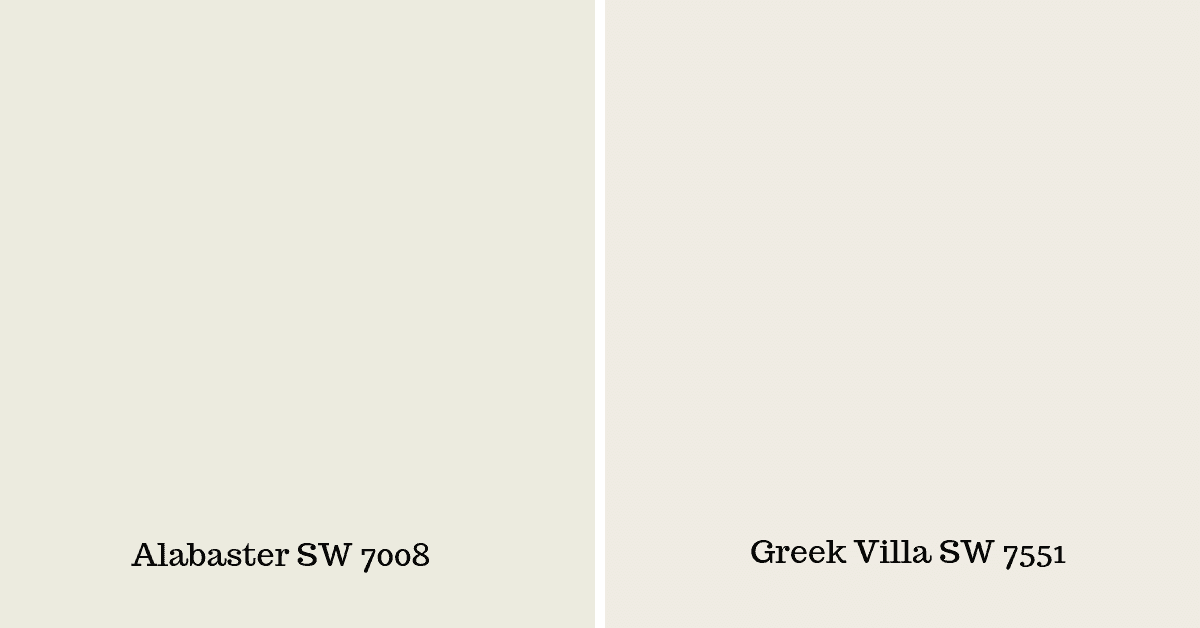 Just like Alabaster, Greek Villa SW 7551 has greige undertones to it.
Greek Villa is a hair warmer than Alabaster.
Greek Villa is a tad lighter with an LRV of 84 which is higher than Alabaster's LRV of 82.
SW Greek Villa is my home office paint color.
SW Alabaster 7008 vs SW Pure White 7005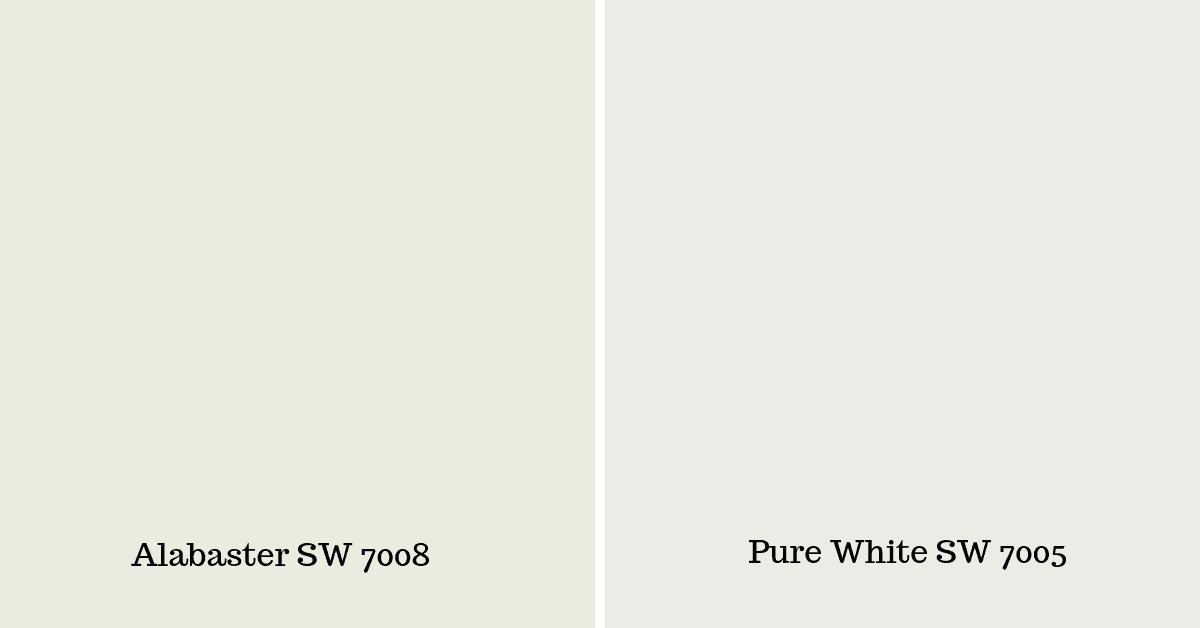 SW Pure White has an LRV of 84, it's lighter than Alabaster, which again has an LRV of 82.
Alabaster is warmer and creamier than Pure White. Pure White is not creamy however it is still a soft white.
Pure white only has a very small amount of yellow in it, giving it the tiniest amount of warmth.
Both are great white paint colors for trim.
Out of the two colors, Sherwin Williams Pure White is more on the white side.
Sherwin Williams Alabaster 7008 vs Benjamin Moore Alabaster OC-129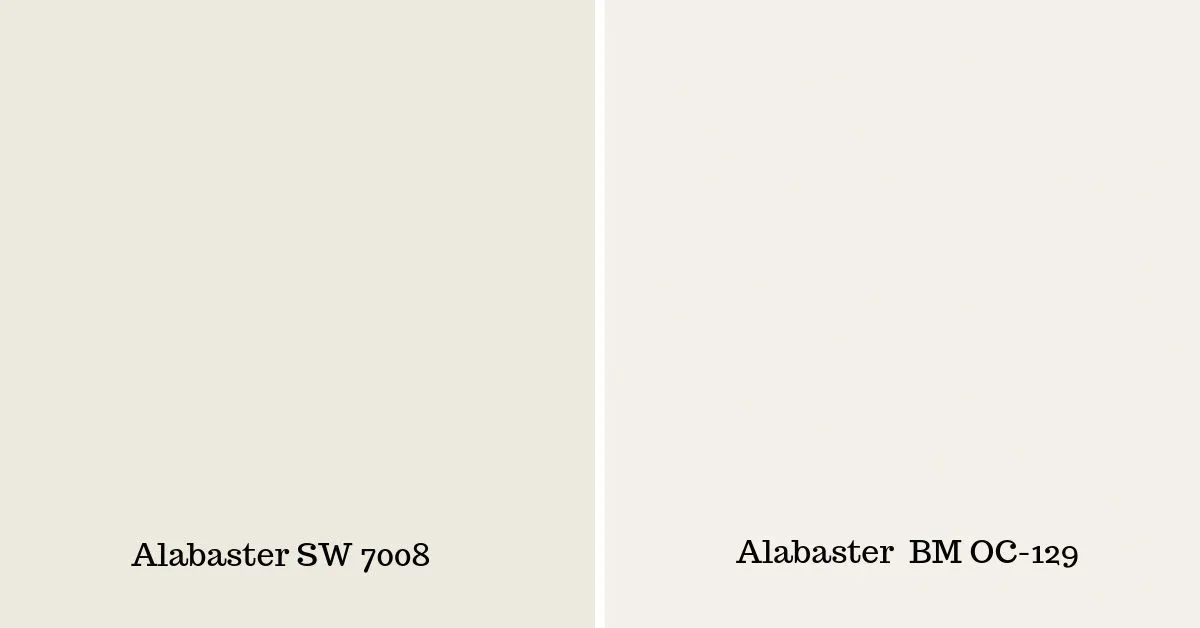 Yup, Sherwin Williams and Benjamin Moore both have a color named Alabaster. However, these colors are not identical. Sure they are both very light, but there are a few differences.
Benjamin Moore Alabaster has a higher LRV of 87.04, which is pretty dang light.
Benjamin Moore Alabaster has more of a pink undertone, while Sherwin Williams Alabaster has that neutral greige undertone.
The undertone is the major difference between these two colors. SW Alabaster has a hint of warmth and Alabaster BM has a hint of cool.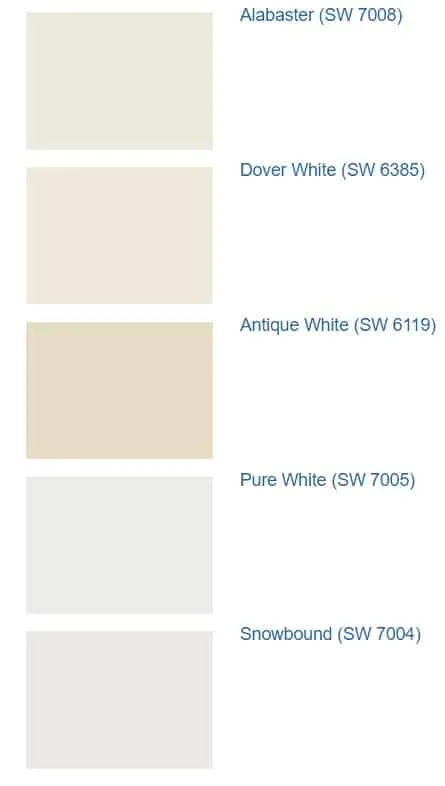 Check out how some of the most popular Sherwin Williams off-white colors compare to Alabaster.
Urbane Bronze SW 7048, Kilim Beige, Gray Area SW 7052, Worldly Gray SW, and Accessible Beige pair beautifully with Alabaster. You also can't go wrong using it with a black paint color or a warm gray color like SW Dorian Gray.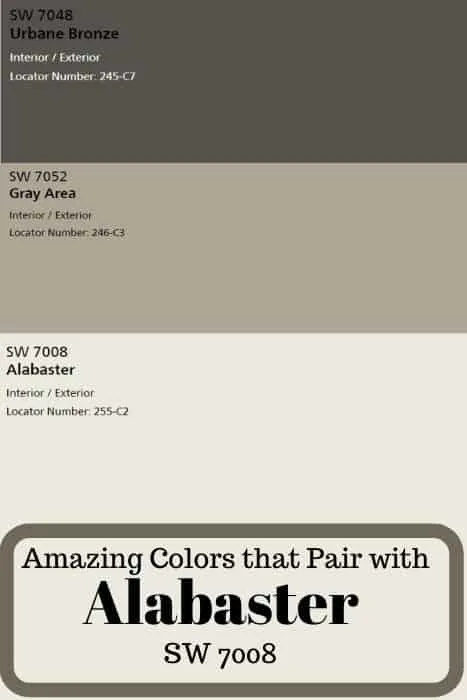 Don't start painting until you have the right tools!

SHOP MUST HAVE PAINTING TOOLS
Color Recap
Sherwin William Alabaster is neither white nor yellow. It's more of a softer, creamier almost off-white.
Alabaster is very light reflective, remember LRV of 82
The undertones here are on the greige side, making it a warmer color.
SW Alabaster looks amazing in just about any application.
CHECK OUT SOME OF THESE AWESOME PAINT COLORS:
Final thoughts on Sherwin Williams Alabaster Sw 7008
In my opinion, Alabaster is one of my favorite white colors. The slight warmth it has makes it easy to work with and pair with other colors. That is one of the main reasons why we end up suggesting this color to clients of ours. The versatility of this color is just so appealing, it's no wonder it's so popular.
Don't forget, when it comes to paint colors it's always a good idea to paint large swatches where you intend to use the color. Lighting will change in the room so pay attention and be observant. You want to make sure you will love the color in every lighting situation.
Be prepared to swatch!
Quickly, let's talk about testing paint colors.
Instead of physically going to your nearest paint store to grab your samples, you need to try Samplize Peel & Stick paint samples.
Why should you try Samplize?
Super affordable
Mess-free
Non-damaging
Made with real manufacturer paint
Displays color just like a wall
Environmental friendly
Reusable
These peel & stick paint samples are super affordable and allow you to test a paint color in all different areas of a room without the mess of a traditional paint sample!
You know how I feel about testing paint colors, it's a must!
Don't create more work for yourself. Order Samplize now and have them shipped directly to you. No-fuss, no mess! Check them out for yourself, you won't be disappointed.
How do you paint like a pro? By using the right tools and supplies! Check out the Ultimate Painting Tools List for everything you need to paint a room.
SUBSCRIBE TO MY EMAIL LIST AND GET A FREE COPY OF MY INTERIOR PAINTING CHECKLIST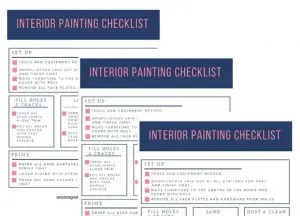 ---
NEED SOME PAINTING TOOLS?
Follow these helpful painting tips and avoid these mistakes to get the job done right!
Check these some other popular paint colors: