I may earn money or products from the companies mentioned in this post. Please click my Disclosure Policy to learn more
Last Updated on
Updating your kitchen cabinet hardware is one of the easiest ways to give your kitchen new fresh feel. However, with so many different hardware styles, finishes and sizes how do you go about choosing the best fit for your kitchen?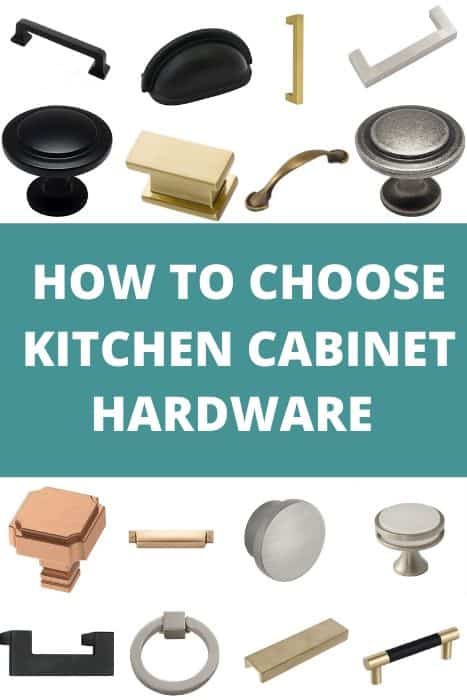 I've been living in my current home for 4 years now and within those 4 years I have updated my kitchen cabinet hardware twice. First when I first moved into the home. I choose chrome cup pulls for the draws and chrome knobs for the cabinets. Then I feel hard for the farmhouse kitchen cabinet hardware style and switched out the chrome for matte black pulls and knobs.
Of both times updating the cabinet hardware, it changed the look of the whole kitchen.  I love that something as simple as switching out hardware made such a large impact on the kitchen. And for such a low cost!
Don't Forget to Follow Me on Pinterest!
Now, how do you choose cabinet hardware for your kitchen?
It may seem overwhelming with the all the different hardware finishes and styles to choose from. How do you choose the right finish and style? What metal will match with the existing finishes that are already in my kitchen? 
These questions are easier to answer than you think. Keep reading to get some of the basics you should know when choosing cabinet hardware.
The cabinet hardware style you chose is generally based on personal preference. Do you prefer the look of a cabinet pull or a cabinet knob? Or do you want to mix and match?
There is no right or wrong answer here, both knob and pull get the job done.  A cabinet pull can be easier to use and can look more substantial on your kitchen cabinet, but they are usually more expensive. Whereas cabinet knobs are smaller and they are usually less expensive than pulls. 
Similar to handles, cup pulls are another option for your cabinet hardware in your kitchen.  These cabinet handles are elegant and work gorgeously on cabinet drawers.
If you like the look of both types of hardware, opt for mixing pulls and knobs, pulls on your draws and knobs on your cabinet doors. This will add some visual interest to your kitchen.
When deciding on a cabinet hardware finish remember to consider your cabinets, appliances and fixtures.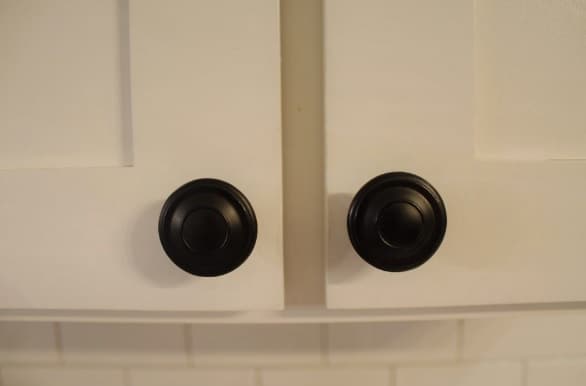 White cabinets are a great canvas for bolder more unique kitchen cabinet hardware. The white will make the hardware pop. White cabinets also work beautifully with matte black cabinet hardware, which of course plays into the highly popular farmhouse kitchen style.
Farmhouse kitchen cabinet hardware is not just limited to black. Chrome pulls and knobs are also a popular choice.
Consider brass cabinet hardware with gray kitchen cabinets. The colors work well together adding a trendy touch of elegance to the kitchen.  
Traditional wood toned cabinets look beautiful with iron hardware. The iron sits beautifully against the darker tones cabinets and is a timeless choice.
For a lighter wood toned cabinet opt for brushed nickel hardware. Not only does brushed nickel work with light wood cabinets but it also works with most kitchen cabinet colors. 
Mixing metals is ok! This is where many people get caught up when it comes to choosing kitchen cabinet hardware. If you have stainless steel appliances don't think you have to choose stainless steel hardware. Stainless steel is practically a neutral and will work with any hardware finish. 
If your light fixtures and kitchen faucet are of the same metal you can go for another metal option for your cabinet hardware. However if they are two different metals, choose one of those metals for your hardware. Having more then two types of metals in you kitchen can get messy and incohesive. 
 Brass, chrome, black, nickel. Which hardware finish should you choose?
Brass Cabinet Hardware – Brass has been gaining popularity lately. You see many designers using this in their kitchens and it's also all over HGTV.  Brass is a trendier option in kitchen cabinet hardware.
Chrome Cabinet Hardware – Chrome works well with many cabinet colors. If you like brushed nickle but are wanting something that will pack a little more punch, chrome hardware might be a great option for your kitchen. Chrome will work with a modern kitchen as well as a farmhouse style kitchen.
Polished Chrome Cabinet Hardware– Polished chrome  is brassy, bright and will make your kitchen shine. Gives your kitchen a modern feel.
Brushed Nickel Cabinet Hardware – Brushed nickle is the most popular cabinet hardware. Its works well with all cabinet colors as well as stainless steel appliances. Brushed nickle is also the more durable hardware finish being that it resists fingerprints
Silver Satin Cabinet Hardware – Very similar to brushed nickel, silver satin works well with all cabinet colors. If you like the chrome look but, its a hair to shiny, opt for silver satin cabinet hardware.
Black Matte Cabinet Hardware – Black cabinet hardware works well with many cabinet colors. Its a bold choice yet at the same time it's neutral enough to not overwhelm your kitchen.
Iron Cabinet Hardware – Iron is a great choice if you are looking for a classic, durable finish that won't go out of style. Iron can range from a light gray,  stainless steel color to very dark almost black.
Copper  Cabinet Hardware – Copper cabinet hardware makes a bold statement in your kitchen. If you are looking to give your kitchen something unexpected , copper can be for you. if you have bold blue cabinets, copper would a stunning option.
Oil Rubbed Bronze Cabinet Hardware – Oil rubbed bronze can sometimes be difficult to match with it's variety of colors, deep brown, darker gray and a touch of copper undertones.
Glass Cabinet Hardware – Glass hardware is an excellent choice, when trying to bring in an antique or vintage feel to you kitchen.
Ceramic Cabinet Hardware – Ceramic kitchen cabinet hardware will add a bit of fun and whimsy to your kitchen. These are an eyecatching option for any kitchen looking to bring  a little of extra character into the space. Definitely one of the more unique cabinet hardware options.
Where to buy kitchen cabinet hardware?
When it comes to purchasing cabinet hardware there are a number of amazing places to look.
For more affordable cabinet hardware try Lowes or Home Depot. They have a number of options you will be able to see in store. Amazon is another great choice for inexpensive cabinet hardware. 
Looking for something more specific? A specialty cabinet hardware store will be an excellent place to look.  
Finally, you have your online stores such as, Wayfair, Overstock and Hayneedle that all have a wide variety of cabinet knobs and pulls to choose from.
I went through a few of my favorite stores and found 20 of my favorite cabinet pulls and knobs down below. 
When it comes to kitchen cabinet hardware there is no right or wrong option. Nowadays, all the old "design rules" aren't necessary to follow. For example mixing metals, brass and stainless, together? In one room? No way! Why not though? If it looks good and it makes your heart happy, go for it! The best part about cabinet hardware is that it's inexpensive in comparison to some other kitchen updates you'd make. So have fun with it and make it your own!