I may earn money or products from the companies mentioned in this post. Please click my Disclosure Policy to learn more
Painting your kitchen cabinets is an amazing alternative to investing in new ones. It's a fantastic budget-friendly way to update your kitchen without the inconvenience of an expensive full-scale kitchen renovation. Kitchen cabinet painting is the best way to get a new look without the hassle.
As tempting as it may be to pick up a brush and start painting, there is a little more that goes into how to paint kitchen cabinets. Especially when you are trying to achieve a smooth finish.
Today I want to share the steps on how to paint kitchen cabinets and get a smooth finish like the pros. Along with a few tips and tricks to make the process as smooth as possible. Also, I'll answer a few of the most asked questions regarding painting kitchen cabinets.
Grab a snack, this is going to be a long one.
Let me first start by saying we paint a ton of kitchen cabinets. And when I say we, I mean the extremely skilled professional painting crew we have. They have been painting kitchen cabinets for years and have perfected the process.
If you want to learn how to paint kitchen cabinets like a pro, you listen to the pros!
BENEFITS OF PAINTING YOUR KITCHEN CABINETS
There are a few standout benefits to painting your kitchen cabinets.
It is much faster than demolishing and removing old cabinets and installing new ones.
Painting your kitchen cabinets is more affordable than installing new cabinets.
It allows you to avoid a major renovation and keep the same layout as your existing cabinets
It's environmentally friendly. You avoid throwing out perfectly usable materials just for a new cabinet color.
3 COMMON KITCHEN CABINET PAINTING METHODS
There are a few different ways you can go about painting cabinets. They all may or may not be an option for you. It all depends on what painting tools you have available to you.
PAINT BRUSH
The first method you can use to paint your cabinets is with a paint brush. This may be the most time-consuming method however, you can certainly use a paint brush and still achieve a smooth finish on your cabinets. The key to this method is using a premium paint brush.
PAINT ROLLER
The second and most common method, for the average homeowner, is using a paint roller. And the key to this method is a high-quality foam paint roller.
PAINT SPRAYER
The third and fastest cabinet painting method is using a paint sprayer. This is the preferred method for many paint professionals. If you want a guaranteed smooth finish on your kitchen cabinets, a paint sprayer is a great option.
I understand that not everyone has access to a paint sprayer. But don't let that stop you from painting your kitchen cabinets. You can still achieve a smooth cabinet finish by using a high-quality roller and paint brush.
Some of the old school painters prefer the brush method over the others. So that right there says it all.
We know that there are a few different options to use when painting your kitchen cabinets. Now let's get into the supplies that will be needed to get the job done.
HOW TO PAINT KITCHEN CABINETS FOR A SMOOTH FINISH.
Before you start this process, I have to warn you this is not a one-day project. There are a lot of steps that require you to invest some serious time and effort.
SUPPLIES
KITCHEN CABINET PAINTING PREP
How do you paint kitchen cabinets and get that silky smooth finish? It begins with the prep! The preparation is 100% just as important, if not more than the painting process itself. If you skip the prep work that goes into painting your kitchen cabinets, you are setting yourself up for failure.
The very first step in this entire process is finding the perfect cabinet paint color. I highly suggest sampling paint colors before fully committing to one. You know this is going to be a time-consuming project so, you want to make sure you are choosing a paint color that will work in your kitchen.
---
Check out some of these popular paint colors.
---
GATHER ALL YOUR SUPPLIES
Before you get started, it's a good idea to gather all the supplies you will need. This way you have everything in one spot and you won't have to stop what you are doing to go and get your tools.
---
WANT TO PAINT YOUR KITCHEN CABINETS LIKE A PRO?
---
SET UP A CABINET PAINTING & DRYING AREA
After you have all your supplies together and easily accessible, move on to creating a workspace. You'll want to have plenty of room to work on a flat area.
If you have access to sawhorses, and 2 long pieces of wood, you can use them to make a raised workstation. This way you aren't painting on the ground. However, if you don't have the sawhorses, you can lay the wood on a drop cloth and paint the cabinet doors and drawers there.
I do find it easier to have the drawers and doors propped up off the floor a bit. It makes it easier to paint the edges. A long ladder works for this too.
REMOVE ALL DOORS AND DRAWERS
Make sure to label your cabinet doors, drawers, and boxes. An easy way to do this is by using painter's tape and numbering the cabinets.
Place a piece of tape on the inside of each cabinet and number them starting at the upper left and then going to the right. Next, place another piece of tape on each door and use the same number system. This way once you remove the doors you can easily find where they go when the time comes to put them back in place.
Finally, once everything is labeled, remove all the kitchen cabinet doors and drawers.
This is an important step when you have to put everything back in place. It may seem annoying but, if you skip this, at the end of this project you'll be playing the match game with your cabinet doors and drawers.
TAPE OFF AND PROTECT SURROUNDING AREAS
Now is a good time to tape off the surrounding areas around the kitchen cabinets. Tape off anything you don't want the paint to touch and use a drop cloth and painters plastic to protect your countertops and appliances.
REMOVE HARDWARE AND HINGES
You want to make sure all hardware is removed from the cabinet drawers and doors. Once that is completed, you need to move the tape you have put on the cabinets. I know, I know, we just put it there! Stay with me though.
You need to move the tape to where the hinge sits and place another piece of tape on top of that. What? Why?
No, not because we enjoy doing extra work, but this is for when we paint the cabinets. You don't see behind the hinge which makes it the perfect place to put your piece of tape. As for the other piece of tape on top of the numbered ones, that protects the number from paint.
CLEAN AND DEGREASE ALL SURFACES
This is a very crucial step in the process. You must clean and degrease your cabinets of any built-up residue, cooking grease, or dirt. This degreaser is great to use for this step. Having a clean starting surface will ensure you get the best end result.
PATCH HOLES AND IMPERFECTIONS
This step depends on the shape of your cabinets and if you are changing out your kitchen cabinet hardware or not. If you are and the new hardware you chose doesn't line up with the old holes, now is the time to fill them. Patch the holes and any other imperfections with a high-quality filler like Bondo and let that dry.
SAND THE CABINETS AND DRAWERS
Lightly sanding your cabinets will de-gloss the finish and ensure proper paint
adhesion. Use 100-150 grit sandpaper and sand the cabinets. You don't need to complete sand off the finish, sand it just enough to all the primer to adhere properly.
You can also use a de-glossing liquid with an abrasive pad. If you go that route, make sure you have the proper protective gear as well as a well-ventilated area and follow the instructions on the product.
Do this on both sides.
CLEAN THE CABINETS AGAIN
You need to make sure you remove all sanding dust and dirt in preparation for the next step.
Use a vacuum or damp cloth to remove all dust. Then go in with a tack cloth to catch anything you may have missed.
PRIME THE CABINETS, DRAWERS AND BOXES
I want to make it clear that before you put a drop of primer on your cabinets if they are anything short of clean, degreased, and dust-free it may compromise this entire process. So make sure the proper steps have been taken up to this point.
Apply a coat of high-quality primer to all surfaces of the cabinets. The point of using a primer is to ensure that the paint sticks to the surface better, which will result in a long-lasting finish.
Let the primer dry overnight, then carefully flip the drawers and doors over and repeat the process.
I find that the best primers to use for your kitchen cabinets are ones with bonding properties in them. A few tried and true primers of choice are Sherwin Williams Extreme Bond Primer, Benjamin Moore INSL-X® STIX® or Benjamin Moore® ADVANCE® primer.
LIGHTLY SAND THE CABINETS AGAIN
The primer coat tends to go on thick and can sometimes pool, so this step smooths the surface. Once the primer is completely dry which is usually 24 hours, use 220 grit sandpaper to lightly sand all surfaces (front and back). Zero in on any pools or drips that occurred.
CLEAN THE CABINETS ONE MORE TIME
I know, it's a lot of cleaning, but it's necessary if you want a smooth finish on your kitchen cabinets.
Use a vacuum or damp cloth to remove all dust. Then go in with a tack cloth to catch anything you may have missed.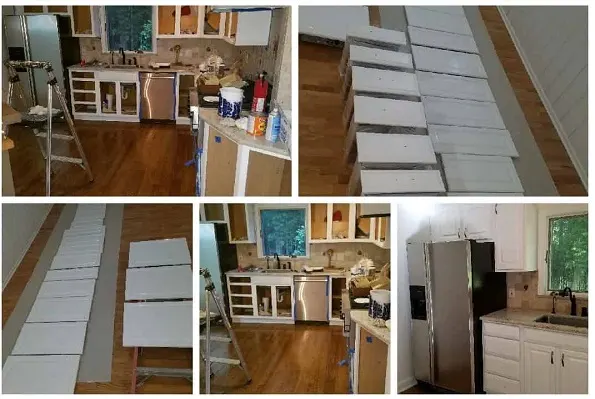 PAINTING KITCHEN CABINETS
If you successfully made it through the cabinet painting prep steps, you can now move on to how to paint kitchen cabinets with high-quality paint.
---
MAKE SURE YOU ARE PREPARED TO PAINT YOUR KITCHEN CABINETS!
---
APPLY THE FIRST LAYER OF PAINT
Painting in the direction of the wood grain using a 1″ or a 1½" angled brush, first, apply a thin and even coat of paint to only the recessed or detailed areas of the cabinet door. Next, take your mini foam roller and paint the remaining flat areas. Use your roller to gently smooth out any overlapping brush marks or paint drips.
The key here is using thin coats of paint. This will limit the number of drips, pooling, and any other blemishes that can happen when painting. It will also give the cabinets a smoother finish in the end.
It's a good idea to start with the doors and drawers first, this way while they are drying you can work on applying the first coat of cabinet enamel to the cabinet boxes.
You'll want to allow the first coat of paint to dry for 24-48 hours, then flip everything over and repeat the same process on the other side.
LIGHTLY SAND AND CLEAN ALL SURFACES ONE FINAL TIME
Yes, We are sanding and cleaning again, but this is the last time.
Using the 220 grit sandpaper, lightly sand all surfaces (front and back) as even as possible in preparation for the final finish coat of paint. Now is a good time to inspect your cabinets for any blemishes that may have occurred along the way. The next step is the final coat of paint, so it's crucial you make sure they are perfect for that glass-like smooth finish on your cabinets.
Clean the surfaces thoroughly making sure to remove all dust and dirt. Use a vacuum or damp cloth to remove all dust. Then go in with a tack cloth to catch anything you may have missed.
APPLY THE SECOND LAYER OF PAINT
Painting in the direction of the wood, apply a thin and even coat of cabinet paint. Remember, use a thin coat of paint for a smooth finish. Start with the cabinet drawers and doors, then proceed to the cabinet boxes.
Again, you'll want to allow this second coat of paint to dry for 24-48 hours then, flip everything over and repeat the same process on the other side.
A second coat of paint is always required for a smooth, quality finish. Two thin coats of paint will always have better coverage and a smoother finish rather than one thick coat. There's no point in trying to cut corners now you made it this far in the process!
REINSTALL CABINET DRAWERS AND DOORS
Once you allowed the kitchen cabinets to dry completely (24-48 hours) Reinstall all cabinet drawers and doors. This should be easy because of the labeling you painstakingly took the time to do at the start of this project.
DRILL NEW CABINET HARDWARE HOLES
If you are installing new hardware and have to drill new holes, do that now.
The easiest way to install your new hardware is by using this hardware template. It takes all the measuring and guessing out of the process.
Remember measure twice, drill once!
INSTALL HARDWARE
Install all your hardware then step back and admire your newly painted kitchen cabinets.
CABINET PAINTING TIPS
These are a few helpful tips you can use when you are learning how to paint kitchen cabinets
The cabinet prep is extremely important. DO NOT SKIP IT.
Oil-based primer creates the best bond and covers wood grain better than latex primer. However, in certain states, oil-based primer is banned from being used because of the VOCs.
If you are going to paint dark cabinets a lighter color, have your primer tinted to the finish paint color. Doing this will provide better coverage and fewer coats of paint.
Use premium, high-quality paint, and products. It's true, the age-old saying " you get what you pay for" is 100% correct. The better the products, the better the result. If you are going to put the time and effort into painting your kitchen cabinets, you want to make sure you are doing everything you can to make them last,
Stick with a semi-gloss or high gloss paint finish when choosing a cabinet paint. These paint finishes work best for kitchen cabinets because they have a hard finish. The harder the finish the more long-lasting they are. Also, they are easy to clean, and let's face it, kitchen cabinets see a lot of traffic and can get dirty.
Paint in the direction of the wood grain. It will limit the brush strokes.
DO NOT RUSH! If you want your cabinets to look great and last, this is a long process. Rushing through and skipping steps will only come back to bite you in the end. Take your time and paint your kitchen cabinets the right way in order to have to best results.
---
WAIT! Before you start painting make sure you have the best painting tools to make your job easier. It will take hours off your painting time!
---
FREQUENTLY ASKED QUESTIONS
Can I paint over cabinets that are already painted?
Yes, you can paint over already painted cabinets however it may require some additional work. If your cabinets are chipping and the paint is peeling, you will have to scrape the chipping paint off the cabinets. Then you have to sand them smooth. You may need to add wood filler or Bondo to make them smooth again.
After they are sanded and smooth, you need to apply the primer. The primer to use in this case is BIN Shellac Primer. 2 coats are required and you have to lightly sand in between coats using 220 grit sandpaper.
Finally, use a quality paint like Benjamin Moore Advance and follow the steps from earlier.
What's the best kitchen cabinet paint to use?
Benjamin Moore Advance is an amazing option for cabinets.
Benjamin Moore ADVANCE® Waterborne alkyd gives you the best of both worlds in a low-VOC product but has the drying and hardness attributes of an alkyd. It takes a bit longer to dry and cure time is longer, but the results are a smooth, glass-like finish.

Benjamin Moore
Sherwin Williams Emerald® Urethane Trim Enamel is another excellent option to use for cabinets.
Emerald® Urethane Trim Enamel, Gloss, Semi-Gloss or Satin Sheen is a perfect choice for topcoat paint because it has excellent flow and leveling characteristics, which means a smooth and durable finish on cabinets, doors and trim

Sherwin Williams
Is it better to roll or brush your kitchen cabinets?
I'd say that you can achieve a smooth finish with both a paint brush and roller. The main thing here is using premium high-quality tools and products. The better the product the better the result.
What's the best roller to use?
The best roller to use when painting kitchen cabinets is a mini foam roller. The foam roller is dense which provides a smoother finish. If you were to use a regular napped roller, you'd get a textured finish. I prefer using this type of roller.
How can you paint kitchen cabinets without sanding?
Sanding is a crucial step in the cabinet painting process. It helps the bond of the primer and paint. Now, the is a way to paint kitchen cabinets without sanding and that's by using chalk paint.
People love chalk paint, myself included because it's the "no prep" paint, which means no sanding. But, you do have to seal the chalk paint with multiple coats of a durable chalk paint sealer.
Honestly, I cannot say if it's a good or bad idea to paint your kitchen cabinets without sanding them because I have never done it before.
PAINTING KITCHEN CABINETS – BEFORE & AFTERS
A picture is worth a thousand words. Looking at before and after pictures of painted kitchen cabinets can help you envision your cabinets painted. It may help you decide to give this process a try.
If you need a little visual inspiration, check out the following painted kitchen cabinet – before and afters.
FINAL THOUGHTS
I know painting your kitchen cabinets can seem a bit daunting and labor-intensive. Don't get me wrong, it's no walk in the park, but it can be done. As long as you follow all of the steps, especially the ones that go into the preparation, you can achieve smooth painted kitchen cabinets. If you put in the time and effort you will have the kitchen cabinet makeover you've been dreaming of.
---
RECENT ARTICLES: