I may earn money or products from the companies mentioned in this post. Please click my Disclosure Policy to learn more
Finding a paint color to go with honey oak trim, cabinets or flooring can be a bit intimidating. But it doesn't have to be. By using a few simple tips can trick you can easily find the best paint color to work with them.
Honey Oak was uber-popular in the1980s and 90s. The trend of honey oak cabinets, trim, and flooring was highly sought after by homeowners. The problem with trends is that they fade in and out. Something that was highly trendy 10 years ago is no longer in. And in the case of honey oak, this is a trend that has passed.
Let me start out by saying I don't think there is anything wrong with honey oak-colored cabinets, trim flooring, etc. In my eyes all wood is beautiful. On the other hand, I understand that it can feel a bit outdated.
Think about it this way, honey oak was popular in the 80s and 90s, For the generation that grew up in those times, it tends to remind them of their parent's homes and their childhood. So it makes sense that some people may think of honey oak and see it as "old" or "outdated".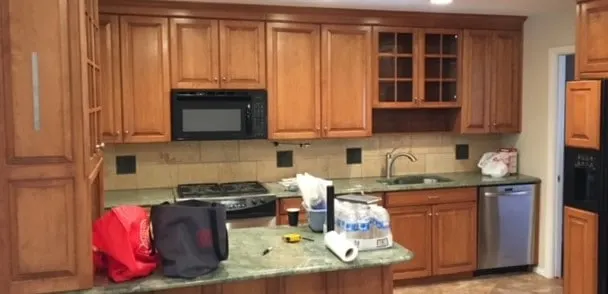 That being said, if you have a home or buy a home with honey oak cabinets or so on, you may not like the look and want to change it. Unfortunately, a kitchen renovation including new or even painting your cabinets is not a simple or inexpensive task. Sometimes you are stuck living with it until you have the means to make a change.
Luckily, there are a ton of ways to make it feel less outdated and the best way to do that is with paint colors!
There are some tips and full-proof ways to go about finding the best wall paint colors to go with honey oak and that is by using color theory. I promise it's easy
WILL HONEY OAK WOOD CABINETS, TRIM, AND FLOORING COME BACK IN STYLE?
A trend is something that is very popular for a certain amount of time then eventually it fades out. Honey Oak wood was a massive trend in the 80s and 90s. It eventually fizzled out to make room for a new trend. But as we see with trends they tend to make their way back to popularity. Basically, it is a cycle.
I do believe honey oak wood will have its day again. I mean all wood is beautiful and when you decorate and style it in a way that is more "modern-day" I think it has the potential to be a trend again.
TIPS TO HELP FIND PAINT COLORS TO GO WITH HONEY OAK TRIM, CABINETS, AND FLOORING
One major tip to finding paint colors to go with honey oak is by creating harmonious color palettes. Creating harmony with your colors will be pleasing to the eye. Non-harmonious color palettes have the potential to look a bit chaotic or just plain boring.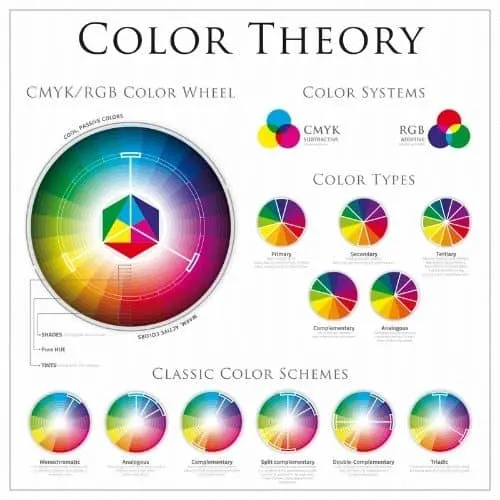 Color theory along with the color wheel are such fantastic tools to use in decorating to create harmony. Interior designers use them all the time and that's why they continuously create beautifully decorated spaces.
A color wheel is defined as:
A color wheel is an abstract illustrative organization of color hues around a circle, which shows the relationships between primary colors, secondary colors, tertiary colors, etc.

wikipedia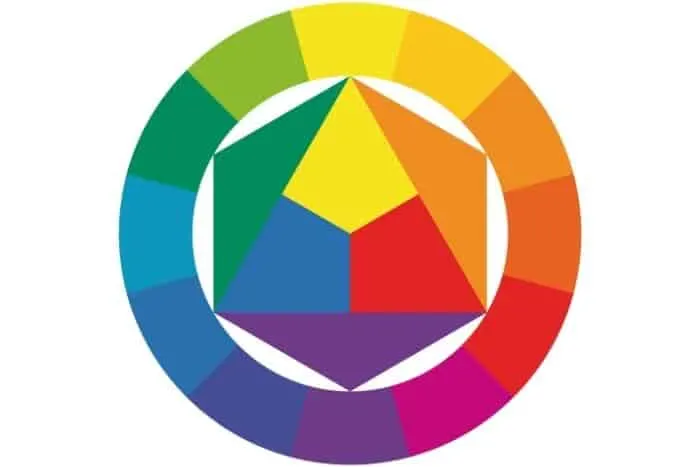 The color wheel will help you find a harmonious color palette for your honey oak trim. Color theory will help because if you understand what colors complement one another (brighten and intensify each other) then you can either avoid them or work with them.
HOW TO FIND HARMONIOUS HONEY OAK COLOR PALETTES
Creating a honey oak color palette can be intimidating. You want to make sure all the colors you choose, create a harmonious atmosphere. And some colors or wood colors in this case are a bit more tricky than others to create a palette for.
When you are feeling stumped, look at a color wheel. Start by identifying the color you are trying to work with. Honey Oak is an orange/yellow color.
From there I suggest using one of the two following ways to create a harmonious paint color palette.
analogous colors
Analogous colors are any three colors that sit side by side on a color wheel. Usually one of the three colors prevails over the others.
As for honey oak, the colors side by side would be Red, orange, and yellow.
complementary colors
Complementary colors are any two colors that are directly opposite each other.
The color that is directly across from orange on the color wheel is blue. These two colors are complementary.
If you're trying to tone down the appearance of orange tones in your cabinets, trim, and flooring, you're going to want to avoid decorating with bright intense blues. To tone down a certain color and bring balance, you'll want to use neutral colors in the same shade range.
By using analogous and complementary colors, you are ensuring that the paint color palette you are choosing will flow seamlessly.
PAINT COLORS THAT GO WITH HONEY OAK TRIM, CABINETS, AND FLOORING
Let's finally talk about paint colors that go with honey oak. There are so many that work well but I have found that the following 21 paint colors work absolutely beautifully with honey oak wood trim, cabinets, and flooring.
BALBOA MIST OC-27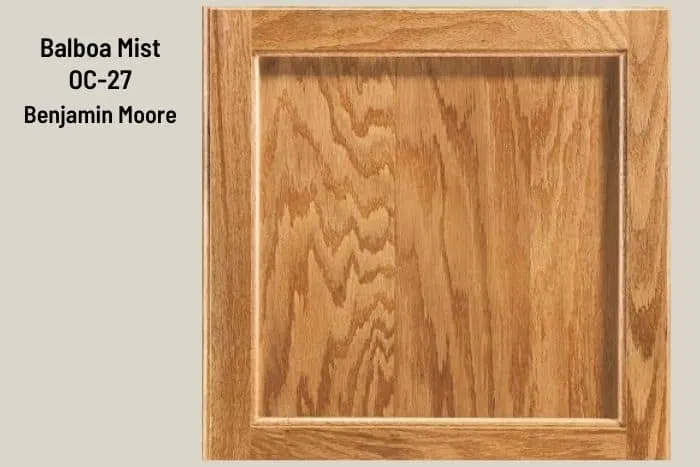 LRV: 65.53
Overall I believe Balboa Mist is one of the best paint colors. But when it's paired with honey oak trim, cabinets, or flooring, it simply works. Balboa Mist is a beautiful light gray paint color with some warmth to it. That warmth is a fantastic match for honey oak.
If you want something a pinch lighter take a look at BM Classic Gray.
CALDWELL GREEN HC-124
LRV:16.27
Caldwell Green is a favorite paint color of mine. It's green but not too green. It has some blue in it which gives it the most beautiful tone. When Caldwell is paired with a color like honey oak it looks amazing. The Contrast between the colors is what makes it work so beautifully.
READ MORE: 14 AWESOME GREEN PAINT COLORS
ABALONE 2108-60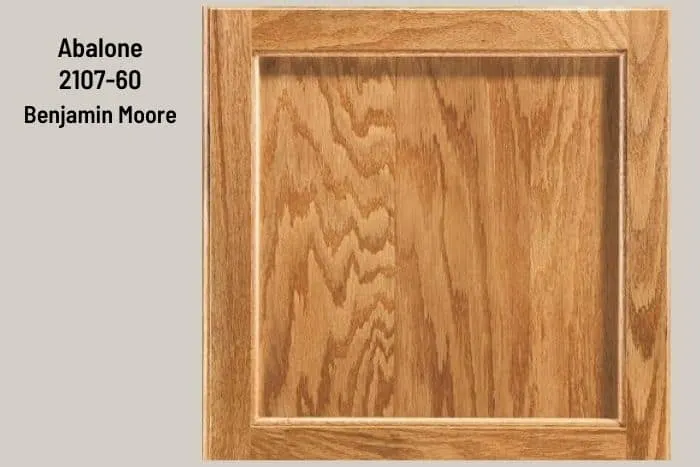 LRV: 61.99
Benjamin Moore Abalone is another popular paint color. This soft light gray is such a unique paint color. It has the slightest hint of purple, which in some cases is barely detectable. Abalone is a great neutral color to use on the walls if you have honey oak cabinets.
If you want something a bit lighter, look at Siver Satin.
MOONSHINE OC-56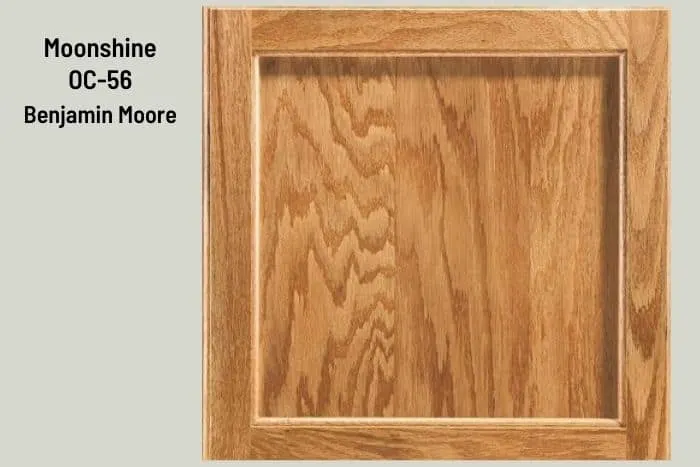 LRV: 66.53
Moonshine by Benjamin Moore is yet another favorite of mine. This paint color is the perfect shade of gray. This cool gray has a blue undertone that gives it depth. The walls of my basement are painted Moonshine. The reason I choose this color is that the floors are an orange/ honey oak color. I know orange and blue are complementary colors so I was sure Moonshine would work with the floor color.
ANTIQUE JADE 465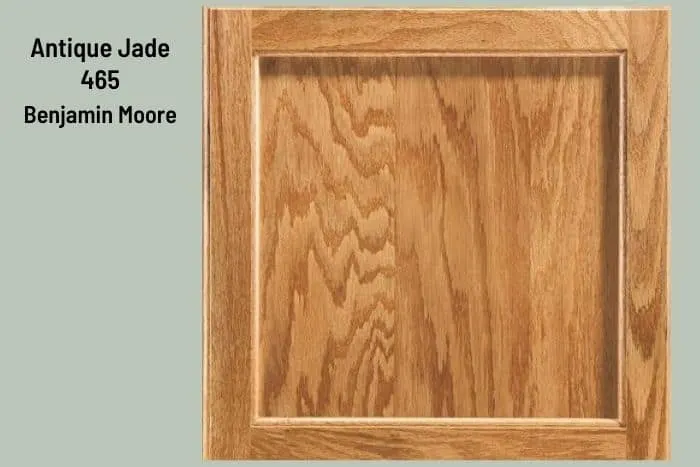 LRV: 53.75
Benjamin Moore Antique Jade is gorgeous. It's a super soft shade of green that provided any space with a sense of relaxation and calmness. I think softer shades of green like Antique Jade go with Honey Oak trim perfectly.
If you are into blue-green colors like Antique jade check out BM Beach Glass. It is a bit more coastal feeling but still works with HO.
ELMIRA WHITE HC-84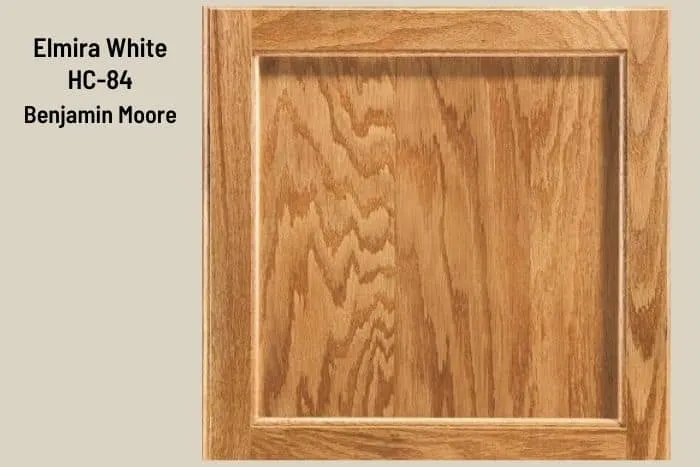 LRV: 64.67
Elmira White is an interesting paint color. At first glance, it may look like just another neutral. However, it has a bit more to it than you think. Elmira White is a greige that has the tiniest hint of pink. And I mean tiny. It's a great paint color to go with honey oak trim.
PROVIDENCE OLIVE HC-98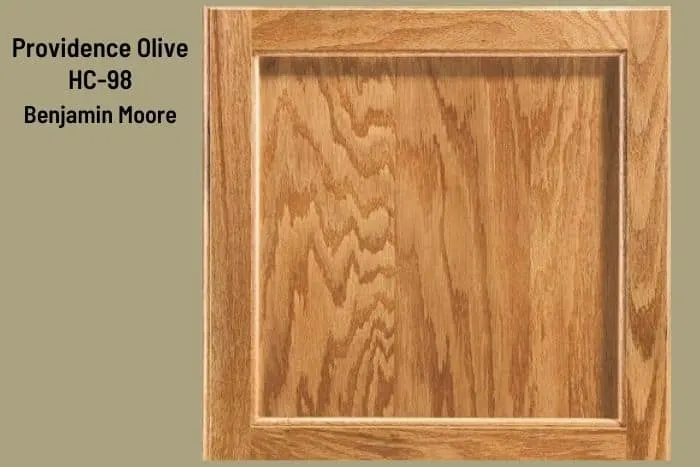 LRV: 35.44
BM Providence Olive is one of the more mid-toned colors on this list. This paint color is green yet it has some brown to it that gives it more of a neutral feel. Providence Olive is a great paint color to go with honey oak cabinets. It has a warmth that works so well with the tone of the cabinets.
NEWBURYPORT BLUE HC-155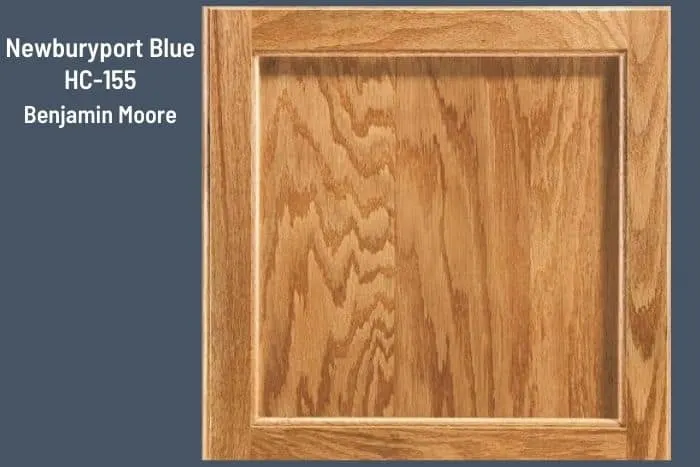 LRV: 10.31
Benjamin Moore Newburyport Blue is the perfect blue paint color. It is not quite a navy blue nor is it a bright cobalt blue. It is subdued yet enunciated. There is no better way to describe it other than gorgeous.
I'm a sucker for most blue colors and this one does not disappoint. Newburyport Blue is an amazing paint color to go with honey oak trim, floors, cabinets, you name it! The colors are a complementary dream team.
PLEASANT VALLEY 696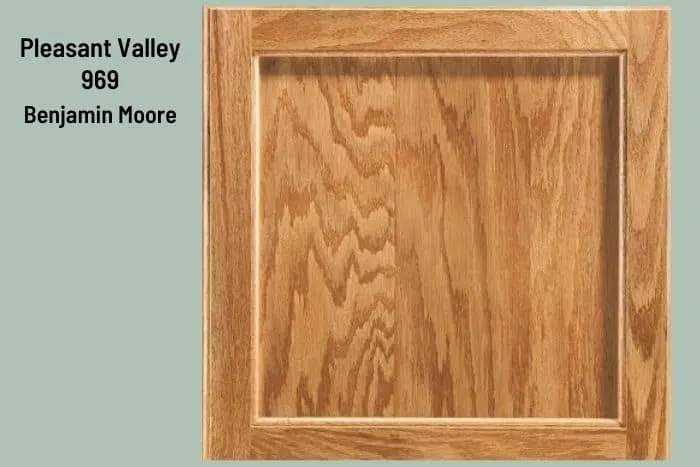 LRV: 50.46
Pleasant Valley Blue by Benjamin Moore is quite the stunner. This green paint color is soft and calming. It has almost a slivery vibe to it that makes it, unlike other green colors. It's appropriately named because it truly is a pleasant paint color to look at. I find soft colors like this balance the strong tones of honey oak wood.
NICKEL 2119-50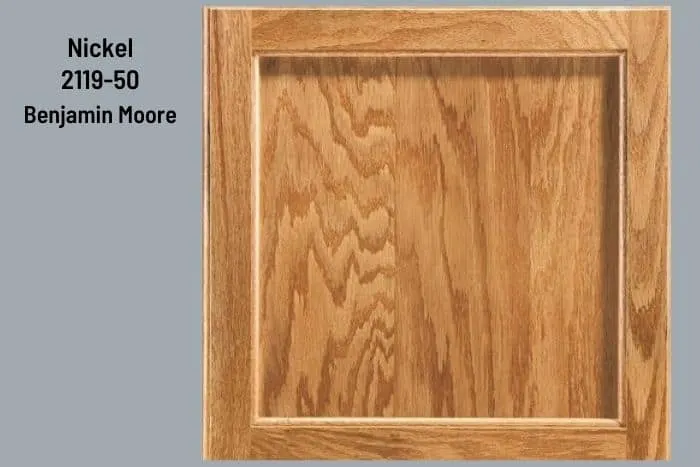 LRV: 39.23
BM Nickel is another blue-gray paint color that is outstanding. I love colors like Nickel because they are a bit more approachable than say a straight blue paint color.
Blues with gray in them are more neutral and a lot of people feel more comfortable with neutral colors especially when you are working around a bold color. I feel like Nickel is a perfect wall color to go with honey oak cabinets.
---
Let's take a quick pause to take about the best way to Sample Paint colors
Instead of physically going to your nearest paint store to grab your samples, you need to try Samplize Peel & Stick paint samples.
Why should you try Samplize?
Super affordable
Mess-free
Non-damaging
Made with real manufacturer paint
Displays color just like a wall
Environmental friendly
Reusable
These peel & stick paint samples are super affordable and allow you to test a paint color in all different areas of a room without the mess of a traditional paint sample!
You know how I feel about testing paint colors. It's a must!
Don't create more work for yourself. Order Samplize now and have them shipped directly to you. No fuss, no mess! Check them out for yourself. You won't be disappointed.
Get $5 off your first Samplize order using the code "FIRSTFIVE"
---
OYSTER BAY SW 6206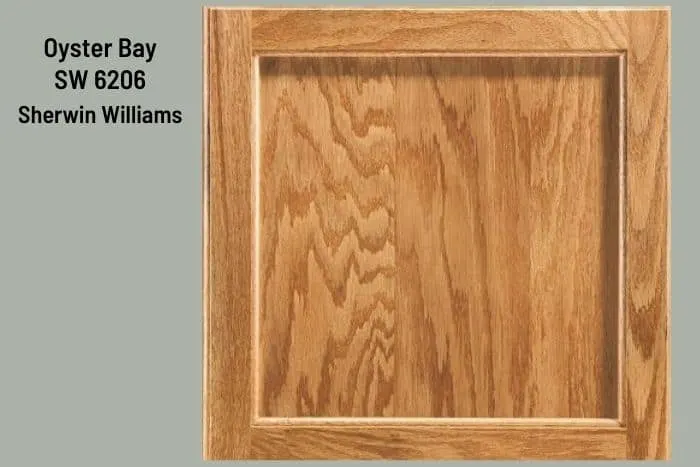 LRV: 44
Sherwin Williams Oyster Bay is a neutral green paint color. It is a soft green with a bit of gray in it. It's a cool-toned paint color that may look slightly blue at times. Of course, it all depends on the lighting and elements in a room.
This crisp, serene paint color looks absolutely lovely with honey-colored oak wood. Also, I'd like to note, that Oyster Bay is in the same color family as the very popular SW Sea Salt.
WALL STREET SW 7665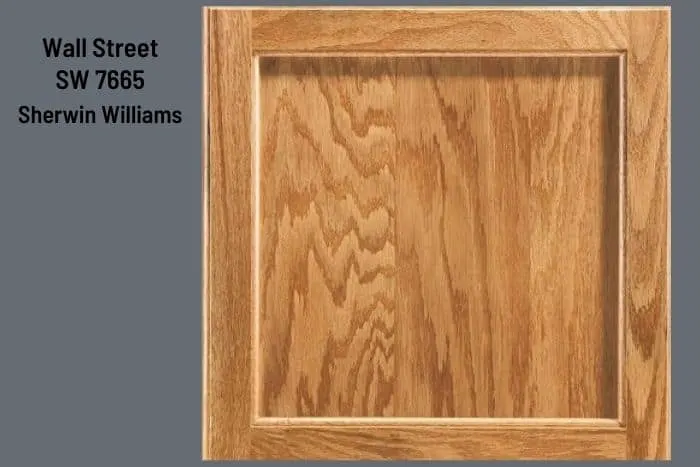 LRV: 15
Wall Street by Sherwin Williams is a blue paint color. It's more of a stormy blue with some gray in it. It's such a fantastic blue paint color. It is on the darker side by with adequate lighting, it will bring a room to life. Another beautiful complimentary paint color to go with the orange tones of oak.
CANVAS TAN SW 7531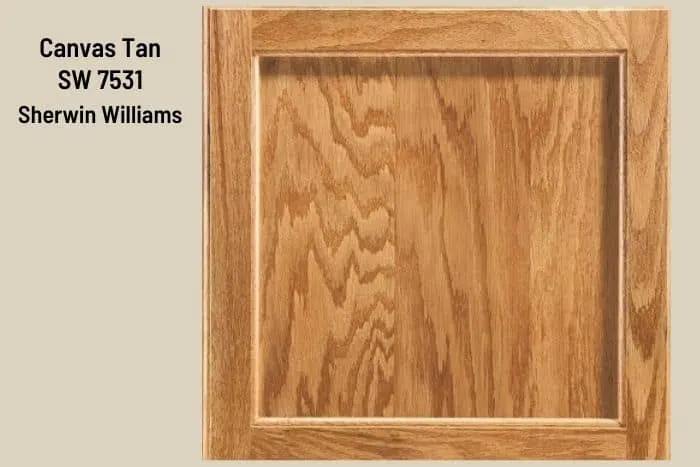 LRV: 64
I know there have been a few greens and blues on this list but here is a paint color that is quite neutral. Sherwin Williams Canvas Tan is exactly as named, tan. It comes from the yellow hue family which gives it beige vibes. It's an amazing warm creamy paint color that looks stellar with the warm tones of honey oak.
KILIM BEIGE SW 6106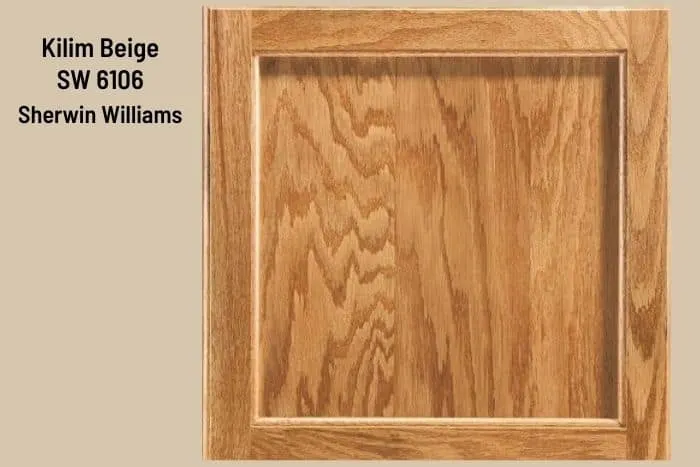 LRV: 57
Sherwin Williams Kilim Beige is a super popular neutral paint color. It's hyped by so many and for good reason. Kilim Beige is one of those colors that works for many styles. It is from the yellow hue family but leans a bit closer to the red-yellow side. That being said it may look faintly peach in certain lighting.
I think Kilim Beige is a great paint color to go with honey oak trim or cabinets. The colors balance one another beautifully.
If you like Kilim Beige but want something a bit lighter, take a look at SW Divine White.
HOMBURG GRAY SW 7622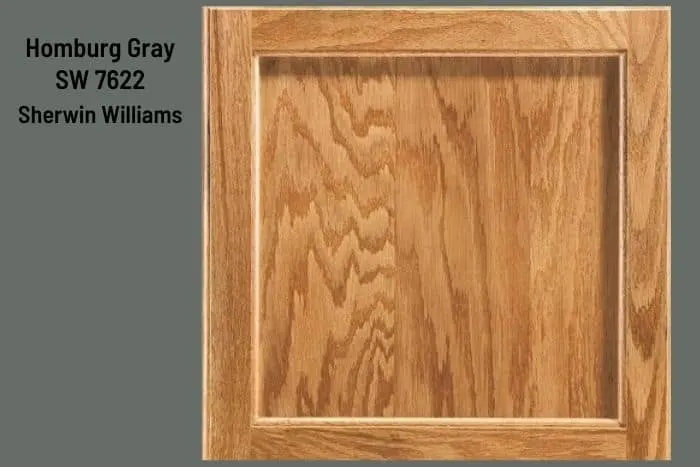 LRV: 15
Homburg Gray by Sherwin Williams is one of the best paint colors to go with honey oak. The reason is, that it balances the orange tones so well. Homburg Gray is gray but it has green/green/blue tones to it giving it a little extra spice. It's a great color option if you like neutral but want something with more depth.
BELIEVABLE BUFF SW 6120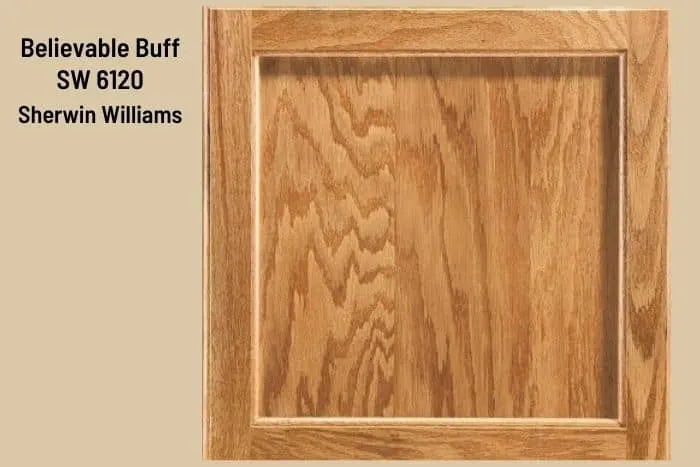 LRV: 59
Sherwin Williams Believable Buff is a neutral beige paint color. It comes from the yellow hue family and is a bit more saturated than a neutral. You can expect Believable Buff to show yellow-beige tones. It's the perfect warm paint color to create harmony with the tones of the wood.
RICE GRAIN SW 6155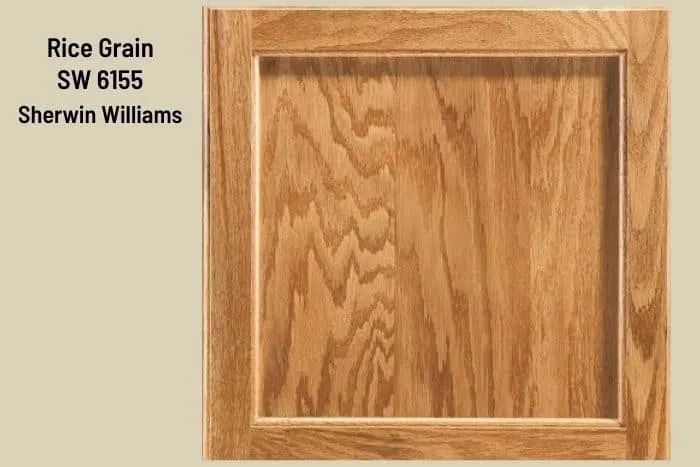 LRV: 64
Rice Grain by Sherwin Williams is a fantastic light beige neutral. This paint color is from the yellow hue family but leans towards the green-yellow side. Depending on the lighting and elements of a room, Rice Grain may look more beige or it may show a hint of green. The warmth in the color works well with other warmer tones.
LEMONGRASS SW 7732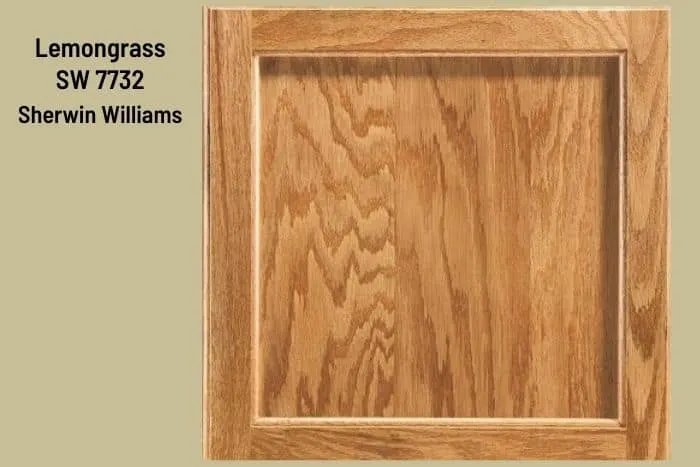 LRV: 51
Sherwin Williams Lemongrass is another spot-on name for this paint color. Basically, lemongrass is what this paint color looks like. To be a bit more helpful, Lemongrass is a green paint color that has yellow in it. It is not the lightest paint color but it's also not too dark. It has almost an earthy tone to it which makes it plausibly more neutral.
LOGGIA SW 7506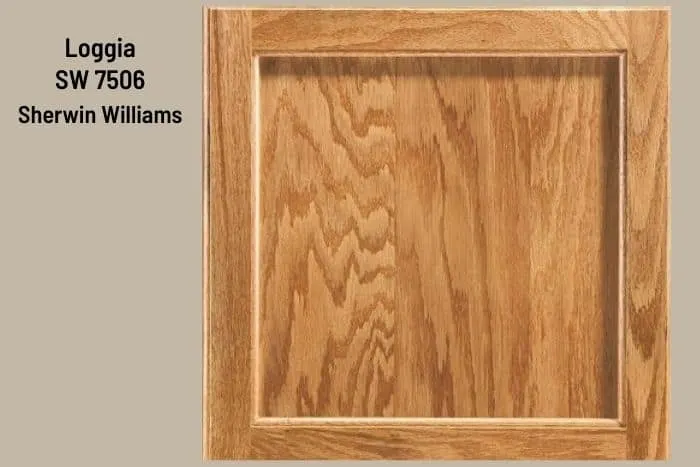 LRV: 48
Loggia is a popular Sherwin Williams neutral paint color. This color is in the realm of a tan or beige color. It's great because it is warm-toned but it does also have a bit of gray in it. I feel like it's an updated better version of a builder's beige. I think a kitchen with honey oak cabinets looks fabulous with Loggia painted walls.
LATTE SW 6108
LRV: 38
Sherwin Williams Latte is an orange-toned paint color. This is probably the closest in tone to honey oak. No Latte is not going to look like a pumpkin orange. It's more of a beige orange, with an emphasis on the beige. Think more like the color of a latte drink. Latte is a welcoming color. It is such a wonderful addition to any space.
REPOSE GRAY SW 7015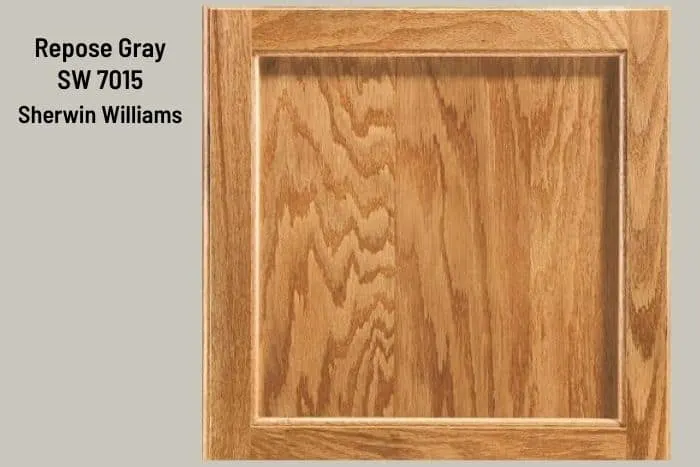 LRV: 58
Last paint color on this list. Sherwin Williams Repose Gray. You may not be aware of the love affair I have with Repose Gray but I promise you that is not why it made it to the list. This is a paint color that looks great with everything. Honey oak, golden oak, chestnut, it all looks great with Repose.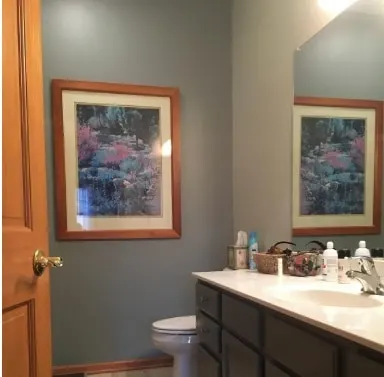 Repose Gray is a warm gray but it's cooler than other grays. It has a perfect balance. Most times it looks like a beautiful neutral gray but there are qualities of light that make it flash some purple.
Doing some painting yourself? Make sure you pick up this essential painting tool!
RECAP – THE BEST PAINT COLORS FOR HONEY OAK TRIM, CABINETS, AND FLOORING
Here's a quick breakdown of all the paint colors that were mentioned.
THE BEST BENJAMIN MOORE PAINT COLORS FOR HONEY OAK
BALBOA MIST
CALDWELL GREEN
ABALONE
MOONSHINE
ANTIQUE JADE
ELMIRA WHITE
PROVIDENCE OLIVE
NEWBURYPORT BLUE
PLEASANT VALLEY
NICKEL
THE BEST SHERWIN WILLIAMS PAINT COLORS FOR HONEY OAK
OYSTER BAY
WALL STREET
CANVAS TAN
KILIM BEIGE
HOMBURG GRAY
BELIEVABLE BUFF
RICE GRAIN
LEMONGRASS
LOGGIA
LATTE
REPOSE GRAY
Some key takeaways that I think will be extremely beneficial when trying to choose a paint color for honey oak wood are:
color theory and the color wheel are sure-fire ways to find colors that will work
use complementary or analogous colors to create a harmonious color palette.
complementary colors will enhance one another.
analogous colors like warm neutrals will balance the intensity
always sample your paint colors!
FINAL THOUGHTS – PAINT COLORS THAT WORK WITH HONEY OAK TRIM, CABINETS, AND FLOORING
I can go on and on about all the colors I think will work with orange-toned wood but I think the key points to remember here are the ways you yourself can find a paint color on your own.
I can easily say use, Dorian Gray, it will for sure work in your home. But as I have said plenty of times in all my articles, you need to test that paint color in your space to be 100% sure it will work. Sampling a paint color in your space is the key to success.
Overall, I think all the paint colors I talked about will work with honey oak wood. Whether you are looking to enhance the wood or balance the intensity of the tones there is a paint color out there for you. Remember to use the tips I shared and of course sample, the paint colors and you will be set.
SUBSCRIBE TO MY EMAIL LIST AND GET A FREE COPY OF MY INTERIOR PAINTING CHECKLIST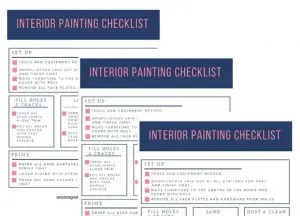 CHECK OUT THESE AWESOME PAINT COLORS: