I may earn money or products from the companies mentioned in this post. Please click my Disclosure Policy to learn more
Brick homes have a ton of character and charm to them but sometimes pairing brick with the right paint color can be a difficult task. You want to find a paint color to complement the red brick without taking away from the charm of the home. Follow along as I share the 10 best exterior paint colors that go with brick homes.
I take my dogs on daily walks all around my neighborhood. I'm constantly looking around at all the homes I pass. I love to see what people choose as their exterior paint colors and how the color works with the characteristics of the home.
Lately, I have been particularly interested in red brick homes. Mainly because they can be difficult to pair paint colors with. Whether it's a home with brick as an accent or a home with brick on the full-body, you want to make sure all the colors you chose play well together.
Today I want to talk about a few paint color ideas that go with brick.
How to choose a paint color for a brick home.
What exterior paint color goes with red brick? Do I need to choose a neutral paint color?
This is a question that is asked often and when it comes to brick exteriors there are a few ways to go about choosing a paint color to work with it.
First, we know red brick is more muted and toned down. So we want to keep that in mind when it comes to finding paint colors to work with it. For example, if you were thinking of using white, choose a creamy white as opposed to a bright white. The bright white can sometimes appear a little too harsh against red brick. An off-white will give the appearance of white against the brick, but a little softer.
Second, we want the paint colors to complement red brick, not work against it. One way to do this is by pulling colors from the actual brick itself. Generally speaking, red brick has a variation of colors in it. Choosing one of those color variations will keep the home looking cohesive.
10 Exterior Paint Colors that go with Brick Homes
Below are 10 exterior paint colors for brick homes. Whether these colors are used on the trim, front doors, shutters, or siding, they all compliment the colors and tones of red brick.
Brick and paint color combinations
Sherwin Williams Creamy SW 7012
LRV 81
SW Creamy is a fantastic match for red brick. It's a warm off-white that doesn't get too yellow. It stays pretty neutral which makes it an amazing alternative to a bright white.
Benjamin Moore Black HC-190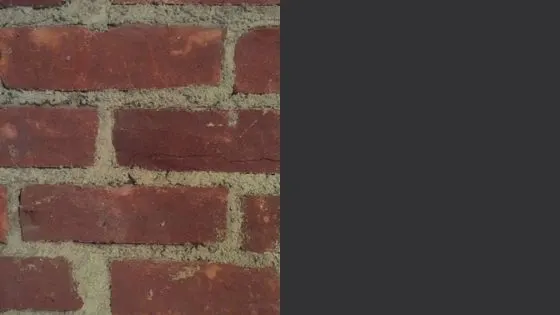 Sherwin Williams Keystone Gray SW 7504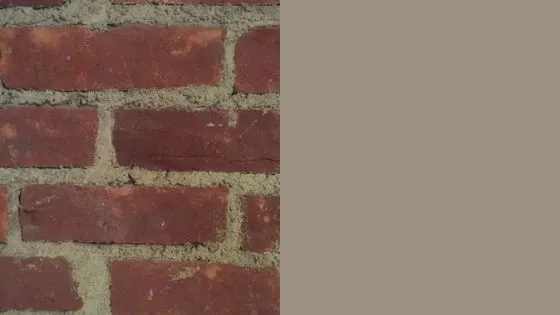 Benjamin Moore Gray Mist OC-30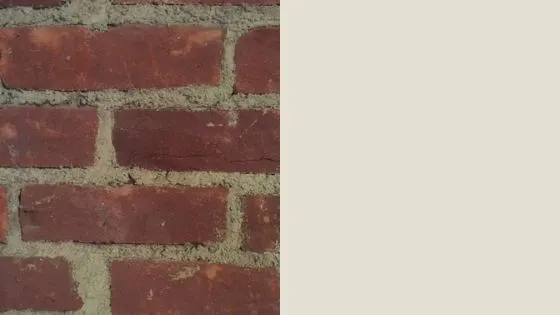 Sherwin Williams Gateway Gray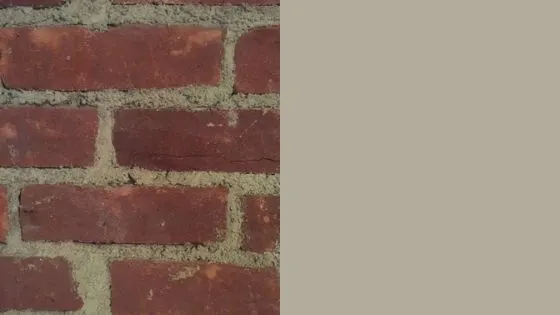 ---
KEEP TRACK OF YOUR PAINT COLORS
---
Benjamin Moore Stone Hearth CC-490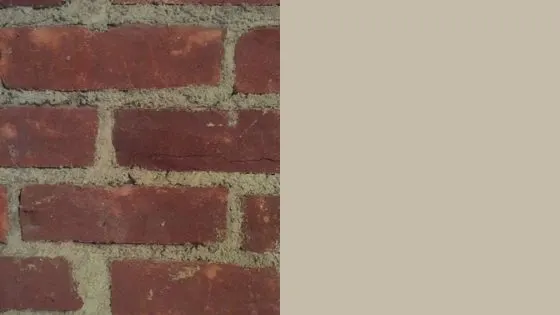 LRV 48.85
Sherwin Williams Dark Night SW 6237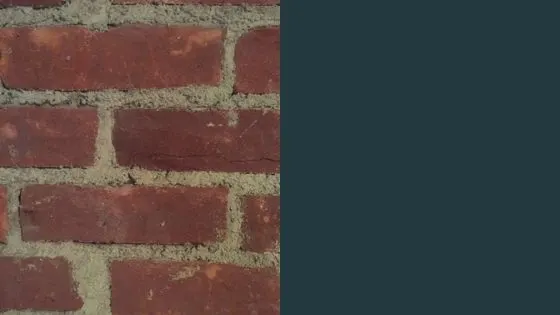 READ MORE: FANTASTIC BLUE EXTERIOR PAINT COLORS
Benjamin Moore Himalayan Trek AC-34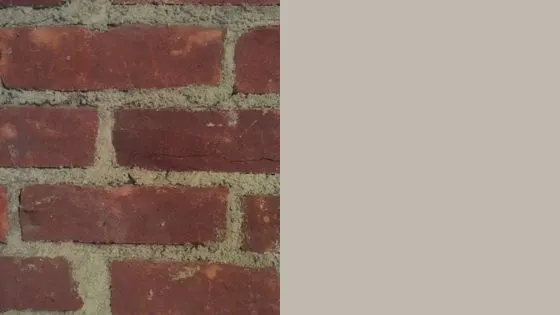 Also known as Cape Hatteras Sand AC-34
Sherwin Williams Svelte Sage SW 6164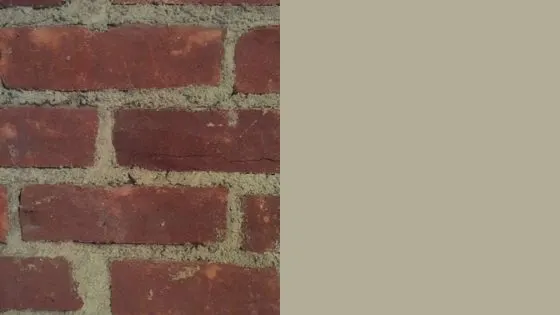 READ MORE: 14 FANTASTIC GREEN PAINT COLORS
Benjamin Moore Salamander 2050-10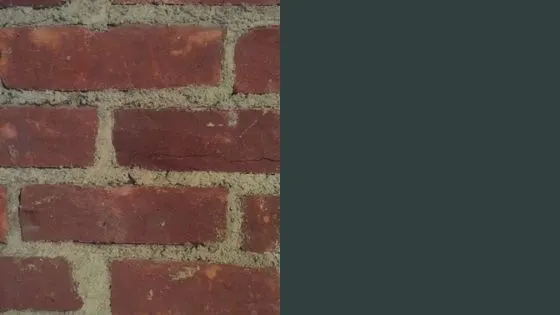 ---
Want more paint color inspiration?
---
Don't start painting until you have the right tools!

SHOP MUST HAVE PAINTING TOOLS
Recap: Colors that go with red brick
Just to recap, these are 10 exterior house color ideas for brick. I choose 5 Benjamin Moore and 5 Sherwin Williams paint colors. All absolutely amazing choices if I do say so myself.
LET'S TAKE A MINUTE TO TALK ABOUT SAMPLING PAINT COLORS
Let's talk about exterior trim colors for brick homes.
So we have our color ideas for the brick now let's talk about actually using them in different areas of the home.
The trim of a brick home is a big place to use one of these paint colors. If your home is full brick you can go as bold as you want. Trim doesn't always have to be white or off-white. Consider using Black as your trim color. As we already know black looks great with red brick so using it on the trim will make a bold statement. SW Tricorn Black is a fantastic choice.
READ MORE: THE BEST BLACK PAINT COLORS
Black trim and windows are becoming increasingly popular as well. You don't have to worry about this trend going out of style because black is such a timeless color. I am personally feeling this trend right now.
I think any one of these 10 paint colors is a great idea for the exterior trim of your brick home but, if you are looking for something more in the neutral off-white family, SW Creamy is a fantastic option.
READ MORE: THE BEST WHITE PAINT COLORS FOR TRIM
Red brick and siding color combinations.
If you have brick and siding on your home, the siding is another opportunity to use one of the colors I have mentioned. The colors I feel would work best as siding options in combination with red brick are:
SW Keystone Gray
SW Gateway Gray
BM Stone Hearth
BM Himalayan Trek
They are all mid-tone neutrals that won't compete with the brick. We are all friends here.
To add a pop of color if your heart so desires think about going with a bold front door paint color. It will add just the right amount of color to your brick home without being too flashy.
Brick homes with shutters
Photo by – Discover exterior home design ideas
Not all homes have shutters, but I wanted to touch on this because some homes do have them. You can really make your brick home look amazing by choosing a stand out shutter color.
My top shutter paint color choices to match brick are:
SW Dark Night
BM Salamander
SW Svelte Sage
BM Black
I like the thought of going bolder and darker on shutters. It adds something a bit unexpected but once again not over the top. Blue gray paint colors work really well with brick too.
READ MORE: THE BEST BLUE EXTERIOR PAINT COLORS
Final Thoughts
I know finding a paint color to match red brick can be tricky. Keep in mind the overall exterior of your home, for example, roof color and landscaping. Doing this will keep your brick home cohesive. And use the color options I listed as a starting point. In no time you'll have the brick home of your dreams.
Finally, as I say in all my paint color posts, make sure you swatch the paint colors you are thinking about using. The colors you see on the computer look different than a swatch on your home. So choose a few colors you want to try and swatch those babies. Trust me choosing the wrong paint color is an expensive mistake, especially when you are dealing with the exterior of your home.
Looking for more color options?
Grab your own Sherwin Williams fan deck.
---
Or your own Benjamin Moore fan deck
Articles You May Enjoy: