I may earn money or products from the companies mentioned in this post. Please click my Disclosure Policy to learn more
With so many Sherwin Williams gray paint colors, how do you decide which one is best for you?
Instead of painstakingly going through each and every single gray paint color check out the 10 best grays from Sherwin Williams.
I have done the work for you and picked out the best of the best so you don't have to. These paint colors are ones I often use in a client's home and they are gray colors that I often or should I say always recommend.
Want paint like a true professional?
Check out this must-have painting tool used by our painting crew
BUY THIS PAINTING TOOL

How do you choose a gray paint color?
I'd have to think gray is the go-to paint color when painting your home. Like many other neutral paint colors, It coordinates with everything and it's the perfect paint color for any home decor style you have. Now one would say "sure, let's paint the walls gray"
Ok, hold up Becky! It's not that simple.
There are so many shades of gray to choose from. Warmer shades tend to have a more brown or yellow base, while cooler shades have more of a blue base.
How do you decide between a warmer gray or a cooler gray?
Look at the fixtures, cabinetry, floors, and trim in the home. A brushed nickel faucet pairs well with a cooler gray, whereas a red brick fireplace, is complemented beautifully by a warm gray.
A good rule of thumb is you want to have the undertone of your home interior elements match the undertone of the gray paint color you choose.
Knowing your undertone will help you in picking out the perfect gray shade.
Doing the painting yourself? Grab this essential painting tool to help you along the way.
The Best Sherwin Williams Gray Paint Colors
Below, I have compiled a list of the best Sherwin Williams gray paint colors that I love and highly requested by many clients.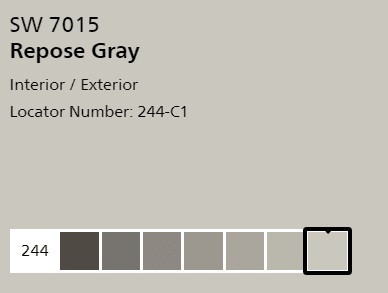 Sherwin Williams Repose Gray 7015
Repose Gray is a warm gray. It has brown-taupe undertones. These undertones can be slightly unpredictable meaning you might see faint brown or purple depending on where you apply this.
This color is perfect because it is light enough to work in almost any space with any decor style. Repose Gray is one of the most popular Sherwin Williams gray paint colors and it's also a regular on Fixer Upper. If it's used by Joanna Gaines, you know it is good!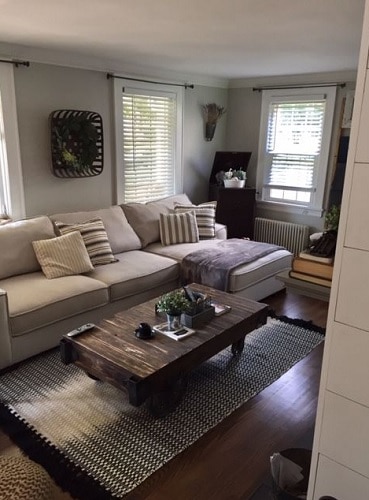 SHOP THIS ROOM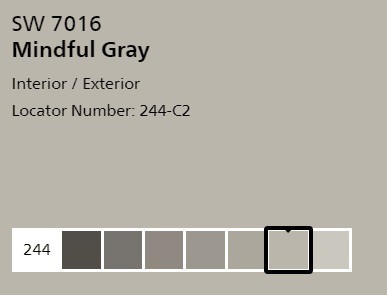 Mindful gray is a warm gray. There are no strong undertones making it the perfect neutral. It is another great light color but a bit darker than Repose Gray. Mindful Gray is also a Sherwin Williams Gray that is often used color on Fixer Upper.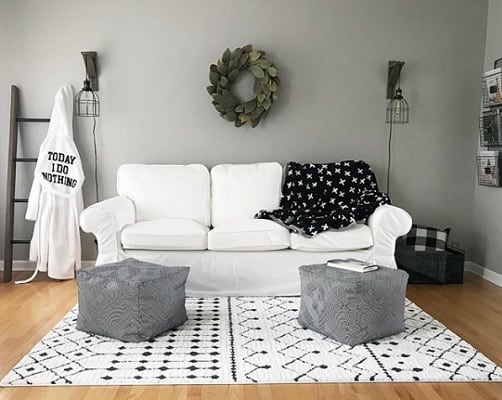 SHOP THIS ROOM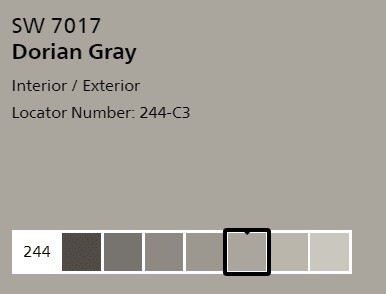 Sherwin Williams Dorian Gray 7017
Dorian Gray is a gray that's a medium-toned color, with a slightly greige undertone. This paint colors warmth pairs well with medium to dark flooring and bright white trim.
I personally use SW Dorian Gray in my master bedroom. Dorian Gray can look dark in some lighting however in a larger room with a ton of natural lighting, this Sherwin Williams gray stands up well.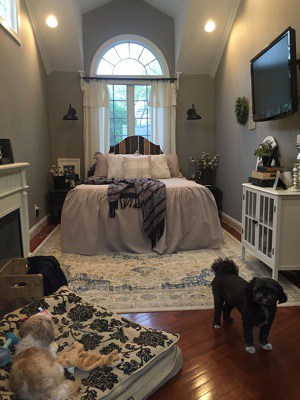 SHOP THIS ROOM LOOK

Don't forget to pick up these amazing painting tools! They will only make your life easier!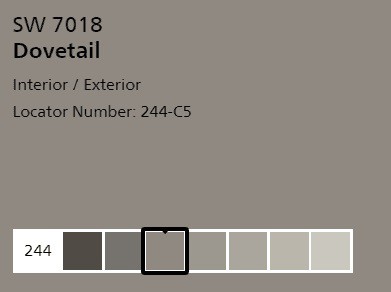 Sherwin Williams Dovetail 7018
Dovetail is a great charcoal gray with a hint of a blue undertone. It is a dark almost masculine color that makes your whites really pop. I used Dovetail for all the interior doors in my home. This Sherwin Williams gray is certainly darker than some of the other grays I have mentioned.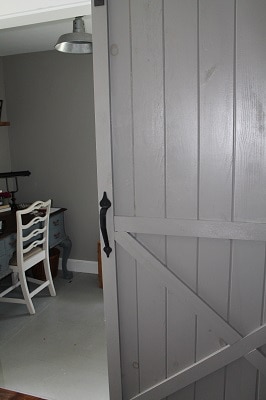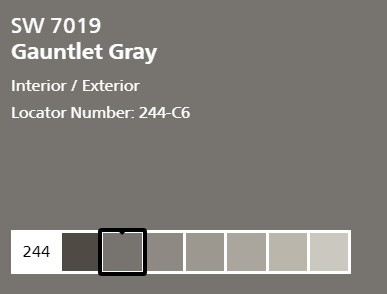 Sherwin Williams Gauntlet Gray 7019
Gauntlet Gray is a deep gray that has more brown-taupe undertones than black. Gauntlet gray works great as an exterior paint color and also works well for cabinetry, wainscot, and trim. With it being a darker gray, it's a great color to use on an accent wall in a room with a lot of natural light. If you're looking for a gray charcoal color Gauntlet gray could be the winner.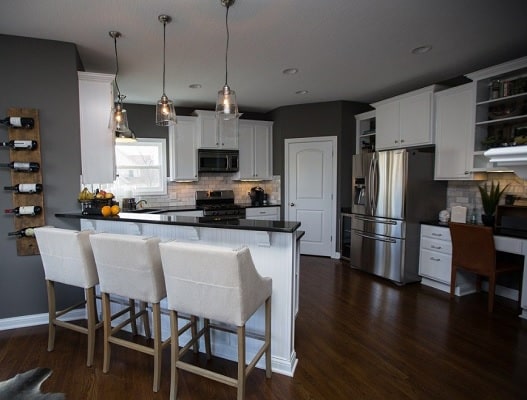 SHOP THIS ROOM LOOK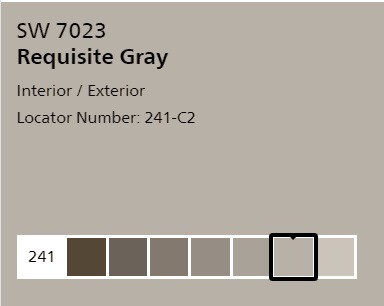 Sherwin Williams Requisite Gray 7023
Requisite Gray is a lovely medium tone Sherwin Williams grey paint color. It has a nice mix of warm and cool undertones, not too green and not too purple. This makes Requisite gray a phenomenal choice, working well in almost any home. This is a very sophisticated clean color.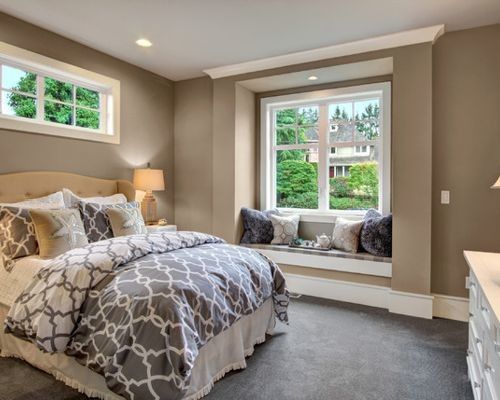 SHOP THIS BEDROOM LOOK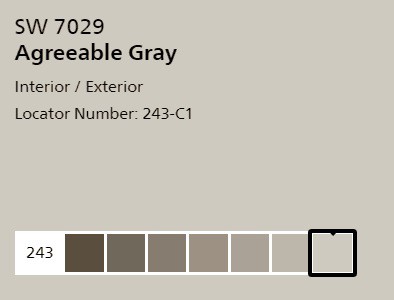 Agreeable gray has a brown/ slightly taupe undertone. The brown undertone keeps it on the warm side, not allowing it looks too cool. As the perfect greige, this color is an effortless neutral that brightens a space providing warmth and blending seamlessly with almost any color palette. Agreeable Gray is one of the most popular Sherwin Williams grays. It's a definite go-to neutral for many people and it's another gray paint color I always suggest to customers.
If Agreeable Gray is a bit too cool for you, consider checking out the warmer Accessible Beige. Don't be fooled by its name either, Accessible Beige has a little bit of gray in it and can be considered a greige.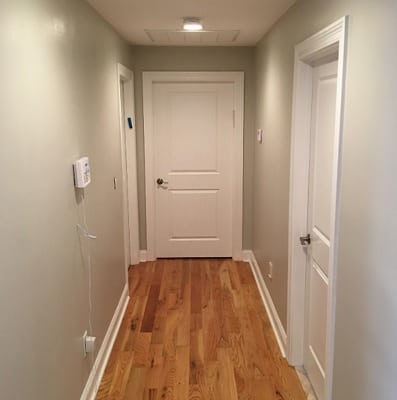 Grab these amazing painting tools! They will only make your life easier!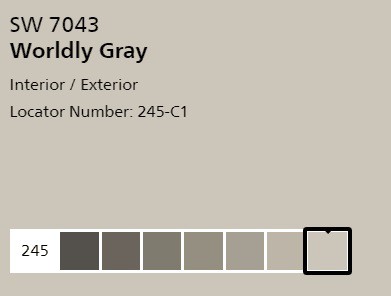 Sherwin Williams Worldly Gray 7043
Worldly Gray is quite a soft color. It has brown and green undertones that give the paint color a subtle greige feel to it. Worldly Gray can look more like a greige or gray depending on what's going on in your space, giving a room a soft look to it.
Sherwin Williams Useful Gray 7050
Useful Gray is a warm and sophisticated neutral color with beige undertones. This gray brings the perfect amount of warmth if you love gray, but are not fond of the coolness some gray paint colors can have. Pairing Useful Gray with an off-white, and deep espresso brown will give you that classic and timeless pallet, working well with several decorating styles.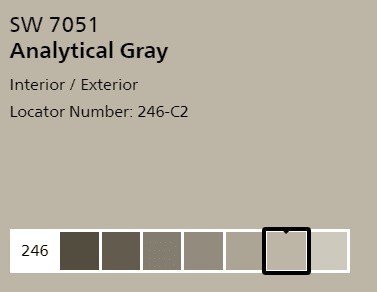 Sherwin Williams Analytical Gray 7051
Analytical Gray is mildly similar to Useful Gray but with a certain depth to it. Both colors are light and warm with beige standing out to be dominant. Analytical Gray is a fantastic neutral color, beige mixed with just the right amount of gray.
Photo by SAB Homes LLC – Browse dining room photos
Need a trim color to go with one of these gorgeous SW grays? Check out the 8 Best White Paint Colors for Trim & Baseboards.
Looking For More Paint Colors?
---
KEEP TRACK OF YOUR PAINT COLORS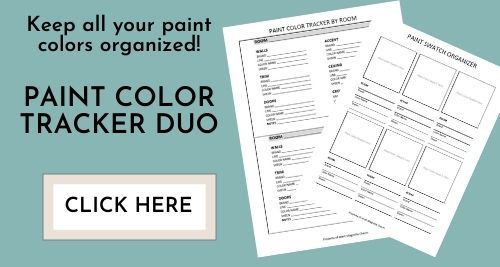 Are you looking for a way to keep track of all the paint colors in your home? Have you ever had to touch up some paint in your home and you forgot what the paint color was? It's like you are playing the guessing game, what color, paint, finish, and brand. It's completely frustrating! I have the perfect solution to keep your paint colors all in one place. My simple paint color tracker can keep you and your paint colors organized!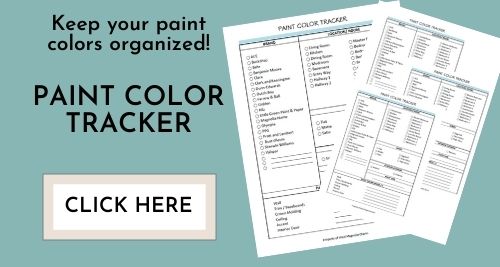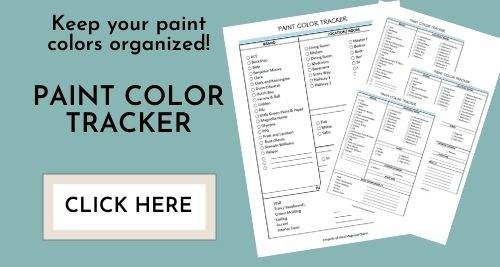 ---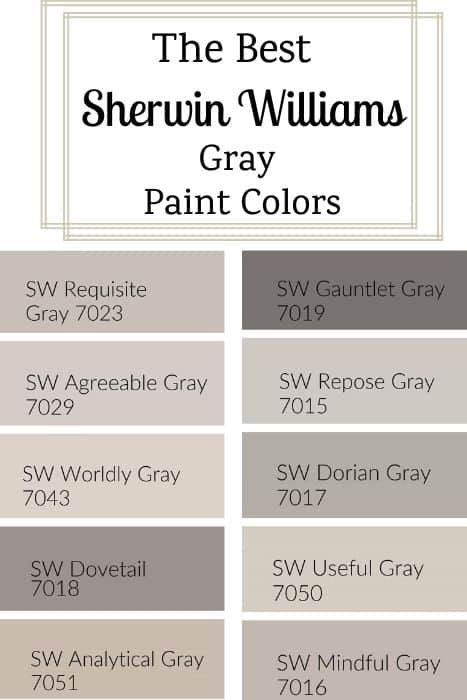 RECAP- THE BEST SHERWIN WILLIAMS GRAY PAINT COLORS
Here's your quick list of the absolute best gray paint color from Sherwin Williams.
Repose Gray
Mindful Gray
Dorian Gray
Dovetail
Gauntlet
Requisite Gray
Agreeable Gray
Worldly Gray
Useful Gray
Analytical Gray
Use Samplize Peel & Stick Paint Samples for a mess-free way to test paint colors!
Every space is different. My biggest recommendation is to pick 3 Sherwin Williams gray paint colors you are drawn to, get samples, and paint swatches in the rooms you want to paint.
Don't paint small dinky swatches either.
I'm talking big, large, monster swatches so you can actually see the color. Then live with them for a few days checking the swatches in different lighting. You want to make sure you are covering all bases before choosing your perfect gray.
READ MORE: HOW TO TEST PAINT COLORS
No matter the gray you choose, finding balance is key. Bringing in texture and warmth with your decor pieces such as, fabric, wood, and fixtures will help make the room not feel cold and bleak.
---
Looking for an easier way to swatch paint colors? Try Samplize Peel & Stick paint samples. These peel & stick paint samples let you test a paint color in all different areas of a room. You know how I feel about testing paint colors in all lighting situations. And the best part about Samplize? They are mess-free! Check them out for yourself, you won't be disappointed.
READ MORE: 14 PAINTING MISTAKES DO-IT-YOURSELFERS MAKE
---
Before you go, Grab your FREE Interior Painting Checklist!
SUBSCRIBE TO MY EMAIL LIST AND GET A FREE COPY OF MY INTERIOR PAINTING CHECKLIST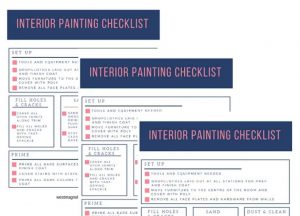 Want more paint color options? Grab a paint fan deck and find your perfect color!
Planning on tackling a painting project on your own? Use these tips to help you paint your room like a pro.
Don't forget your tools and accessories!
Drop clothes are a must for any painting project. Paint is messy! Save yourself the time and hassle of unnecessary cleanup by using drop clothes. You'll be happy you did.
A high quality paint brush will go a long way. Same goes for paint rollers.You want to use tools that will work with you, making your painting job easier.
RECENT ARTICLES: