I may earn money or products from the companies mentioned in this post. Please click my Disclosure Policy to learn more
Certain colors are said to promote calmness and relaxation—what better place to use them than in your bedroom? Check out the best soothing paint colors for your bedroom.
The master bedroom is the most personal space in your home. So, choosing a paint color will determine the feel of your room.
Whether your bedroom is strictly for relaxing and unwinding or it's an all-one space where you put on makeup an do your hair. You want the space to feel comfortable.
Since the master bedroom is your personal space, you want to go for colors you gravitate towards and will enjoy. Before you choose a color, though, there are a few things to consider before making your decision.
Plan on painting your bedroom yourself? Check out some recommendations from the painting professionals.
The first major component to consider is the size of the room. A smaller room does much better with light airy colors. Choosing a light color for a smaller room will give the illusion of it being larger and more open. A few great light colors are Benjamin Moore Mocha Cream, Sherwin Williams Lady's Slippers, and Sherwin Williams Accessible Beige.
Benjamin Moore Mocha Cream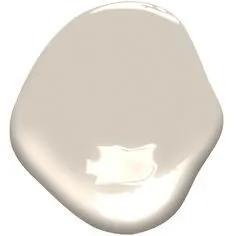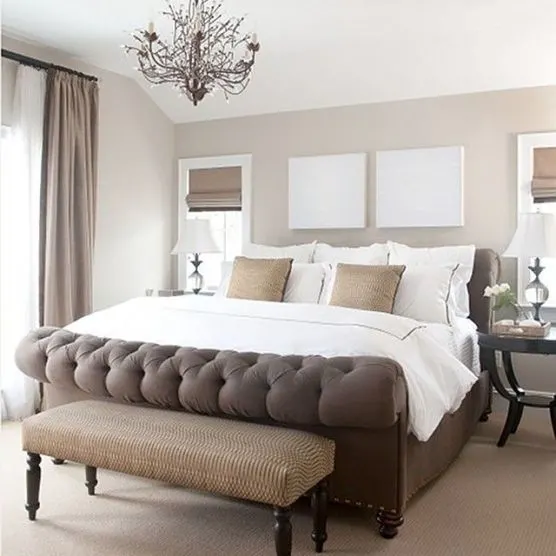 Sherwin Williams Lady's Slippers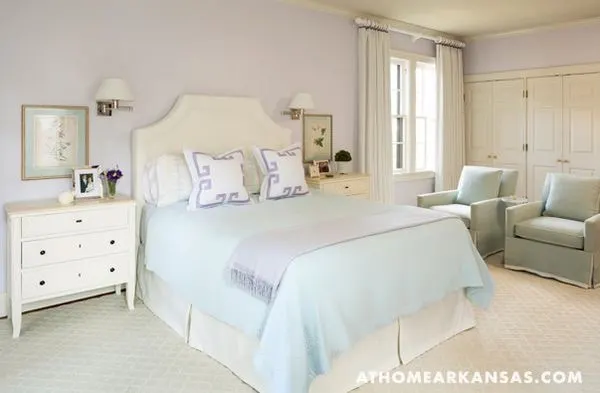 Want to paint like a true professional?
A larger room tends to be able to handle a darker color without closing the room in. My master bedroom, for example, has extremely high ceilings, and the room itself is long and narrow. I was able to go with Sherwin Williams Dorian Gray for the paint color. It's certainly not the darkest color but in a smaller room, it has the potential to make it seem that way. Another beautiful darker green paint color is Sherwin Williams Acacia Haze.
READ MORE: THE BEST GREEN PAINT COLORS
Sherwin Williams Acacia Haze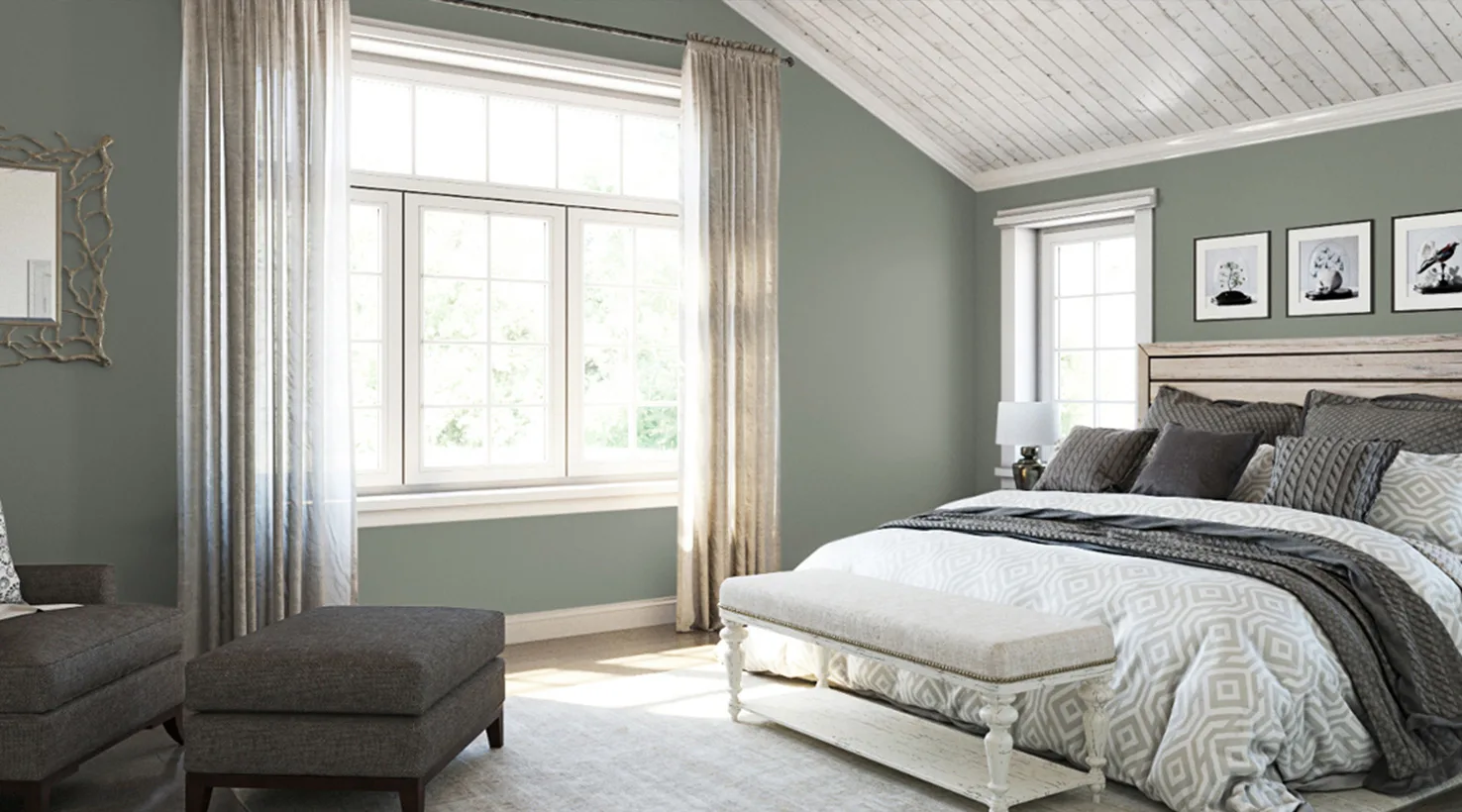 INTERESTED IN MORE PAINT COLOR INSPIRATION?
How do you paint like a pro? By using the right tools and supplies! Check out the Ultimate Painting Tools List for everything you need to paint a room.
How is the lighting in your room? Do you have tons of natural light beaming in? If so, the choice is yours. A light color will do wonders for your already beautifully lit room and a darker color will bring in a cozier atmosphere. Benjamin Moore Normandy is a lovely darker blue gray shade that works well in a room with a lot of natural light.
Benjamin Moore Normandy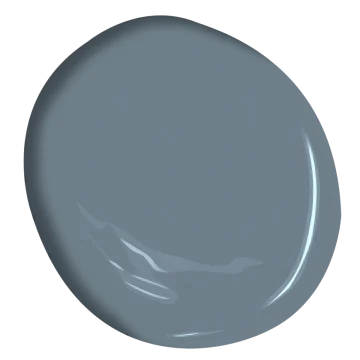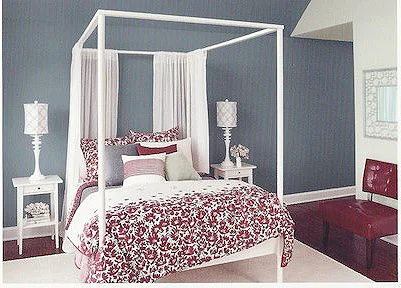 WAIT! Before you start painting make sure you have the best painting tools to make your job easier. It will take hours off your painting time!
Very little natural light? I'd say the obvious choice is to go with a lighter paint color. Even if the room is larger, lighting plays a big role in how large a room actually feels.
What mood do you want to set for your room? The master bedroom is your place to unwind, in undisturbed relaxation. It's your peaceful retreat. Your wall colors should encourage rest while creating a tranquil atmosphere. A great relaxing color is Rainwashed Sherwin Williams, SW Sea Salt, or Stonington Gray by Benjamin Moore.
Sherwin Williams Rainwashed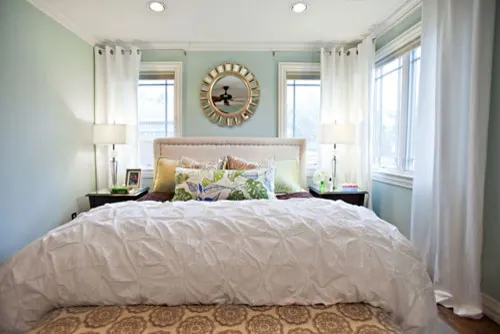 Remember to swatch your paint colors. Pick up your Samplize Peel & Stick paint samples today!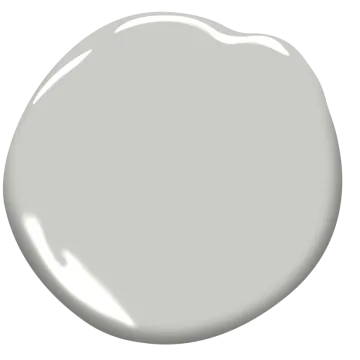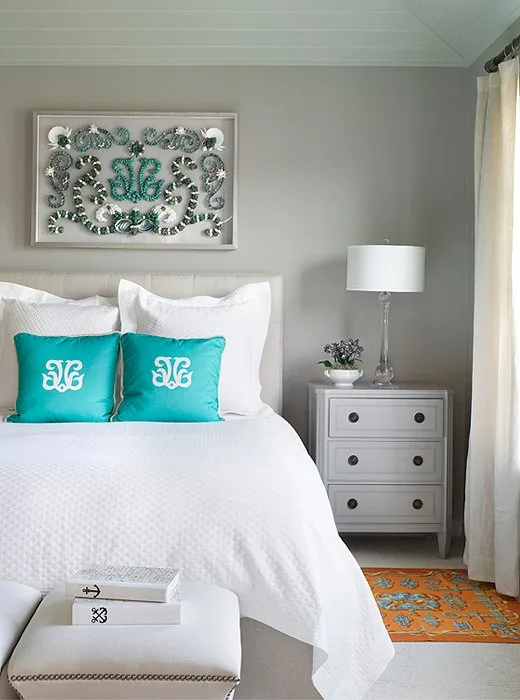 Sticking with neutral, more subdued colors is a great way to keep your room grounded. Using your bedding and accessories is a great way to add that pop of color you want and love to your room without being too overbearing.
Don't start painting until you have the right tools!

SHOP MUST HAVE PAINTING TOOLS
KEEP TRACK OF YOUR PAINT COLORS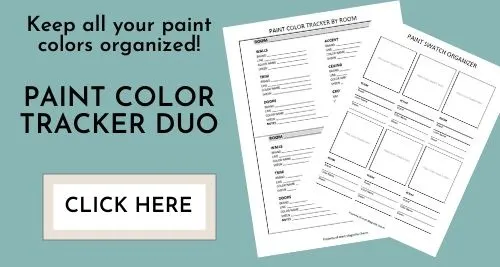 Are you looking for a way to keep track of all the paint colors in your home? Have you ever had to touch up some paint in your home and forgot what the paint color was? It's like you are playing the guessing game, what color, paint, finish, and brand. It's completely frustrating! I have the perfect solution to keep your paint colors all in one place. My simple paint color tracker can keep you and your paint colors organized!
Don't Forget!
Finally, as I say in all my paint color posts, make sure you swatch the paint colors you are thinking about using. The colors you see on the computer look different than a swatch on your home. So, choose a few colors you want to try and swatch those babies. LARGE swatches, too! Trust me choosing the wrong paint color is an expensive mistake you do not want to make.
Instead of physically going to your nearest paint store to grab your samples, you need to try Samplize Peel & Stick paint samples.
Why should you try Samplize?
Super affordable
Mess-free
Non-damaging
Made with real manufacturer paint
Displays color just like a wall
Environmental friendly
Reusable
These peel & stick paint samples are super affordable and allow you to test a paint color in all different areas of a room without the mess of a traditional paint sample!
You know how I feel about testing paint colors, it's a must!
Don't create more work for yourself. Order Samplize now and have them shipped directly to you. No-fuss, no mess! Check them out for yourself, you won't be disappointed.
Check out my review on Samplize, it's an easier, mess-free way to swatch!
Subscribe to my Email List and Get Full Access to my Freebies Library!
Related Posts: