I may earn money or products from the companies mentioned in this post. Please click my Disclosure Policy to learn more
Shoji White is one of Sherwin William's best-selling paint colors. It's a top seller for many reasons especially because it is a light neutral that is extremely versatile. Shoji White is elegant and also welcoming and can easily be incorporated into any decor style.
Another day, another fantastic paint color to review.
Hey guys, I have a good one today.
I'm just going to say it, it's a neutral paint color. I know, I know another neutral. But let me tell you this is a neutral you need to see.
There is a reason why neutral paint colors are the top-selling paint colors. They are versatile which means you can easily decorate around them.
Without further ado, the fabulous neutral paint colors I am reviewing today is….
SHERWIN WILLIAMS SHOJI WHITE
STATS
LRV:74
HUE FAMILY: Yellow, leaning slightly towards Yellow Red
Color Collections: 2022 Method, Living Well – Inspire, Top 50 Colors, Warm White, Finest Whites
Let me discuss with you what these stats mean.
Shoji White has an LRV of 74. Ok, but what does LRV stand for? Light Reflectance Value.
Here's a quick overview of what that means.
LRV or Light Reflectance Value is a scale used by design professionals to measure the amount of light that is reflected from and or absorbed by a surface. The scale range is 0 to 100 with 0 being absolute black and 100 being pure white.
A great article to read to learn more about LRV is Light Reflectance Value: What Do Those Numbers Mean?
With an LRV of 74, Shoji White isn't the most reflective white color you will find, but at 74 it will still reflect a decent amount.
Shoji White is from the yellow hue family. This is a very beneficial piece of knowledge to have because It allows you to understand the paint color a bit more. For example, it can give you insight into what color it may shift to or show in certain qualities of light.
As for the color collections, Shoji White is a part of a few different color collections The most notable one is the Top 50 Paint Colors.
The color collections aren't truthfully telling us much about the color per se however, it's interesting and fun to see what other colors are alongside it.
DID YOU KNOW?
A shoji is a door, window or room divider used in traditional Japanese architecture, consisting of translucent (or transparent) sheets on a lattice frame. Where light transmission is not needed, the similar but opaque fusuma is used[1] (oshiire/closet doors, for instance[2]). Shoji usually slide, but may occasionally be hung or hinged, especially in more rustic styles.

wikipedia
KEEP TRACK OF YOUR PAINT COLORS
WHAT COLOR IS SHOJI WHITE?
Shoji White is characterized by the white paint color category on the Sherwin-Williams website. It is a somewhat white paint color.
It's not a bright clean white, nor is it really an off-white. There is a bit more colorfulness to it to be a true white. It is more along the lines of very light neutral, think a mix of gray and beige but not quite a true greige.
Consider it to have a beigey-greige white feel to it. Yes, that is the technical term.
But remember how the color will look for you in your home depends on the lighting and wood and surrounding colors. This is why I always push grabbing a sample.
If you are looking for a bright white or even an off-white, Shoji White may not be the color for you. However, if you are looking for a white with a little more depth to it, it may be exactly what you have been looking for.
DOES SHOJI WHITE LOOK YELLOW?
Not really. So for the most part Shoji White will not look or show yellow tones on the walls. BUT depending on the lighting and elements in your home, there is a slight chance.
In my experience, I haven't seen Shoji look yellow on the walls.
Doing some painting yourself? Make sure you pick up this essential painting tool!
IS SHOJI WHITE A WARM PAINT COLOR?
Yes, Shoji White is a warm paint color. It can sometimes be challenging to determine whether a paint color is warm or cool. Some colors you can tell right away, and some well, you are left guessing.
When you find yourself wondering what the tone of a paint color is, I have a tip that can sometimes help figure it out.
All you need to do is compare the paint color to another.
What this does is allows you to see the warmth or coolness better. Visuals always help so here's an example.
Overall, SW Shoji White is surely a warm paint color.
---
INTERESTED IN MORE WARM PAINT COLORS? CHECK THESE OUT!
---
WHAT UNDERTONES DOES SHOJI WHITE HAVE?
Sherwin Williams Shoji White has undertones of gray and beige. As it's a warm paint color the warmth comes from the beige, ultimately its yellow hue family. But, since it has a bit of gray to it, it never really looks too warm or yellow.
Shoji, like many other paint colors, can show different colors depending on the lighting and elements in the space. It has the potential to sometimes show a peachy/taupe color or it's even been seen to show some green.
It's a good thing to keep in mind that undertones and the colors you see a paint color present are strictly reliant on what's going on around them. For example, lighting, decor color, and fixed elements.
Undertones are subjective and not the same for everyone. This is something that really isn't conveyed enough and it's why I push sampling paint colors so much, almost to the point of annoyance.
If you are wondering what undertones may appear while using Shoji White, you need to grab a paint sample and test it in your home. It's the best way to get a precise representation of how the paint color will look.
WAIT! Before you start painting make sure you have the best painting tools to make your job easier. It will take hours off your painting time!
LIGHTING AND CARDINAL DIRECTIONS
Lighting is one if not the most, important factor when it comes to what a paint color will look like
It largely impacts how you will perceive a paint color. For this reason, it's a great idea to be knowledgeable about the lighting condition and the cardinal direction of the room you are choosing the right paint color for.
Since Shoji White is a warm paint color, you can expect to see more of the warmth in South facing, rooms as well as the mornings of east-facing rooms and the evening of west-facing rooms.
As for north-facing rooms, Shoji White is a great option. It has the warmth that holds up well to the cooler north light.
It's noteworthy to always take lighting into consideration while choosing a paint color. Though you cannot forget about the other elements that influence how a paint color may look.
This includes fixed features like cabinetry, flooring, tiles, etc. as well as the decor colors you choose for your home.
Follow these helpful painting tips and avoid these mistakes to get the job done right!
WHAT ARE THE BEST LIGHT BULBS TO USE?
Just as natural light affects paint colors so does artificial lighting.
The color of the light bulbs you use will influence how a paint color will look in a room. And unfortunately, it's an important detail that is often overlooked.
With the variety of light bulbs available and it can become overwhelmingly confusing. I mean what really soft white and bright white?
Thankfully, it becomes easier once you know a little bit about light bulbs.
For reference, light color or light appearance is measured on the Kelvin (K)temperature scale. Lower Kelvin numbers mean more yellow light; the higher the Kelvin number the whiter or bluer light.
Remember, lower Kelvin (K) numbers = yellow light, Higher Kelvin (K) numbers = white/blueish light
I always recommend using this type of light bulb.
Be cautious of the light bulb names such as "daylight" or warm light". I'd advise against picking a light bulb by its name.
Instead, always check the package for actual facts. This allows you to choose the best bulb for you.
Don't forget, as much as lighting plays a major part in how a paint color will look at times, there are other determinants to be aware of. For instance, decor, furniture, fixtures, cabinetry, and floors. These are all elements that can affect and/or influence the way a paint color will look in your room.
WHAT IS THE BEST WAY TO SAMPLE?
I'm an advocate for testing and sampling paint colors. I wholeheartedly believe it's a surefire way to see how a paint color will look in a room. I feel as though many people brush over this step in the painting process and I think it's wildly insane.
IS SHERWIN WILLIAMS SHOJI WHITE A GOOD TRIM COLOR?
I say yes it's a good trim color. Of course, whether you decide to use Shoji White as a trim paint color depends on what wall color you have and so on.
People tend to favor white paint colors for the trim so I think Shoji White is a great option if you are looking for something that is not a clean bright white but rather a more saturated almost white paint color.
Overall, it will work as a trim paint color.
WHAT TRIM COLOR WORKS WITH SHOJI WHITE?
You will be happy to hear that there are many different colors to use on the trim when you have Shoji White walls.
White paint colors are tricky to pair with one another. If done incorrectly they can look dirty or just plain off.
I find that Greek Villa is one of the best trim colors to work with Shoji White walls. It's not a bright white. It has a bit of warmth to it that complements the warmth within Shoji beautifully.
I'd also like to add that it's an amazing paint color to use with dark wood trim.
READ MORE: THE BEST WHITE PAINT COLORS FOR TRIM
WHAT FINISH/SHEEN SHOULD BE USED?
Paint finishes have different jobs. They are all meant to serve various purposes. But they can also change the way a paint color looks.
Here is a good example of how one paint color like Shoji White can look different when used in different sheens.
Let's say you decided to paint your trim with a semi-gloss finish. You can then use a flat finish on the walls.
By varying the finish or sheen, you can slightly alter how the color looks.
A higher sheen, like gloss, will reflect more light, making it appear lighter and a lower sheen, like flat, will do the opposite.
WHERE TO USE SHOJI WHITE?
This is a fantastic color to use anywhere. It's a near-neutral paint color so it works and blends well with all decor styles.
FURNITURE
BEDROOM WALLS
IS SHERWIN WILLIAMS SHOJI WHITE A GOOD EXTERIOR PAINT COLOR?
Yes! Shoji White is a fantastic exterior paint color. As I mentioned earlier, choosing the right white paint color can be a challenge and that is no different for the exterior.
Colors on the exterior of the home will appear lighter and bright in the sunlight. Some may also look a bit washed out.
A color like Shoji White is a fantastic option for those who want a white paint color. The warmth and the colorfulness of the color allow it to hold up to the sun without looking glaringly stark.
In my opinion, I think it's a great color to capture the classic farmhouse look, pair it with black accents and wood details to complete the look.
---
EXPLORE MORE EXTERIOR PAINT COLORS:
---
WHAT'S THE BENJAMIN MOORE EQUIVALENT TO SHERWIN WILLIAMS SHOJI WHITE?
Is there a Benjamin Moore equivalent to Shoji White? This is one of the questions about paint colors I get often.
The answer is no, not really. There are colors that are very similar to one another, but I have come across any exact dupes.
I understand why people ask about equivalents. Sometimes we don't have access to certain brands and if you fall in love with a paint color from that brand you want to find somewhere else.
SHOULD YOU COLOR MATCH?
I wouldn't say you should, but you certainly can if you want.
If you are considering color matching between brands do it with a bit of caution.
Brands formulate paint colors differently. This means that if they mix a paint color that isn't theirs, it has the potential of being slightly off.
If you still want to take a chance, I highly recommend starting with a sample of the color to start. This way you can see if the color is the same and if you like it.
SHOJI WHITE COORDINATING COLORS
Let's talk about a few complementary colors that will look fantastic with Sherwin Willaims Shoji White.
There's no denying that finding paint colors that coordinate well together is tough. Some colors are just easier to work with than others.
Luckily Shoji White is pretty darn versatile so it works with tons of colors including the eight I listed below.
COLOR COMPARISONS
I mentioned earlier that I like comparing paint colors. I find it helpful when identifying a paint color's tone. But I also like to compare certain popular paint colors to see what their differences and similarities are.
Call me weird but I find it fun.
SHOJI WHITE VS ALABASTER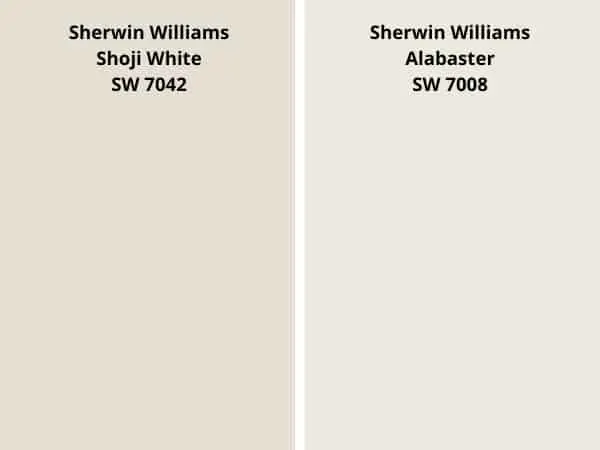 Alabaster has an LRV of 82, higher than Shoji's LRV of 74
Alabaster is the lighter paint color or the two.
Both are categorized as white paint colors on the SW website.
Both are on the Sherwin Williams top 50 paint colors list
Shoji White has more depth and color to it.
Both are warm paint colors and are from the yellow hue family.
Overall I think both of these paint colors are fantastic. Alabaster is lighter and has an incredibly soft warmth to it. It does have the potential to pull a possible yellow in certain lighting.
Shoji White is a bit darker and has color to it. It is also a very soft and warm color. Certain lighting can cause it to show a flash of green or a possible slight peachy beige.
One is not better than the other. They are definitely different colors but both are equally gorgeous.
READ MORE: ALABASTER FULL REVIEW
SHOJI WHITE VS BM SWISS COFFEE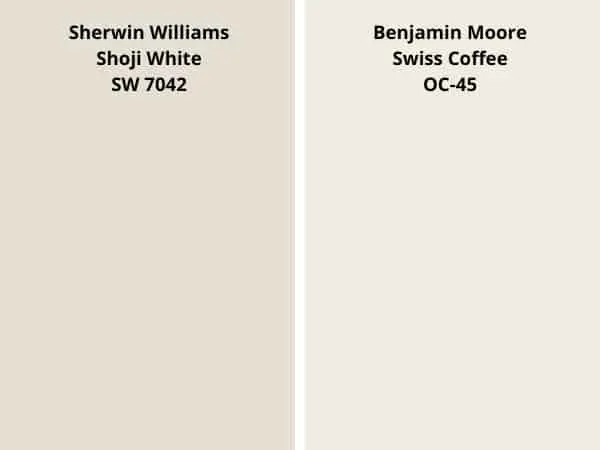 Swiss Coffee has an LRV of 83.93, higher than SW's 74
Both colors fall under the white paint color category.
Swiss Coffee is the lighter paint color.
SW has more color and depth
Both are warm paint colors
When it comes down to it, Both of these paint colors are great. They really aren't too similar though.
Shoji white is darker and has a beige-griege look while Swiss Coffee is lighter and has a creamy white look.
READ MORE: BENJAMIN SWISS COFFEE FULL PAINT COLOR REVIEW
RECAP
I just gave you a ton of information so let me quickly recap everything we just talked about regarding Sherwin Williams Shoji White SW 7042
LRV:74
HUE FAMILY: Yellow, leaning slightly towards Yellow Red
Color Collections: 2022 Method, Living Well – Inspire, Top
Is categorized as a white paint color
it performs as a super soft light beigy-greige paint color
has gray and beige undertones
depending on the lighting and element in a space it can flash a hint of green
it's a warm paint color
the best way to sample is with SAMPLIZE PEEL & STICK PAINT SAMPLES
it works well as a trim color
Greek Villa is a great trim color to pair it with
works well on the exterior
a comparable Benjamin Moore color is White Down
coordinates beautifully with many colors, including Urbane Bronze and Intellectual Gray
FINAL THOUGHTS
You have made it to the end! And I have a few thoughts on this paint color.
I guess to sum it up and not take too much more of your time, I really like Sherwin Williams Shoji White. It truly is a great color.
I think if you go into it thinking you are getting a traditional white paint color, you may be disappointed. However, if you know that it's not quite a white but more so a very light neutral beigey-greige, you will love it!
This is a splendid paint color, it's versatile and works with all decor styles. I think if you want a light paint color but not quite white, Shoji White is a great color to grab a sample of.
RECENT ARTICLES: