I may earn money or products from the companies mentioned in this post. Please click my Disclosure Policy to learn more
Not loving how the outside of the house is looking these days? Maybe it's a little drab? Needs a little sprucing up? A new exterior paint color is one of the quickest ways to give your house a face-lift. This is a big investment, so it's not very easy to change if you don't love the end result, making what seems like a simple decision trickier than you might have expected.
But how can you make the best decision possible when choosing that new exterior paint color?
You'd be surprised at the number of outside elements at play that you should consider before you choose a color scheme.
Things like:
the hue of your brick chimney or the color of your roof, you want everything to flow together in a cohesive way.
The color your neighbors chose for their house, you don't want the homes to clash.
In the area you live in, you want to stand out but you don't want to bring property values down or worse, make your neighbors mad.
Keeping these things in mind when making your decision will help you choose the right color best suited for your home.
---
---
INVITING HOME EXTERIOR PAINT COLORS
Below I have compiled a list of some wonderful exterior paint color options.
TONY TAUPE SHERWIN WILLIAMS 7038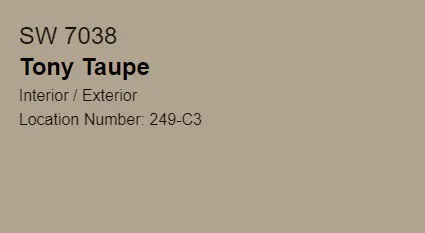 Sherwin Williams Tony Taupe is such a versatile exterior paint color. This warm mid-toned beige has an LRV of 37. Tony Taupe is a great color for a home exterior because it works well with different types of stonework.
Tony Taupe looks great with white paint colors that have some warmth to them. For example, BM White Dove and SW Greek Villa.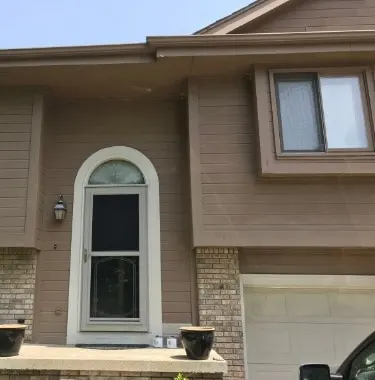 COPLEY GRAY BENJAMIN MOORE HC-104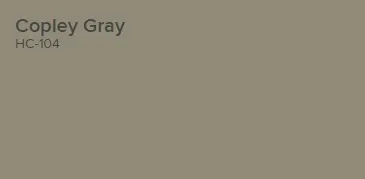 Benjamin Moore Copley Gray is another fantastic exterior paint color. This color has an LRV of 24.51 and is a part of Benjamin Moore's Historic Color collection. Copley Gray is a timeless gray with a slight green undertone.
A great complementary paint color to use with it would be BM Thunder.
READ MORE: THE BEST GREEN PAINT COLORS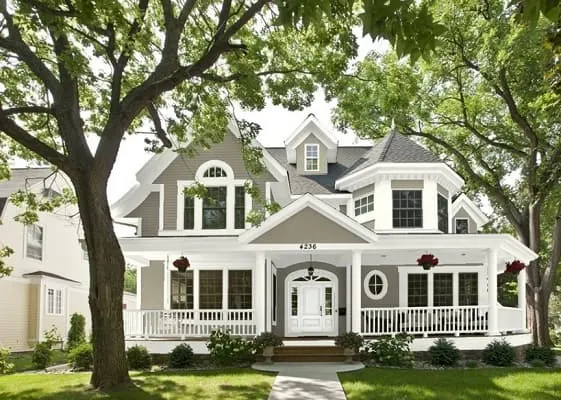 NEWBURG GREEN BENJAMIN MOORE HC-158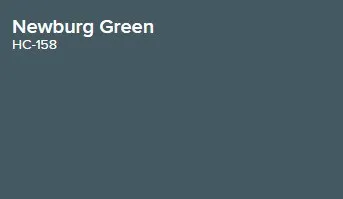 Benjamin Moore is an amazing exterior paint color. This color is rich and full of life.
Newburg Green is one of my personal favorites from this list. If you know anything about me, you know I'm a fan of blue/green colors and Newburg is one of those colors. I'd consider this color more on the teal side.
Jenny from @ourcharminlittlemoneypit on Instagram used Newburg Green on the body and SW Alabaster on the trim of her home's exterior and I have to say, this color combo was made for her home. So beautiful.
READ MORE: AMAZING BLUE EXTERIOR PAINT COLORS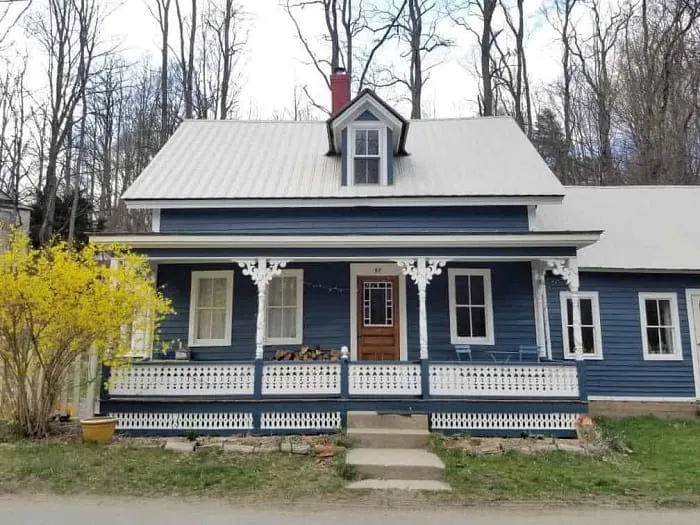 NANTUCKET GRAY BENJAMIN MOORE HC-111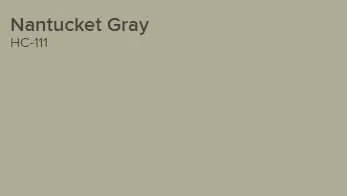 Benjamin Moore Nantucket Gray is another great neutral gray to use on a home's exterior. It has an LRV of 39.49 and is a part of Benjamin Moore's Historic Color collection..
Nantucket Gray is a mid-tone gray that looks more like a green paint color. It's a great muted neutral green that I think is perfect for an exterior. It's soft, it's subtle, it's just so pretty.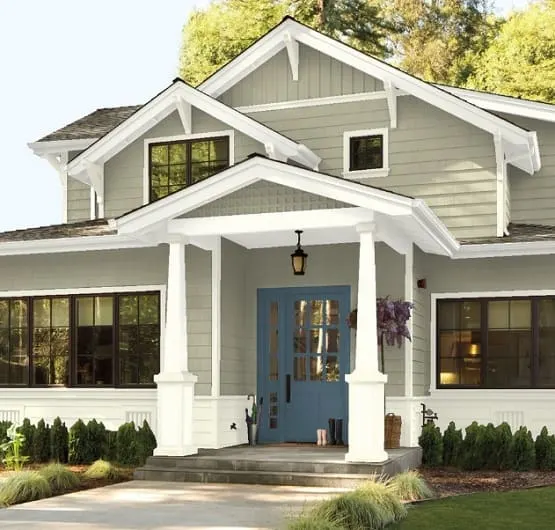 ---
Don't make this painting mistake!
Quickly, let's talk about testing paint colors.
Instead of physically going to your nearest paint store to grab your samples, you need to try Samplize Peel & Stick paint samples.
Why should you try Samplize?
Super affordable
Mess-free
Non-damaging
Made with real manufacturer paint
Displays color just like a wall
Environmental friendly
Reusable
These peel & stick paint samples are super affordable and allow you to test a paint color in all different areas of a room without the mess of a traditional paint sample!
You know how I feel about testing paint colors, it's a must!
Don't create more work for yourself. Order Samplize now and have them shipped directly to you. No-fuss, no mess! Check them out for yourself, you won't be disappointed.
---
RIVERWAY SHERWIN WILLIAMS SW 6222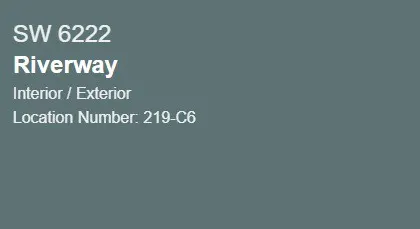 Sherwin Williams Riverway is one of the best blue/teal colors around. This color is an exceptional option for the exterior of a home. Riverway is bold without being too bold. It has a great amount of depth to it which makes it work so well on the exterior. This is the exterior color of my home and I couldn't love it more if I tried.
READ MORE: RIVERWAY-A FULL REVIEW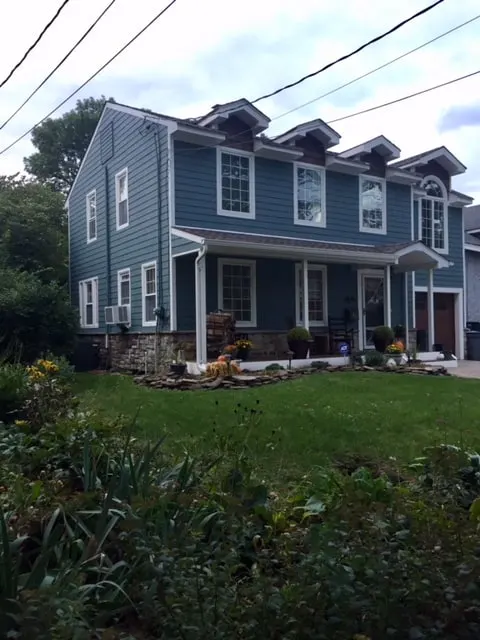 EVENING SHADOW SHERWIN WILLIAMS SW 7662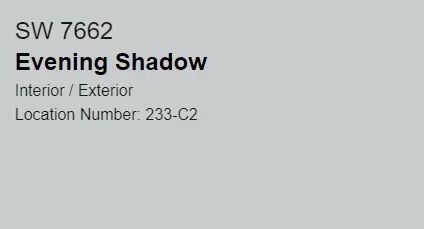 Sherwin Williams Evening Shadow is a beautiful light to mid-toned cool gray with an LRV of 60. This gorgeous cool gray has undertones of blue.
Evening Shadow is a great option for an exterior especially when you want a blue color, but you want it to be more on the neutral side. It's the perfect blue gray option.
READ MORE: THE BEST BLUE GRAY PAINT COLORS
CLOUD WHITE BENJAMIN MOORE CC-40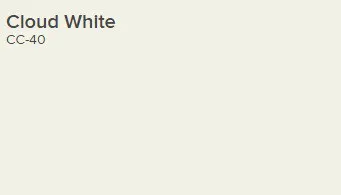 Cloud White by Benjamin Moore is a stellar white paint color for a home's exterior. This white has a bit of warmth to it. It's great for the exterior because of the warmth it has. Certain white colors can seem too stark. However, that slight warmth Cloud White has prevents it from looking that way.
You can also add some contrast by painting your shutters a color like SW Tricorn Black.
M Designs Interior Decorating used Cloud white on the exterior of the home in the picture below.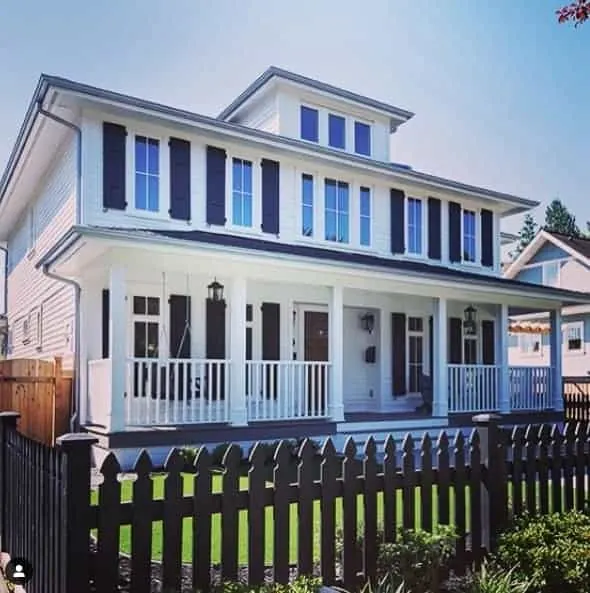 BANANA CREAM SHERWIN WILLIAMS SW 6673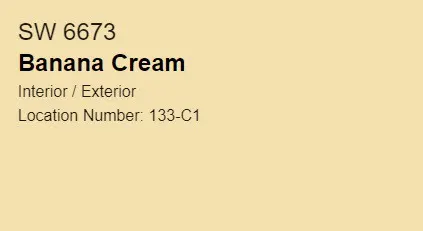 Sherwin Williams Banana Cream is such an inviting exterior paint color. Nowadays, yellow houses are few and far between, however, this yellow is the perfect yellow for an exterior. This is an absolutely fantastic color for a beach house. Banana Cream is such a cheerful color, it makes you happy every time you look at it.
Remember to swatch your paint colors. Pick up your Samplize Peel & Stick paint samples today!
INVITING EXTERIOR PAINT COLORS RECAP
Tony Taupe SW
Copley Gray BM
Newburg Green BM HC-158
Nantucket Gray BM HC-111
Riverway SW 6222
Evening Shadow SW 7662
Cloud White BM CC-40
Banana Cream SW 6673
FINAL THOUGHTS – 8 OF THE MOST INVITING HOME EXTERIOR PAINT COLORS
So whether you want to blend in with the style of the area, or stand out making a statement, you now have some exterior house paint colors inspiration to get you started.
Remember, this is your home and you want to love it, even more, every time you see it!
Don't forget about your Front Door. Check out these Front Door Colors post for great color options to go with your newly painted exterior.
---
Are you planning on tackling a painting project on your own? Use these tips to help you paint your room like a pro.
Do you want to paint like a pro?
Get the painting tools the pros use.
Drop cloths are a must for any painting project. Paint is messy! Save yourself the hassle of unnecessary cleanup by using drop cloths. You'll be happy you did.
A high-quality paint brush will go a long way. The same goes for paint rollers. You want to use tools that will work with you, making your painting job more manageable.

Looking for more color options? Grab your own Benjamin Moore fan deck


Looking for more color options? Grab your own Sherwin Williams fan deck.

Looking for more color inspiration?
---