I may earn money or products from the companies mentioned in this post. Please click my Disclosure Policy to learn more
Last Updated on
Not loving how the outside of the house is looking these days? Maybe it's a little drab? Needs a little sprucing up? A new exterior paint color  is one of the quickest ways to give your house a face-lift.  This is a big investment, so it's not very easy to change if you don't love the end result, making what seems like a simple decision trickier than you might have expected.
 But how can you make the best decision possible when choosing that new exterior paint color? 
 You'd be surprised at the number of outside elements at play that you should consider before you choose a color scheme.
Things like:
• the hue of your brick chimney  or the color of your roof, you want everything to flow together in a cohesive way.
•The color your neighbors chose for their house, you don't want the homes to clash.
•The area you live in, you want to stand out but you don't want to bring property values down or worse ,make your neighbors mad. 
Keeping these things in mind when making your decision will help you choose the right color best suited for your home. 
Below I have complied a list of some wonderful exterior paint color options.
Tony Taupe Sherwin Williams 7038
Riverway Sherwin Williams 6222
PIN Now and Save for Later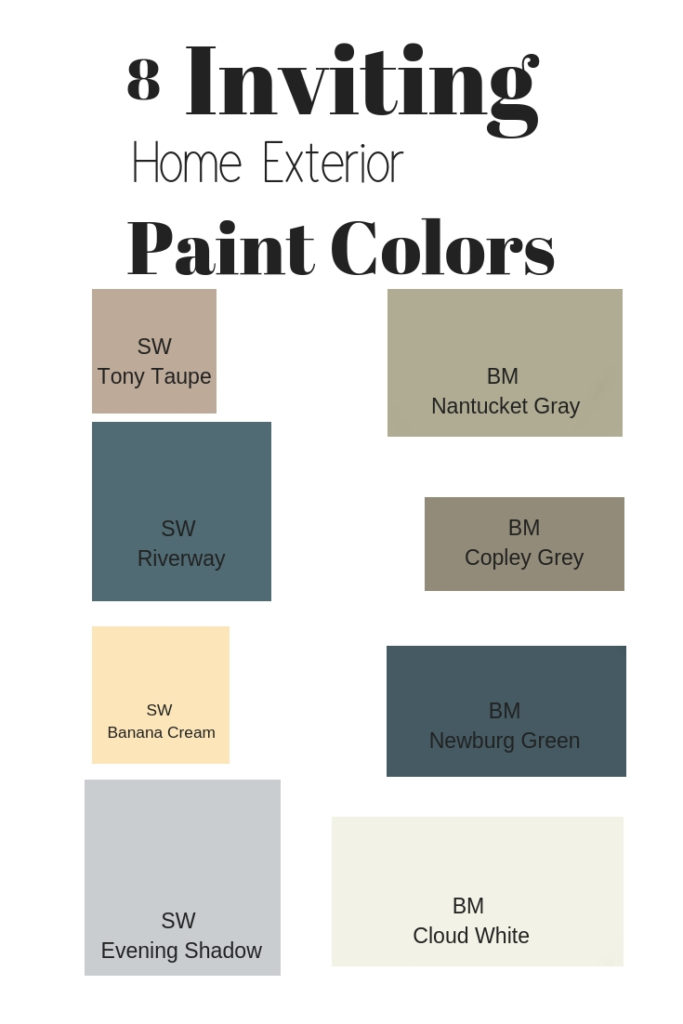 So whether you want to blend in with the style of the area, or stand out making a statement, you now have some exterior house paint colors inspiration to get you started. 
Remember,  this is your home and you want to love it even more every time you see it!
Don't forget about your Front Door. Check out this  Front Door Colors post for great color options to go with your newly painted exterior.
Dress up your home exterior with some of these great options. 
Please not some links in this post are affiliate links