I may earn money or products from the companies mentioned in this post. Please click my Disclosure Policy to learn more
Chalk painted furniture has such a beautiful look to it. I love using chalk paint for all my furniture makeovers. It is a fun and not to mention a budget-friendly way to transform ugly, outdated furniture pieces. Check out my DIY chalk paint recipe.
The process of painting a piece of furniture can be time-consuming. It would be a shame to spend all that time and effort on a piece just to have it ruined because you didn't seal the chalk paint on that bad boy. Don't let all your hard work go to waste!!!
I know there are so many different topcoat options for chalk painted furniture that it can be a little overwhelming when it comes down to choosing the right one to use.
I'm here to help!
I am sharing with you a list of some of my favorite chalk paint sealers I regularly use and love.
Top Coat Options for Chalk Painted Furniture
---
Best Chalk Paint Top Coat for Durability
Polycrylic
Minwax Polycrylic Protective Finish is a crystal clear, ultra fast-drying protective topcoat. It protects and adds beauty to interior wood surfaces including woodwork, furniture, doors and cabinets. The finish is crystal clear and dries quickly. Cleans up is easy with just some warm water.
I really like using the Polycrylic on pieces that are going to be used regularly, specifically high traffic areas. I find that the finish is much more durable than wax and you don't have to worry about reapplying it in a few months. Using polycrylic over chalk paint is one of my favorite ways to seal my projects.
I used polycrylic on my repurposed chalk painted bathroom vanity about 2 years ago and it still looks as good as the first day I completed it.
Best Single Coat Chalk Paint Top Coat
General Finishes Flat Out Flat Topcoat
Flat Out Flat, a clear, flat, water-based topcoat, is their latest innovation, a response to the durability issue with chalk paint and milk paint. Flat Out Flat Topcoat, a finish designed to preserve the look, feel and color while increasing the durability of milk paint and chalk paint with a single coat. Flat Out Flat dries in about two to four hours under normal conditions.cleanup is easy with warm soapy water.
General Finishes Flat Out Flat is another amazing option for heavily used pieces. A few coats of this and you are good to go. It's the perfect option for a dining room table.
Best Affordable Chalk Paint Top Coat
Minwax Paste Finishing Wax
Minwax Paste Finishing Wax protects and adds hand-rubbed luster to any finished wood surface. It is recommended for furniture, antiques, woodwork, cabinets, doors, paneling and accessories that do not need a hard protective coat of polyurethane.
Minwax finishing paste is a great, affordable option for a wax product. It's fairly easy to use and it performs exactly as a wax should. Once the wax hardens, it provides your furniture piece with a strong protective finish.
I've used this on many chalk painted dressers I've refinished. The end result is always beautiful.
One con I always hear about Minwax finishing paste is that the texture is pretty hard compared to something like Annie Sloan wax.
An easy way to loosen it up and give it more of a liquidy feel is to add mineral spirits to it.
To do this, get a separate container and add your wax. Take a teaspoon of mineral spirits and add it to the wax. Mix them together completely. The Mineral Spirits loosen up the wax making it easier to apply to your chalk painted furniture. If you find the wax to still be too hard add a tiny bit more mineral spirits.
Best Chalk Paint Wax for a Glossy Finish
DecorArt Americana Decor Creme Wax
This wax will fuse with the Chalky paint, making it very strong. Be sure to reapply regularly. For a glossy sheen, buff the wax after applying. For a matte finish, simply rub it in. Waxes are applied easily with a brush or a soft, clean rag. Dark waxes can be used on top of Clear waxes to add an authentic antique look.
Americana Decor wax is very liquidy. It was so easy to work with, you just brush it on. I liked this chalk paint wax when I was going for a more glossy look. I just found it glossed the piece up beautifully.
Best Double Duty Chalk Paint Top Coat
Howard Feed-N-Wax Wood Polish and Conditioner, Beeswax & Orange Oil
Feed-N-Wax is ideal for enhancing the depth of grain while providing added protection and luster to furniture, antiques, and cabinets. Feed-N-Wax helps introduce conditioning oils that 'feed' the wood while providing a protective coating of beeswax and carnauba wax. Feed-N-Wax can be used on finished or unfinished wood to help preserve and keep the wood from drying out, fading, or even cracking. Feed-N-Wax should be used whenever wood starts to look faded or dry, usually every month or so.
Howard Feed N Wax is my go-to for pieces that I want a polished look too. It gives the furniture an almost oily look to it, adding just the right amount of shine. Like with any wax, it needs to be reapplied every few months. This works best for pieces that aren't used often.
Most Popular Chalk Paint Wax
Annie Sloan Chalk Paint Wax-White
Chalk Paint Waxes will seal, protect, and enhance durability of furniture, cabinets, walls, and home decor painted with Chalk Paint decorative paint. Easily apply one or two coats of wax with a brush or cloth.
Annie Sloan is the only one on this list that I have never used. I know It's the most popular wax for chalk paint and I have never touched it.
When I first began chalk painting furniture I used a DIY chalk paint recipe because I was trying to keep costs down. That was the same for the chalk paint sealer. Annie Sloan had been more expensive than some of the other sealer options so I decided to use one of those. I've seen and heard some amazing reviews though. And rest assured Annie Sloan Wax is on my list to try.
The Purple Painted Lady has a great review on Annie Sloan wax here
My Favorite Top Coat for Chalk Paint
Polyvine Wax Finish Varnish Dead Flat
Polyvine Clear Wax Finish Varnish is a high performance acrylic varnish with a dead flat finish that brushes on easily to protect interior and exterior woodwork with a traditional wax-like finish. Protects all timber surfaces with a highly durable, water and heat resistant film. Clear Wax Finish Varnish combines the durability of a varnish with the silky feel of wax.
Polyvine Wax finish is in my opinion, the best of both worlds. It's super easy to work with and the durability is amazing. I feel like this product has a truly flat finish. I used this on my dining room table and I am still thrilled with the results. It's held up wonderfully.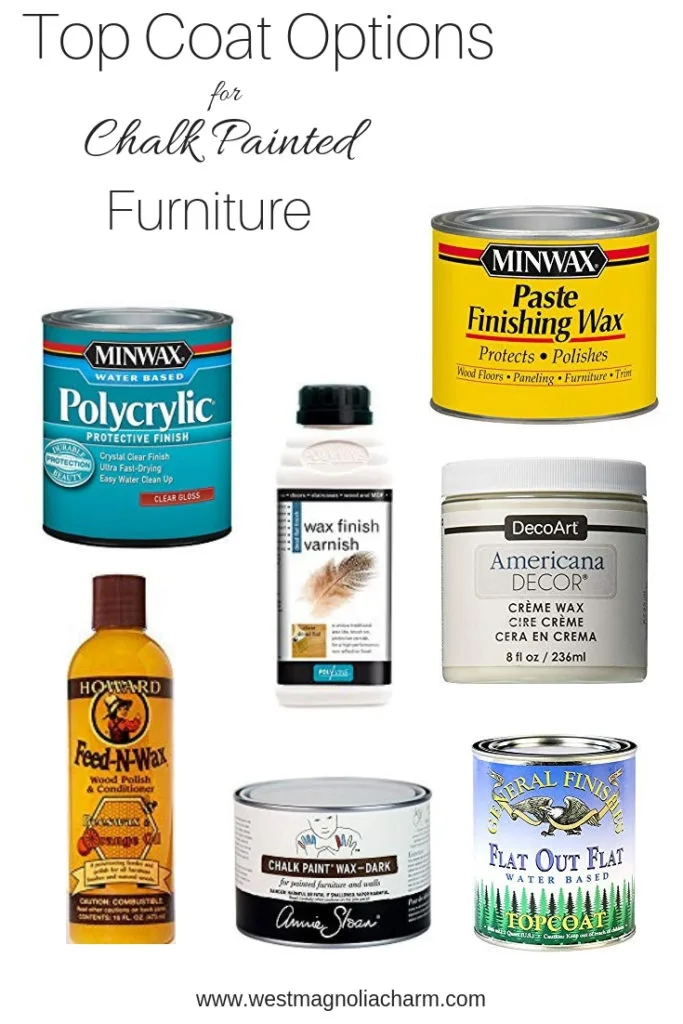 My final thoughts on top coat options for chalk painted furniture:
It all depends on what you are using the chalk painted furniture for.
Choose a varnish for heavily used pieces and a wax for the lesser-used ones. I find that in terms of durability, Polyvine Clear Wax Finish Varnish is my preferred choice.
Chalk Paint Sealer FAQ
Can you use oil-based polyurethane over chalk paint?
Yes, you can use polyurethane over chalk paint. Poly is very durable, inexpensive and watertight. However, it can be tricky to get a smooth finish and it can yellow over time.
How do you seal chalk paint kitchen cabinets?
To seal your chalk painted kitchen cabinets, go with polycrylic. It's the most durable. We know kitchen cabinets can take a beating, so durability is key here. Polycrylic is a one-and-done type of product, unlike a chalk paint wax that you'd have to reapply every few months.
Unsealed Chalk Paint – Do or Don't?
It's recommended that you always seal your chalk paint. That being said you don't necessarily have to seal it. Beware though, unsealed chalk paint is more susceptible to the elements such as chipping, and wearing. It's certainly not a go idea if the chalk painted item is in a high-traffic area.
Can you use a wipe on poly over chalk paint?
yes, you can use wipe on poly over chalk paint. The wipe-on version of polyurethane is the same as the brush on.
How do you seal chalk paint for outdoor use?
To seal your outdoor calk painted projects, use a poly. Poly is watertight and durable. It's no the best option to use a sealing wax. Wax is far less durable and it melts in high heat.
Here are a few of my painted furniture projects featuring some of the products mentioned.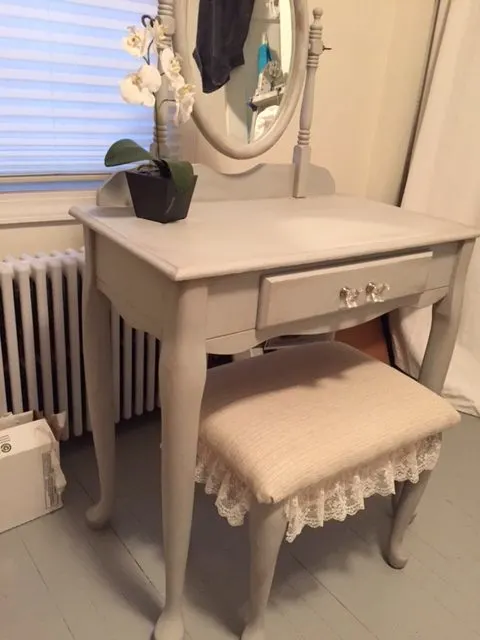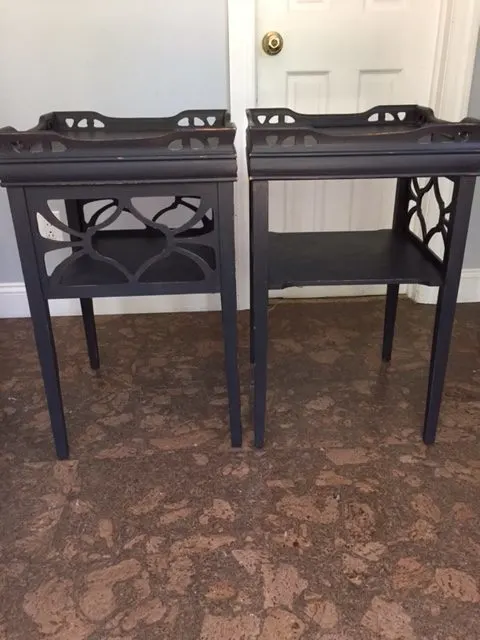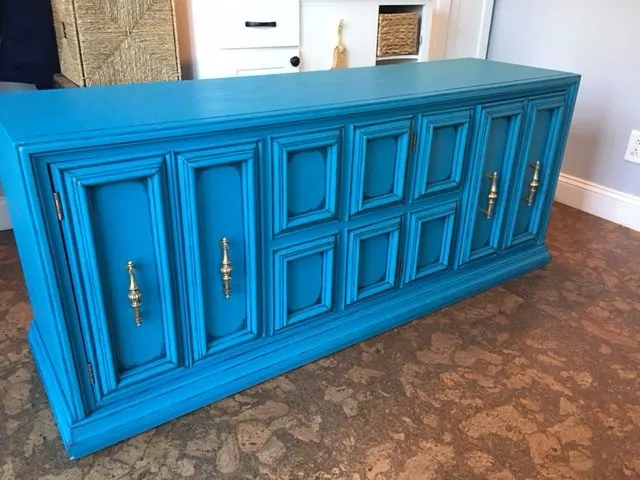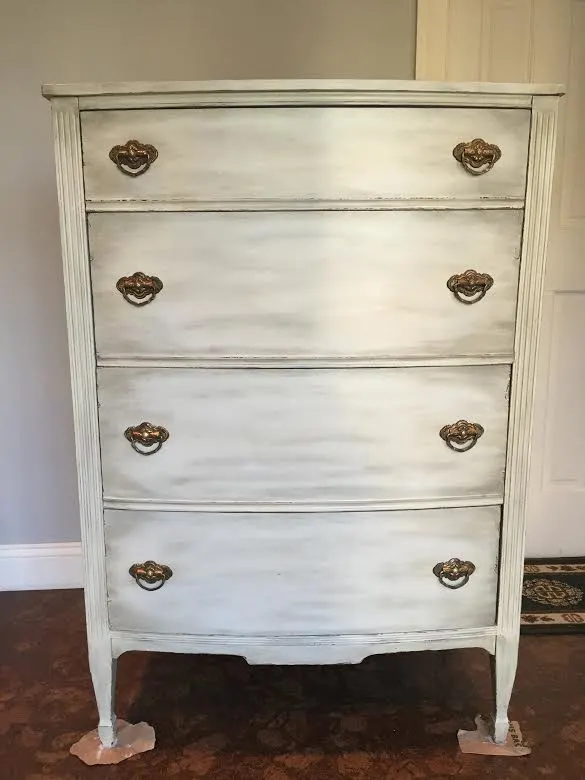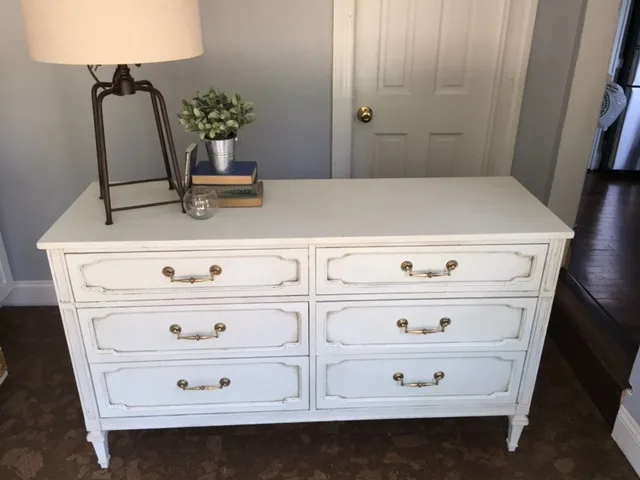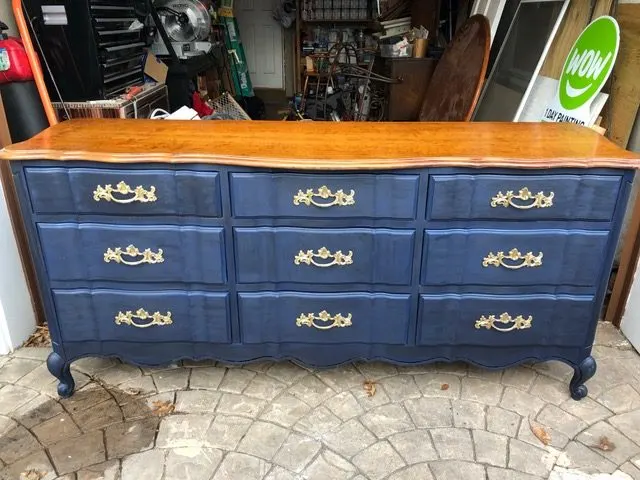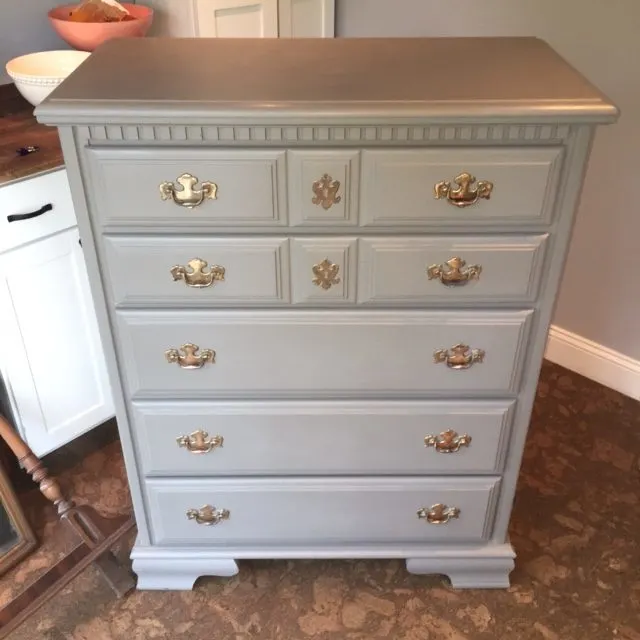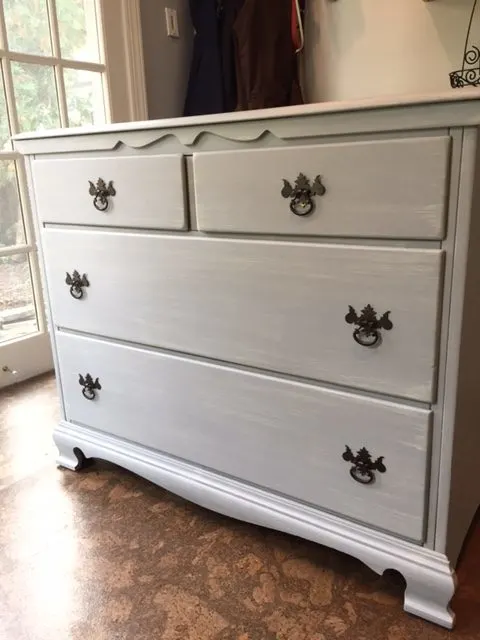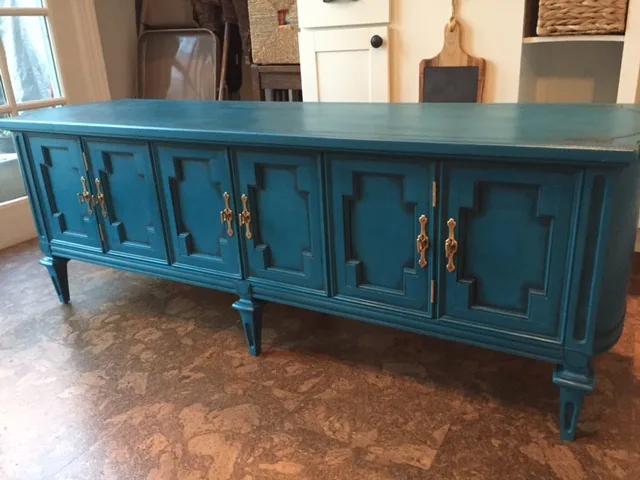 You Also Might Be Interested in: