I may earn money or products from the companies mentioned in this post. Please click my Disclosure Policy to learn more
Spring Inspired Paint Colors have characteristics of being bright, cheerful, airy, & fresh. Some of the best colors for springtime include sunny yellows, barely there oranges, and clear sky blues.
Hello all, and welcome to a special edition paint color post.
We are officially in the season of Spring, and what a joyous thing that is.
I have a particularly fond attachment to spring because I was born on the first day of it, March 20th.
I'm admittedly not a fan of the cold weather. I want nothing to do with it, but living in New Jersey, it is unavoidable.
So, every year, I (not so) patiently wait for the warmer spring weather to arrive.
In the spirit of springtime being here, I wanted to share some of my favorite spring-inspired paint colors. These colors evoke feelings of happiness, laughter, contentment, and delight, making you really feel like you are in the thick of spring.
Don't start painting until you have the right tools!

SHOP MUST HAVE PAINTING TOOLS
SPRING-INSPIRED PAINT COLORS
Now that I have got you in the springtime mood let's get into some fun spring-inspired paint colors.
DRIED PARSLEY 522 BENJAMIN MOORE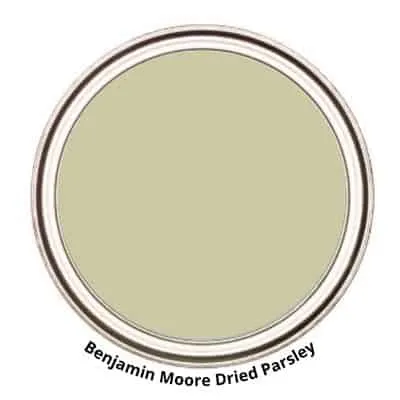 LRV: 55.49
Benjamin Moore Dried Parsley looks exactly like dried parsley. This muted green has warm undertones that give it depth. This mid-toned green paint color gives me all the cheerful springtime vibes.
READ MORE: THE BEST GREEN PAINT COLORS
CAPPUCCINO 2096-50 BENJAMIN MOORE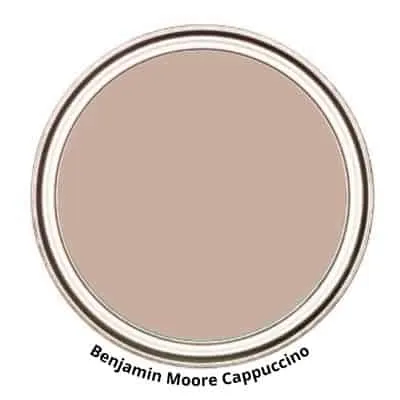 LRV: 44.81
Cappuccino by Benjamin Moore is a glorious warm creamy beige. Think about an actual cup of cappuccino with a touch of milk. That's what this paint color is.
Cappuccino has a touch of pink in it that gives this paint color a serious springtime feel.
PALE MOON OC-108 BENJAMIN MOORE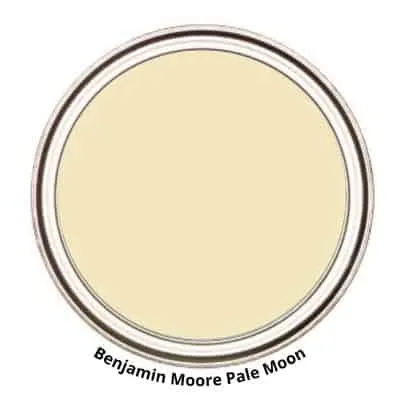 LRV: 73.31
Benjamin Moore Pale Moon is a soft, slightly buttery paint color. It's not a super in-your-face type of a yellow. It's more subdued and subtle, but it still makes a statement. Pale Moon is a beautiful muted yellow that fits perfectly into a springtime color palette.
READ MORE: THE BEST SHERWIN WILLIAMS YELLOW PAINT COLORS
SIMPLY WHITE OC-117 BENJAMIN MOORE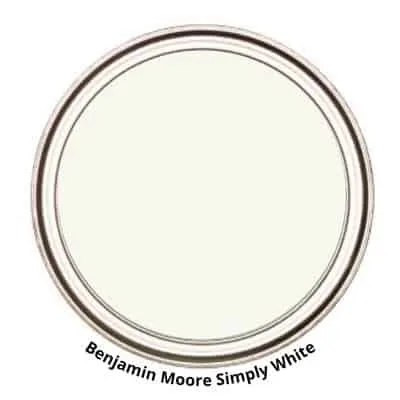 LRV: 89.52
Simply White by Benjamin Moore is a crowd-pleaser. This white paint colors as a hint of warmth that makes it not too stark. This is a lovely white that looks beautiful with both warm and cool color palette.
Simply White works perfectly as a spring paint color because it's neutral, and you can add color in other ways, such as decor.
MUSKOKA 974 BENJAMIN MOORE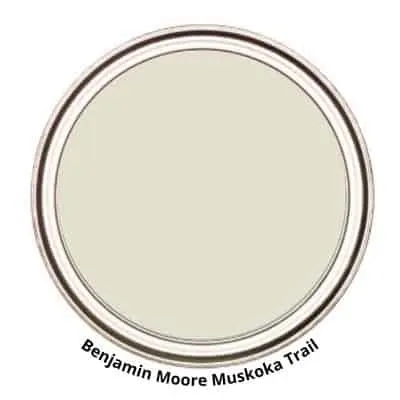 LRV: 71.97
Benjamin Moore Muskoka Trail is another lovely soft, neutral off-white paint color. This one fits perfectly in the characteristics of a spring paint color. It has a soft and warm appeal to it.
It has some yellow in it that gives it that warmth, but there is a touch of gray that keeps it from looking too warm. It's a true beauty.
MISTY BLUE 820 BENJAMIN MOORE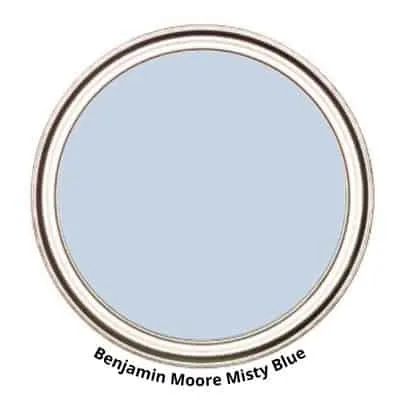 LRV: 65.83
Misty Blue by Benjamin Moore is a mid-toned, slightly dusty blue paint color. It's soft but doesn't have a touch of iciness to it. The thing that makes this blue a unique spring-inspired paint color is the fact that it has a drop of lavender to it.
NORTHERN LIGHTS 586 BENJAMIN MOORE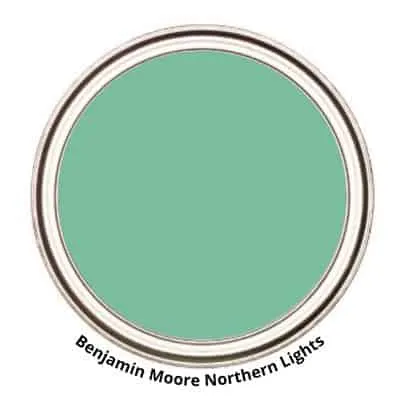 LRV: 42.71
Benjamin Moore Northern Lights is such a fantastic spring-inspired paint color. This one screams springtime to me.
Northern Lights is a mid-tone vibrant green with a bit of blue in it. This is such a cheerful and fresh paint color. Truly one of the more unique ones on this list.
BEST WAY TO SAMPLE SPRING-INSPIRED PAINT COLORS
Instead of physically going to your nearest paint store to grab your samples, you need to try Samplize Peel & Stick paint samples.
Why should you try Samplize?
Super affordable
Mess-free
Non-damaging
Made with real manufacturer paint
Displays color just like a wall
Environmental friendly
Reusable
These peel & stick paint samples are super affordable and allow you to test a paint color in all different areas of a room without the mess of a traditional paint sample!
You know how I feel about testing paint colors. It's a must!
Don't create more work for yourself. Order Samplize now and have them shipped directly to you. No fuss, no mess! Check them out for yourself. You won't be disappointed.
Get $5 off your first Samplize order using the code "FIRSTFIVE"
PRESSED FLOWER SW 6304 SHERWIN WILLIAMS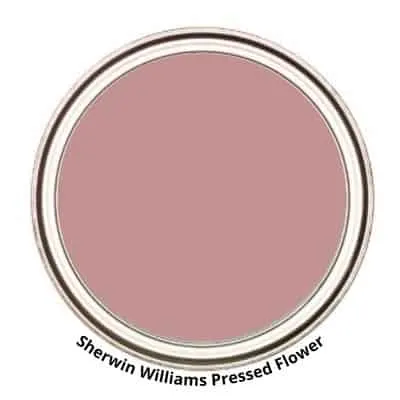 LRV: 35
Sherwin Williams Pressed Flower is a beautiful pink paint color. This is a gorgeous, soft, mid-toned, warm rose color. It has a decent amount of color to it, giving it depth and dimension.
With a name like Pressed Flower, how could it not be a spring-inspired paint color?
READ MORE: THE BEST BLUSH PAINT COLORS
ATMOSPHERIC SW 6505 SHERWIN WILLIAMS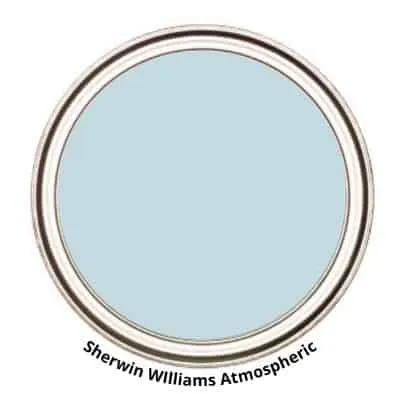 LRV: 67
Atmospheric by Sherwin Williams is a lightish/ mid-toned sky blue color. This cool-toned blue is a true spring color that can easily give your home a sense of peace and tranquility.
SW Atmospheric is a soft, calming blue that has the qualities to truly put you in a good mood and a smile on your face.
READ MORE: THE BEST BLUE-GRAY PAINT COLORS
KESTREL WHITE SW 7516 SHERWIN WILLIAMS
LRV: 68
Sherwin Williams Kestrel White is a warm, neutral paint color. This is a fantastic color to use when you are looking for a light but not entirely white. Kestrel White has a bit more depth to it.
The quality that makes Kerstel White the perfect spring-inspired paint color is the hint of pink running through it. It's ever so slight, but in specific lighting, it may be seen.
PINKY BEIGE SW 0079 SHERWIN WILLIAMS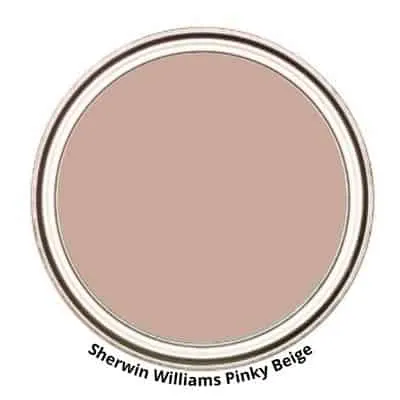 LRV: 43
Pinky Beige by Sherwin Williams is a mid-toned beige/tan paint color. There aren't many surprises with this fantastic color; its name says it all: Pinky Beige. That is precisely what it is.
Some beige paint colors tend to lean more on the yellow side, but not this one. It leans towards pink.
I like this one as a springtime paint color because it is not full pink rather, it's a bit more neutral with that beautiful pink lingering in the background.
IVORIE SW 6127 SHERWIN WILLIAMS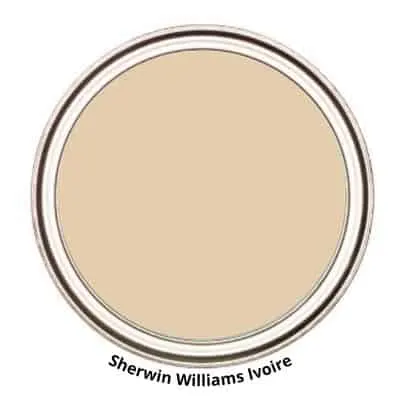 LRV: 64
Sherwin Williams Ivoire is a light creamy yellow paint color. This is not your typical sunshine yellow color. It has a bit of an orange feel to it. It's more on the muted side, which means it's not the most vibrant color. Don't get me wrong, it has color just a bit softer.
The warm softness of Ivorie fits in beautifully with the other spring-inspired paint colors.
SPARE WHITE SW 6203 SHERWIN WILLIAMS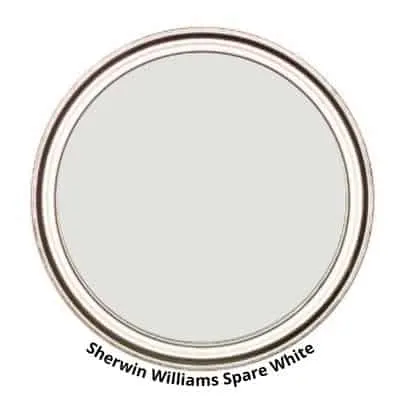 LRV: 77
Spare White by Sherwin Williams is a fantastic white paint color. It's more of a cool white that leans a bit brighter than a white like SW Alabaster. But the true reason why I like Spare White as a springtime paint color is because of the subtle green it has to it.
This lively white will add serenity to anywhere you use it.
VAGUELY MAUVE SW 6015 SHERWIN WILLIAMS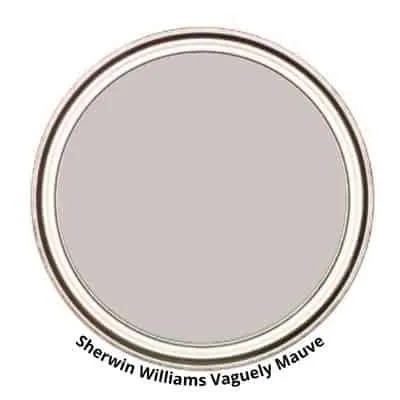 LRV: 57
Sherwin Williams Vaguely Mauve is a lighter pale purple paint color. Everything about this gorgeous color says springtime to me. The softness, its pastel appearance, and the overall color.
If you like purple but don't want anything too punchy or in your face, I think Vaguely Mauve is worth checking out.
DRIFT OF MIST SW 9166 SHERWIN WILLIAMS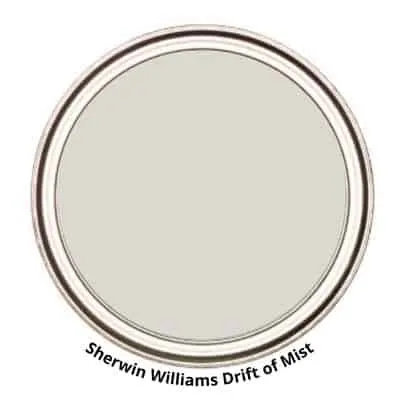 LRV: 69
Drift of Mist by Sherwin Williams is such an incredible neutral paint color! It's a light, neutral gray that has a sprinkle of warmth in it. I find it to have the ideal amount of warm and cool tones. There is also a slight green undertone that can come out in specific lighting.
Drift of Mist is light and airy and has a fresh appeal to it, all the characteristics that a spring paint color has.
READ MORE: THE BEST SHERWIN WILLIAMS GRAYS
CONSTANTLY FORGETTING WHAT PAINT COLORS YOU USED IN YOUR HOME? KEEP TRACK OF THEM ALL WITH THIS HANDY PAINT COLOR KEEPER
RECAP- SPRING-INSPIRED PAINT COLORS
Spring is one of the four seasons. (one of the best, in my opinion). I feel like after a long, cold winter, the longer, warmer days of spring are a breath of fresh air.
I see spring colors as light, airy, inviting, and comforting. And I think the paint colors I shared encompass all of what spring feels like to me.
Let's go through a quick recap of all the spring colors I talked about to refresh your memory.
BENJAMIN MOORE SPRING-INSPIRED PAINT COLORS
Dried Parsley
Cappuccino
Pale Moon
Simply White
Muskola Trail
Misty Blue
Northern Lights
SHERWIN WILLIAMS SPRING-INSPIRED PAINT COLORS
Pressed Flower
Atmospheric
Kestrel White
Pinky Beige
Ivoire
Spare White
Vaguely Mauve
Drift of Mist
FINAL THOUGHTS – BEAUTIFUL SPRING-INSPIRED PAINT COLORS
As someone who was born on the first day of spring, I have a strong connection to all things spring, including paint colors.
Spring is full of new life, sunny skies, and cheerfulness. It's bright, airy, and fresh. And so are all the paint colors I spoke about.
The common theme among spring paint colors is color and softness. All these colors are a gorgeous representation of what spring entails.
If you are into colors with a softer, inviting feel to them, one of these paint colors may be exactly what you are looking for.
Finally, don't forget that the colors you see on the computer screen are not a 100% accurate representation of the actual paint color. The best way to see what a paint color looks like is by sampling it in your home.
Many factors can change how a paint color will look, including lighting, decor colors, and fixed elements.
Sampling your paint colors is the best and most accurate to see the true paint color.
---
Are you planning on tackling a painting project on your own? Use these tips to help you paint your room like a pro.
Do you want to paint like a pro?
Get the painting tools the pros use.
Drop cloths are a must for any painting project. Paint is messy! Save yourself the hassle of unnecessary cleanup by using drop cloths. You'll be happy you did.
A high-quality paint brush will go a long way. The same goes for paint rollers. You want to use tools that will work with you, making your painting job more manageable.
LOOKING FOR A WAY TO CREATE AN ACCENT WALL TO COMPLIMENT YOUR PAINT COLORS?
RECENT ARTICLES: