I may earn money or products from the companies mentioned in this post. Please click my Disclosure Policy to learn more
If you want to add some personality to your space, Peel & Stick Wallpaper by DeccoPrint is an excellent choice. Whether you use it as an accent or cover an entire wall, the result will be nothing short of spectacular.
Welcome all! I'm so happy you stopped by.
Today I'm talking about wallpaper.
Not everyone is fond of wallpaper. It seems that people are either in favor of it or completely against it. However, I'll make an attempt to persuade those who are against it to give it another chance.
I should mention that I am not an expert in wallpaper, but I do have some experience with it.
In my first home, I used traditional wallpaper in my living room and also in my basement. I can't lie, the first go at it was a bit intimidating. There was minimal research done on my part. I essentially found a wallpaper I liked and ordered it. So when it arrived I quickly realized I was going to need a bit more than I anticipated.
The blame is on me because I didn't take into account that I had to match the pattern. Basically, there was a lot of wasted wallpaper. In the end, I got it done but it could have been so much easier if I just researched a little more.
When it came time for me to wallpaper a wall in my basement, I recognized the importance of accurate measurements.
When I moved into my current home, I decorated my home office by using Target's Hearth and Home Peel & Stick wallpaper on one of the walls. It was my first experience with peel & stick wallpaper, and I found it to be slightly more challenging to apply compared to the traditional wallpaper from Home Depot that I have used before.
Now we get to my most recent wallpaper rendezvous.
I have a tiny room on the second floor of my home where I keep my Echelon exercise bike. It's not really decorated and feels disconnected from the rest of my home. I've been trying to find ways to integrate it into the space, but so far nothing has worked. That's until I learned about DeccoPrint wallpaper.
DeccoPrint reached out to me to see if I wanted to collaborate with them on something and that's when the light bulb went off. Wallpaper is exactly what that room needed.
I was fortunate enough to receive some wallpaper from DeccoPrint to try out and evaluate. I must say, I have a multitude of thoughts on the matter.
ABOUT DECCOPRINT
Before I get into my honest review I want to talk a bit about DeccoPrint as a company and their story.
Here's a little snippet about the company.
We are a team of young creatives looking to transform peoples homes in an easy way, turning any place into your dream space. For 7 years we were active and diligent in the Etsy store. Over those years we received many positive letters and feedback that prompted us to expand the company and open our own website! We are the people who enjoy what we do, and we truly believe that interior design is of great importance in everyone's lives.

Our mission is to break the stereotype that wallpapering is something impossible to do when in turn it can be easily done without a lot of extra work. Everyone can turn their place into an extravagant dream house!

Each customer order is custom-made by our artists and manufacturing workers. We carry out the whole production process including printing, cutting, and layouting. And finally, we carefully pack the wallpaper and send it to you! After that, we wait for your feedback, of course.

Wallpaper patterns are hand drawn by our artist Una, making each wallpaper special and remarkable. Una has been creating various collections of unique and beautiful patterns for you to choose from. And the best part – Una is constantly working on new and trendy collections for you to bring into your home!

Our Epson printers are the most diligent workers – they have already printed a total of around 600 000 square feet! Thanks to our lovely customers, we are constantly growing and adding numbers to our square feet collection.

DeccoPrint
Being a small business myself, I love to hear about other small businesses like DeccoPrint's success stories.
WALLPAPER TYPES
There are two types of wallpaper that DeccoPrint offers, peel & stick and traditional glue/paste.
DeccoPrint offers both wallpaper materials – traditional, which is a paper-based material requiring wallpaper glue for application, and peel&stick fabric-based, which comes as one big sticker.
I have used both types (only the peel & stick from DeccoPrint). I have to say there are pros and cons to both.
TRADITIONAL WALLPAPER
In my experience, traditional paste wallpaper involves more steps than peel & stick wallpaper. But again I do not have experience with using DeccoPrint's traditional wallpaper.
DeccoPrint's instructions say to apply the glue to the wall.
Here are the exact instructions, taken from their website.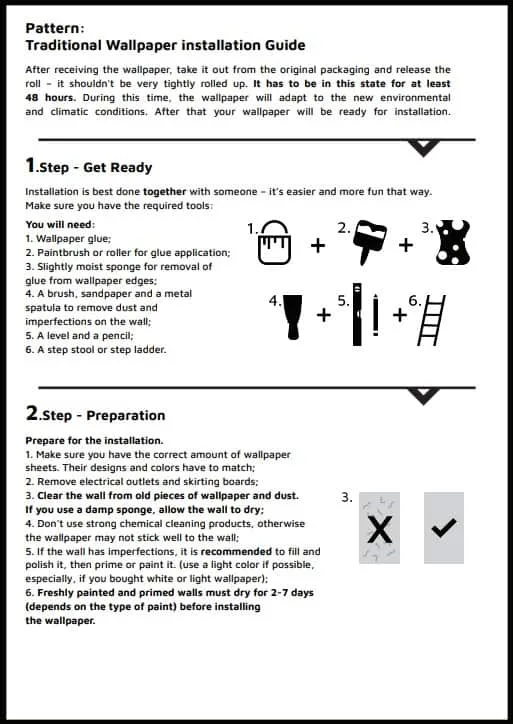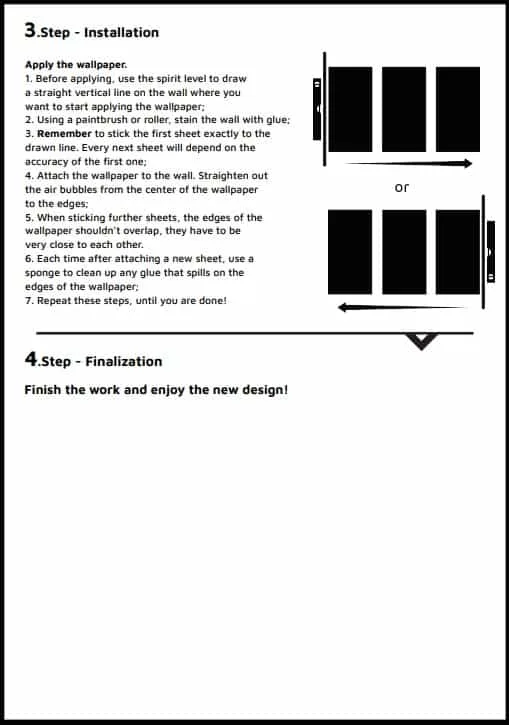 PEEL & STICK WALLPAPER / REMOVEABLE
Removable wallpaper refers to a type of wallpaper that can be easily removed without damaging the walls or leaving behind any residue. It is a temporary wallpaper solution that can be used to update a space without making any permanent changes to the walls.

Removable wallpaper typically comes in a peel-and-stick format, where the wallpaper has a self-adhesive backing that can be applied directly to the wall. This eliminates the need for messy glue or paste, and the wallpaper can be removed cleanly and easily when it's time to move out or if you want to change the wallpaper.

This type of wallpaper is considered to be a renter-friendly option as it is easy to install and remove, and it does not damage the walls or leave behind any residue.

Decco Print
Having also worked with Peel & Stick wallpaper, the difference was that the glue was already on the paper. Essentially, one less step and not permanent than traditional.
If you are curious here are DeccoPrints Peel & Stick wallpaper instructions.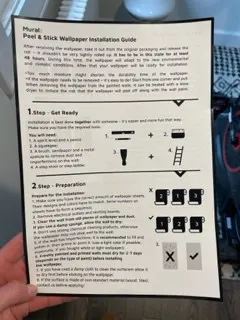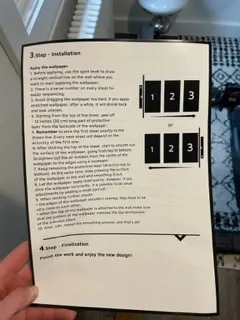 WALLPAPER MATERIALS
Materials are important. And DeccoPrint knows that. They use only the best.
*Our materials are high-quality, PVC-Free – this is not your typical vinyl wallpaper. It is safer than the standard for the manufacturer, installer, client, and environment. It does not emit toxic chemical scents or expose the user to such dioxins. We use Epson ECO inks with the ISO certificate for use indoors – schools, kindergartens, and hotels, which provide excellent and vivid colors that will surely last a long time.

DeccoPrint
WHICH WALLPAPER IS THE BEST, PEEL & STICK OR TRADITIONAL?
I don't believe there is a right or wrong answer here.
DeccoPrint sums up the difference between the two types perfectly.
Pre-pasted wallpaper refers to wallpaper that comes with adhesive already applied to the back, while unpasted wallpaper requires the use of separate wallpaper paste for installation. Pre-pasted wallpaper is generally easier and faster to install, while unpasted wallpaper allows for greater flexibility and control over the adhesive used.

DeccoPrint
Basically, it comes down to whether you want a quick and easy install or are looking for flexibility and control.
If you want to learn more about wallpaper materials, check out this blog post: Traditional vs peel and stick wallpaper – which to choose?
DECCOPRINT UNIQUE CUSTOMIZATION
One of the things I absolutely love about DeccoPrint is that they offer customer wallpaper options.
Custom wallpaper option – we can create completely custom designs or alter the designs available on our website –to fit your home's unique style just right, completely FREE of charge. Our "Custom Wallpaper" page allows you to create your own wallpaper.

DeccoPrint
I think this customization option is a standout from the brand. It allows you to essentially create your own wallpaper. And there is no extra fee that comes along with it. How cool is that?
LOOKING FOR A WAY TO CREATE AN ACCENT WALL TO COMPLIMENT YOUR PAINT COLORS?
PRE-SELECTED WALLPAPER DESIGNS
Of course, if you aren't ready to create your own wallpaper design, DeccoPrint offers a wide range of designs and styles for any interior design taste to choose from.
There is everything from the trending popular florals to more of the traditional Damask style. I'm telling you, there is a style for everyone.
Their website is set up with easy navigation to find the perfect wallpaper type for you.
Some of my favorites are: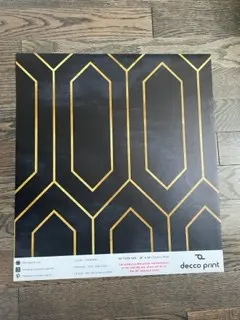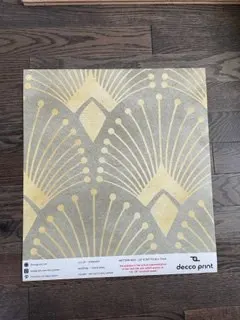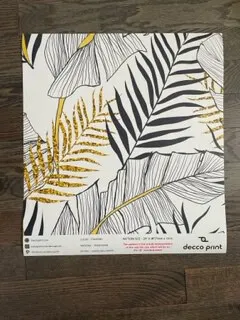 DECCOPRINT PEEL & STICK WALLPAPER SHIPPING
Delivery to the USA and EU is free. They prepare your order as fast as possible, usually in 2-4 business days.
After that, delivery takes 2-6 business days to the USA and EU, and 4-7 business days to Canada.
You can also pay extra for express shipping: 1-3 business days to USA and EU.
If shipping is carried out during big holidays, it may take a bit more time to be delivered. Their advice – order in advance!
CONSTANTLY FORGETTING WHAT PAINT COLORS YOU USED IN YOUR HOME? KEEP TRACK OF THEM ALL WITH THIS HANDY PAINT COLOR KEEPER
DECCOPRINT PEEL & STICK WALLPAPER PRICE
Let's be honest, sometimes the price of something is a main factor in whether or not we are going to purchase an item. Price is always on my mind and it's a good thing. We all work hard for our money so we want to spend it responsibly.
I find that the price of DeccoPrint is justified for the product your receive.
Prices will vary depending on the amount of wallpaper you need, But the awesome news is that they tell you how much you will need by entering your wall dimensions. No math is needed, that's a super bonus!
I'll say that DeccoPrint is not going to be the cheapest wallpaper option out there BUT there are also not the most expensive. Remember, you get what you pay for and with something like wallpaper, spending a little more will benefit you in the end.
I also have to note that they are constantly running sales so there is a chance you won't have to [pay full price!
DECCOPRINT PEEL & STICK WALLPAPER REVIEW
I gave you all the details about the brand and what they are about but now I am going to talk about my 100% honest review.
I first ordered some samples because I was so torn because of all the amazing styles they offer. The samples were a great size! Large enough to be able to envision it on your wall.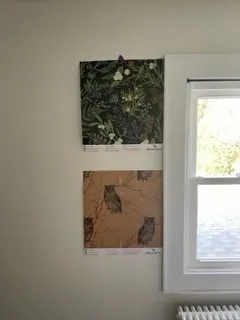 I have to say, the shipping time was insanely fast. It took probably 3 days tops to get to me. That is fantastic in my book.
When the wallpaper arrived it was packaged extremely well and 100% protected.
I also have to add how sleek it looked too. Bonus points there.
Included in the package were the instructions, a little informational flyer, and a wallpaper smoother.
I was so happy to see that the smoother was included.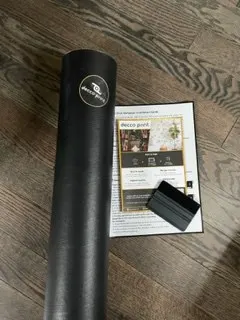 As per the instructions, they want you to unroll the wallpaper and let it sit for at least 48 hours. It doesn't have to be laid flat but it shouldn't be tightly wound. They suggest doing this to allow the wallpaper to adjust and acclimate to the new environment and climate conditions.
I followed the instructions and cleaned the wall before to allow for the best adhesion.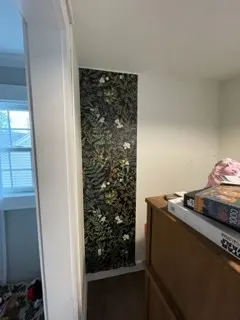 I continued on with the instructions and I did in fact follow them. And I'm glad I did because it certainly made everything go smoothly.
This peel & stick wallpaper was a dream to work with. It was so easy to position and reposition on the wall.
I'm telling you, once it was on the wall there were no bubbles to smooth out. But I did smooth it down to ensure it adhered.
I also have to mention that the wallpaper pieces were numbered so you didn't have to guess or try to match any pattern. The work was done for me.
Once I had the first piece up, the rest went up so quickly.
From start to finish, It took me about 2 hours in total to complete.
Granted it's a very small wall but it no doubt was so quick and easy to use.
Compared to the previous peel-and-stick wallpaper I've used. there is no comparison, DeccoPrint wins by a landslide!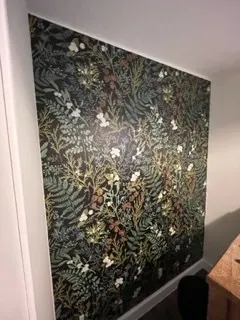 FINAL THOUGHTS – DECCOPRINT PEEL & STICK WALLPAPER
I have to say I'm so impressed with everything about DeccoPrint and I'd 100% recommend them.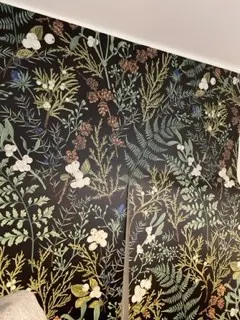 Some of the key standouts for me are the customization options and the ease of use. But overall, they offer so many different styles of wallpaper, they ship quickly, and customer service is top-notch.
Of course, I can only speak on the peel & stick wallpaper but I can imagine that the traditional type is just as spectacular.
DeccoPrint started as a small business and is quickly growing and I think that is awesome. I will always opt to support a small business.
To submit up. I'm a fan of DeccoPrint. I think the peel & stick wallpaper I used was amazing and so high quality.
If you are in the market for wallpaper I say go with DeccoPrint, it is the best place to buy wallpaper online and you won't be disappointed.
Use the code Westmagnoliacharm30 at checkout to get a discount!
RECENT ARTICLES: