I may earn money or products from the companies mentioned in this post. Please click my Disclosure Policy to learn more
Sherwin Williams Light French Gray SW 0055 is a beautiful neutral-toned light gray paint color. It's an amazing gray that works well in the interior as well as the exterior of a home.
Oh, where to begin. If you have been here awhile you all know that Repose Gray is my go-to. It's the perfect gray for almost every situation. It will be my forever number 1. However, I have become smitten with a new gray paint color, Sherwin Williams Light French Gray.
Let me start by stating I have always liked LFG, I just never had a true connection with it. Is this getting weird?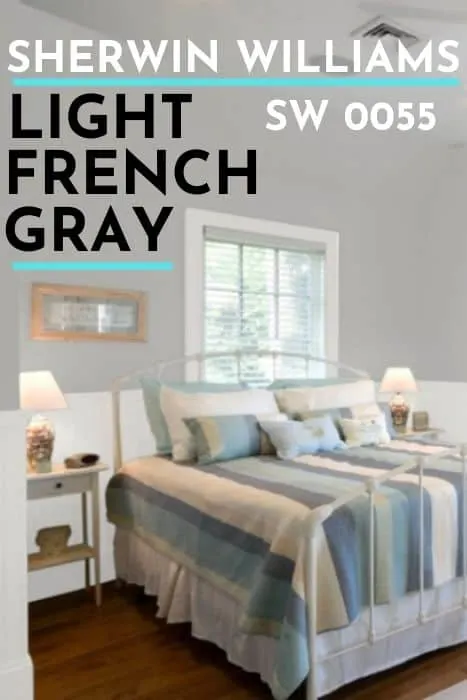 Before I get into professing my new found love for SW Light French Gray, (OK, now it's weird) I want to give a bit of a back story.
An opportunity arose to buy and flip a house. My husband, along with his business partners jumped at the chance. I am lucky enough to be able to help them along the way with the design decisions, including picking paint colors.
During my search for an exterior paint color, I had rediscovered several amazing neutral paint colors one, in particular, Light French Gray by Sherwin Williams.
Let's learn about LFG, shall we?
Sherwin Williams Light French Gray 0055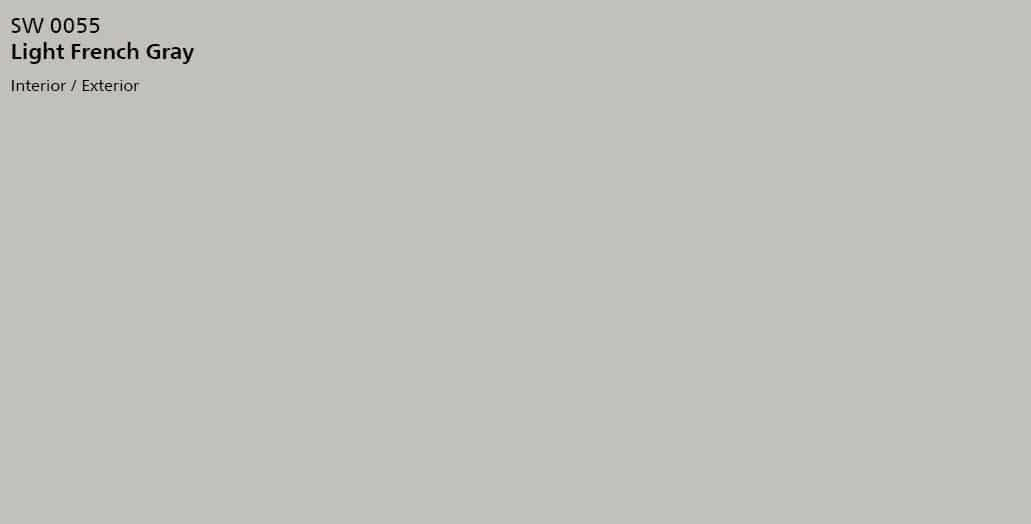 Why am I so smitten with this gorgeous gray? It has to be because this gray is unlike many of the other grays I have been using and seeing as of lately. I'll elaborate in a moment. I first want to go over the stats on LFG.
R: 194 G: 192 B: 187
Hex Value: #c2c0bb
LRV: 53
Just to remind you, LVR ( light reflectance value), is the amount of light the paint color either absorbs or reflects, is slightly higher on the scale. So the higher on the scale the more light it reflective the paint color will be. A great article to read to learn more about LRV is Light Reflectance Value: What Do Those Numbers Mean?
Light French Gray is also Featured in the following Sherwin Williams Collections:
Luxe
Purely Refined
Teen Space
Historic Interior Color Wall
Minimalist
Top 50 Colors
What Color is SW Light French Gray?
Not to be captain obvious but, LFG is gray. But wait, there's more! Light French Gray is more than just a light gray. It is as close as you can get to a pure gray because of the perfect balance of warm and cool tones in it. There are no overly strong undertones stealing the show.
Light French Gray is an extremely versatile paint color that works well in almost any situation. It's a great color to make smaller rooms appear larger.
Photo by The Kelly Homestead – Look for living room pictures
Sherwin Williams Light French Gray Undertones
As I just mentioned, Light French Gray SW0055 does not have any strong undertones. That being said, there's a touch of blue in it. You may be able to see the blue undertones, most often in North-facing rooms.
Is Light French Gray warm or cool?
Is LFG a warm or cool color? It's hard to tell because it's so neutral. No strong undertones are pulling the color one way or the other. However, when you compare LFG to colors like SW Agreeable Gray, Benjamin Moore Thunder, or Mindful Gray, it is much cooler in comparison. That being said, I would consider it in the cool gray paint color category.
Like cool-toned gray paint colors? Check Out SW Lazy Gray, SW Silverpointe, and BM Moonshine.
---
WAIT! Before you start painting make sure you have the best painting tools to make your job easier. It will take hours off your painting times!
---
How does light affect Light French Gray?
Lighting plays a large role in how you will perceive a color. For this reason, it's a good idea to be familiar with the lighting situation of the room you are choosing the right paint color for.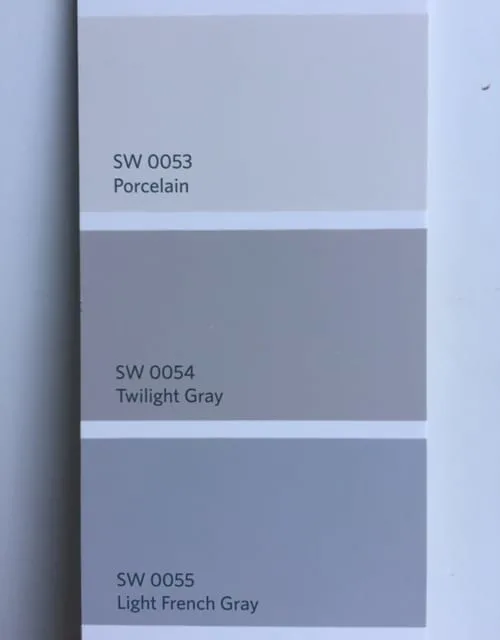 North-facing rooms – Light in North-facing rooms comes off cooler and somewhat bluish. Lighter colors appear more muted, while bolder colors will show up or appear better.
A North-facing room is where you may see some hints of blue in Light French Gray. The cooler, bluish lighting will enhance the cool tones in color.
South-facing rooms– In South facing rooms, there tends to be a consistently bright light throughout the day. Warm and cool tones work with south-facing light, This light intensifies colors, so darker colors will seem brighter while, softer colors will almost look like they are glowing.
South-facing rooms work wonders for all paint colors, including Light French Gray SW. LFG will look lighter and brighter in a south-facing room.
East-facing rooms– East facing rooms have the brightest light in the mornings, with a yellow-orange tone. If an east-facing room will be used mostly in the evenings, going with a warm palette will help balance the lack of natural light.
West-facing rooms- Early evening is when West-facing rooms have the best light. Warmer tones might seem overwhelming because of the red-orange the light gives off. However, if the main use for the room is in the mornings, the colors won't appear as intense.
---
Don't forget to pick up these amazing painting tools! They will only make your life easier!
---
Where can you use Sherwin Williams LFG?
You can use this versatile neutral paint color virtually anywhere because LFG has the perfect combination of warm and cool undertones.
The most obvious place to use it is on the interior walls of your home. Pair it with a crisp white trim to create a clean and airy space. Aside from interior walls, there are also a few other places Light French Gray will look great.
Paint the exterior of your home with Light French Gray.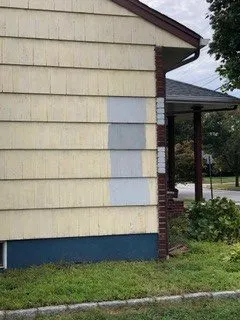 Swatches from the top: Silverplate, Ellie Gray, Light French Gray, Passive. All Sherwin Williams
Be prepared to swatch! Grab yourself some chippy brushes.
I rediscovered this fantastic gray while looking for an exterior paint color for the flip house. I wanted a gray paint color without any strong undertones. It had to be neutral and not too light or dark. I wanted the perfect exterior paint color, and Light French Gray was it.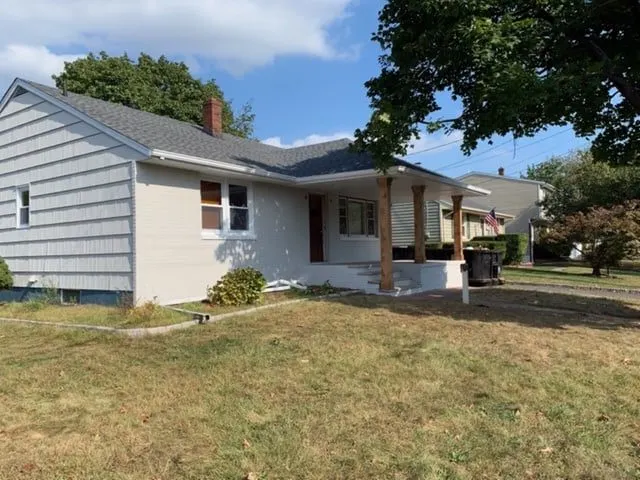 The thing I liked most about this color was that it appears lighter and brighter in the sunlight. So, LFG will look much darker on a paint chip compared to the exterior of a home. (I told you your lighting has a big part in how paint colors look).
A Sherwin-Williams Light French Gray exterior will make your home appear fresh, crisp, and airy. Who doesn't want that?
LOOKING FOR MORE EXTERIOR PAINT COLORS? CHECK THESE OUT:
Use Light French Gray on your kitchen cabinets.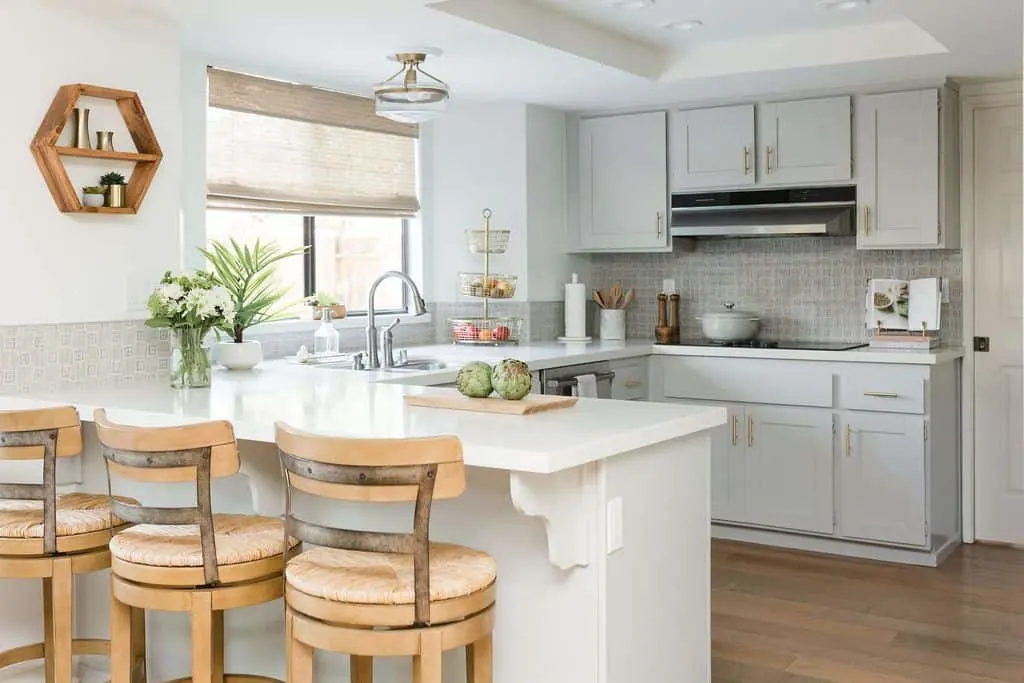 Kitchen cabinets are the perfect place to use this neutral gray paint color. Again, with no strong undertones, Light French Gray will provide the perfect base color for your kitchen.
What do I mean by base color?
To me, It's the color in your kitchen that you can play off of. So using a neutral gray Like Light French Gray on your kitchen cabinets will not overpower the room while allowing you to use brighter colors elsewhere.
Not into gray kitchen cabinets? That's cool, you can still use LFG on your kitchen walls. It will make the perfect backdrop for the rest of your kitchen.
Another fantastic thing about his paint color is that it looks incredible with dark wood.
---
Don't start painting until you have the right tools!

SHOP MUST HAVE PAINTING TOOLS
---
Similar colors.
With all the Sherwin Williams paint colors, there are bound to be colors that are very similar to one another.
I got curious and decided to pull a few gray colors I thought were similar to Light French Gray.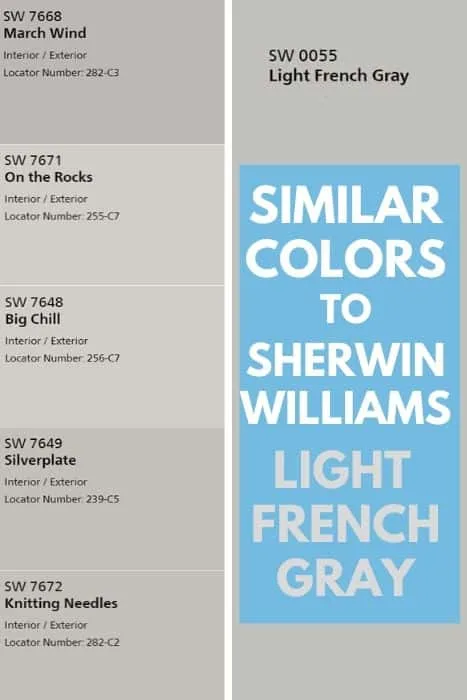 March Wind SW 7668
On the Rocks SW 7671
Big Chill 7648
Silverplate SW 7649
Knitting Needles SW 7672
Out of the five similar colors, I'd have to say SW Silverplate is the closest match to LFG. It's also fairly neutral, without any strong undertones.
Big Chill and On the Rocks are both a bit lighter than FFG but still have the same neutral undertones. They are both great options if you want a lighter gray.
Quick side note. Can we just admire how beautiful SW Big Chill is?
Coordinating colors.
We have similar colors to Light French Gray, now let's talk about a few coordinating colors.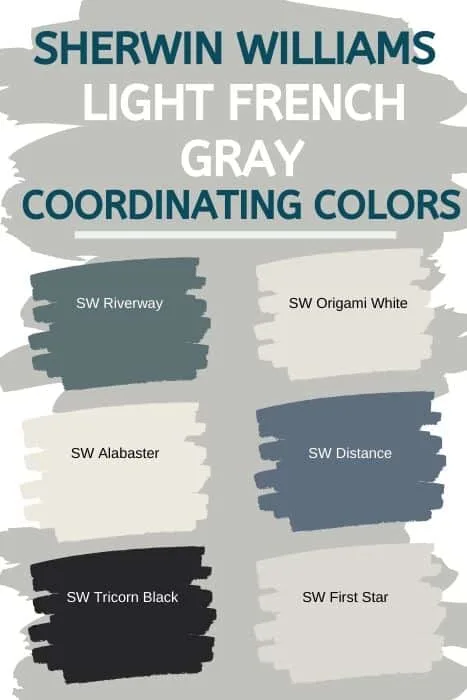 Origami White SW 7636
First Star SW 7646
Storm Cloud SW 6249
Distance SW 6243
---
Interested in more paint colors?
---
Sherwin Williams Light French Gray vs Behr Light French Gray
They have the same name, but are they the same color? Let's find out.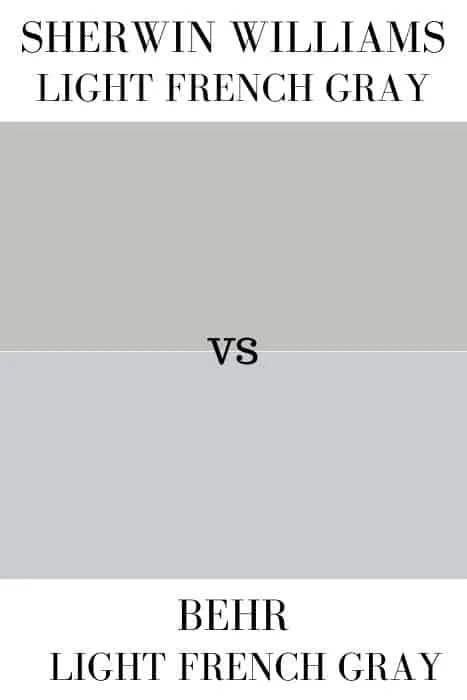 Behr Light French Gray has an LRV of 61. SW LFG is 53.
SW LFG is a very neutral gray, no strong undertones.
Behr LFG is not as neutral, it's cooler and has undertones of brown and green.
Behr LFG is more of a blue-gray
Off the bat, you can tell the two colors are not the same. Behr is much more of a cool, blue-toned gray whereas, Sherwin Williams appears to be more of a pure gray. Both are great colors, just not the same.
Light French Gray vs. Repose Gray
I'm sure you saw this comparison coming. I like to compare Repose Gray to everything.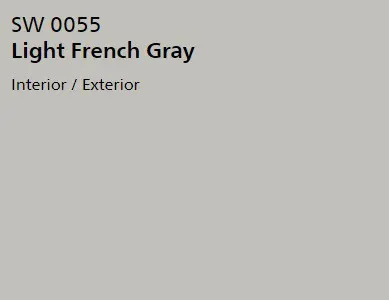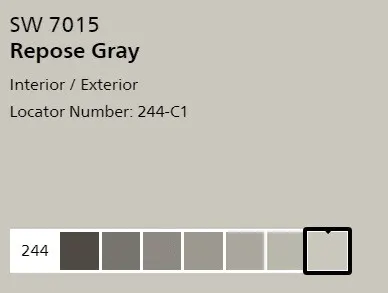 Both colors have an LRV of 53 which is mid-range on the scale.
Repose Gray has more warmth in it.
Repose Gray's undertones are a mix of brown, gray, and greige with a tiny kiss of purple.
You can see some of the undertones Repose Gray has in different lighting,
Light French Gray stands fairly neutral. No surprises with this guy.
Ok, let's break this down. Comparing the two colors, you can see that Repose Gray has some warmer tones to it. On the other hand, LFG looks cooler, but still very neutral.
Is one gray better than the other? No, certainly not. It all depends on what you are looking for in a gray. If you want a little warmth to your color Repose Gray is the way to go. Want more of a true gray, go with LFG.
No winners or losers here, everyone gets a trophy.
READ MORE: REPOSE GRAY PAINT COLOR REVIEW
Light French Gray vs. Benjamin Moore Stonington Gray
Here is another comparison I get questions about all the time.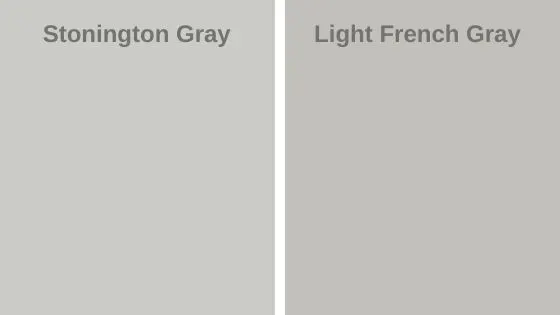 Stonington Gray by Benjamin Moore has an LRV of 59.75 which is a tiny bit higher than LFG at 53.
Stonington Gray is a cool-toned gray with blue undertones.
Stonington Gray is a bit lighter than LFG.
When compared side by side, you can see that Stonington Gray is the lighter of the 2 gray paint colors.
Again, there is no winner or loser in this battle of the grays. Both LFG and Stonington Gray are gorgeous gray paint colors.
READ MOORE: STONINGTON GRAY COLOR REVIEW
Recap:
LFG is very neutral in terms of undertones.
It has the perfect balance between warm and cool tones
In certain lighting conditions, it can show blue undertones
coordinates beautifully with many different colors.
It has an LRV of 53
It's a great gray paint option for the exterior of the home as well as kitchen cabinets
looks great with a white trim paint color
PLAN ON PAINT TACKLING THE PAINTING YOURSELF? AVOID THESE PAINTING MISTAKES AND MAKE SURE YOU HAVE THE BEST PAINT TOOLS.
Final Thoughts
I am truly loving Light French Gray SW 0055 by Sherwin-Williams. When I think of gray, this is it. I like that it's not a blue-gray or a greige, it's strictly gray. I also love that it's so versatile and will work in any space, especially the exterior.
Is this another gray I'm adding to my favorites list? Absolutely!
Is it going to replace Repose Gray? Don't be crazy!
BE PREPARED TO SWATCH!
Don't forget, when it comes to paint colors it's always a good idea to test large swatches where you intend to use the color. Lighting will change in the room so pay attention and be observant. You want to make sure you will love the color in every lighting situation.
Looking for an easier way to swatch paint colors? Try Samplize Peel & Stick paint samples. These peel & stick paint samples let you test a paint color in all different areas of a room. You know how I feel about testing paint colors in all lighting situations. And the best part about Samplize? They are mess-free! Check them out for yourself, you won't be disappointed.
Don't forget to grab your free Interior Paint Checklist. It will save you time and keep your painting project organized!
SUBSCRIBE TO MY EMAIL LIST AND GET A FREE COPY OF MY INTERIOR PAINTING CHECKLIST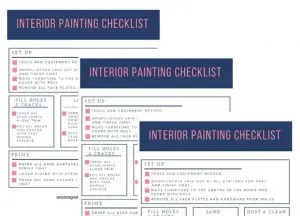 Recent Articles: