I may earn money or products from the companies mentioned in this post. Please click my Disclosure Policy to learn more
Pewter paint colors are neutral colors that range from dark to light and warm to cool.
Well hello friends!
Today is a good day. Everyday is a good day but today is extra special. Why?
Because we are talkiing paint colors, of course!
But these aren't just any old paint colors.
The other day, while going through my Benjamin Moore and Sherwin Williams paint decks, I discovered that there are some truly amazing pewter paint colors.
I couldn't help myself and just knew I had to share these amazing colors with you guys.
So in this post I'll be exploring the wonderful world of pewter paint colors.
Generally, when most people think of a pewter paint color, they picture some variation of gray. But I'm here to tell you the pewter colors we will be talking about are more than just grays!
But, before I jump into the colors, I want to answer a few pewter related questions.
WHAT COLOR IS PEWTER?
I looked up the definition of "pewter" and Merriam-Webster defines it as:
1: any of various alloys having tin as chief component
especially: a dull alloy with lead formerly used for domestic utensils
2: utensils of pewter
3: a bluish-gray

Merriam-Webster
When it comes to paint colors, I think the term "pewter" is up for interpretation. I myself see pewter paint colors as dulled down or muted. I wouldn't consider them to be vibrant colors. Yet don't let the terms dull and muted lead you to believe they are boring, nothing could be further from the truth.
Pewter colored paints have a ton of depth and pigmentation to them. They are also neutrals so they are extremely versatile.
---
---
IS PEWTER A DARK GRAY?
I think the most common perception of the color pewter is a mid-tone gray. It's neither super dark nor super light, right smack in the middle.
Now, in terms of pewter colored paint, the shades range from dark to light. As you'll see later on in this post, it's basically a mixed bag of dark, mid-toned, and light colors.
IS PEWTER A WARM OR COOL COLOR?
In the case of pewter paint colors, they can be either warm or cool-toned. However, some of the colors strike a nice balance of both warm and cool tones, some slightly on the warmer side and some on the cooler side.
---
Don't start painting until you have the right tools!

SHOP MUST HAVE PAINTING TOOLS
---
PEWTER PAINT COLORS
Below are 12 pewter colored paints from Sherwin Williams and Benjamin Moore.
As you read through the list, you'll see how both Sherwin Williams and Benjamin Moore interpret pewter colors.
SHERWIN WILLIAMS PEWTER GREEN SW 6208
Sherwin Williams Pewter Green is a stunning green paint color. This pewter color is on the deeper end and has an LRV of 12. It's a cooler shade of green that also has traces of blue and gray in it.
Deep colors don't always have to be black or navy. Pewter Green is a great example of a darker shade that is as versatile as a black paint color. This brilliant green is saturated with beautiful pigmentation and will give magnificent energy to a room. Pewter Green is the on-trend shade of green.
See how Pewter Green stacks up against a popular Benjamin Moore Green.
SHERWIN WILLIAMS PEWTER TANKARD SW 0023
LRV : 33
Pewter Tankard is a warm gray paint color. It can also be considered a geige. This neutral color is super versatile and looks fantastic, especially on the exterior. Coordinate Pewter Tankard with SW Natural Choice, the perfect neutral natural white.
Fun fact, Pewter Tankard is one of the colors used in the 2012 HGTV Dream Home in Park City, Utah.
SHERWIN WILLIAMS PEWTER CAST SW 7673
LRV : 31
SW Pewter Cast is very much on the gray side. This is a color that many people would expect pewter to look like. It's more of a cool-toned muted shade of gray. Pewter Cast is somewhat like a steel/ silver gray. BM Chantilly Lace would be a great white paint color to pair with Pewter Cast.
SHERWIN WILLIAMS WARM PEWTER SW 9572
LRV : 42
Warm Pewter is a newer addition to the Sherwin Williams paint color list. It's a part of the Emerald Designer Edition Pain Color Collection. Warm Pewter is a mid-toned shade of gray. It has warm and cool undertones, leaning more towards warm.
I'd suggest Warm Pewter to those who really enjoy warmer gray paint colors like Agreeable Gray or Worldly Gray,
SHERWIN WILLIAMS LIBRARY PEWTER SW 0037
LRV : 17
Library Pewter is another Sherwin Williams pewter color. This rich color is on the darker end of the spectrum. Library Pewter is a brown with some gray and black in it. The hints of gray and black in this color give it a decent amount of coolness which makes it different from your traditional warm brown like French Roast SW 6069.
SHERWIN WILLIAMS ROYCROFT PEWTER SW 2848
LRV : 13
Roycroft Pewter is a deep, dark paint color. This pewter paint color is a stunning shade of charcoal gray. Roycroft Pewter has a ton of depth and strong pigmentation in it. There is also a touch of blue in it. This is an incredibly versatile dark gray that would add significant personality to anywhere it's used, especially on kitchen cabinets.
READ MORE: THE BEST KITCHEN CABINET PAINT COLORS
Now's a good time to take a break and talk about paint samples.
---
BENJAMIN MOORE PEWTER 2121-30
LRV : 33
Pewter by Benjamin Moore is more or less what a traditional "pewter" color would be. It's a muted shade of blue-gray. With its soft blue undertones, Pewter can be described to have a steel-like look to it. BM Pewter has a calming, serene feel.
This is also a great paint color to go with dark wood tones.
READ MORE: THE BEST BLUE GRAY PAINT COLORS
BENJAMIN MOORE LIGHT PEWTER 1464
LRV : 68.39
Light Pewter is one of the lightest shades on this list. It's a gorgeous light gray that has some beige in it, which gives it a hint of warmth. Light Pewter works as the perfect backdrop color for a room. It will allow you to add color in other places, such as decor and furniture. This light neutral gray is a timeless paint color that looks fabulous in almost all interiors.
BENJAMIN MOORE VINTAGE PEWTER CSP-110
LRV : 34.5
Benjamin Moore Vintage Pewter is a mid-toned gray paint color. This pewter color is softer than some of the other pewter colors on this list. It has some beige/brown in it, which gives it some warmth. Vintage Pewter can also be considered a greige paint color. This neutral color has just enough depth to if to keep it from falling flat.
BENJAMIN MOORE REVERE PEWTER HC-172
LRV : 55.51
Revere Pewter is the most popular pewter color on this list. RP is a gorgeous warm gray or also known as a greige paint color. It's a mid-toned neutral color that can hold its own. It has some yellow in it as well as a tiny bit of green. This earthy gray is timeless and classic.
BENJAMIN MOORE DARK PEWTER 2122-10
LRV : 8.92
Dark Pewter is a rich, moody pewter color with a ton of depth to it. It is a dark, saturated gray paint color with a blue undertone. This stylish pewter color is pretty dang versatile for being so dark. It is a lovely paint color with light wood tones. It works seamlessly and meshes in almost any style of home and will surely make a statement anywhere it's used.
BENJAMIN MOORE ANTIQUE PEWTER 1560
LRV : 24.15
Antique Pewter is a gorgeous shade of dark green. It's soft and subtle, but on the same note, it can really pack a punch. This green has some beige in it, giving it a warmer, cozy feel. Antique pewter looks best with a lot of natural light.
---
---
WHAT COLORS LOOK GOOD WITH PEWTER PAINT COLORS?
Since these Pewter colors are neutral, they will look great with all different colors.
Personally, I think crisp whites like Sherwin Williams Extra White or Benjamin Moore Chantilly Lace look phenomenal with pewter colors. The rich pewter shades tend to really pop and show their remarkable depth against a clean, crisp white paint color.
READ MORE: The 8 Best White Paint Colors for Trim and Baseboards
You can also never go wrong with pairing it with a black paint color as well.
RECAP- PEWTER PAINT COLORS
Here's a quick list of the pewter paint colors broken down between Sherwin Williams and Benjamin Moore.
BENJAMIN MOORE PEWTER PAINT COLORS
SHERWIN WILLIAMS PEWTER PAINT COLORS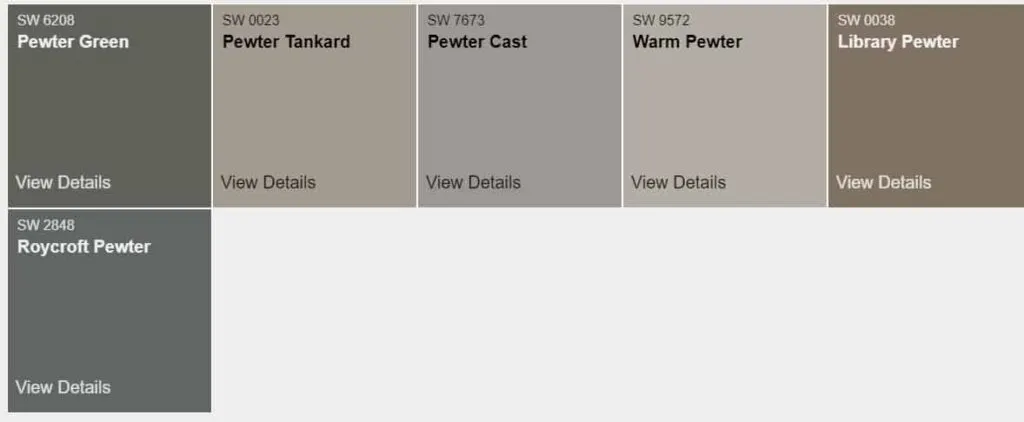 Pewter Green
Pewter Tankard
Warm Pewter
Pewter Cast
Library Pewter
Roycroft Pewter
---
---
FINAL THOUGHTS – PEWTER PAINT COLORS
I must admit, I have been sleeping on these pewter colors. There are some absolutely outstanding colors in this mix.
Ranging anywhere from warm to cool and dark to light, I'm pretty sure you will be able to find a pewter color you love.
These colors are classic and timeless. They will unify a space and create a fabulous backdrop that will allow you to play with different colors in your decor and furniture.
Are you unsure if you want to commit to using a pewter color all over the walls? Why not try using one of the colors on an architectural element, such as a fireplace, within your home? This will create visual interest, not to mention it will make a grand statement.
Pewter paint colors have an extraordinary presence. I'm not sure if you can tell, but I'm a fan!
I would 100 percent recommend these colors, and I highly suggest checking them out!
Don't forget, using the right tools makes all the difference. Use the painting tools the pros use.
---
---
RECENT ARTICLES: