I may earn money or products from the companies mentioned in this post. Please click my Disclosure Policy to learn more
Decoupage on wood furniture is a fun and creative way to add character that piece.
Not every side of the road furniture find is created equal. Some will be in better shape than others. Add others, well you can see why they have been put in the trash. I learned this fairly quickly. However, do not pass up on the ones that are a bit more damaged than others. There are ways to disguise the flaws and that is with decoupage.
Find out how to decoupage on wood furniture to create a customized one of a kind piece.
What is Decoupage?
Decoupage is the act of gluing paper or fabric to a surface. Sounds like something you would do with kids right? Well actually, decoupage is an art form. Yes, you can keep it simple by just using fabric or paper, but there are also ways to take it to the next level. You can do that by using different paint techniques, gold leaf, and embellishments.
What glue do you use to decoupage?
With decoupaging, you want to use a medium to adhere the paper or fabric to the surface you are working with.
There are few decoupage mediums on the market. You can find them at stores like Michaels, AC Moore and of course on Amazon.
One of the most popular decoupage glue choices is Modge Podge. It's the most popular because it is basically a one-stop-shop; glue, sealer and finish all in one.
DecoArt decoupage glue is another popular choice to use when you are decoupaging. Like Modge Podge, DecoArt decoupage glue is and all in one glue. There a few slight differences between the two, however, they both are great glue options.
You can also make your own DIY decoupage medium. I have never personally tried this method before, but it seems fairly simple to do.
The medium I choose to use for this decoupage dresser project was Elmers Multipurpose Glue-All. Now I know this isn't a decoupage glue per se, however, I had it on hand and I figured I'd give it a shot.
How do you seal decoupage?
When it comes to smaller items like a vase, you can use a few coats of your decoupage medium. But when it comes to decoupage on wood furniture, you may want something a little stronger and more durable.
For my decoupage furniture projects, I like to use either Polycrylic or Shellac.
The majority of the time I will use polycrylic. I like polycrylic as a decoupage sealer because it's easy to work with. Also, it's water-based so it won't yellow or discolor your work. It also dries hard which, of course, is what you want to protect your work.
Shellac works well too. I find it to be extremely durable. I tend to use shellac on the tops of the decoupage furniture I'm working with for some added strength.
What are some different types of decoupage paper?
In terms of paper made specifically for decoupaging, you can find some on Amazon and Etsy. This decoupage paper is made for the purpose of decoupaging. Honestly, you can use just about any type of paper to decoupage with.
You can use tissue paper, wallpaper, napkins, photos, you name it you can decoupage it.
For this particular project, I choose to use book pages as my decoupage paper. They are thin which makes them so easy to work with. I sometimes find that thicker paper tends to be a bit trickier to use.
You can also decoupage with fabric. This will add a different texture to your decoupage furniture.
What are the advantages of decoupaging furniture?
I find the main advantage of decoupaging furniture is hiding flaws. Sometimes furniture has certain flaws that just can't be fixed. Instead of tossing it to the curb, use decoupage to hide the flaws and give it a new life.
Another advantage would be the character it adds to the piece you are working with. Decoupaging makes it unique and one of a kind. It will add a personal touch that you just can't buy in stores.
How to Decoupage Furniture
Supplies used for Decoupaging the dresser:
Paint and Supplies Used for the body of the dresser:
*I used my favorite Easy chalk Paint Recipe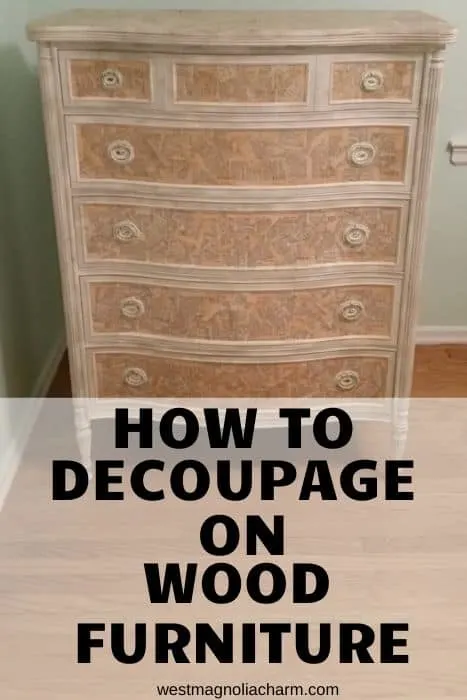 How to Decoupage on Wood Furniture.
Clean your furniture piece.
With every piece of furniture, I like to give it a very thorough cleaning. Especially if it was found on the side of the road. Generally, an old rag, soap, and water do the trick to clean the pieces. However, I like to also use vinegar and water on the insides of the drawers.
This is also a good time to remove and clean the hardware.
For this dresser I didn't do this, I wanted to paint the hardware so I decided to leave them in place.
When I do decide to remove the hardware, I'll clean them by boiling them in water, vinegar, and baking soda. This loosens all the dirt and grime. I then use a toothbrush to remove all the dirt that is left on the hardware.
Make any repairs that need to be done.
To make repairs such as filling holes, I like to use Ready Patch or Bondo. They tend to work the best and are easy to use. They do have a really strong smell though so it's best to work with them in a well-ventilated area.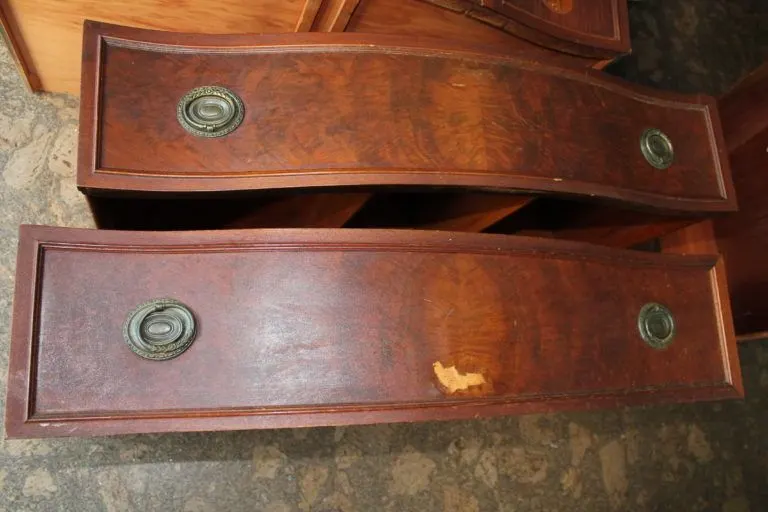 In my case, the drawers of this dresser had some major water damage. I removed the veneer that was already lifting and peeling then applied shellac over those sections.
Why did I use the shellac? Well, I learned the hard way that applying the ready patch directly on the drawer without any sort of sealer, caused the veneer to lift even more and create large bubble-like ridges across the drawer.
Luckily, it only happened on one of the drawers Unfortunately, I ended up having to remove all the veneer from the drawer it did affect then, go back with a layer of Ready Patch to even it out.
This was a step I didn't intend on doing.
Lesson learned friends, lesson learned.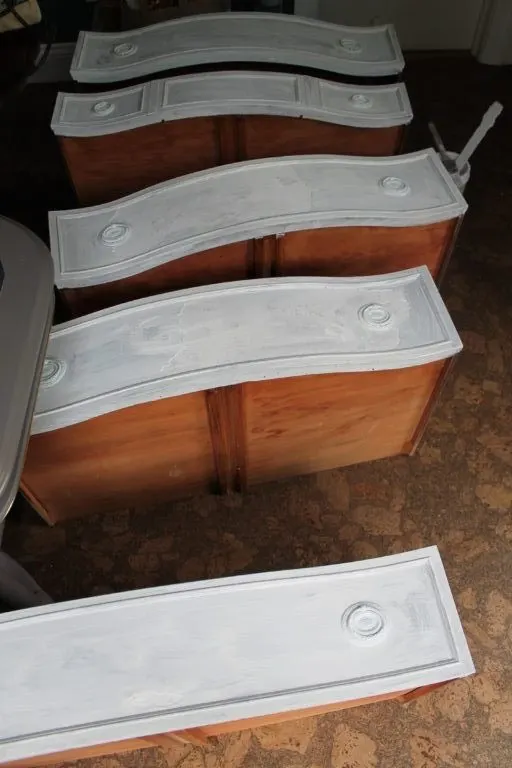 Prime the furniture
I decided to prime the drawers of this dresser before I went in with the decoupage. The primer helps block the of the wood coming through. Sometimes though, primer is not enough.
Depending on the furniture, the wood tannins can show or bleed through the primer. In this case, apply some shellac. The shellac will create a barrier from letting the tannins show through the paint.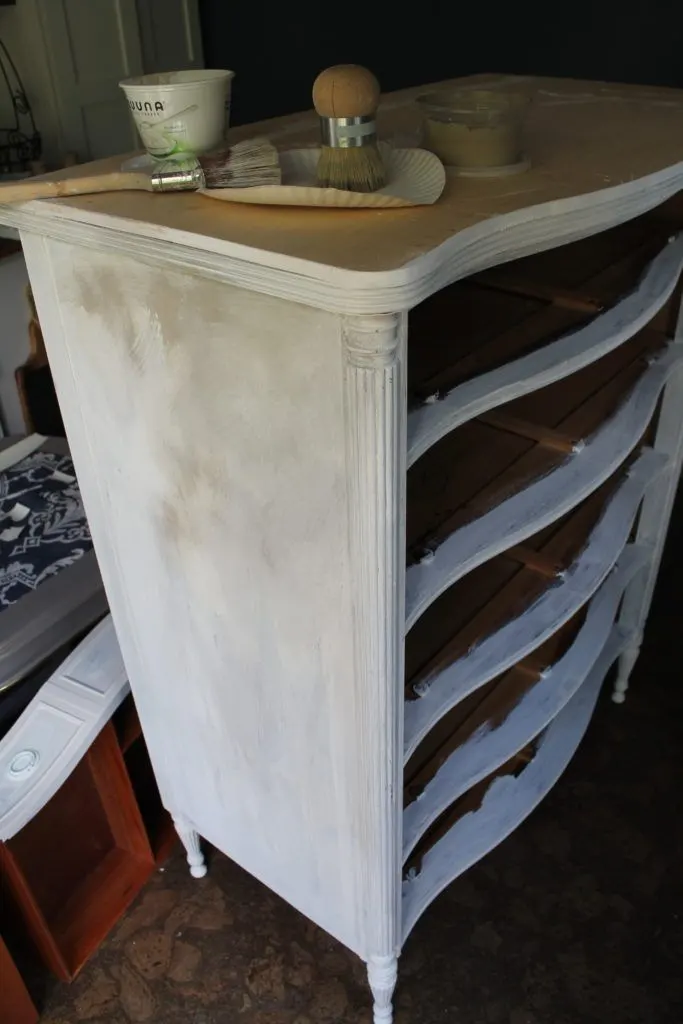 Paint the furniture
With this particular dresser, I was only decoupaging the inset of the drawer fronts as well as the top. So I painted the rest.
I applied two coats of Sherwin Williams Alabaster SW 7008 on the entire dresser. Then I used a dry brush technique to add dimension with Sherwin Williams Repose Gray SW.
*I used my DIY Easy Chalk Paint Recipe with both Alabaster and Repose Gray.
LOOKING FOR MORE PAINT COLOR IDEAS? CHECK THESE OUT
Seal the furniture piece.
The chalk paint sealer I decided to use on this dresser was polycrylic. I use this one often on my chalk paint projects, I find it dries quickly and provides the piece with a hard protective finish.
One tip to remember, less is more. All you need to do is apply a thin coat of the polycrylic with a synthetic brush and you are good to go.
How to Decoupage with Paper.
Prep your decoupage paper.
Since I was using pages from a dictionary as my decoupage paper, there was no pattern I had to follow. What I ended up doing was ripping the pages in random sizes. However, if the decoupage paper you are using has a pattern, you can lay it out beforehand to see where and how you are going to place it.
Apply a layer of the decoupage glue, then add the paper.
Use a foam brush to apply a thin layer of you decoupage glue of choice on to the surface.
Then, take your decoupage paper and apply it to the glue. Use the foam brush to smooth the paper out.
I worked in small sections since the pieces of paper were fairly small. And I used my fingers most of the time to smooth the paper down.
Repeat the previous step, applying the paper and glue.
As I mentioned, I wasn't following a pattern, I was just randomly placing the paper where I thought it looked best.
I continued on with this step until the drawers and top of the dresser were fully decoupaged.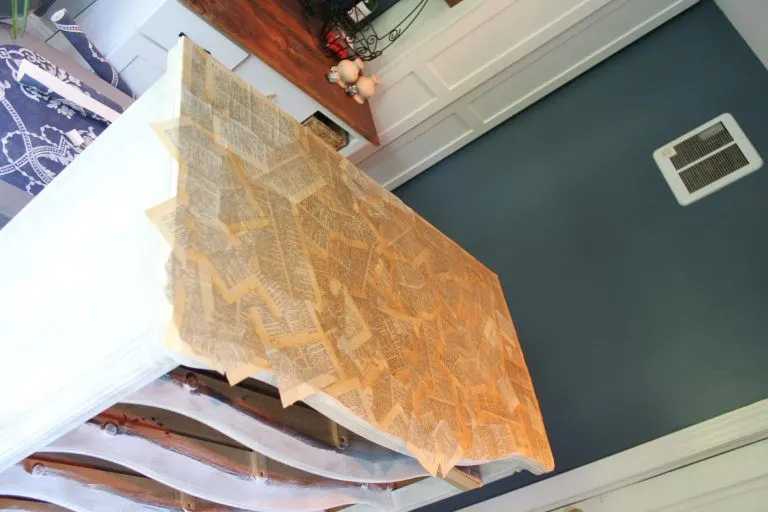 Apply a layer of decoupage glue over everything.
The additional top layer of glue will ensure that the paper is in fact glued down and it will stay in place.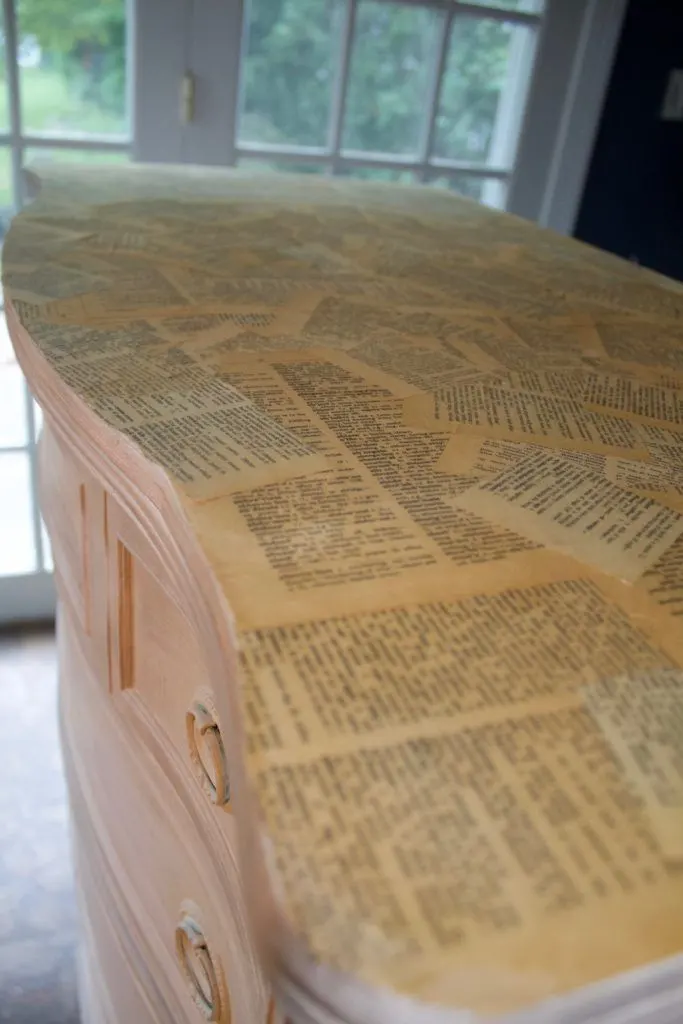 Seal the decoupage with a topcoat.
I decided to use shellac as my decoupage topcoat. I wanted the finish to be strong and since the decoupage was used on the top of the dresser as well, I wanted the finish to be durable.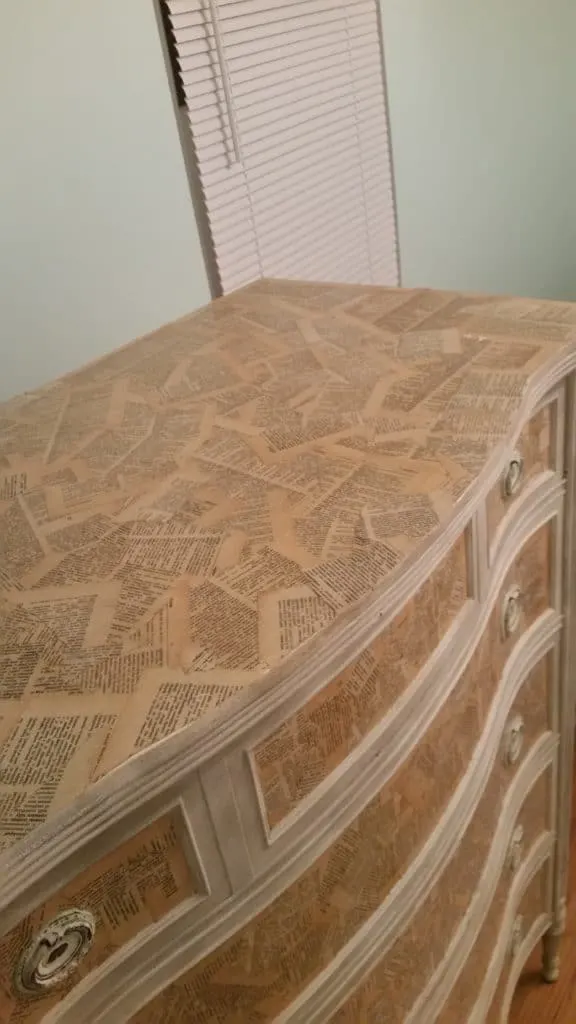 Final Thoughts
Using the Elmer's Glue as a decoupage medium, worked really well. I was a little concerned about how the glue would work on the wood, but it worked like a charm. The glue is strong, it dried clear and cleanup was a breeze. I will definitely try using it again, maybe on a different surface.
I'm so glad I used an old dictionary as my decoupage paper. I absolutely love the random ripped look of the book pages. (And it was really fun finding interesting words on the pages to apply to the dresser) The pages were really easy to apply and there was minimal wrinkling. If you are thinking about using book pages as a decoupage paper, I'd say go for it!
Overall, I'm extremely impressed with the way this dresser turned out. The decoupage hid the flaws on the dresser drawers beautifully. They aren't 100% perfect, but they look a heck of a lot better than they originally were. I'll call that a win in my book.
And to think this beauty was left for trash.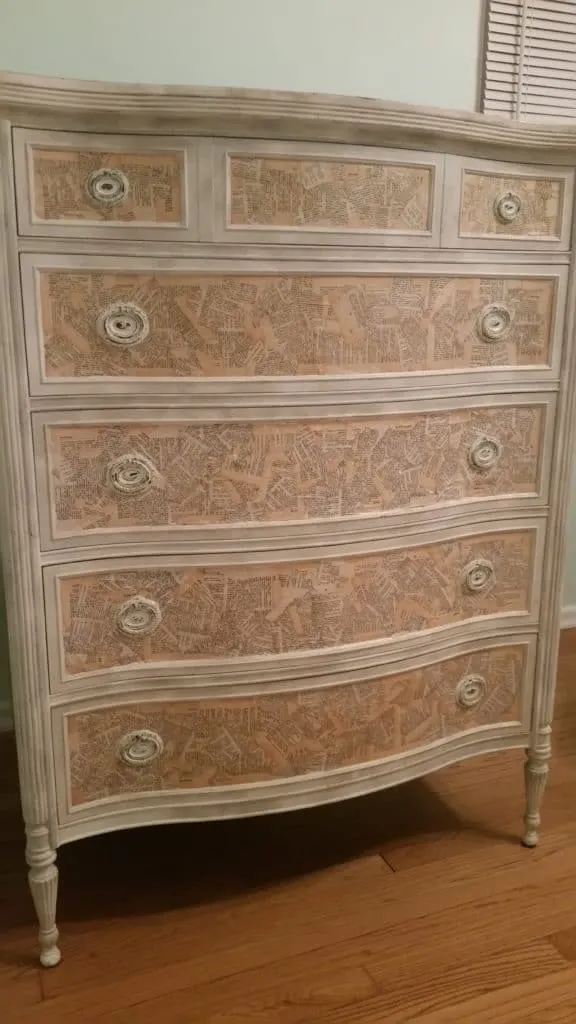 More Decoupage Ideas.
Decoupage on wood furniture is not the only way to show off your new decoupaging skill. It can also be used on:
decoupage on glass vases
decoupage wood trays
decoupage wood frames
decoupage wood shelves
decoupage plates
decoupage on canvas sneakers
decoupage terracotta pots
Check Out More DIY Projects