I may earn money or products from the companies mentioned in this post. Please click my Disclosure Policy to learn more
Today let's talk all about jute rugs. What are they? Are they comfortable? Do they last? I'll answer all of your burning jute rug questions because I know you must have so many. I will also share with you my personal jute rug review as well as my top ten jute rug picks.
Jute rugs are a fairly popular rug choice these days. They are widely used in the rustic farmhouse decor style because of their simplicity, texture and neutral tones. This is one of the reasons why I purchased one for my home.
Not only do jute rugs work with farmhouse style but, they also can be used with any decor style since they are so neutral.
They truly are the perfect addition to any space.
Keep reading to see my jute rug review at the end of this post.
Quick Comparison
My Top 10 Jute Rugs
What is jute?
Jute is a vegetable fiber. This shiney, soft and long fiber can be spun into threads that are coarse and long. They range in colors, from off-white to brown and they usually are in the length of 3-13 feet.
According to Wikipedia the following are some of jutes' notable features are:
Jute fiber is 100% bio-degradable and recyclable and thus environmentally friendly.

Jute has low pesticide and fertilizer needs.

It is a natural fiber with golden and silky shine and hence called The Golden Fiber.

It is the cheapest vegetable fiber procured from the bast or skin of the plant's stem.

It is the second most important vegetable fiber after cotton, in terms of usage, global consumption, production, and availability.

It has high tensile strength, low extensibility, and ensures better breathability of fabrics. Therefore, jute is very suitable in agricultural commodity bulk packaging.

It helps to make top quality industrial yarn, fabric, net, and sacks. It is one of the most versatile natural fibers that has been used in raw materials for packaging, textiles, non-textile, construction, and agricultural sectors. Bulking of yarn results in a reduced breaking tenacity and an increased breaking extensibility when blended as a ternary blend.

The best source of jute in the world is the Bengal Delta Plain in the Ganges Delta, most of which is within the borders of Bangladesh.

Wikipedia
What does jute feel like?
To the touch, jute rug may feel a little rough yet, it is a softer natural material. A good example to compare jute to is wool.
So it's not a particularly uncomfortable rough, it is just nowhere near as soft as say, a shag rug.
Let's just say it's not something you want to snuggle up on for a nap. However, when jute is mixed with another material such as chenille, it will soften up the overall feel of it, hence giving it a nappable appeal. That is if you want to nap on your rug, to each their own.
Is jute a good rug material?
Jute is definitely a good rug material. It's fairly durable, on a scale from 1 to 100 I'd say it is about a 70. Jute is also fade resistant in the sun as well as having sound and heat absorbing capabilities. These are all great qualities that make jute a good rug material.
Are jute rugs good for high traffic areas?
Jute rugs aren't ideal for higher traffic areas like a hallway or an entryway. Since it's a softer fiber, it isn't as durable as some other natural rugs.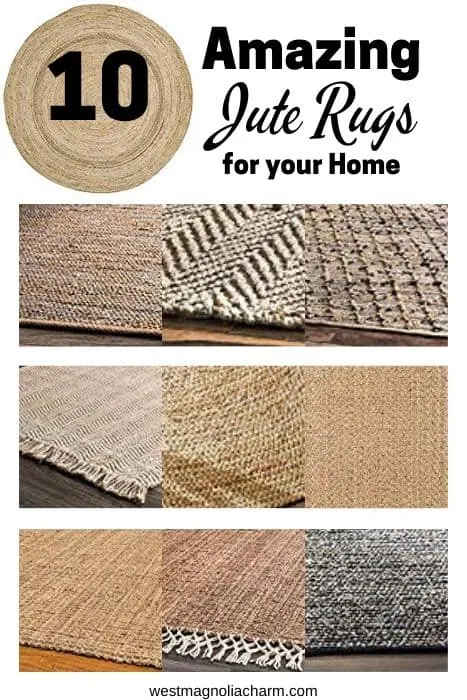 Does a jute rug require a pad?
A pad isn't required for a jute rug, however it's a good idea to use one to avoid the rug from slipping around everywhere.
Another reason I personally like using a rug pad is for that extra layer of protection for my hardwood floors. Spills and accidents happen so knowing there is a rug pad between the rug and my hardwood, eases my mind.
Where should you use a jute rug?
Since jute is an absorbent natural fiber, it's best to avoid using it in areas that are humid or prone to moisture. Like for instance, bathrooms. Jute tends to hold on to moisture which in turn can cause it to become mildewed or moldy.
A couple great low traffic, no moisture areas for a jute rug is in bedrooms and living rooms.
Another fantastic way to use jute rugs is by layering them. Layering will add texture as well as interest to a space. The fact that jute rugs are neutral make them easy to pair with other rugs.
Should you use a jute rug outdoor?
Using a jute rug outdoor is just asking for a moldy, stinky mess. As I just mentioned, jute and moisture don't mesh well so outdoors is the worst place for a jute rug.
How do you clean a jute rug?
You may be wondering, can you vacuum a jute rug? The answer is yes. Jute rugs are fairly easy to clean, a simple vacuuming in all directions is all they need to remove any surface dirt. Typically, vacuuming a jute rug about once a week is sufficient.
What about spot cleaning?
To spot clean a jute rug, you want to avoid harsh spot cleaners and rug cleaners. The harsh chemicals can cause discoloration in the natural fibers.
It's best to stick to soap and water in the case of spot cleaning lite spills. The best way to go about is by blotting the spot, rather than rubbing. Rough rubbing can cause the jute to fray which in turn will shorten the life of the rug.
Do note.
It's important to remember along with your weekly cleanings you want to rotate your rug every few months. This will the prevent the rug from getting worn done in the same spots.
How do you clean a jute rug pet stain?
You want to immediately clean a pet stain on a jute rug. The longer it sites the more difficult it will be to remove the stain.
A tried and true method I personally use is as follows:
First things first soak up the stain with paper towel or a rag
take equal parts white vinegar and warm water. Dip a cloth in the mixture then blot the stain. Repeat this step multiple times.
Next take a dry cloth and soak up the what's left of the vinegar and water
Finally, cover the spot in a good layer of baking soda. The baking soda will draw out any moisture left behind as well as absorbing any smell.
Let the baking soda sit at least over night to ensure it has time to do its job.
Simply vacuum up the baking soda when ready.
I also want to note, this method works not only for pets stains, but also for the occasional red wine stain.
Can you steam clean a jute rug?
Steam cleaning a jute rug is not advisable. Since jute is prone to hold onto moisture, steaming cleaning can cause the rug to become moldy or fall apart.
Dealing with jute rug smells
Sometime a new jute rug smells. Some may even say their jute rug smells like dog. That may be worst case scenario though.
The smell is usually because the rug has been rolled up for a while, not because your dog is rolling all around on it.
An easy fix for that stink is to sprinkle baking soda all over the rug. Let the baking soda sit for a while, do its order absorbing thing. Then give your rug a good vacuuming to clean up the baking soda.
This cleaning tip will get rid of that initial stinkiness as well as keeping your rug smelling its best.
Are jute rugs affordable?
They are affordable, which is another reason I love them. Like with anything though, the price with vary depending on where you purchase your rug from. For instance you can buy an affordable Ikea jute rug, or splurge with a Pottery Barn jute rug.
What is jute backing?
Jute backing is what is used on the underside of many carpets. It is commonly seen on higher priced, expensive rugs.
Jute vs. Sisal
Jute and sisal look fairly similar. They are both natural fibers and they are both popular choices from rugs. However, there are a few differences you should be aware of if you are considering one for your home.
Jute
Jute comes from the stalks of jute plants in India and Bangladesh
it's softer fiber
It ranges in color, off- white to brown and can be dyed to any color.
Since jute is a soft fiber, it's not extremely durable.
Jute rugs work well in lighter traffic areas such as bedrooms or living rooms.
Sisal
Sisals comes from a species of the agave plant, which is native to Southern Mexico.
It is a stiffer fiber.
It has a natural off-white look to it and can be dyed to any color.
It's one of the strongest fibers available, making it extremely durable.
Sisal rugs are ideal for high traffic areas such as hallways and entryways.
In choosing a rug in jute vs. sisal, it comes down to where you plan on using it. If you are in need of a strong rug that is able to withstand heavy traffic, sisal is the way to go. If you want a rug with a cozy comfortable feel, jute will do the job.
My jute rug review
Jute chenille rug from West Elm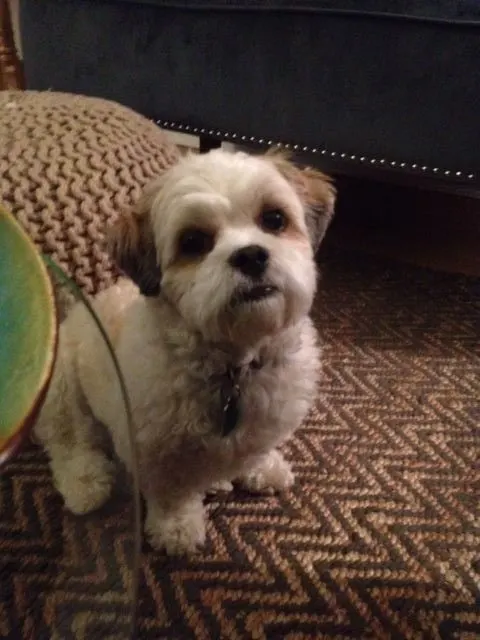 I purchased a chenille jute rug from West Elm about 7 years ago. It's survived a home move, 2 dogs trampling it, and a few too many spills.
At the time, I had been on a full West Elm kick and if you are familiar with West Elm you know they aren't cheap. Needless to say, I had to really be in love with something to invest the money in it and with this jute chenille rug it was love.
This jute rug review has been 7 years in the making. So it's safe to say I really tested it out. Below are my personal pros and cons I have with the rug. Things I noticed over the years and my feelings on them.
Pros
The look. I love the color of it and mixing chenille with the jute adds a different layer of texture to the rug.
I love that it is reversible. I feel like it extended the life of my rug.
How easy it is to clean. I vacuum it once or twice a week and it's perfect. As for pet stains and other spills, I find it easy to remove most spots if they are caught in time.
It's pretty dang durable. There was no fading what so ever and I haven't seen any signs of fraying. Like I mentioned before, it's been through a lot and it has held up beautifully.
Cons
It can get a bit of a smell on more humid days. Almost like a musty smell. However, I just sprinkle some baking soda on the rug , let it sit for an hour then vacuum it up and the smell is gone.
The feel. Even though it's a jute chenille rug, I'm not a fan of how it feels. Now this is 100% a personal opinion. A lot of people love how jute feels and find it to me soft. Unfortunately, I am not one of those people.
In conclusion, I am completely satisfied with my jute chenille rug purchase. I have gotten more than my money's worth out of this rug, that's for certain. While I moved it out of my main living area to the basement, I still love it and will continue to love it.
Maybe in another 7 years I'll give you an updated jute rug review. Stay tuned.
The Top 10 Jute Rugs
Here are my top picks.
1. Natural Area Rugs-Calvin Jute Rug
2. nuLOOM Handwoven Rigo Jute Rug
3. nuLOOM Amelia Jute Lattice Area Rug
4. Coastal Farmhouse Flooring – Harlow Tan Round Jute Rug
5. Safavieh Cape Cod Collection Jute Area Rug
6. Stone & Beam Contemporary Textured Jute Area Rug
7. nuLOOM CLWA03A Handwoven Vania Chevron Jute Rug
8. nuLOOM Handwoven Tarver Jute Rug
9. nuLOOM Hand Woven Don Jute with Fringe Area Rug
10. nuLOOM Hand Woven Fringe Area Rug
RECENT ARTICLES