I may earn money or products from the companies mentioned in this post. Please click my Disclosure Policy to learn more
Farmhouse style chairs are a great way to add a little chic farmhouse style to your home. With such a wide variety of colors, patterns and styles you are bound to find a farmhouse style chair that fits your needs.
Is it me, or does everyone else struggle when shopping for larger furniture items such as accent chairs?
When I was couch shopping a couple of years ago, I'm pretty sure I looked at every couch on the market before making my decision. And the same goes for when I bought my accent chairs.
4 key features I wanted in my farmhouse style chairs.
First, I wanted accent chairs with arms.
I previously had an armless chair like this one ,while it was nice and fit the style of my previous home, I no longer wanted the armless accent chair look in my new home. I wanted an accent chairs that was a bit more substantial.
Second, I wanted my accent chairs to be in the neutral color family.
Neutral colors are not only beautiful, but they can fit into your existing decor seamlessly. Another great thing about neutral farmhouse style chairs is that you can play around with color in other ways, for example, throw pillows or area rugs.
Thirdly, the farmhouse style chairs had to have some wood details.
This gorgeous accent chair is the perfect example of the wood detailing I was looking for. By adding that wood detail, it gives the chair some visual interest and a whole lot of charm. And you know I love charm!
Finally, I wanted a farmhouse style chair.
I tend to lean towards the farmhouse style in my home. I have drop cloth curtains, DIY shiplap, and all things neutral. I love the homey feel of the style. For me personally the farmhouse style has a very cozy vibe, which makes it easy to really live in. I am in love with this accent chair.
Where to find the best Farmhouse Style Chairs
There are a ton of stores that sell accent chairs, trust me I know. I've searched them all!
For this reason, when I was on the hunt for my farmhouse style chairs, I wish there were a list I had of the best farmhouse chairs on the market. Basically to help my very indecisive self narrow down the search.
I always find it easier to choose from a list of 20 rather than a list off 500.
This coming from Miss indecisive over here.
A list of 20 still sounds pretty terrifying to me, but compared to 5oo, it's a piece of cake. However, for most normal people a smaller list of 20 Is extremely helpful and much easier to choose from.
I took the liberty of compiling a collection of the best farmhouse style chairs so you don't have to weed through 100s of them yourself.
This list of farmhouse chairs is my take on the style and it has something for everyone.
It contains affordable options as well as more expensive, spurge worthy options.
I found not only neutrals, but also vibrant colors that will surely make a statement in your home.
Now, without further ado, here is my take on the best of the best Farmhouse style chairs.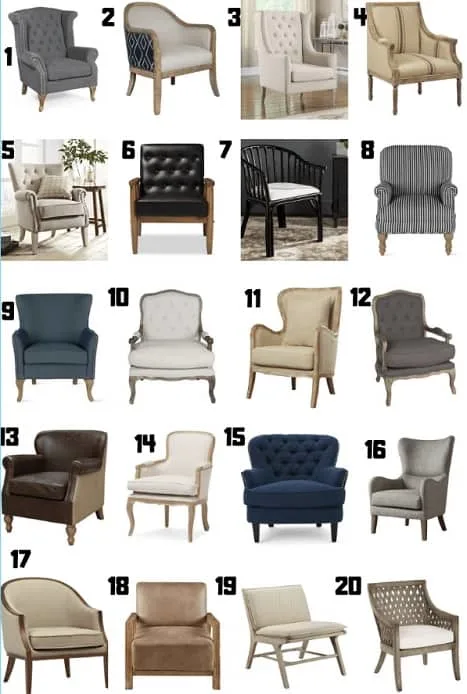 1. Belham Living Tatum Tufted Arm Chair with Nailheads
Wingback chairs are a true classic. Add nailhead trim and tufting to that and you have a farmhouse-style chair.
2. Right2Home Two-Tone Accent Chair
Featuring a two-toned fabric combo, theHomeFare Two-Tone Accent Chair features a navy blue exterior accented with a beige woven pattern and a stylish, linen-like interior in solid beige. The distressed, natural wood tone frame brings a farmhouse-infused aesthetic to this piece. The nailhead provides the finishing touch making this one of the best farmhouse chairs.
3. Olivet Two-Toned Wingback Chair – Adore Décor
This Wingback Chair adds a dramatic accent to your décor. Beige fabric upholstery covers the wingback design for styling versatility. The style of this chair makes it an excellent option for a farmhouse style chair.
EXPLORE MORE FARMHOUSE STYLE ACCENT CHAIRS
The Alto Armchair has a linen/cotton blend upholstery in warm tan with a bold brown stripe naturally complement the whitewash finish of the birch frame, creating a rustic accent for your living space.
5. Better Homes & Gardens Rolled Arm Accent Chair
Add comfortable, stylish seating to your home with the Better Homes & Gardens Rolled Arm Accent Chair. This charming wood chair features fabric upholstery, available in a selection of neutral colors to coordinate with any décor. Decorative stitching and hand-sewn buttons decorate the flared back, while the padded seat is generously sized for maximum comfort. Nailhead trim and rolled arms add traditional accents to this chair.
6. Baxton Studio Sorrento Lounge Chair
The simple and sleek Baxton Studio Sorrento Lounge Chair is a versatile piece that pairs well with many décor styles. A solid wood construction promises stability, and faux leather upholstery adds a rich touch to this chair. Button tufting and piping accent the cushion, lending added intrigue to this piece.
The Safavieh Gino Arm Chair is a smart choice for stylish seating thanks to its durable rattan construction. This coastal-style arm chair is featured in a bold black hue, while the cotton cushion is presented in white for a sleek, contrasting look. Use it as dining room seating, or place it in your living space for a dramatic addition to your existing furniture.
The Bashiir is the perfect solution if you are looking for more modern farmhouse style chairs. The striped upholstery on this chair feels modern while still having the coziness that brings in the farmhouse charm. A great modern farmhouse style chair option.
The striped blue color of the Zubair accent chair will definitely make a statement in your home. The addition of the nailhead trim brings in a little extra flair, making it one of the more traditional farmhouse style chairs.
EXPLORE MORE FARMHOUSE STYLE ACCENT CHAIRS
10. Eleanor Armchair
The Eleanor accent chair shows all signs of farmhouse style. The linen upholstery along with the natural finished oak wood detail are perfect examples of the style.
I'd say that the Gazon accent chair is a farmhouse wingback. It has the linen fabric and natural, lightly distressed, wood which are both features of farmhouse style.
12. One Allium Way Eleanor Armchair
The One Allium Way Eleano accent chair is a true beauty. The tufted button back paired with the distressed wood, gives it a stunning vintage look. This is one of my favorite farmhouse chairs.
For another statement piece in your home, the Mead Wingback accent chair will get the job done. The standout feature of this chair is certainly the marbled gray fabric.
EXPLORE MORE FARMHOUSE ACCENT CHAIRS
14. Crenshaw Fabric Wing Chair Beige – Christopher Knight Home.
Thi accent chair is what I picture when I think of farmhouse style chairs. The light fabric and wood detail are both key components, making it the perfect addition to your farmhouse style home.
15. Parmelee Armchair by Lark Manor
The Parmelee is not one of your typical farmhouse chairs. With its bright fabric it will unquestionably get noticed. The beautiful tufted button back is a gorgeous feature of this chair. This accent chair will be a fun pop of color if you have a mostly neutral home.
The Granville is one of the more modern farmhouse style chairs. With its neutral gray color and clean lines, this chair can easily work in a variety of styles.
17. Stone & Beam Ashbury Modern Exposed Wood Accent Chair
Graceful curves along with the plush back and cushion, give the Asbury some of the key details that go along with farmhouse style chairs.
EXPLORE MORE FARMHOUSE STYLE ACCENT CHAIRS
Blending the warmth of classic rustic farmhouse styles with the chic appeal of modern aesthetics, the Madrigal gives you the best of both worlds. The neutral tones and clean lines will have it blend well with your farmhouse decor.
I love the simplicity of the Madore accent chair. It doesn't scream farmhouse, but with it's light fabric and clean lines, this chair will blend seamlessly into the farmhouse style.
The Attie has many characteristics of farmhouse style accent chairs. For example the light wood and fabric. The back and arms are raritan which also gives its a beachy vibe.
To sum it up, I'm hoping this list is helpful for anyone searching for farmhouse style chairs.
SHOP FARMHOUSE STYLE ACCENT CHAIRS

RELATED ARTICLES: