I may earn money or products from the companies mentioned in this post. Please click my Disclosure Policy to learn more
Shopping for an affordable area rug can be a bit of a pain, especially when you are shopping in-store. The true challenge of shopping in-store is finding a store that has a decent rug selection. Instead of physically going to the store, shop for a new rug online in the comfort of your home. I found the 14 best places to buy rugs online.
An area rug is like the glue to a room, it sets everything else in place. I feel like a rug can either make or break a room so finding the right one can be a bit daunting. Not to mention rugs are not the cheapest decor piece to buy.
We all know shopping for an area rug can be difficult, especially when you have no clue where to start your search online.
I have to admit, besides my love for my jute rug, my relationships with rugs seem to fizzle out quickly. Not because of their quality but because I get bored with them. This is a problem I am trying to work through. That being said, I have a great deal of experience with finding the best stores to buy rugs online.
So where do you shop for affordable area rugs online?
I have some great news. Being that I have shopped for my fair share of rugs, I found and am sharing 14 of the best places to shop for rugs online. These stores have every rug you could imagine and at any price point, from cheap rugs to more expensive rugs. If you want a specific shape, size, or style, you will be able to find it at one of these online stores.
These 14 retailers make it easy to buy a rug online.
14 BEST PLACES TO BUY RUGS ONLINE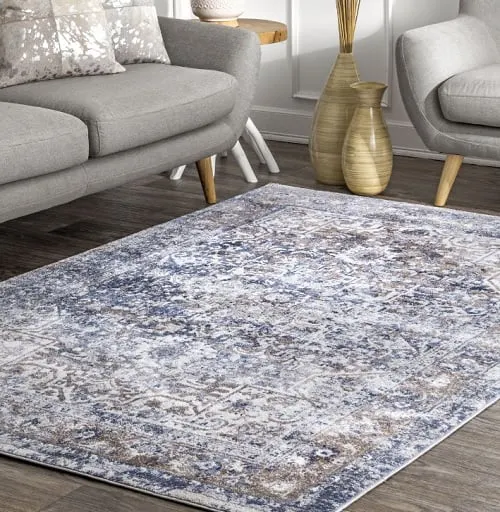 My top choice: Blue Faded Star Petal Emblem Area Rug
Rugs USA is an amazing place to buy affordable rugs online. They have a fantastic selection of affordable areas rugs ranging in multiple sizes. They offer fast and free shipping, daily sales, and 30 days for returns. I have personally shopped at RUGS USA and I have only had great experiences. I believe RUGS USA is one of the best places to buy rugs online.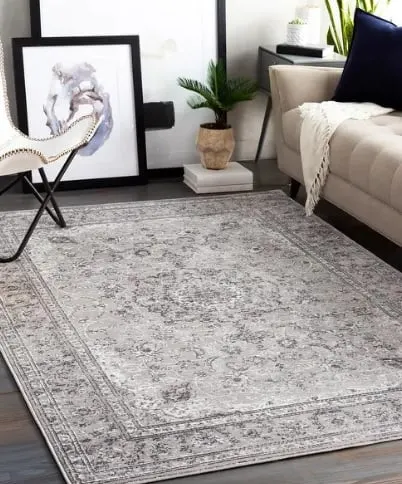 My top choice: Lovato Bohemian Block Print Area Rug
Overstock is another fantastic online store to shop for rugs. Contrary to popular belief, Overstock is not items that are left-overs or shall we say overstock. They carry new items, just like their competitors Wayfair. The online rug selection at Overstock is impressive as well as their prices. Additionally, 9 times out of ten they are having a sale of some sort. You can also search for coupon codes to reduce the price even further. And they also offer free shipping and 2-day shipping on select products.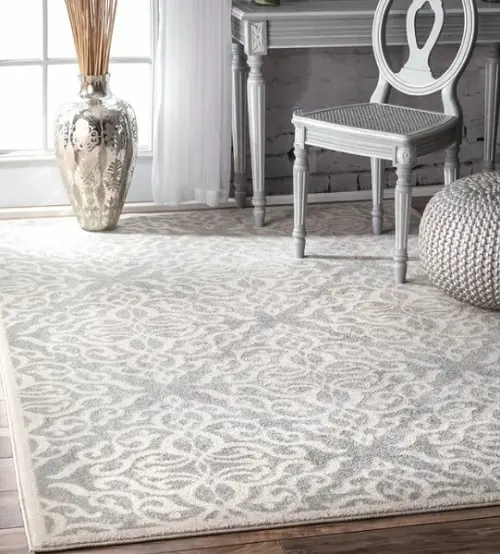 My top choice: Grassmere Handmade Flatweave Natural Area Rug
Wayfair is one of the biggest online retailers for furniture and home decor. They have everything you could possibly want, including rugs. You'll find area rugs in all styles and they make it so easy for you to shop and find what you are looking for. Wayfair's prices are affordable and their shipping is fast and free on orders of $35 or more. Shop at Wayfair and you will be singing "Wayfair, you got just what I need" in no time.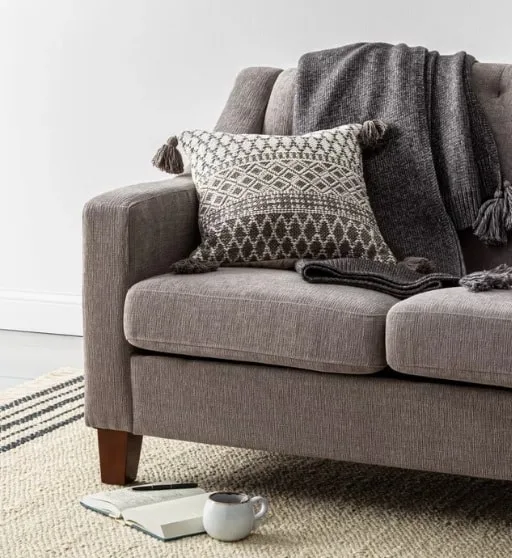 My top choice: Heathered Area Rug , Hearth & Hand with Magnolia
Target is amazing, we all know this. But they also have a fantastic selection of affordable rugs to shop for. You can shop rugs at Target both online and in-store, however, the selection they carry online is a bit more significant. Target features its in-house brands, Opalhouse, Threshold, Project 62, and Hearth & Hand with Magnolia. But you will also find popular rug brands like Safavieh and Nuloom as well. As I mentioned, you can find great affordable options and if you have a Target Red Card, you will receive free shipping and an additional extra 5% off your purchase.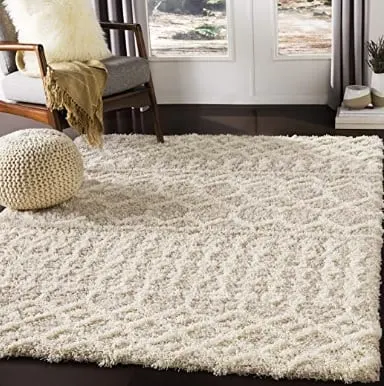 My top choice: Artistic Weavers Bohemian/Global Area Rug
You knew this one was coming. Amazon is the largest online retailer out there so, of course, you are going to be able to find amazing affordable area rugs there. Amazon's prices are on point and if you have a Prime membership, shipping is free and super quick. The amazing thing about Amazon is not only the variety of products they offer but, also the reviews that customers leave. If you are anything like me you go straight to the reviews to see what buyers are saying. Reviews are so helpful and I find Amazon always has a ton of them.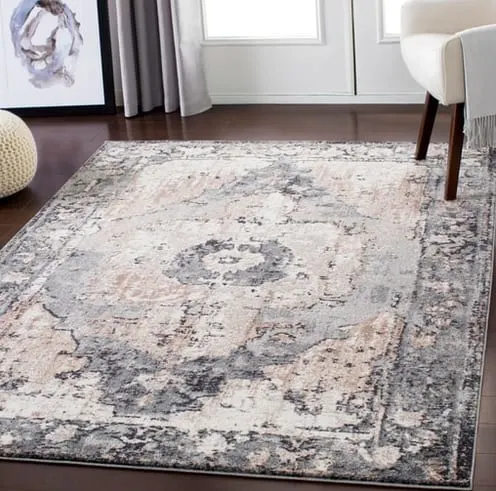 My top choice: Highgate Area Rug
Boutique Rugs is another fantastic online rug retailer. What makes Boutique Rugs one of the best? They offer a rewards program where you can earn points then redeem those points for discounts. You can earn points in a few different ways, For example, by shopping, leaving reviews, and interacting on social media. The Rewards program is free and easy to join. Boutique Rugs also has an extensive variety of rugs in all shapes, colors, and sizes.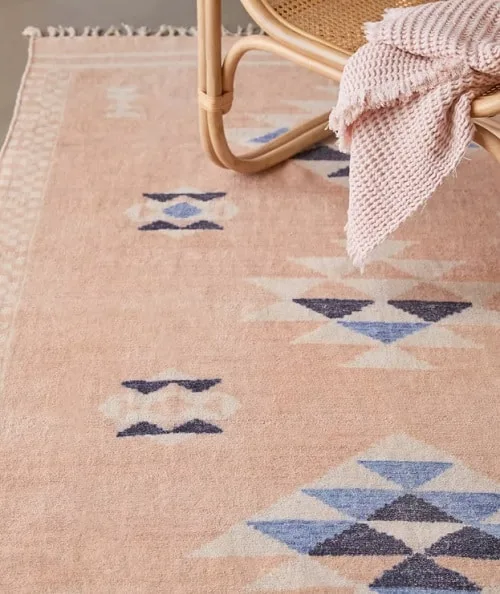 My top choice: Bina Printed Chenille Rug
You may not be aware but the trendy apparel store Urban Outfitters has a home collection, including rugs. Most of their home decor is online which is why it is a great place to shop for a rug. The majority of the rugs you'll find at Urban Outfitters will be of the eclectic bohemian style, however, they do have a few neutral more traditional options also available. Urban Outfitters is one of the best places to buy rugs online not only because of the variety of rugs they offer but also because they offer free shipping on orders over $50.
My top choice: Entwine Rug
West Elm is all parts stylish. I absolutely love West Elm, not only for area rugs but also for everything they carry, decor, furniture, you name it! West Elm is another retailer you can shop both online as well as in-store. The reason why it's one of the best places to buy a rug online is because of their online selection. They carry more online than they do in stores. When it comes to the style of rugs West Elm carries, it's pretty much a mixed bag. You'll find anything from modern to traditional-style rugs. West Elm prices might not be the least expensive however they are quality made which justifies the higher price tag. Also, They are always having sales which can help reduce the price.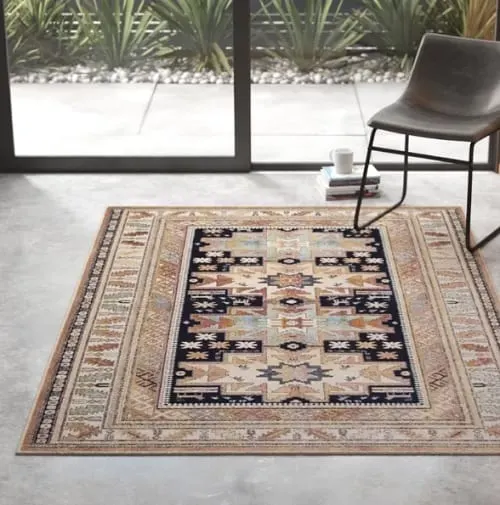 My top choice: Anza Blue/Red Area Rug
All Modern is another one of Wayfair's sister sites, but with a bit more modern flair to it hence, the name. Like Wayfair, All Modern has an extensive collection of rugs in every shape and size. Yes, they have more modern styled rugs but they also carry styles like more neutral rugs and some traditional ones as well. This online retailer offers free shipping on select items. And shipping time is super fast. I purchased an outdoor rug and it arrived 2 days after I ordered.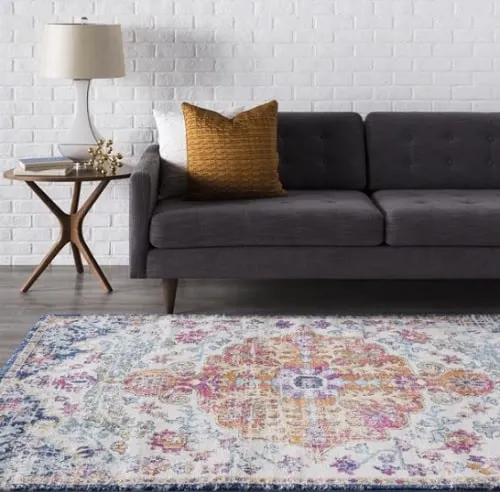 My top choice: nuLOOM Moroccan Blythe Area Rug
Another place you can shop for rugs online is Walmart. Walmart is well known for having affordable prices. They are both an in-store and online retailer however, as of lately they have been pushing more online business. Some even say they are trying to compete with Amazon. Either way, they have a fantastic variety of affordable rugs online. Shop for a rug at Walmart and you'll "save money and live better".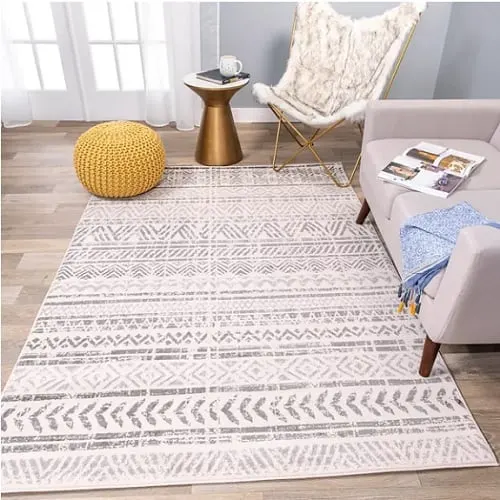 My top choice: Gertmenian Holmby Diamond Shag Area Rug
Kohls may not have been a store you would have thought to look for rugs, however, they have a fantastic, well-rounded selection. Kohls is another store you can shop rugs both online and in-store. Though you will find a bigger selection of area rugs by shopping online. Another fantastic reason to shop for rugs at Kohls is that they are always having sales. And if you are a Kohls cardholder, you can get extra discounts, coupons, and Kohls cash.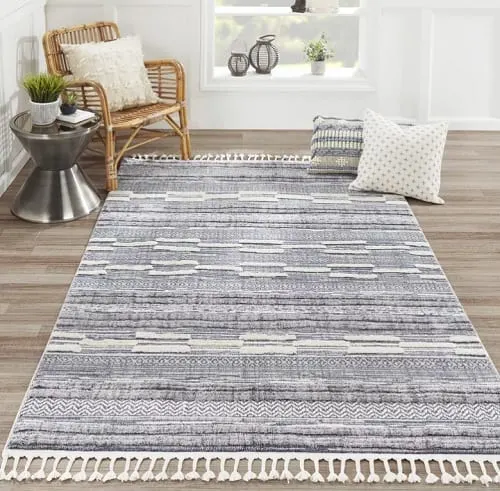 My top choice: Wicksham Persian Inspired Spice Area Rug
Yet another online site that is a division of Wayfair. Buying a rug online from Joss & Main is very similar to Wayfair as it has a large variety to choose from. They have everything from runners to larger 8×10 rugs. Joss & Main make it easy to shop for a rug. You can choose how to shop, whether it is by color, size, or style, it's all user-friendly.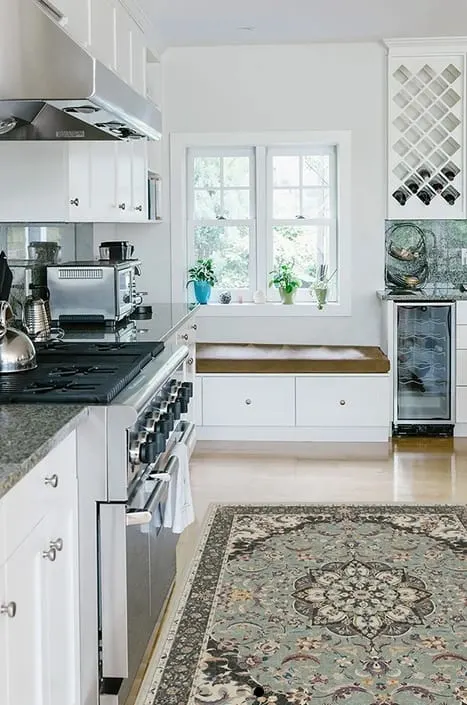 My top choice: Hendesi Heriz Abalone Rug
Ruggable is an online retailer that is quickly gaining popularity. Ruggable area rugs aren't like other rugs. What sets Ruggable apart from other brands? They are washable, stain-resistant, and waterproof, which makes them perfect for homes with pets and kids. I know what you are thinking, are they really washable? And from what I have read yes they are. Ruggable has a ton of raving reviews and that is saying a lot. They are also reasonably priced for a high-quality washable rug and they come in all different shapes and sizes.
Ruggable offers free shipping on all orders! You can also save 10% off with code AFF10
My top choice: Blue And Ivory Persian Style Tufted Wool Mila Area Rug
World Market is a great place to shop for rugs online. They have a beautiful selection of indoor and outdoor area rugs. From wool to Kilim rugs, you can find a stylish rug that is perfect for your home. World Market also has a large selection of chic one-of-a-kind handmade rugs that come from all around the world.
RECAP – THE 14 BEST PLACES TO SHOP FOR RUGS ONLINE
If you are shopping for an area rug online these are the 14 best stores to find the perfect one for you.
Rugs USA
Overstock
Wayfair
Target
Amazon
Boutique Rugs
Urban Outfitters
West Elm
All Modern
Walmart
Kohls
Joss & Main
Ruggable
World Market
FINAL THOUGHTS ON SHOPPING FOR RUGS ONLINE
By shopping area rugs online, you will be able to easily navigate through the choices. Unlike shopping in-store where you have to look at the label to see the size and sometimes even what the rug looks like.
Shopping for rugs online is the way to go.
Think about it, if you were to shop in-store, you'd have to not only physically drive to the store but also you have to figure out how to get the rug home.
I also prefer shopping online because most stores will provide you with helpful information regarding how to choose the correct rug size for your space. That is one thing you won't find in-store.
READ MORE: Choose the Right Rug Size
Buying a rug online is a no-brainer in my book. And if you shop at one of the 14 stores mentioned above you are guaranteed to find the perfect rug for your home.
RECENT ARTICLES:
---
SUBSCRIBE TO MY EMAIL LIST AND GET A FREE COPY OF MY INTERIOR PAINTING CHECKLIST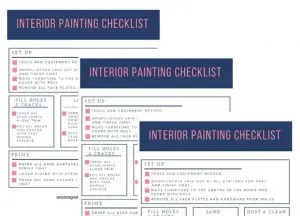 ---