I may earn money or products from the companies mentioned in this post. Please click my Disclosure Policy to learn more
Last Updated on
The Grainhouse collection at the Christmas Tree Shop  is an exclusive line featuring farmhouse style furniture and decor. This stylish collection has great quality and an even greater price.  
UPDATE: Sadly, You can no longer purchase products off of the Christmas Tree Shop website. So I have included some amazing and affordable 
As I was cleaning up my email inbox the other day, I stopped when I saw the new flyer for The Christmas Tree Shop. The Flyer showcased some of the new spring items from the Grainhouse Collection. If you are unfamiliar with this collection, it's farmhouse style home decor and furniture exclusive to The Christmas Tree Shop.
Needless to say I stopped what I was doing to check out the collection. As I scrolled through I became more impressed with each item I saw. For instance this adorable storage basket HERE that I plan on picking up.
I mean how adorable is this basket? ↑ And it comes in multiple sizes. 
Item after item I fell more in love. I never thought of The Christmas Tree Shop for home decor. Sure, I know they carry it and do in fact have cute things from time to time, but it wouldn't be my first stop when looking for something farmhouse related. However, after looking through the Grainhouse collection, I have a new view on it, and I plan on checking it out more often (sorry wallet).
Looking for more great products?
My Grainhouse Collection Favorites
And where to find dupes online
Where to buy items online similar to the Grainhouse Collection.
As I mentioned, The Christmas Tree Shop is no longer selling products on their website, which is mind-boggling to me. I know that for some people, they have to travel a bit to visit their local store. And when I say a bit, it can be like an hour or so trip.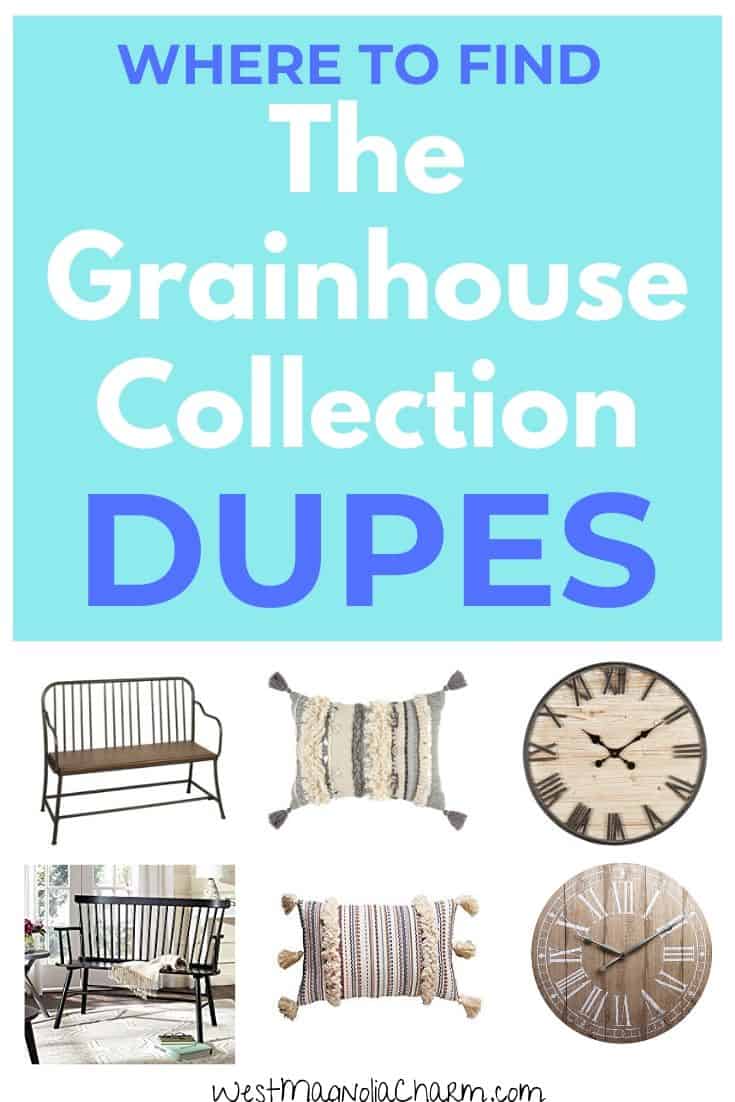 So stopping sales on their website doesn't make sense.  However, they explain why they did so on their website saying :
I do agree it is fun to browse the isles in the actual store, especially the Grainhouse Collection. But, it was always nice to know I can purchase something online if need be.  
I'm going off the rails here, I am supposed to be sharing some alternative places you can online shop, that have similar items to the Grainhouse Collection.
OK Let's get into it.
Tractor Supply is a fairly new discovery for me. And no, it doesn't just sell tractor supplies. They have everything. Seriously, they sell home decor, tools, clothing, sporting goods and yes, tractor supplies too! 
Hobby Lobby has so many amazing products comparable to The Grainhouse Collect. If you are a basket and bin fan such as myself than my friend you, Hobby Lobby is your spot!
This one goes without saying but I still have to mention it. We all know and love Target. You walk in for toilet paper and walk out with lip gloss, Oreos and a few faux flowers from the Magnolia Line. That being said, of course, Target has items comparable to the Grainhouse Collection.
Like Target, Amazon has it all. You can easily find home decor items that are not only super cute but also very affordable. Finding a few Grainhouse Collection inspired items is easy peasy.
Tell me, are you familiar with The Grainhouse Collection? Share in the comments what your favorite items are.