I may earn money or products from the companies mentioned in this post. Please click my Disclosure Policy to learn more
Gift wrap is a fun  and easy way to take your  Christmas gift giving to the next level. Ultimately, adding a little something extra special to your already thoughtful gift.
Today's post is pretty awesome one. I teamed up with some of my amazingly talented blogging friends to show off our Gift Wrapping themes,  skills, ideas, tips and tricks! Everyone will be listed and linked below so you can easily check them out. 
Who doesn't love unwrapping a gift?
Even if you know what's underneath the gift wrap, obviously the thrill of ripping it off is the most exciting part! But, as much as I do love unwrapping a gift, the former Hallmark employee in me prefers and enjoys wrapping them.
I'm not going to lie though, I am a last minute shopper therefore, gift wrap is usually the least of my worries. I grab whatever wrap have on hand and call it a day. However, this year is different. I shopped early enough to be able to enjoy the gift wrapping process. Is this what it feels like to be a real adult? 
That all being said I decided the theme for my gift wrap this year is  rustic – black and white . 
Black and white is so classic and I had to throw in the rustic because that's just who I am these days.  My
burlap ribbon
Using a solid color wrap gives you a blank canvas to play with. Dress it up anyway you'd like to add that personal touch. I picked up some
brown craft paper
 from the Dollar Tree, and the
black paper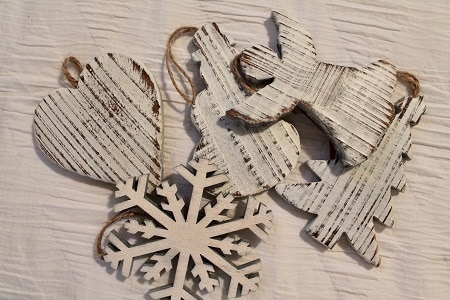 The little black gift tags were snagged at my local dollar store, but on the positive side, you can find black gift tags on Amazon.
I also bought these white chalk pens to use on the gift tags.
How cute is this black and white gift wrap?
Thinking of ways to personalize the gifts, I stumbled across this packet of wood letters. I thought it was great to use for initials or to spell something out. Pick up
Wood Letters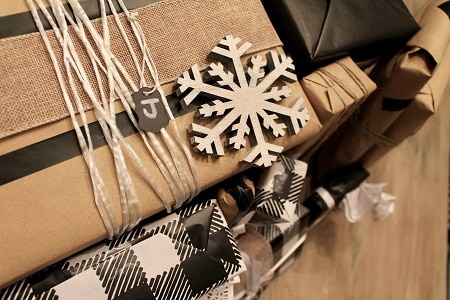 The dollar store where I picked up a bunch of items didn't have plain black ribbon. Since I really didn't want to make a special trip for it I improvised. I saw black electrical tape and grabbed that. To sum it up, I'm so glad I did. It worked like a charm. You can get  
electrical tape 
or if you want some
black ribbon ,
from Amazon.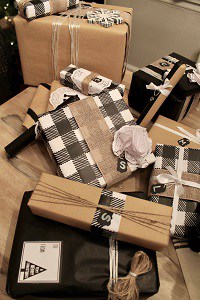 Below are the the links to the fabulous ladies I was lucky to work with. Check them out! 
Shae isn't a blogger but her Instagram is filled with such amazing and beautiful inspiration. So, of course we had to have her join us to share her gift wrap.