I may earn money or products from the companies mentioned in this post. Please click my Disclosure Policy to learn more
A DIY Spring wreath is an affordable way to save money while getting the look of an expensive store bought one. Not only will you same money by creating your own DIY wreath but, you will also be able to you your own creative touch on the project.
Before I get into my diy spring wreath making process I want to start by saying a big thank you to all the incredibly talented ladies I worked with on this group blog. I'm always so grateful to be include and I absolutely love working with all of them!
Check out the last group blog we did where we each created a DIY Valentine
This group blog topic was to choose a Spring DIY. We all came up with a fun and beautiful DIY with a Spring time theme. As usual, all the fabulous ladies will be linked down below so you can see what they all created, and trust me you'll want to recreated all of their ideas!
My DIY Spring Wreath
I weirdly enough struggled a bit coming up with a Spring DIY project to create. I wanted to do something a little different but, I just couldn't pinpoint what aspect of the project that I wanted to be different. So what does one do when in need of ideas and inspiration?
We hop on over to Pinterest.
Don't Forget to Follow Me on Pinterest!!
I began my search for inspiration for the perfect Spring DIY project. It was a search alright. I came across so many wonderful DIY projects however, nothing was speaking to me.
Like I said I wanted a different Spring DIY , I just needed to figure out what "different" meant.
Coming down to the wire.
I found this bicycle wreath on Pinterest and I fell in love! Everything about it was perfect. It had the perfect amount of "different" I was looking for. The bicycle wheel just seemed so unique and clever to use as a wreath. I knew this was exactly what I wanted to try to recreated as my Spring DIY.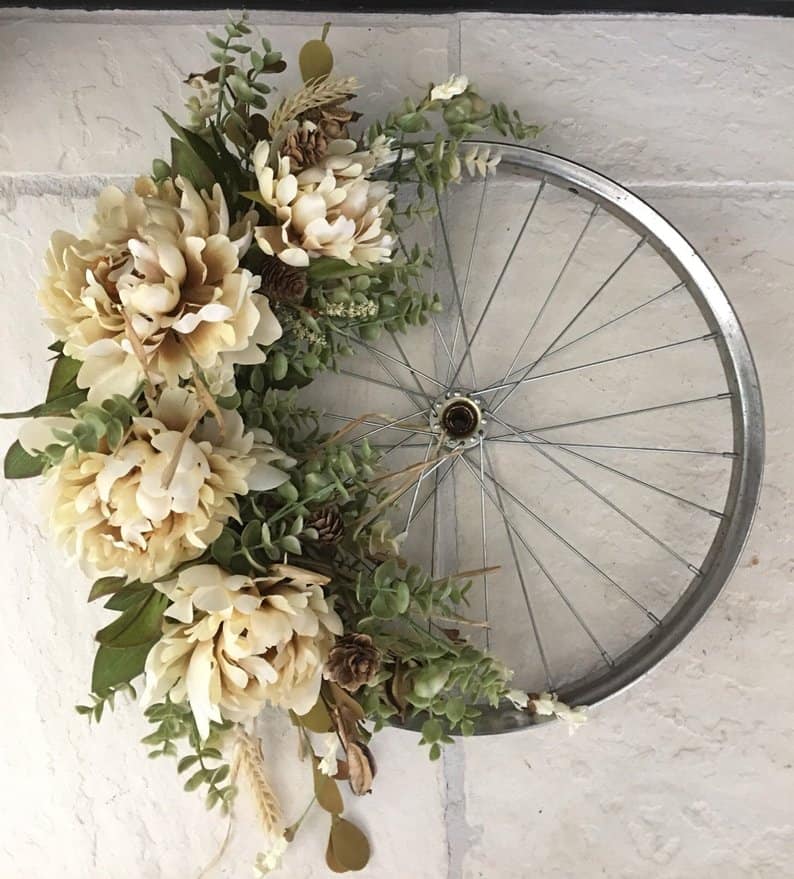 I can't lie. I procrastinated a little too long on starting this Spring DIY project. Maybe I thought I had more time then I did or maybe I was being lazy. Whatever the reason, I unfortunately didn't have time to find an old bicycle wheel to recreate this gorgeous, elegant wreath. And I really wanted an old bike wheel for some added rustic charm.
Now what?
In a semi panicked state I ran to local AC Moore to see if I could rustle up something to use for my Spring DIY craft project.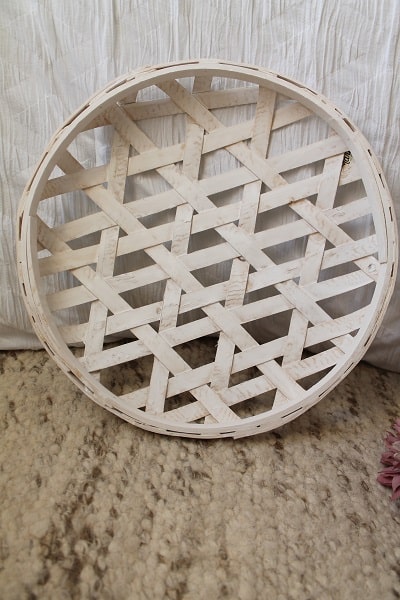 I'll give all the credit to the pressure I was under because within minutes of walking into the store, I found a white tobacco basket for 5 dollars that would make the perfect substitute for the bicycle wheel for my Spring DIY wreath.
Once I knew I was going to create a Spring wreath, the panicked feeling subsided and I was able to focus on the fun part, the design of the actual wreath.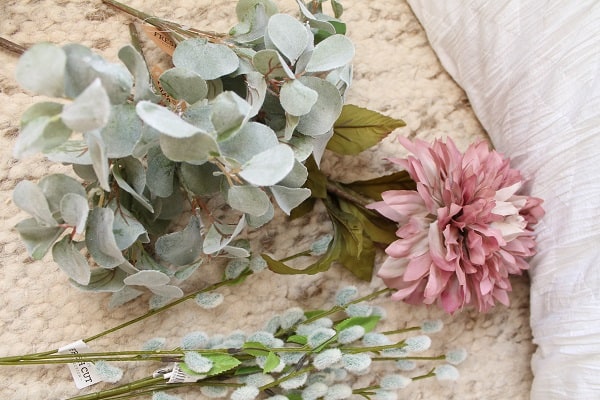 My indecisiveness got the best of me and made me buy practically one of every faux floral the store had. Ok, possibly that's an exaggeration, but I needed options so I purchased a few extras.
Now it's time to create my DIY Spring wreath.
In my mind I had and idea of what I wanted this spring wreath to look like. Knowing that, I figured this project was going to be 1,2,3 but, boy was I wrong.
The struggle was so real when it came to placing the florals in the tobacco basket. It felt like I arranged and rearranged the wreath a thousand times. I was having a tough time getting the florals to sit the way I intended them to sit.
At this point it felt like this DIY Spring wreath was working against me in every way possible. I was beginning to feel like it wasn't meant to be since it was fighting me every step of the way.
Did I have to go back to the drawing board and find a new DIY idea? I knew I was out of time so had to make this Spring wreath work. I decided to walk away from the project for a bit to recollect my thoughts and ideas.
Onward and Upward.
After my well needed break I sat down determined to get this DIY Spring wreath completed.
I reassessed the situation and I ended up cutting the florals apart. In doing so, it made the stems much easier to work with. Now I was able to place the greens exactly where I wanted them to be.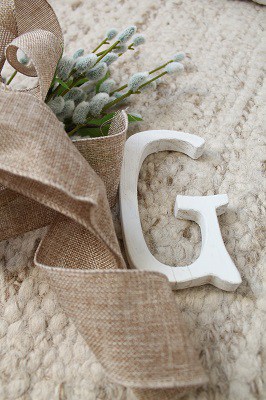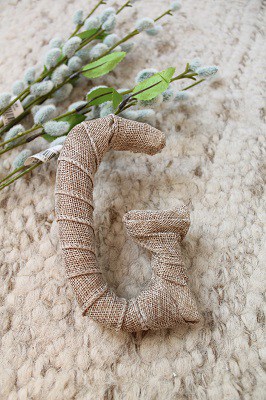 I also found an old wooden G I had from an old project I grabbed some burlap ribbon and wrapped it around the G. I really loved how the G looked but I'm still unsure how I feel about it on the actual wreath.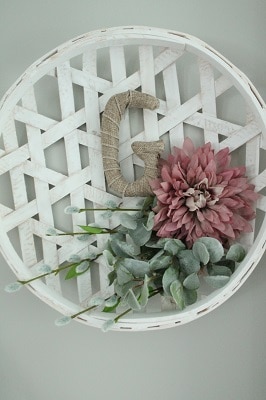 With some determination and a lot of hot glue, I successfully completed my craft project. All things considered, the wreath didn't turn out half bad. Is it extravagant? Not at all. Is it unique and complete? Yes, yes it is.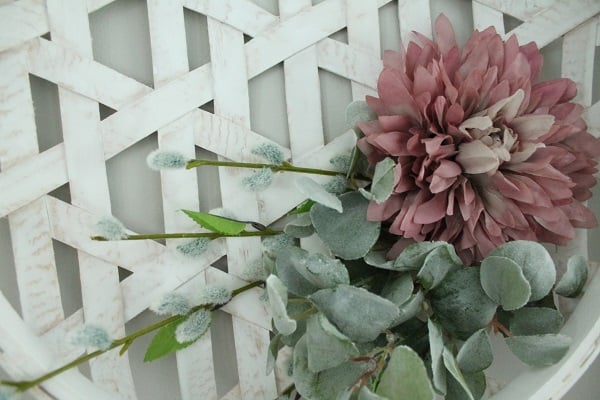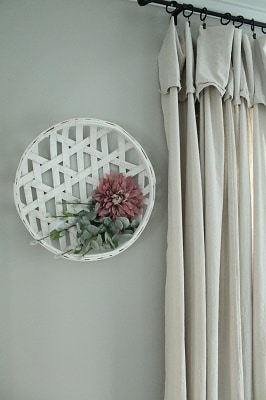 Despite some of the setbacks I faced, I'm happy with the result of my DIY Spring wreath.
Products used:
Don't forget to check out the ladies below to see what they created for their Spring DIY.
Victoria's style is flawless. I always love everything she comes up with and creates. She just recently took on a deconstructed chair project and it inspired me to do one of my own. She also has an Etsy shop selling amazing framed quotes. Check out her etsy shop TheHomeEnvy Follow Victoria on Instagram @thehomeenvy
Dani is not only extremely talented, but she's also so creative. She has definitely inspired me with the projects she has done. Check Dani out on Instagram @thetaborhood
Kayleigh has an incredible sense of style. She also has a keen eye when it comes to thrifting, always scoring amazing finds! Her talents and creativity are endless and I love seeing what she creates. Follow Kayleigh on Instagram @rustybarnblog
Robyns style is amazing. She has an amazing eye for home decor and is always sharing great ideas. I always love seeing what she creates. Follow Robyn on Instagram @robynsreverie
Check Out a Few More DIY Projects :